10 Days in Morocco: A Family Guide to Exploring Morocco in 2023
With 10 days in Morocco, you can visit the major cities and even the famous sand dunes of Merzouga. With 14 days in Morocco, you can add in the coastal cities, and slow your pace a little. Morocco is a family-friendly place to visit, after spending over a month exploring this beautiful country, here's everything you need to plan your trip to Morocco with kids.
Morocco is a feast for the senses- located just across the strait from Spain, this African nation is known for its colors, sounds, smells, and patterns. We spent a month exploring Morocco, starting with a ferry from Tarifa, Spain to Tangier, then working south to Marrakesh, and then up the coast to Casablanca.
While most families will not have a full month to explore Morocco, we've included our thoughts on each of our stops so that you can piece together the places that are the most interesting to you and your family, as well as our suggestions for a 10-day itinerary and a 14 day itinerary in Morocco.
We'll also cover how to get around in Morocco, how to negotiate, and some Morocco travel tips to make your trip as special as possible.
We visited Morocco during our Family Year Out when our kids were 5 and 7. I visited Morocco more than twenty years ago, and was excited to share this unique country with my family!
This article may contain affiliate links, which means we may earn a small commission if a reader clicks through and makes a purchase. As an Amazon Associate, we earn from qualifying purchases at no additional cost to you. All our recommendations are our own and are in no way influenced by any advertiser or commercial initiative.
At the bottom of this post, download a free guide: 6 Safety Tips for Traveling with Kids: What You Should Know Before You Travel.
Ready to Book Your Trip? Use our Favorite Travel Resources!

Is Morocco Family-Friendly?
Yes! Morocco is surprisingly family-friendly. I traveled in Morocco in my 20s, and remember being hassled, and dealing with aggressive vendors on the streets. However, Moroccans love kids, and we have been treated kindly by almost all of the people we encountered.
The kids got lots of attention- people touch their heads, smile at them, give them small treats, and even ask to kiss them! I'm not sure why, but women seem to want to kiss their heads. Luckily, most ask permission before attempting this.
What is the Best Time of Year to Visit Morocco?
The best time of year to visit Morocco is the Spring (March or April), and the Fall (October, November), as well as the months just around these. You'll want to avoid the rainy winter months and the hottest summer months.
We visited in October, and found the weather pleasantly warm, occasionally needing sweaters in the evening if it was windy. We enjoyed lots of rooftop terraces in both the mornings and evenings.
10 Day Morocco Itinerary
If you have 10 days in Morocco, here's the itinerary we recommend. This can also be done in reverse, starting with flying into Marrakesh.
Day 1, Arrive in Tangier; Days 2-3 Chefchouan, Days 4-5 Fes, Days 6-8 a 3 Day Merzouga Desert Tour, Days 9-10 Marrakesh.
This will give you time in the small, instagram-ready city of Chefchouan, two days in Fes, the oldest city in Morocco, three days tour traveling through Merzouga, where you will ride a camel to a desert camp, drive through the Atlas mountains, and arrive in Marrakech, where you can barter for souvenirs in the chaotic markets.
14 Day Morocco Itinerary
Days 1-2 Tangier, 3-4 Chefchouan, 4-5 Fes, 6-8 Merzouga Tour, 9-11 Marrakesh, 12-13 Essaouira, day 14 Fly out of Marrakesh.
With 14 days in Morocco, you can see all of the above cities in the 10-day itinerary, as well as start your travels in Tangier, and include the coast-side town of Essaouira, which is many travelers' favorite city in Morocco.
Top Travel Tip: Pre-book Airport Transfers.
When you are tired and hauling all your family's gear is not the time to negotiate with local taxis. We love Booking's Airport Transfer option to pre-book airport transfers.
When arriving, a car will be waiting for you at the airport, even if your flight is delayed. The prices are really competitive, you can schedule online, and cancel up to 24 hours ahead if your plans change.
When heading to the airport, you can book a car for any hour- so when you need to wake up your kids at 4 am to get to the airport 3-4 hours before your flight, you'll know reliable transportation is waiting.
Book a Car: Fast and Easy Airport Transfers
Which Cities to Visit in Morocco with Kids
There are so many options when planning your Morocco itinerary. Each city has a different flavor and a different specialty. You'll find calm medians filled with cats and busy medinas with donkeys and leather goods. There are coastal towns and desert villages. Here is a little bit about each of the cities we visited in Morocco so that you can plan your own perfect family trip.

Taking the Ferry from Spain
The FRS Ferry runs from Tarifa, Spain, to Tangier Morocco several times a day. You can book online with Direct Ferries. We had our ferry rescheduled several times between when we booked it and when we actually arrived in Tangier.
The ferry takes approximately one hour to cross the straight to Tangier. You can easily take the bus from Seville, Spain to Tarifa, Spain, have lunch in Tarifa, then catch the ferry to Tangier and arrive before sunset.
Book A Ferry: Tarifa, Spain to Tangier, Morocco
The instructions include checking into the ferry two hours in advance, but in reality, they open the boarding gates 45 minutes before departure. We arrived, checked in at the desk, filled out our customs paperwork, then went across the street from the terminal to a small park with a playground.
Before boarding the ferry, you will complete EU customs and immigration. Once on the ferry, you will need to stand in line for Moroccan customs.
As you exit the boat in Tangier, an official will check that your passport has been stamped before you exit the boat ramp.
Tangier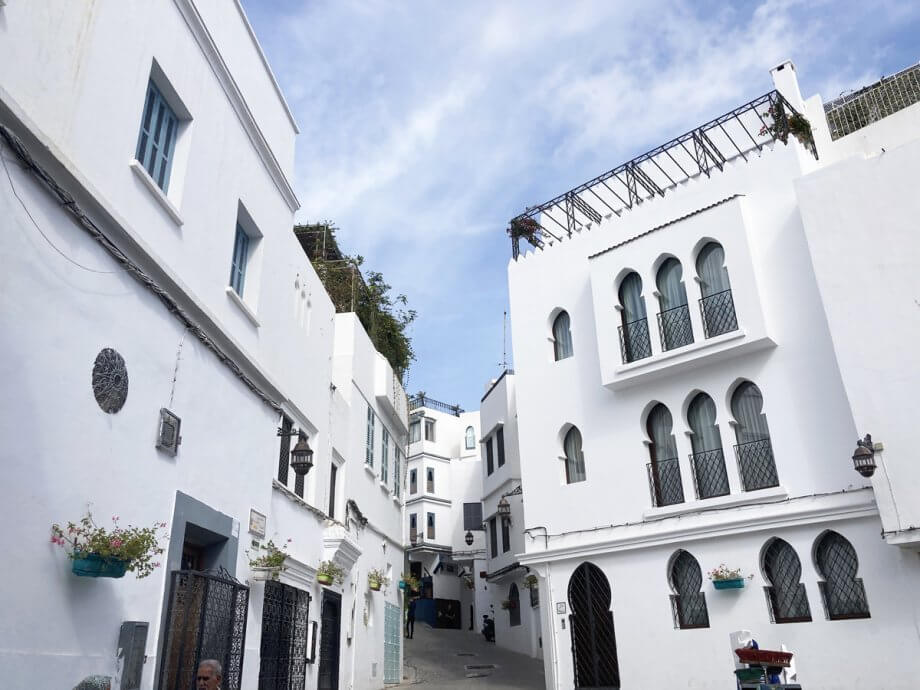 Tangier is the first city you'll encounter if you take the ferry over from Spain. A less touristy city, we loved spending time in Tangier to acclimate to Morocco- wandering the souks without being bothered, exploring city parks, and sitting in cafes.
If you take the ferry from Spain into Tangier, it is an easy walk from the ferry port to the old medina, there is no need for a taxi.
There are not a lot of "must-do" sites in Tangier. It is a multi-cultural city that doesn't depend on the tourist trade as much as some of the more popular southern cities.
We recommend staying in the old medina, and wandering the beautiful white and blue streets around the Kasbah.

Where to Stay in Tangier:
You'll want to stay in the old medina, where there are no cars (with the exception of a few tractors delivering goods), though there are a few motorbikes.
Riad Tingis has spacious family rooms, and breakfast is served on a lovely terrace with views over the city. This 200-year-old riad has lots of charm and boasts a quiet location.
Check Availability: Riad Tingis
Chefchaouen
Halfway between Tangier and Fes, Chefchaouen used to be a hidden gem but is now well-established on the tourist route. Called the "Blue Pearl of Morocco", it is known for its photogenic blue houses and streets.
Full of tourists, it is still a relaxing city. The vibe is slow, and the people are friendly. Take a few days to enjoy the peace and eat some traditional Moroccan tagine and couscous.
We've got a full post on what to do in Chefchaouen, where to stay, and even where to eat!

Where to Stay in Chefchaouen:
You'll want to stay in the picturesque old media, surrounded by blue walls. We stayed at Dar Antonio, and highly recommend it. We had a family room on the first floor, that the girls called "fancy" due to all the traditional decor. There was a small bathroom for our room to use, and a shared shower on the ground floor.
Antonio runs this place by himself, so he's always around to offer recommendations or help you find a place to eat.
Check Availability: Dar Antonio
Fes
Fes is considered the oldest city in Morocco and has the world's oldest university, founded in 859. Once the business center of Morocco, you'll find abandoned palaces and narrow alleyways bursting with vendor stalls. You'll also find the restored madrasa (school) of Bou Inania, and the iconic Blue Gate.
Fes has three of the oldest tanneries in the world, so you'll find lots of leather goods for sale. You can also buy carpets, clothing, teapots, spices, and just about anything else you can think of. Expect to spend most of your visit wandering the alleyways and shopping for handicrafts.
Fes has a reputation for being an intense city, with sometimes aggressive vendors. We found it to be quite family-friendly, and a polite "not today" seemed to suffice. Check out the best things to do in Fes.
The narrow streets are car and motorbike free, but can still be quite crowded. We often had to step aside for large carts full of goods, and more often, donkeys weighed down with cargo, being steered through the narrow streets with a man on each side.
Many people admired our fair kids, including touching their hair and even asking to kiss their heads. They were given quite a few treats as well, often when we stopped to buy something small like a bottle of water or juice.
Where to Stay in Fes:
You'll want to stay in the Old Medina, close to all the major sites. We stayed at Riad Noujoum Medina and highly recommend it. It has a beautiful central tiled courtyard and large family rooms with private bathrooms.
Breakfast is included, and served on the roof terrace overlooking the city. The staff was kind and helpful, the kids loved coming back to say hi to their new friends at the riad.
Check Availability: Riad Noujoum Medina
Merzouga & Desert Tour
In between Fes and Marrakesh like the Atlas Mountains, you'll also find the famous dunes of Merzouga- called the Erg Chebbi dunes. Merzouga is the base for camel rides out to luxury camps in the desert, as well as quad biking and other desert adventures.
You can self-drive from Fes to Marrakesh via Merzouga, but with almost seven hours of driving on each leg of the trip, many families opt for a tour with a driver, to help them make the most of short stops along the way.
You'll want to stop in Erfoud to see the fossils, the Todra and Dades Gorges, and the Kasbah in Ouzuarte.
We did this 4-Day trek, starting in Fes, and ending in Marrakech. The camel ride was the highlight of our time in Morocco! We opted for "standard" accommodations, and still found the camp in the desert to be "glamping".
If you are tight on time, you can also do a 3-Day Trek, which includes the same amount of time on a camel but speeds up your transit from Merzouga to Marrakech.
Check Details: 3-Day Desert Tour Including Camel Trek
Marrakesh
Marrakesh is by far the busiest, most chaotic city on this itinerary. The medina is crowded, with lots of motorbikes rushing through the alleyways. This city takes a day or two to adjust to, but beyond the chaos, you'll also find some of the best boutique shops, wonderful palaces, and unique restaurants in Morocco.
The main square, Jemaa el-Fnaa is famous, and you should spend a bit of time wandering through. This large, open plaza is home to restaurant stalls, lined with juice stalls, and also vendors ranging from men selling metal lamps to women offering henna.
You'll also find snake charmers and men with monkeys dressed in kids' clothes all trying to coax a few dirhams from your pocket. We don't recommend eating here, but you must experience the square for yourself.
For a little more peace and quiet (and higher quality food), don't miss dinner at La Jardin, a candlelight garden hiding just a doorway away from the busy medina.

Where to Stay in Marrakesh:
This is another city where you'll want to stay inside the Old Medina. We stayed at Riad Zinoun & Spa. They have a quiet location down a side street from the busy medina street, just a short walk from the main square. The breakfast was quite good, they have a nice rooftop you can relax on, and you can get massages and other spa treatments on site.
Check Availability: Riad Zinoun & Spa
However, we found that many of the restaurants we wanted to eat at were on the other side of the main square, where the more upscale boutique stores are. We also missed having a pool to cool off in after the chaos of the Marrakesh streets.
Next time, we'd stay in a Superior Family Room at Rodamon Riad Marrakech, which is northwest of the main square and has a lovely pool in the center.
Check Availability: Rodamon Riad Marrakech

Essaouira
When you first get to Essaouira, you'll be greeted by the smell of the ocean. Climb up the city walls to watch the waves crash onto sharp rocks along the coast.
Spend a day at the beach, eat fresh seafood, and wander the refreshingly calm shops of the medina. This is many tourists' favorite part of Morocco- where the chill beach vibe meets handmade wooden crafts and bottles of argan oil.

Where to Stay in Essaouira:
When choosing where to stay in Essaouira, you'll want to stay within walking distance of the medina, where you'll find cafes and restaurants, and can stroll through the white-walled streets browsing in shops.
There are other options just outside of the old walled city, across from Essaouira Beach, though they tend to be more expensive properties.. There are several nice restaurants on this strip, and the pedestrian walkway along the seashore is often packed with families. However, a few blocks back from the ocean becomes run-down quickly.
Recommended Hotel: Riad Beldy
Riad Beldy is where we stayed, it's down an alleyway, so doesn't get too much noise from the streets, but is right in the lower section of the medina, close to the shops and the canons sitting atop the city walls.
Breakfast is included, and they have spacious family rooms with a double bed up in a loft and two twin beds below.
Casablanca
Casablanca is the largest and most modern city in Morocco. Most people come for the astounding Hassan II Mosque which is built over the sea. You'll find malls with IMAX and IKEA, the corniche pedestrian walkway running along the seawall, playgrounds, and adventure parks.
Casablanca can be tricky to move around, as red petit taxis are the main source of transportation. These taxis often don't have meters, and therefore require you to negotiate rates before getting in.
Read more about Casablanca in: What is the Largest City in Morocco?, which goes into more detail about moving around Casablanca.
Consider taking a half-day tour of Casablanca to see the main square with its French architecture, the famous King Hassan II Mosque, and the central market.
Check Details: Half-Day Tour of Casablanca

Where to Stay in Casablanca:
You'll want to stay within walking distance from the seawalls, ideally within easy reach of the lighthouse or the Hassan II Mosque.
We recommend staying in a two-bedroom apartment at Family Aparthotel. You'll get all the benefits of a hotel (like the included breakfast), with the extra space of an apartment.
Check Availability: Family Aparthotel Casablanca

Can I Drink the Water in Morocco?
It is best to avoid drinking tap water in most Moroccan cities. It's fine to use to brush your teeth but otherwise stick to bottled or filtered water. We love our Steripen purifier, which uses UV light to purify water before we drink it.
How to Travel Around Morocco
Many families choose to self-drive around Morocco. With the high price of rental cars and gas in 2022 and the difficulty parking outside large pedestrian-only medinas, we chose to move around Morocco by public bus.
In most cities, you will want to stay inside the Old Medina of the city- where cars cannot travel. This means taxis and cars must drop you off outside the city walls. Often, someone from your riad will meet you either at the bus station or at the entrance to the pedestrian area to walk you to your accommodation.
The medinas are fairly easy to navigate once you get your bearings, but it's helpful for someone to help you find your rooms the first time.

Private Drivers
If you want to avoid the hassle of public buses, and the bus stations which are often not in the best parts of town but aren't up for renting a car and driving yourself, consider hiring private transport.
Drivers can be booked from Chefchaouen to Fes, from Marrakesh to Essaouira, to the airports, and more.
Public Buses
The public buses are clean and the boarding is well organized. There is often a small fee for checking bags underneath the bus. You will get a ticket to claim your luggage. Seats are generally assigned ahead of time, and seat assignments are respected.
There are rarely bathrooms on public buses. On longer rides, there is generally one short bathroom stop or one longer lunch break. Make sure kids use the bathroom just before boarding.
We found the Markoub.ma the easiest site to pre-book tickets. We had no problem using an international credit card. If you can opt for CTM or Voyages buses, they are better quality (no broken seats), may have air conditioning, and in our experience make fewer roadside stops along the way.
We rode CTM twice before booking on Yamama. We had a long bus ride from Essaouira to Casablanca with a grumpy bus employee who refused to stop. We arrived one hour early, but the bus did not make a lunch stop or a single bathroom stop on the six-hour journey.
You can also buy your tickets at the bus station on the day of travel, or a day ahead. We prefer to have a pre-booked schedule so we know when to arrive at the station, and can alert our hotel at the next stop of our approximate arrival time.

Driving in Morocco
The alternative to public buses is renting a car and self-driving around Morocco. Many families prefer the freedom of this, which is ideal if you are spending most of your time outside of the larger cities.
Since we prefer to stay 3-5 nights in each location, it didn't make sense for us to leave a rental car parked outside a pedestrian medina for days at a time.
We hear that driving through Morocco on your own is quite safe and fairly easy. We did notice many police checkpoints along the roadways, so expect to encounter these on major routes.
Is there Uber in Morocco?
No, there is no Uber in Morocco. In some major cities, you can use the app Careem or Roby, but we found them difficult to use with long wait times. Expect to hail a cab at the bus station or at taxi stands and do your best to negotiate a rate.
What to Wear in Morocco
You will want to dress conservatively to avoid unwanted attention in Morocco. As a woman, I chose to wear long pants and T-shirts while traveling around Morocco. However, I saw many tourists in sleeveless shirts that did not seem to be having a hard time. It is warm all year round, so loose, cool clothing is key.
Most men do not wear shorts so T-shirts and long pants are best. For the kids, we stuck with dresses or long, loose pants.
What is the Currency in Morocco
The currency in Morocco is the dirham. As of 2022, it is just a bit under 10 dirhams to one dollar. We used 10:1 as a convenient conversion rate, knowing that we're overestimating slightly.

Do I Need Cash in Morocco?
Yes, you need cash in Morocco! Expect to pay for most services in cash. ATMs can be found on the edges of most medinas, though they often limit you to about $200 USD per transaction.
We rarely were able to use a credit card to pay for a restaurant or to purchase an item. Credit cards are more accepted in Essaouira and Casablanca, but rarely outside of these cities.
Is Their Tipping in Morocco?
Yes, a tip of about 10% of your bill is standard. This can be confusing if you are paying with a credit card, as you cannot add your tip to the total charged to the card. You must pay all tips in cash, either directly to your server, or left on the table.
How to Negotiate in Morocco
We found that depending on the item and the area of town, negotiations varied widely. Some vendors start out quite high and will work with a counteroffer of 50% of their asking price. Other items were clearly marked with prices and were non-negotiable. Other things fell somewhere in the middle where there was a bit of negotiating, but not a lot.
We are certainly not master negotiators. We also try to be aware that a dollar or two difference in price probably means more to the seller than it does to us, so we save our toughest negotiations for higher-priced items.
There You Have It: 10 Days in Morocco with Kids
All the best places to go in Morocco for a 10 day itinerary, with suggestions for a 14 day itinerary as well. From Tangier to Casablanca, there are so many wonderful cities to explore in Morocco- each with its own flavor and style.