An Bang Beach: A 2023 Guide to Hoi An's Best Beach
An Bang Beach in central Vietnam is a clean, beautiful stretch of beach just a few minutes away from the old town of Hoi An, famous for its lantern-filled streets. At An Bang Beach, you'll find warm water, soft sand, and plenty of restaurants and cafes to help you pass the day.
Once a remote fishing village, An Bang has gotten more popular with travelers, in part due to being listed by CNN as one of the "top 100 beaches in the world" in 2017. We visited in the low season and did not find the beach at all crowded.
We spent the month of September in Hoi An, Vietnam, and loved relaxing at An Bang Beach with our kids. In this guide to An Bang Beach, we'll cover how to get to An Bang, what to expect when you get there, where to eat, where to stay, and all the things to do in this beautiful paradise.
This article may contain affiliate links, which means we may earn a small commission if a reader clicks through and makes a purchase. As an Amazon Associate, we earn from qualifying purchases at no additional cost to you. All our recommendations are our own and are in no way influenced by any advertiser or commercial initiative.
At the bottom of this post, download free Mobile Wallpaper images to satisfy your wanderlust!
Ready to Book Your Trip? Use our Favorite Travel Resources!
Where is An Bang Beach?
An Bang Beach (Bãi Biển An Bàng) is just 4 km from the old town of Hoi An, Vietnam. Located in Cam An ward, Quang Nam province, the nearest big city is Da Nang, which has a population of over 1 million people. An Bang Beach Hoi An is just north of Cua Dai Beach, which has suffered from erosion.
From the sands of An Bang Beach, you can see the highrises of Da Nang up the beach to the North, as well as the white figure of Lady Buddha on the hillside curving around the bay.
Across the water, you'll see the hills of the Cham Islands, which make a great snorkeling destination. You won't find highrises or extensive development in An Bang, instead, you'll find a beach town full of narrow roads, beachside restaurants, a few resorts, coffee shops, cafes, and bars advertising live music on the weekends.

How to Get to An Bang Beach
The easiest way to get to An Bang Beach from Hoi An is to travel via taxi. You can easily call one with the Grab app, cars are easy to get and usually only take a few minutes to arrive. The ride one way should cost you around 80,000 VND, or about $3.25 USD.
You can also ride a bicycle, it's an easy 5 km ride. The way is flat and the roads are not too crowded, and have a good shoulder. We took a car but passed quite a few people who were clearly biking to the beach.
You can also rent a motorbike if you prefer to make the journey in half the time of a standard bicycle. Rentals for a motorbike run between 120-150K VND for the day.
When you arrive at An Bang, you will enter via the main road, Hai Ba Trung. You'll see bike and scooter parking on the right-hand side, and the main beach entrance in front of you.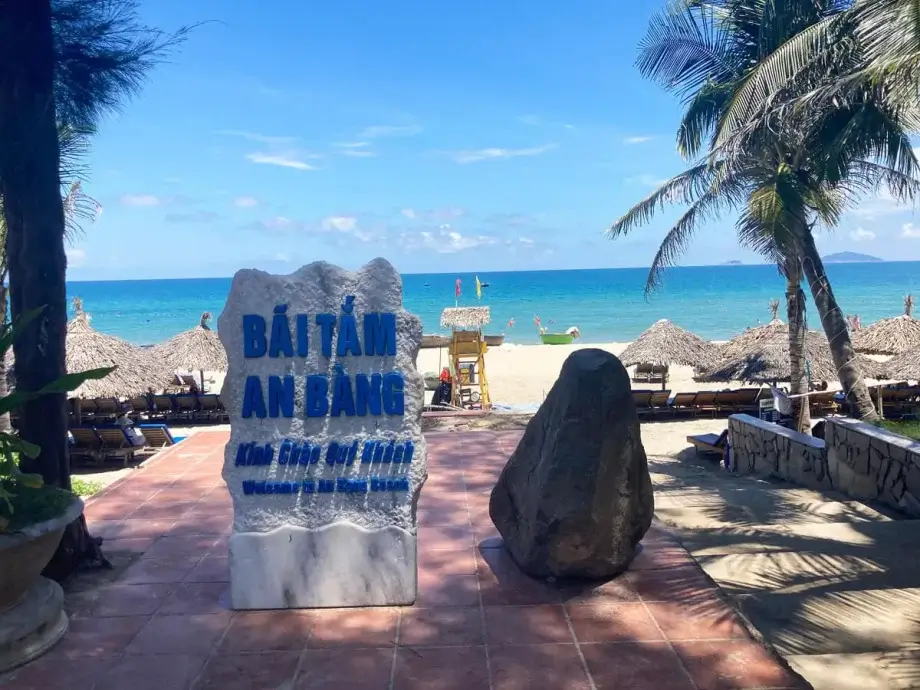 What is An Bang Beach Like?
An Bang is a small town, which is not nearly as developed as nearby Hoi An. The roads are gravel, and the streets are mostly quiet. Alleyways wind toward the beach, only connecting at certain points. An Bang is how I imagine Hoi An might have felt 10 or 15 years ago. It has a lovely quiet beach town vibe, though with plenty of amenities from minimarts to bars to taco restaurants.
At the main beach entrance, you'll find an ice cream shop, a smoothie stand, and beachwear shops, as well as a few bakeries. ATMs are located just down the block on the main road, you'll pass them coming in.
When you enter the beach, the restaurant owner on the corner here will try to sell you a beach lounger (50K unless you eat at their restaurant). On the main beach you will see a lifeguard (he was mostly looking at his phone when we passed), and a few round basket boats.

The Water at An Bang
You'll see a swimming area that is clearly marked with buoys. Choose whether to walk south or north from here. Many restaurants advertise free sunbeds, wifi, showers, and even parking to entice you to eat at their restaurant. Order what you like, and pay once you have finished for the day.
Most locals prefer to swim either very early (4 or 5 am) or in the late afternoon (4 or 5 pm). The sand is cooler, as is the water. You'll find the water at the shoreline is warm, but it does get a little cooler as you swim out. We've visited on bright sunny days where the water was almost too warm, and on overcast days where it was refreshing.
The water at An Bang is quite warm, and the sand can be downright hot. On sunny days you'll see many people dashing from their beach chairs over the sand, into the water, and then back. There is very little trash on the beach. We saw a few bits of trash floating in the water and pulled them out. Always try to leave the beach a little cleaner than you found it! Overall we were impressed with how clean An Bang Beach is.


South An Bang Beach
The sand here has a drop-off, but despite this, the water stays shallow for a bit farther. The downside to this is you can't see the water's edge from the row of beach chairs. However, the kids were able to play peacefully and splash in the water without us worrying that they would get in too deep too quickly.
We chose some chairs in front of The Fisherman's Vegan Restaurant to enjoy the day. The chairs are quite close together, so we ended up moving a few times since we thought we were at Fisherman's but were actually on either side of it. You have to be directly in front of the restaurant.
North An Bang Beach
Some places on the North side of An Bang describe themselves as "the left end of An Bang". The beach here is a bit flatter, though not significantly. While An Bang is not large, during the heat of the day the walk between the south and the north is a hot and sweaty one.
In the North, you'll find alleyways of streets off the beach with houses, schools, and cafes. Some are colorfully decorated. The north is a little less busy, with clusters of people on the beach close to where they are staying.
Things to Do on An Bang Beach
Here are the best things to do in An Bang Beach, Vietnam.
Sunbathing and Swimming
The main activity in An Bang is relaxing and enjoying the ocean. Stretch out on a beach chair with a book, make a sand castle, splash in the waves, and relax. Do bring plenty of sunscreen, the sun can be quite harsh.
Our favorite place on An Bang Beach is The Fisherman Restaurant. They have chairs on the beach, with good wifi, but also a restaurant if you prefer to sit in chairs while you eat. They also have showers with doors if you want to rinse off and change into dry clothes.

Go Boogie Boarding
Several restaurants rent boogie boards for around 80K dong (around $3.25). The water has some decent chop to it, so this could be a fun family activity. Fisherman's advertises boards in pretty good shape for 80K.
On the north side of the beach, we asked about boogie boards and were offered some pretty dinged-up boards for 100K, which we negotiated down to 70K. The kids had a great time in the waves, which were rolling in pretty fast in sets of three.
Go Surfing
The surf season in An Bang runs from September to April, though it seems to get going in October, with higher swells on the Northern beaches. We visited in mid-September and had lapping waves, but nothing to ride, but board rentals and classes are available.

Get a Massage
An Bang Beach has several spa options when you need to take your relaxation to the next level. It's best to take advantage of these massages before you get sunburned, though some spas offer a "sunburn relief" massage that includes aloe vera. Vietnamese massage is similar to Thai massage but with less emphasis on stretching. Expect to pay between 18-25 USD for a 60-minute massage.

Bike to the Vegetable Village
Located between An Bang and Ancient Hoi An is a small island called Tra Que. This island is known as the "Vegetable Village" or the "Herb Village". Under 2 km from An Bang, this is an easy bike ride when you need a break from the beach.
Close to 280 families live here, growing vegetables, herbs, and flowers for local restaurants and markets. Tickets to enter the village cost VDN 35,000.
While in the village, you can take a cooking class, get an herbal massage, or just watch the farmers working in the fields. Head here early in the morning to avoid the heat and see locals out and about.
Practice Yoga
During high season, you may find different groups offering yoga on the beach, usually in the early morning. All year round, you can practice Bikram hot yoga at Hot Yoga An Bang. They have classes everyday at 9 am and 4:30 pm. Classes last 1 1/2 hours.
Address: 150 Nguyễn Phan Vinh

Listen to Live Music
An Bang is known for its live music scene. Soul Kitchen, Bungalow Beach Bar (known as an expat hangout), and Red Lantern (Jazz Thursdays) are all great places to go for live music on the weekends.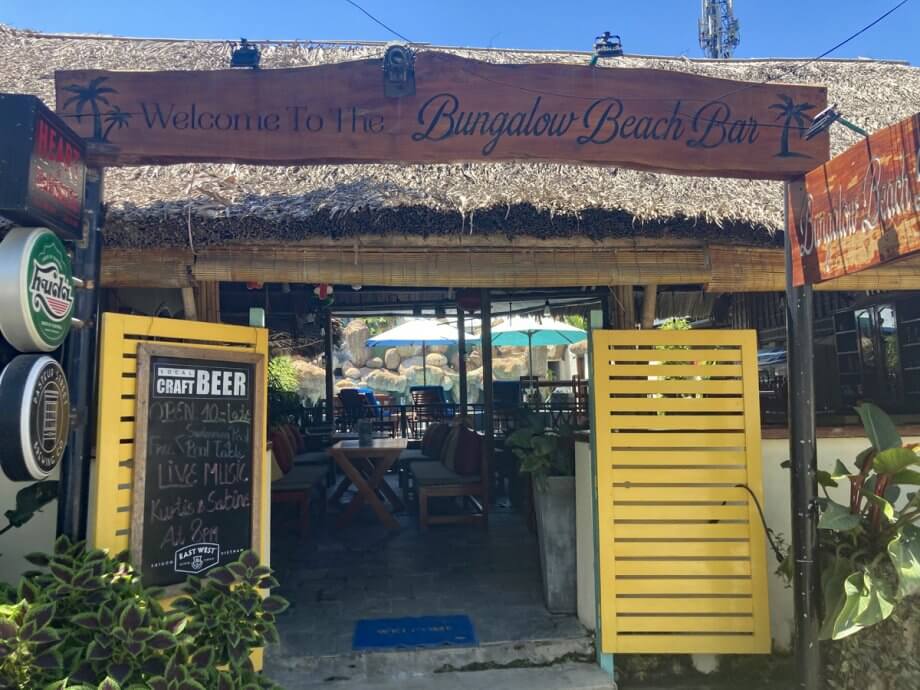 Try a Beach Club
If you prefer relaxing with a cocktail in one hand, while gazing at the ocean from a plush daybed, try visiting one of An Bang's beach clubs. For the cost of your food and drink, you can use their facilities. A food and drink minimum is expected.

The Shore Club
This is the ritzy option, with private cabanas, seaside loungers, and luxury sunbeds. Minimum spend from March through October, please reserve in advance.
Honestly, though it presents itself as top-notch, from the beach it doesn't look much different from many of the other places around.
Address: Far Left End, An Bang Beach

The DeckHouse
The DeckHouse is a restaurant and beach club with a pool that is a great place to spend the day. They are known for their seafood boats but also have lots of other family-friendly options from hamburgers to Vietnamese dishes.
Reserve a VIP cabana, a seaside space, or a poolside space. Spaces have a minimum spend and must be reserved in advance.

Barefoot Beach Club
If you're looking for something more low-key that doesn't require a reservation, check out the Barefoot Beach Club. Here you'll find bean bag chairs, BBQ, events, and open mic nights.
Located south of most of An Bang, the Barefoot Beach Club is one of the last things you'll find before Hidden Beach.
Address: 30 Nguyen Phan Vinh
Visit Old Town Hoi An
When staying in An Nang, be sure to check out the Ancient Town of Hoi An, a UNESCO World Heritage Site. Hoi An is an old trading port that has become known for its beautiful paper lanterns. Explore the wooden Japanese bridge, release a wish candle onto the river, and stroll through narrow pedestrian streets.
Just 3 miles (5 km) from An Nang, this is an easy trip to take for the day. Stop to relax in a cafe, enjoy dinner by the river, or even try making your own paper lantern!
While you are strolling the ancient town, be sure to check out a few of the best banh mi in Hoi An.
Explore the Marble Mountains in Da Nang
Just a 20-minute drive north of An Banb Beach you'll find the famous Marble Mountains. These five limestone peaks are named after the five elements: water, wood, metal, fire, and earth.
You can only climb and explore the water mountain. Choose between walking up to the top or taking the elevator. Expect to spend about two hours on the mountain- there are pagodas, caves, and viewpoints at the top.

Where to Eat in An Bang Beach
There are tons of places to eat around An Bang Beach. These are some that we personally have tried and would recommend to our friends. These are not expensive places, but great for families or a casual day out at the beach.
Understandably, fresh seafood is a big draw in An Bang. If you walk the street just back from the beach, you'll see rows and rows of colored tubs holding sea creatures waiting to be eaten.

Thom's Sourdough Bakery
Thom's is our go-to bakery in Hoi An for great sourdough bread (order the day before). They also have delicious pastries and coffee. A stop at Thom's is a great way to start a day at the beach.
Address: 91 Nguyễn Phan Vinh

7 Son Bakery & Coffee
This bakery is right on the main road as you enter An Bang and has a beautiful garden-like area to sit and enjoy your coffee. They have bread, pastries, desserts, sandwiches, bagels and even pizza. Their prices are a bit lower than Thom's, but their pastries are not as good.
The coffee here is good, and this is a great space to sit with your laptop or with a larger group of friends. We recommend the sugared donut- it was by far the best of the pastries that we tried.
Address: Tổ 7 An Tân

The Fisherman Vegan Restaurant
This is our favorite restaurant on the south end of An Bang. We are not vegetarian, but don't eat a lot of meat, so having a whole menu to choose from is delightful. We like to grab chairs here and then order lunch.
Try the "Special of the Fisherman Starter" which has falafel, fresh spring rolls, fried spring rolls, crispy potatoes, salad, brown bread, hummus, tahini, and guacamole.

Ken's Vegetarian and Coffee
This restaurant comes highly recommended- it's got a slightly more upscale feel with white tablecloths, though the prices are very competitive.
Address: 157 Nguyễn Phan Vinh

Purple Lantern
This restaurant has traditional Vietnamese food, as well as a decent selection of vegetarian options. We enjoyed the pumpkin peanut which is a sort of pumpkin stew served with white rice.
Decorated with purple lanterns, the cocktails here are a great deal- half the price of many other places. Try the lemongrass martini. Located just next to Ken's Vegetarian.

Cosy Corner Cafe
This cafe has a mixed menu of Western and Vietnamese, including smoothies, coffee, and bagels. What we love most about this place is the cozy atmosphere and the games. Feel like chilling with a game of Monopoly or Othello? This is your place. They also have a good selection of paperback books if you're ready to exchange your beach read.
Address: Tổ 7 An Bàng

Tree Coconut Beach Restaurant
This is a great place to base yourself on the quieter north side of An Bang Beach. Grab a chair and relax on the beach until you are ready to order lunch. This place is friendly but basic- you'll find a bucket toilet and an outdoor shower, but no other facilities.
The Tree Coconut Restaurant has a huge menu- they are known for their fresh seafood including grilled fish in a banana leaf. They have a couple of tofu dishes, we enjoyed their tofu with vegetables as well as the fried spring rolls. We also liked that they provided us with some fresh fruit for dessert.


Where to Stay in An Bang Beach
There are quite a few options for staying in An Bang Beach. We chose to travel to An Bang from nearby Hoi An, but a lot of travelers love spending a few beach days right in An Bang. Staying in An Bang Beach lets you take advantage of the nightlight including many happy hours and many live music performances.
Please note that prices on average double during the high season. Visit during the low season to find great rates at An Bang Hotels.

An Bang Beach Villa has a great location just a block back from the beach on the North side of An Bang Beach. There's a lovely swimming pool that is open all year round. This hotel has great family room options including a 2 bedroom apartment and many connecting rooms. Many rooms also have terraces or balconies.

For a less expensive option, check out An Bang Coco Villa. Also on the north part of the beach, it's in a quiet location a five-minute walk to the beach, and also close to cafes and restaurants. They have a beautiful outdoor pool with rooms looking out over it.

When is the Best Time to Visit An Bang Beach
The best time to visit An Bang Beach is between March and September, avoiding the rainy season which runs from October to February. We visited in September and had locals warn us toward the end of the month that the rains are coming! An Bang is warm all year round, so it is amazing swimming weather even in September and beyond.

FAQ: An Bang Beach Vietnam
Will I be hassled on An Bang Beach?
We found everyone to be very friendly in An Bang Beach. We were approached by several women selling jewelry or souvenirs, but they were very friendly and didn't press us to buy anything.
How much is a beach chair and umbrella at An Bang Beach?
The cost of a beach chair and umbrella without purchasing food is between 20 and 50,000 VND. Buy a cocktail, a few beers or some food to avoid the charge. Many restaurants advertise free chairs, wifi, and showers in exchange for eating there.
Is the beach clean at An Bang?
Yes, An Bang Beach is very clean. We saw a few bits of litter floating in the water, but the beach itself was spotless. It is one of the cleanest beaches we've seen in Asia.
Is An Bang better than Hoi An?
An Bang Beach is very different from Ancient Town Hoi An. If you want a quiet, relaxing vacation by the beach, An Bang is the best choice for you. For more activities including basket boat tours, lantern making, and shopping, choose Hoi An.
There You Have It: An Bang Beach Vietnam
An Bang Beach is Hoi An's best beach. It has warm, clean water, a long stretch of beautiful soft sand, and plenty of restaurants and activities for a few relaxing beach days. Combined with some time in Hoi An's ancient town and the larger city of Da Nang, you can easily see some of the highlights of Southern Vietnam. We've covered the best restaurants in An Banb, where to stay, and all the best things to do in An Bang.