A Complete Guide to Visiting Cartagena with Kids in 2023
Cartegena, Colombia is a fantastic family-friendly destination on the edge of the Caribbean Sea. A visit to Cartegena with kids includes colorful buildings, history, and of course, sunshine and beautiful beaches. This guide to Cartegena with kids includes what to do in Cartagena, where to eat in both Old Town and Getsemani, and where to stay to have the best visit to Cartagena. Here's everything you need to know to plan your Cartegena family vacation.
We visited Cartegena as part of three weeks in Colombia during our Family Year Out. At the time, our girls were 4 and 7 years old. We have a guide to Medellin and recommend visits to the smaller towns of Jardin and Guatape.
We traveled to Colombia after spending six weeks in Mexico. We also visited Peru and Brazil. We loved our time in South America, here are our top travel tips for South America to help you make the most of this continent.
This article may contain affiliate links, which means we may earn a small commission if a reader clicks through and makes a purchase. As an Amazon Associate, we earn from qualifying purchases at no additional cost to you. All our recommendations are our own and are in no way influenced by any advertiser or commercial initiative.
At the bottom of this post, download free Mobile Wallpaper images to satisfy your wanderlust!
Ready to Book Your Trip? Use our Favorite Travel Resources!

Where is Cartagena?
Cartagena, Colombia is a large city on the northern coast of Columbia, bordering on the Caribbean Sea. During the colonial era, the city was known as Cartagena de Indias, and you sometimes see this name used today.
With a population of just over a million, Cartegena is one of the largest cities in Colombia, and the most visited. The port, fortresses, and monument of Cartegena are a UNESCO Heritage site.
Colombia is the northernmost country in South America, sharing borders with Panama, Ecuador, Peru, Venezuela, and Brazil.
Is Cartagena Safe for Families?
The number one concern most families have before visiting is often "Is Cartagena safe to visit with kids?" We found the main touristy neighborhoods of Cartagena to be very safe.
Most families will spend their time in the Old Town, which is within the walls of the old city, and Getsemani, next to Old Town, which is a revived neighborhood known for its colorful street art.
The third neighborhood tourists often visit is Boca Grande, which is where the high-rise and luxury hotels sit along the beachfront. There are also quite a few casinos in this area. This is not a neighborhood we visited on our trip.
We wandered freely around the Old Town and Getsemani and never felt unsafe. There are lots of people out in the evenings. Plaza de la Trinidad in Getsemani in particular draws crowds of people in the cool evenings.
We did not explore other residential neighborhoods much, beyond walking to the Castillo de San Felipe just across the bridge from Getsemani.
Of course, take the same safety precautions you would in any large city, watch your belongings, and use your instincts. We would not hesitate to return to Cartegena with our kids!
What is Cartagena Known For?
Cartagena is known for being a colorful, musical, and upbeat city on the Caribbean coast. An old Spanish settlement, Cartagena was once the largest slave port run by the Spanish crown in the Americas, so it has a mixed culture of Spanish, Indigenous, and African elements. There is a lot of history to explore, combined with access to wonderful national parks and beautiful Caribbean islands.
Things to Do in Cartagena with Kids
Here are the best things to do in Cartagena as a family, including exploring Old Town, Getsemani, and the region around.

Wander Around Getsemanti
Getsemani is an enclosed neighborhood, so feel free to wander as you wish. The main plaza in Getsemani is Plaza de la Trinidad. In the evenings you'll find lots of people congregating here and in the streets around, including performers, and food vendors.
Make sure to visit Plaza de la Trinidad in the evenings- between 7 and 8 you'll start to see street performers, from singers to dancers. Locals and tourists alike gather in the plaza for street food, drinks, and generally hanging out. Our kids loved dashing around the plaza dancing, playing tag, and making up games with other kids.
Carerra 10 is the busiest cross street, which is packed with people, restaurants, and stores. Calle de la Magdalena is picturesque with its hanging umbrellas, and ends right across from the entrance to the park, making it a great way to walk to the Old Town. On the quieter streets around Getsemani, you'll find lots of art dealers, murals, and colorful buildings.
The marina with its pegasus statues and the Parque del Centenario lead to the entrance into the Old Town.

Visit Parque del Centenario
At first, this park seems like just a pleasant place to stroll through on your way between Getsemani and the Old Town. But, this park has some amazing secrets! I
n this park, you can spot iguanas, monkeys, and sloths in the wild. We saw a mamma sloth with a baby clinging to her belly high in a very large kapok tree close to the gate leading towards the Old Town. We also saw several small monkeys in the trees along the paths.

Stroll Through Old Town
Inside the walled Old Town, you'll find colonial buildings, narrow sidewalks, boutique hotels, museums, shops, and restaurants. The section closest to the main entrance is full of jewelry stores specializing in Colombian Emeralds. Plaza de Bolivar is a great place to relax and watch people stroll through. Don't miss Plaza Santo Domingo, with its Botero sculpture, and high-ceilinged cathedral.
Don't Miss Shop: Casa Abba Gallery – Boutique. This is a series of small shops, with a cafe in the middle. Jewelry, clothing, and accessories predominate.

Don't Miss Shop: Artesanias de Colombia. This shop has well-made items from all over Colombia. Items include small tables, baskets, and hand-painted pottery. It feels very high-end compared to a lot of the souvenir shops around town. Located on Carrerra 5, between Calle 34 and 35.
Walk the Old City Walls
There are steps leading up onto the city walls at various places. A great place to start is the wide ramp in front of the Naval Museum. From here you can see the modern buildings of Bocca Grande, and walk easily up the wall for great sunset views over the ocean.
There is a narrower section of the wall near the Teatro Adolfo Mejia that is also fun to climb on to get a different view of the city. You'll see the ocean just beyond the city walls, and at high tide, can watch the waves actually crash onto the highway.

Shop at Las Bóvedas
Head to the northeast corner of Old Town to shop for souvenirs in Las Bóvadas. This old dungeon has been converted into a series of souvenirs and gift stalls. You'll find a mix of merchandise, from inexpensive keychains and t-shirts to higher-end emerald jewelry and home goods.
At the end of the shopping strip, take the ramp up to the top of the city wall. Head left and you'll find a fun tunnel leading out of the old city.
Visit The Old Spanish Fort
The Castillo de San Felipe de Barajas is an easy walk from the Getsemani district. Walk east on Calle 30, the sidewalk will cross the river. Stay straight past the gas station and you will see the entrance to the fort across the street.
This fort was built to defend the city of Cartagena from a land invasion. Our kids were grumbling about going to visit the fort. However, once we got there, they loved exploring the tunnels that run through the fort. Start by heading to the top level for views over the city, then follow the various tunnels down. The fort costs 25K pesos per adult, and 10.5K per child 6 and up (2022 prices).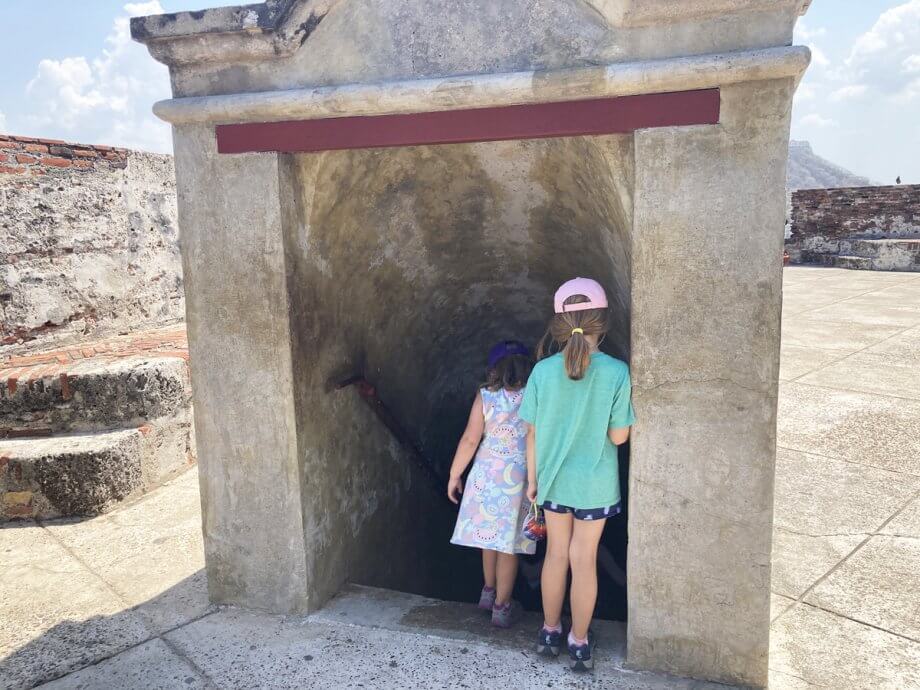 Visit Playa Blanca
Located on Isla Baru, Playa Blanca is one of the prettiest beaches close to Cartagena. You'll find white sand beaches with bits of corral in the sand, and a warm blue ocean. The beach drops off fast, so watch that smaller kids don't get out too far.
The main section of the beach is narrow- and filled with tables, chairs, and umbrellas. Once you get into the water there's quickly a row of boats waiting to take people out. If you head right when facing the water, you can walk down the beach to Playa Tranquillo where there are fewer boats and less of a crowd.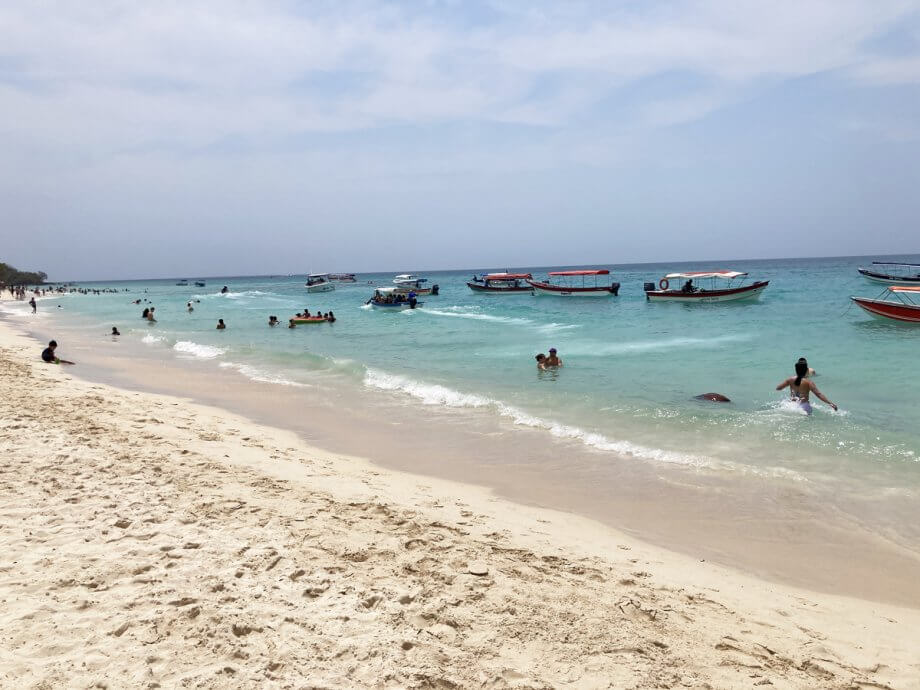 We visited on a Thursday, and the beach seemed crowded to us, but we are told it is absolutely packed and should be avoided on weekends. For reference, our guide negotiated our umbrella rental on Playa Blanca, and we paid 50K pesos for the afternoon.

Getting to Playa Blanca
It's not easy to get there by public transportation, so you'll need to book a shuttle or a tour. We visited via a tour that included snorkeling, a visit to the mangroves, and lunch at Playa Blanca.
Due to covid, the snorkeling consisted of goggles only, and most of the lifejackets were too big, making it more of a pleasant float than true snorkeling. The visit to the mangroves involved going about 20 feet into the mangroves, where the guide hand-fed some wild crab-eating raccoons. We are not fans of feeding wild animals as part of any tourist experience. The boat then backed out of the mangroves.
We recommend skipping the snorkeling tour, and either doing a tour that includes a visit to the nearby National Aviary or taking a shuttle directly to the beach.
Book Now: Playa Blanca and National Aviary Tour
There is a shuttle run by Hostel Mamallena. It is 50K pesos round trip per person. They run shuttles at 8:30, 12, and 5 pm heading to the beach, and return shuttles at 10:30, 3, and 8:30. They include a discount at a specific restaurant, but you are free to wander as you like and eat where you choose. Shuttles leave from Hostel Mamallena in Calle Media Luna in the old town.
Need more beach time? Head to the Rosario Islands to relax and explore- we've compiled our top travel tips for the Rosarios.

The National Aviary
The National Aviary is close to Isla Baru and can be combined with a trip to Playa Blanca. We didn't make it here, but it is recommended to visit in the morning, and plan several hours to see the birds here. Check out the tour above to combine it with lunch and time to relax on Playa Blanca.
Canoe through the Mangroves
We were really interested in taking one of these canoe tours through the mangroves but weren't able to find one that fit our family. Most tours are 6+, many are 12+. You should see iguanas, raccoons, and more wildlife in the mangroves. You'll also learn about traditional fishing techniques in the area.
Check Prices: Canoe Trip Through the Mangroves

Visit a Mud Volcano
The Totumo Mud Volcano is one of the world's smallest volcanoes. You can climb a set of wooden stairs to soak in the mud inside the volcano. This is a very popular trip to do while in Cartagena, but dealing with two small children covered in mud didn't sound fun to us, so we skipped it. There is a slippery ladder to get in and out of the mud volcano, so this is an experience best for older kids.
Globetrottergirls wrote a great post on the realities of visiting the volcano.
There are several ways to do this tour- on its own, combined with a trip to an indigenous community, or even a pink sea. This is one of the most requested day trips from Cartagena.
Check Options: Mud Volcano Tours

Museo de Arte Moderno
This small art museum features contemporary artists from across Latin America. We probably spent about half an hour in the museum talking about the various paintings.
When we visited, the second floor was closed for reinstallation. Open 11 am – 6 pm, closed Mondays. Admission is 10K pesos per adult, and 5K per child.
Museo del Oro Zenú
This museum was closed for renovations when we visited Cartagena (March 2022), but it looks like a great family museum. This museum is focused on the Zenú people who were indigenous to this area before the arrival of the Spanish. You'll find lots of gold artifacts on display as you learn about the history and culture of these people. Free admission.

Palace of Inquisition
This museum is focused on the Spanish Inquisition, and the torture methods used then. There is an old dungeon to visit. The second floor is the History Museum of Cartagena, which has some information on the indigenous traditions and cultures from the same time period. We skipped this museum, as it didn't seem appropriate for our kids (ages 4 and 7), but older kids may enjoy it.

Museo Naval del Caribe
This museum focuses on the Colombian Navy, the history of Cartagena, and the various pirate attacks on the city. There are some cool interactive exhibits including the inside of a submarine, and the bridge of a warship.

Where to Eat in Cartagena with Kids
There are two districts in Cartagena that most families spend their time in, so we'll break down the food options between the Old Town (walled city), and the district of Getsemani that is next to it. While every family's concept of budget-friendly is different, we looked for places where entrees were below 30K pesos each.

Where to Eat in Cartagena with Kids- Getsemani District

Don't Miss Café: Beiyu
We could eat every day at this delightful coffee shop! It's a little oasis, with a fun star pattern on the ceiling. We enjoyed the espresso and the smoothies, but they also have a menu the size of a book with lots of lunch and breakfast options. They have a limited pastry selection, so it's a better choice for drinks and smoothies or full meals. Seating is limited, so get there early for lunch, or on weekends.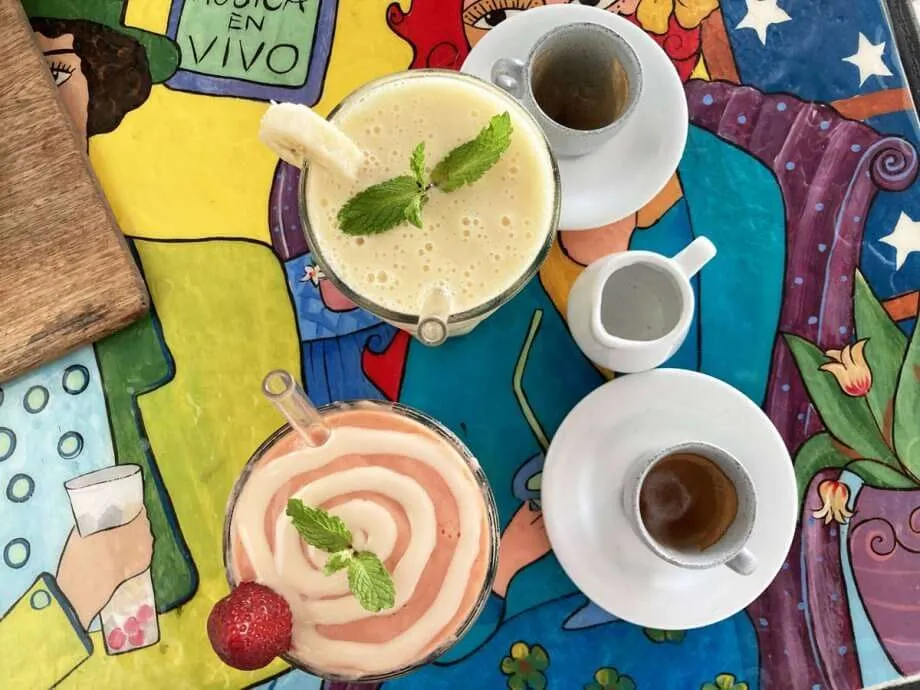 Demente
Demente is right on Plaza de la Trinidad has a front room with smaller tables, and a back beer garden with communal tables. They have a menu of wood-fired pizzas with interesting toppings (we had zucchini on ours), as well as a mix of tapas dishes, from crab dumplings to creole potatoes.

El Bololó del Caribe
Quietly sitting behind the purple door in the purple wall across from the Plaza de la Trinidad, this café offers one thing- bowls. Choose fish, jerk chicken, beef, or falafel, then choose your coconut rice with either beans or squash. Each bowl also comes with vegetables and plantains. They also offer smoothie bowls. We tried three different bowl combinations and found them all filling and delicious. Make sure to try the fish bites- they are very light.

Caffe DiSilvio
Don't confuse this cute café with the DiSilvio Trattoria just across the street which is more upscale. This casual eatery has breakfast, brunch, and lunch options including waffles and paninis. The back courtyard is a lovely covered brick terrace with retractable shades. We had the yogurt, fruit, and granola bowls- you pour your own yogurt and then add as much honey as you like. We also enjoyed their waffles with Nutella and a veggie panini.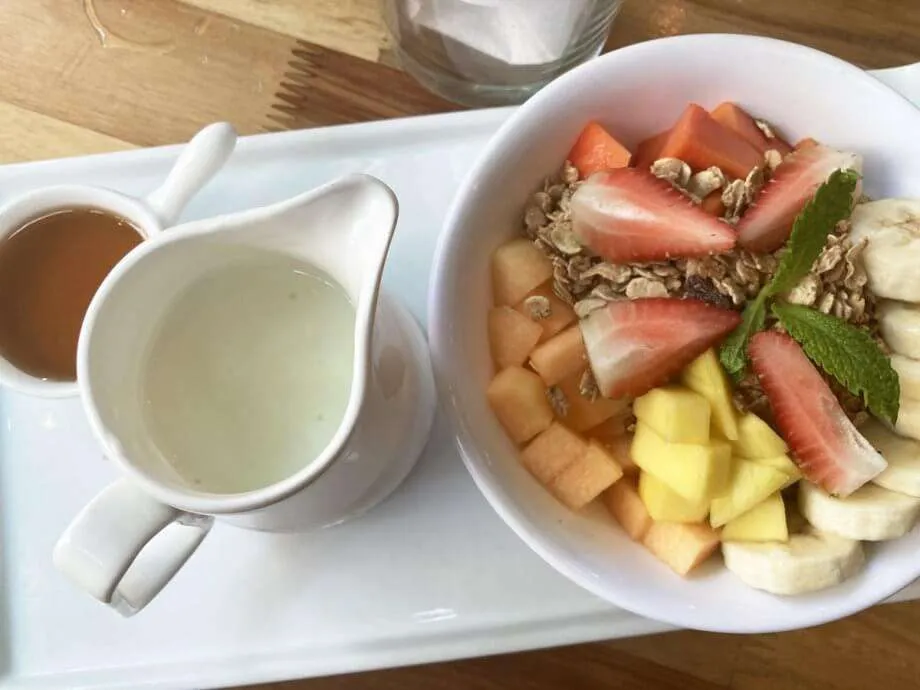 The café is known for its coffee milkshake, they also offer coffee cocktails. You can choose two flavors for your milkshake – our girls chose a mix of chocolate and arequipe (Colombian caramel). The shake was thick and delicious, made from good-quality chocolate.

Caffe Lunático
We didn't make it to this tapas place, but we hear great things about it. They also offer cooking classes here.
Getsemani Pizza
This pizza joint has outside tables just off of Plaza de la Trinidad. Get here before 6:30 to snag a table with a view of all the action in the square. The pizzas come in three sizes, and the beer is cheap. This was our cheapest meal in Cartagena, and we all left full and happy. The pizza is good- we enjoyed the vegetariana which came with corn among other veggies, and the margarita especial. Just past Café Trinidad on Calle de la Sierpe.
Where to Eat in Cartagena with Kids- Old Town

Café de la Mañana
This cute coffee shop makes a great snack break or lunch stop. The menu ranges from burgers to hummus or avocado toast. We stopped in here for a cold brew coffee while exploring the city.
Epoca Espresso Bar
This upscale coffee bar has an old-timey apothecary feel. You'll enter into a dark bar-style room. If you go up the spiral staircase you'll find high ceilings and more cozy couch-style booth seating. I tried the Limonada de Café- which actually was a slushie-style lemonade with ground coffee added. Their pastries are also excellent.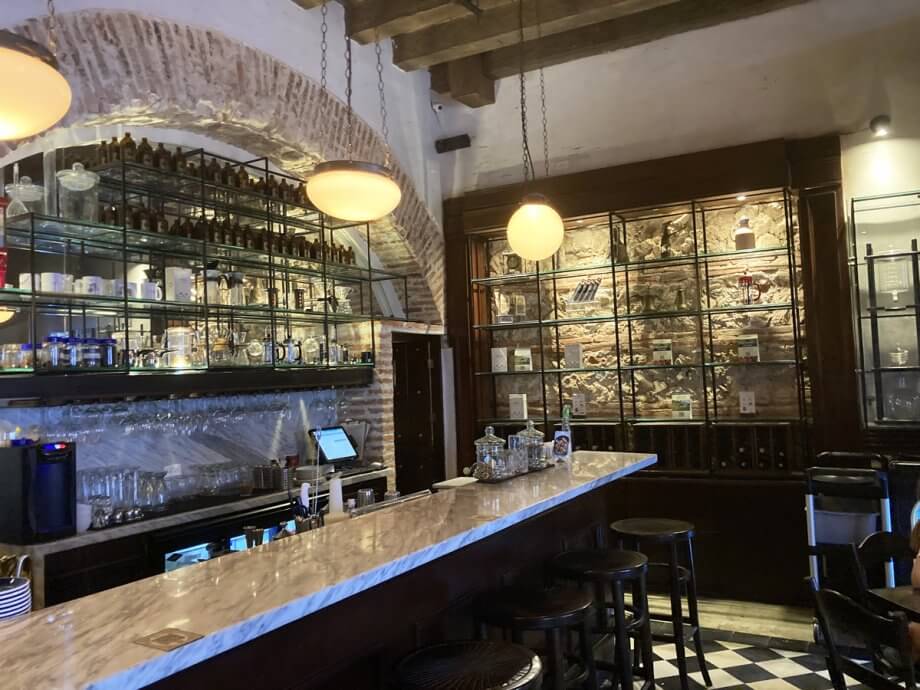 Café La Manchuria
This café is great for a coffee and bathroom break. The front room is air-conditioned with brightly decorated chairs, and a case full of sweet treats. If you go through the glass door at the back, you'll find more seating (although no air conditioning) including a fun swing made from a canoe, and some comfy couches. The bathroom is also in this back area, behind the blue door facing the stairs. I had an excellent espresso, and we shared a very fudgy brownie.

Quero Arepa
This small café has a substantial vegetarian section on its menu. We had two different arepas, and two plates of mazorca desgranada, which means corn cut off the cob, then served with vegetables, or meat and cheese, topped with crunchy fried potato sticks. Perfect for a healthy lunch packed with vegetables. The food is made to order, so plan time to wait.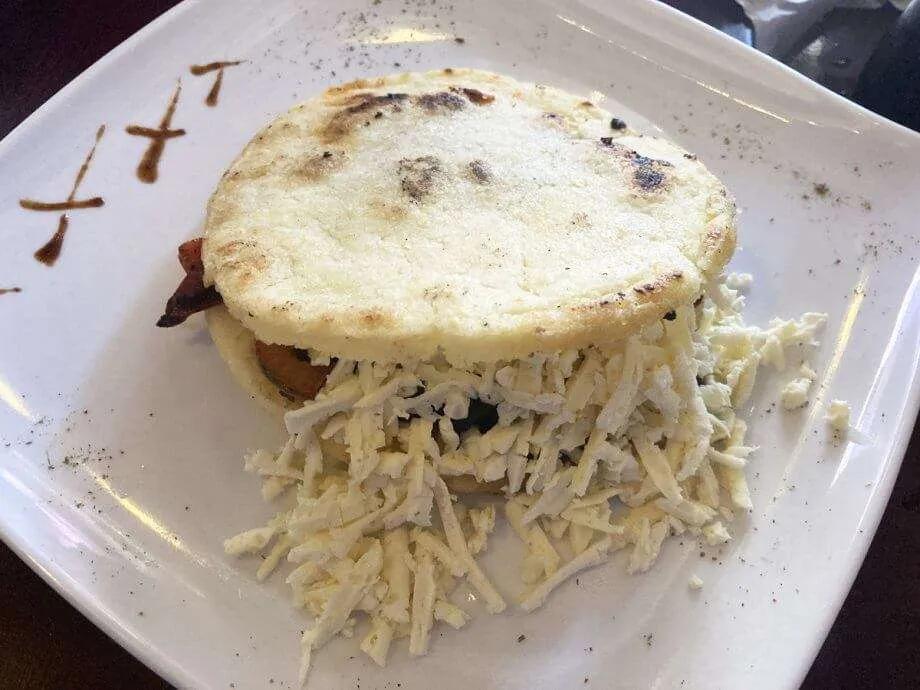 Gelateria Tramonti
This gelateria is located in the upscale part of the old town. There is no seating inside the shop. Step in, choose your flavors, and take it to go. Everything we tried was excellent, particularly the fresh strawberry gelato.

Pezeterian
This sushi restaurant is a little more expensive than we normally choose, but it's a lovely place with beautiful dishes. Sushi bowls start at around 35K pesos. It is great for kids because you have the option of ordering sushi as a roll or as a bowl. As our kids tend to eat most things pulled apart, the bowl option is perfect for them. The bowls are basically deconstructed sushi rolls with extra rice and veggies.
We had the Pezetarian bowl with purple rice and the salmon bowl with white rice. We also had the vegetarian summer rolls (rollitos de arroz) and the edamame.
The electricity went out after we had ordered our food, but they still delivered. We ate the first half of our meal in the dark, with a bit of help from a cell phone light.
Café del Mar
This café is very popular for its sunset views. The food doesn't get the greatest reviews, but it's a classic Cartagena experience. Located on the city wall, there is a line to get in around 5 pm. An alternative that also has good views, is El Baluarte de San Francisco Javier, just up from the Naval Museum.

Where to Stay in Cartagena with Kids
We recommend staying in the Getsemani district. We also spent a lot of time in the old town, but it is an easy walk between the two and we were happy to return to Getsemani in the evenings.

Recommended Getsemani Hotel: Casa Villa Colonial
This hotel is in a quiet location but an easy walk to all of Getsemani. The room was bright and spacious, with a pool and breakfast on the roof. Cartegena gets quite hot- so cooling off in the afternoons was wonderful.
We did find that wifi only works in the lobby, so request a first-floor room to have easier access. We were able to store a lot of our baggage here while we spent a few days in the Rosario Islands.
How to Get to Cartagena, Columbia
There are lots of flights into Cartagena. We flew in on a direct flight from Medellin via Avianca Airlines. There are also direct flights from Bogota and flights to Santa Marta and the surrounding areas. We use Skyscanner to find the best flights for our family.
From the airport, it's best to take an official taxi into town. There is a QR code next to the taxi line with a list of flat rates by district. For some reason, the Casa Villa Colonial hotel is considered "Centro – Zona Hotelera" rather than "Getsemani" for taxi rates which caused us some confusion. Rates range from 12-15K pesos for most tourist zones.

FAQ: Visiting Cartagena with Kids
How Long Should Families Stay in Cartagena?

We stayed in Cartagena for a week, as we are trying to slow down our travels and have more downtime along the way. For most families, we would recommend 3-4 days to enjoy most of the attractions and soak up the atmosphere of the city, before heading to the Rosario Islands or to Santa Marta.
Is There Uber in Cartagena?

Yes, there is us Uber in Cartagena! Though we found that most places we wanted to go were within walking distance of our hotels, or required more complicated tours or transportation. However, Uber is readily available if you need it.

When arriving at the Cartagena airport, you must take an official taxi rather than an Uber, but when returning to the airport Uber is a great option.
Is Colombia good for families?

Yes, Colombia is a wonderful place to travel as a family. Colombians are very family-focused and welcoming to travelers. You'll find safe cities, beautiful wildlife, and amazing, clean beaches to explore.
Is Cartagena Expensive?

Compared to European or US cities, Cartagena is not at all expensive. If you have been traveling around other places in Colombia, you will find Cartagena a bit more expensive than cities like Medellín. We found hotels for around the same prices as other Colombian cities, but we had to increase our food budget in Cartagena compared to the rest of the country.
There You Have It: Visiting Cartegena with Kids
The vibrant city of Cartagena, Colombia is a great place to explore as a family. You will find visiting Cartagena with kids to be safe, and easy to navigate. The main tourist areas are very safe and separated from the other neighborhoods within the city. You'll find old city walls, wonderful museums, and lots of lively artists and street murals.
Exploring more of Colombia? We loved our time in Medellin, Jardin, and Guatape as well as Cartagena.