This family itinerary for 3 weeks in Colombia with kids starts in Medellin, explores a few colonial towns around it in the coffee zone, then heads up north to Cartagena and the Rosario Islands on the Caribbean coast.
Colombia is a land of jungles, coffee plantations, and beautiful beaches. A country that we would have deemed unsafe a few years ago is now welcoming families with kids and showing off its artistic side.
We visited Colombia in 2022 as part of our Family Year Out when our kids were 4 and 7. We flew in from Mexico, where we spent six weeks exploring the country.
Don't miss: Beaches and Big Cities: Three Weeks in Brazil
This article may contain affiliate links, which means we may earn a small commission if a reader clicks through and makes a purchase. As an Amazon Associate, we earn from qualifying purchases at no additional cost to you. All our recommendations are our own and are in no way influenced by any advertiser or commercial initiative.
At the bottom of this post, download a free guide: BUT IS IT SAFE?? An Essential Guide for Family Travel.
Visiting Colombia with Kids
We found Colombia to be a wonderful country to visit with kids. We experience a shift in language coming from Mexico- we found that many words and phrases were different. For example, people respond to "thank you" by saying "con gusto" in Colombia instead of "de nada" as they do in Mexico.
Colombia is full of wonderful fruits, many of which we had never heard of before our visit. We enjoyed fresh fruit, but also a variety of fruit juices served fresh. There is also a lot of fried food, from buñelos, to empanadas and arepas.
We started in the busy city of Medellín which is a great gateway to smaller colonial towns where you can learn about coffee plantations, hike through the jungle, and see lots of colorful plants and birds.
Medellín- 8 Nights
Medellín is in the middle of a jungle- it is loud, and chaotic, with a lot of traffic from cars, trucks, and a lot of motorbikes. Called the "city of eternal spring" this city is green and in bloom all year long.
Read Next: Things to Do in Medellín with Kids- A Guide to the Best Activities for Families
There is a metro that runs north-south through the city that will help you avoid the traffic on the streets. Your metro card also includes buses and cable cars. You can take the cable car from San Javier to the top of Communa 7 for great views of the city.
Make sure to visit Communa 13 with its graffiti murals, music, and street performers. We did a combination tour with MedellínDayTrips that included a visit to try exotic fruits at a local market, a ride on the cable car, and a graffiti tour of Communa 13.
Because the tour was only the four of us and our guide, we could pace the tour (and the stories of historical violence) around our family's needs.
Don't Miss Tour: Exotic Fruits, Cable Car and Communa 13
We found Medellín tricky to explore at times as it's based around neighborhoods, rather than a center that is full of attractions. We heard from several locals that they generally avoid the busy Centro in their day-to-day lives.
We decided to break up our time in Medellin into two pieces, so we could explore two different neighborhoods as well as surrounding towns.

Getting There:
Medellin has an international airport that is easy to fly into. We recommend Skyscanner to find the best flights for your family. From the airport, you'll need to take an official taxi into town. We paid 90,000 pesos for the drive to the Laureles neighborhood.

Where to Stay, Barrio Laureles: Hotel Dorado La 70. This hotel is on a very busy, load street, but is also close to the Estadio metro station (a 3-minute easy walk), as well as many restaurants and bars. The room we stayed in was large and comfortable with a nice clean bathroom. We had an interior room, which meant no natural light, but also meant we had no noise from the street.

Alternate Hotel, Barrio Laureles: 3H HOTEL Av 70. We found that a lot of the interesting restaurants and coffee shops are south of the Estadio station and Carrera 70, so we would recommend staying just south of Avenue San Juan. This hotel is a 9-minute walk from the metro station, and 7 minutes to Parque de Laureles. It has a lot of family room options and gets great reviews.

Where to Stay, Barrio El Pobaldo: Hotel Tik Medallín. This hotel is right across from Parque de El Poblado. There is a small pedestrian strip of restaurants and cafes just next to the hotel. The El Poblado metro stop is fifteen minutes to the west, while Calle 10 to the east leads to the more upscale restaurants of the neighborhood. The hotel is nicely laid out, with a roof terrace, and breakfast included. We enjoyed having a room with a double bed and three twin beds, giving us lots of room to spread out. There can be some noise from the street at night.
Jardín- 4 Nights
Jardín is a small town in the middle of the Colombian jungle, that is part of the coffee growing area. The drive from Medellín takes you on bumpy, windy roads with amazing views of the mountains.
Jardín is in a valley surrounded by mountains covered in coffee plants, banana trees, and the occasional grove of bamboo.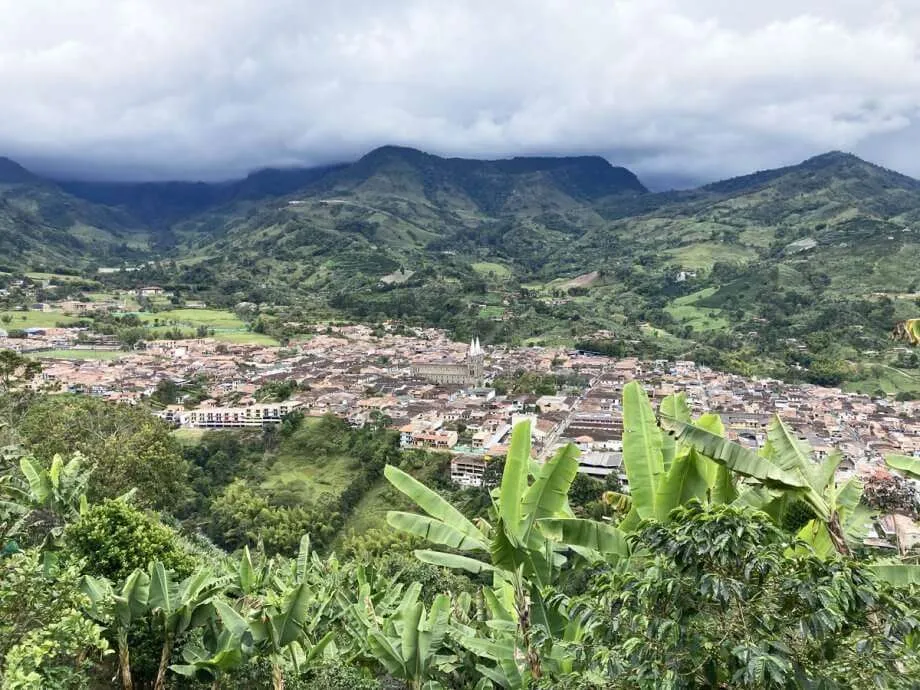 Tour a coffee farm to get an idea of how coffee is grown and harvested in Colombia. You can also hike up to Mirador Cristo Rey above the town for a cold juice and wonderful views of the town below. Don't miss the cathedral on the main square- it's breathtaking inside.
Jardín gets a lot of unpredictable rain. Plan to get outside when the sun is shining, and bring rain jackets for when the rain blows in. Sometimes the rain is over quickly, sometimes it pours for hours.

Getting There: Rapido Ochoa runs buses several times a day to Jardín from Medellín. You can book ahead of time on Bookaway. The journey takes 3- 4 hours each way depending on traffic. The buses tend to be small (20 or fewer seats), so you may want to book return tickets. The buses leave from the center of Jardín on Calle 8 in between Carrera 5 and 6.

Don't Miss Hotel: Hotel Kantarrana Urbana Jardin. This hotel is the kind of oasis you never want to leave. Located right in the center of town, you're a quick walk to the main square and all the restaurants in town. Once you enter the hotel, you'll be in a peaceful garden-like space with passionfruit growing by the door. We had an upper-floor family room with a double bed and two twin beds. Hot, fresh breakfast is served each morning.

Read Next: What to Do in Jardín with Kids

Guatapé – 1 Night
Guatapé is a beautiful colonial lakeside town, known for the huge El Peñón de Guatapé. This giant granite rock (La Piedra) towers over the landscape and has 649 steps built into the side so you can climb to the top for views of the lake and land all around.
Many people visit Guatapé as a day trip from Medellín, but at two hours each way, you may find it more enjoyable to stay the night and take your time exploring this small town. We chose to leave most of our baggage in Medellín and take just a backpack of overnight essentials to make the trip easier.

Getting There: Take the Soltrasanvincente bus from Terminal del Sur, Medellín. Check-in or buy tickets at window 14 on the lower level. Buses leave every 30 minutes, the trip takes around two hours, depending on traffic. The bus will stop at La Piedra (the rock) first if you want to get off and see the rock before going into town.
Where to Stay: La Casona Hostel. This hostel has family rooms with a double bed and a bunk bed that are perfect for a one-night stayover. If it rains (which happens a lot in Guatapé) you'll have lots of common space to hang out in. One block from the main square, you're close to all the action.
Read all the Details: Visiting Guatape with Kids: A Day Trip from Medellín
Cartagena- 6 Nights
Cartagena is one of the most visited cities in Colombia. It sits on the Caribbean Sea, on the northern edge of the country. Cartagena was once a large Spanish slave port, the Spanish built a walled city (the old town), and several forts to protect it.
Read our full post: A Guide to Visiting Cartagena with Kids
Cartagena today is full of color. Artists line the sidewalks with their work, ladies in colorful dresses pose for photos with bowls of fruit in their heads. The two main tourist districts – the old town and Getsemani, are definitely built around the tourist experience.
Getting There: Cartagena is best accessed by plane. We flew from Medellin on Avianca, it was about a 45-minute flight. From the airport, taxis have a set fee by district- you'll pay between 12K and 15K COP for the trip into town.

Where to Stay: Casa Villa Colonial
You'll want to stay in the Getsemani district, just outside the walled old city. You can easily walk to the old town, but you'll be surrounded by the art and energy of this hip district, which is full of restaurants and cafes.
This hotel is on a quiet block, beautifully decorated, with lots of space. Our only complaint was there was only wifi in the lobby- if this is important to you, ask for a first-floor room.
Rosario Islands- 3 Nights
The Rosario Islands are known for their beautiful Caribean waters and coral reefs. You can come on a day trip with a visit to a beach club, or stay for a few days to soak up the quiet ambiance of the islands.
Don't Miss: 14 Travel Tips for Visiting the Rosario Islands with Kids
These islands are largely rocky outcroppings and some mangroves, so you'll find great places to swim, but fewer long stretches of sandy beach.
Part of a Colombian National Park, there are many islands that make up this archipelago. We visited Isla Grande, the largest island which has a lot of resorts to choose from. The best time to visit the islands is December to March.

Getting There: From Cartagena, take a one-hour water taxi. Taxis leave from Muelle de la Bodeguita just outside the city walls. Taxis leave in the morning starting at 8 am and return in the afternoons, leaving the islands around 2 pm.
Book ahead, and plan to get to the port early- the boarding process can be chaotic. Water taxis cost about 70K pesos each way. There are several taxi companies, we used Cartegena Life since it was recommended by the hotel.

Where to Stay: Rosario Ecohotel
This is a lovely hotel where breakfast is included, you'll need to pay separately for your other meals and any drinks. There is no pool and very little sand. Instead, you'll find boardwalks and a swimming area that is a combination of soft sand, rocks, and corral. We had a room on the second floor with wonderful views of the ocean, a beautiful spacious bathroom, a small table, and lots of room to spread out.
Where to Stay- All-Inclusive: Hotel Isla del Sol
An alternative is an all-inclusive hotel- you'll pay more upfront, but do not have to worry about adding much to your bill while you are there. This hotel is more expensive but has a sheltered sandy beach which is great for kids, as well as a swimming pool.
Both of these hotels are on the north side of Isla Grande where the wind gets quite strong at night.
Alternate Location: Bogotá- 3 Nights
A lot of families spend time in Bogotá, as there are a lot of flights that go through this capital city. Some of the highlights of this city include the Museo Del Oro which holds the largest uncut emerald in the world, as well as a lot of gold artifacts.
Chapinero is a great safe neighborhood for families to stay in. Bogotá is also a great place to take an exotic fruits tour or a graffiti tour.
Check Prices: Bogota Fruit Market Tour

When is the Best Time to Visit Colombia with Kids?
The best time to visit Colombia with kids depends on which part of the country you are referring to. Medellín is often called "the city of eternal Spring" and has pleasant weather year-round, though it is the most crowded in January and February. Cartagena is best visited from January to March before the weather gets too hot.
Is it Safe to Visit Colombia with Kids?
Colombia is much safer than it was a few years ago. While we don't recommend setting off into unfamiliar areas, we have felt quite safe traveling around Colombia, including the Laurales and El Poblado neighborhoods of Medellín.
We have found the people of Colombia quite warm and welcoming, and always willing to help if you look lost or confused.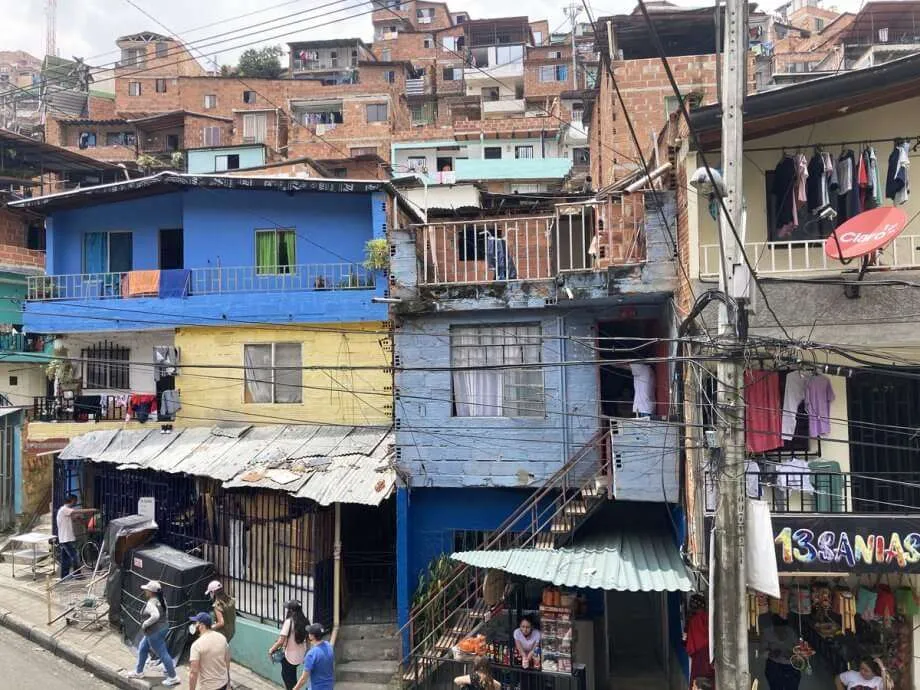 Can I Drink the Water in Colombia?
Yes, you can drink the water in Colombia! If you want to be extra cautious (because sick kids are no fun), then use a Steripen to purify any bacteria in the water. You should have no concerns about cooking or brushing your teeth with the water in Colombia.
Check Prices: Steripen UV Water Purifier

Do I Need a Car in Colombia?
We do not recommend driving in Colombia. There is a lot of traffic, a lot of chaos, and a lot of motorbikes weaving in and out of traffic. In most cities, you can use Uber, or an unmetered taxi to get around safely.
Travel Tips for Colombia with Kids
Here are some of our top travel tips for visiting the beautiful country of Colombia with kids.
Wire Transfers
We had several hotels in Colombia ask us to wire them a deposit to hold our hotel reservations. This can be tricky for Americans, as banks charge hefty fees for wire transfers.
We recommend joining Remitly– you can do instant wire transfers from a debit card for $3.99 USD, or less if you can wait 3-5 days for the transfer.
We also used this service to pay for a tour in Medellín rather than show up with a lot of cash. This service costs a lot less than the 6% fee the tour was charging for using Paypal or a credit card.
Get a Free Account: Remitly Wire Transfer Service
Watch Tour Age Ranges
We had several tours (the free walking tour! The exotic fruits tour!) that we realized were only available to teens and up. I have no idea why some tour groups limit fruit tasting to certain ages, but we had to scramble a bit to find tours that worked for our family, particularly in Medellín.

The Local Food
Most Colombian food is not spicy- in fact, sometimes we found it needed additional spice! This is a great country for kids to try lots of the local cuisine. Our kids loved the coconut rice, as well as patacones (smashed plantains). They also enjoyed street food ranging from empanadas to waffles with arequipe.

Enter and Exiting Requirements
Colombia requires a registration form called Check-Mig to be filled out online before entering the country. You'll need one form for each adult, any kids traveling with you can be added to one of the adult forms. Keep a digital copy of the completed form on your phone- they don't require paper copies and did not ask to see our digital copies.
It's important to note that you'll need to fill out this form again online to exit the country! There is no charge for the form. We also had the airline verify our outbound flight before allowing us to enter Colombia.

There You Have It
Colombia is a wonderful place to explore as a family. We enjoyed our time in both the central and northern parts of Colombia with kids, and always felt safe. This itinerary includes both jungles and beaches, so you can get a taste of some of the different regions of Colombia.