Walking on the Moon: Exploring Craters of the Moon with Kids
Have you ever wanted to be an astronaut? For many of us, walking around the surreal landscape of Craters of the Moon National Monument and Preserve is as close as we'll get. Visiting Craters of the Moon with kids gives them an introduction to this type of geology and is an overall fun park to explore with kids.
Never heard of this small park in Idaho? You're missing a real gem! We visited Crater of the Moon on our Northwest road trip when the kids were 4 and 6. This park quickly became a family favorite for its unusual formations and adventurous caves.
Bring your camera and your headlamp, exploring Craters of the Moon is an adventure! You'll walk on lava tubes, and crawl inside caves formed by lava flow. Here's everything you need to know to experience this cool national preserve on your next family road trip.
We'll cover the different areas of the park, getting permits, what gear to bring (and leave home), and which caves are best for families. Finally, we'll cover some cool facts about Craters of the Moon to get you excited for your visit!
This article may contain affiliate links, which means we may earn a small commission if a reader clicks through and makes a purchase. As an Amazon Associate, we earn from qualifying purchases at no additional cost to you. All our recommendations are our own and are in no way influenced by any advertiser or commercial initiative.
At the bottom of the post, Download our Top Ten Tricks for Exploring National Parks with Kids.
Ready to Book Your Trip? Use our Favorite Travel Resources!

Where is Craters of the Moon National Monument and Preserve?
Craters of the Moon National Monument is in Arco, Idaho at 1266 Craters Loop Road, southwest of the town center. Arco is in lower-middle Idaho, north of Salt Lake City, and West of Twin Falls, Idaho.
The park is located off U.S. Highway 20/26/93, be wary of GPS directions, as you should not need to drive on any unpaved roads. We found Google Maps to be accurate and did not have a problem finding the entrance.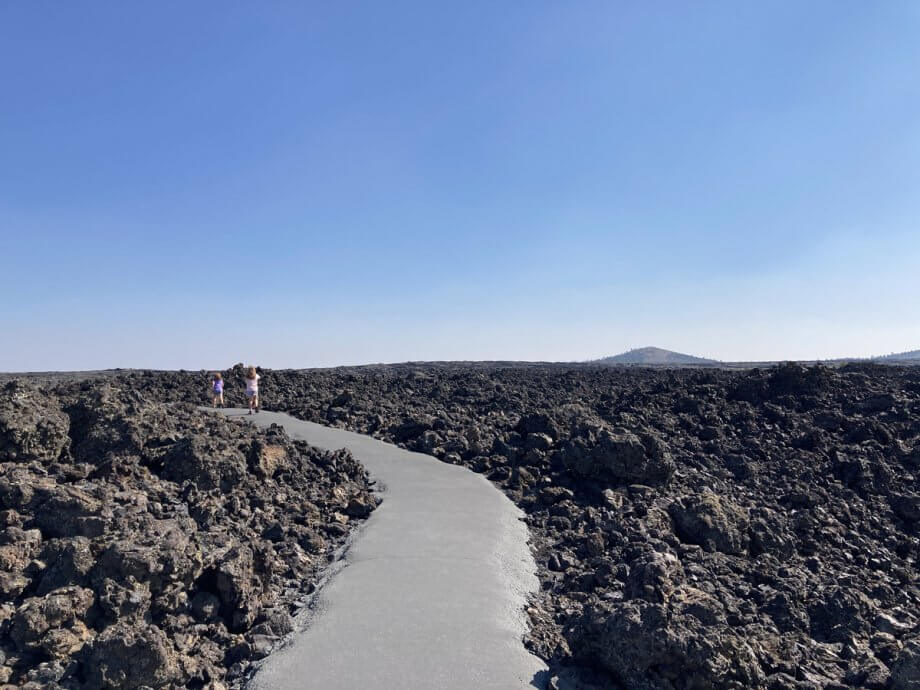 How Do I Get to Craters of the Moon?
You will most likely visit Craters of the Moon on a road trip based on its location. You can combine it with a visit to Salt Lake City, or on your way to Grand Teton and Yellowstone parks.
Ready to road trip? Make sure you've done safety checks and have the best road trip gear for a smooth trip. Stock up on road trip snacks and kid-friendly car activities.
We visited as part of our loop through the American Northwest, in between the Bonneville Salt Flats and Grand Teton National Park.
If you'll be visiting three or more National Parks, preserves, or monuments, be sure to get an Annual Park Pass. Good for 12 months from purchase, it makes entering and exiting all the National Parks simple and easy.
Buy Now: American the Beautiful National Parks Pass
What Should We Plan to Do with Kids at Craters of the Moon?
While you'll generally be following the paved loop that circles the park, you'll still want to prioritize which trails and caves you most want to visit. We found that after our second cave we were getting tired, and didn't want to push ourselves to explore a third.
Get a Caving Permit
First stop, visitor's center! If you plan to enter any of the caves, you'll need to get a free caving permit here. This is also a great place to check on any closures and ask any questions that you have.
You'll pass the entrance to North Crater Trail, which is closed for renovations and maintenance. This trail connects back up with the paved road at Snow Cone.

Hike up Inferno Cone
For your first real view of Craters of the Moon, hike up to the top of Inferno Cone. Inferno Cone is almost like a giant hill of black sand. Our kids loved running toward the top. The wind on the cone can be very strong, so best to leave the hats in the car. From the top, you can see panoramic views of lava fields and cinder cones.
A "cone" is a cinder cone, that forms when volcanic froth spews high into the air, and then falls back into a mound. Depending on the wind at the time, the cone may form miles away from the site of the original eruption.
It's amazing how much life there is at the top of the Inferno Cone- from a full tree to sagebrush, bitterbrush, and paintbrush plants.

Explore Snow Cone and Spatter Cones
Next up, explore the winding path up Snow Cone and Spatter Cones. These are much smaller cones, made of much larger rock pieces. In the Spring, these contain snow and ice, though they were empty holes when we visited in the fall. The lava here has some beautiful colors if you look closely. After Inferno Cone, the kids were underwhelmed by these.

Become a Lunar Ranger
One of the most fun elements of the park for kids is becoming a Lunar Ranger! Like the Junior Ranger program at other parks, this is the one park where you become a lunar ranger! Make sure to ask for the packets at the visitor's center. They gave us the badges along with the packets so we could swear in the kids whenever they finished their booklets.

Go Hiking
There are several hikes at Craters of the Moon that get you off the driving loop and into the Craters Wilderness.
Devil's Orchard Nature Trail is a half-mile loop that is wheelchair accessible. You'll pass this just before entering the one-way part of the driving loop, so you can easily stop here entering or leaving the loop.
North Crater Trail is currently closed for renovations. 3.5 miles that are being improved for accessibility. From just past the visitor's center, to Snow Cone.
Tree Molds Trail is a 2-mile trail that passes trees encased in lava. The Trailhead is the same for this as well as Big Sink Overlook and Buffalo Caves.
Broken Top Loop Trail is a loop trail that connects with the larger Wilderness trail. A 1.8-mile loop that takes you past Buffalo Caves.

Go Caving
Exploring the caves is why most people visit the park. These caves are actually the insides of lava tubes. You'll want to plan most of your time in the park for exploring several of these caves.
With the exception of Buffalo Caves, all of the caves you can enter are located on Caves Trail, a paved walkway that leads out into the lava fields.
At the visitor's center, consider purchasing "Caves of Multon Stone: A Guide to the Caves Trail" this pamphlet details some of the geographies of the lava tubes and includes detailed maps of the interior of the caves you can explore.

Are the Caves at Craters of the Moon Kid-Friendly?
Yes, the caves at Craters of the Moon are kid-friendly, though you'll need to choose the appropriate level for your family. There are caves that smaller legs can explore and more adventurous options that will keep bigger kids and teens engaged as well.

Which Caves at Craters of the Moon Are Appropriate for My Kids?
Each cave is given a rating of easy, moderate, or difficult which should help you decide which caves are best for your family. We've included our descriptions and experiences below as well.
Some caves may contain snow, water, or ice, so the season that you visit may also affect the difficulty of a specific cave. Please use your common sense and if in doubt, turn around and exit the cave.

Important: Due to white-nose syndrome, a fungus that affects bats, you should not wear anything inside the caves that you have worn inside any other cave system.

Buffalo Caves
Buffalo Caves is the most difficult cave at Craters of the Moon, and in an area separate from the other explorable caves. This cave is currently closed, with no reopening date listed.
Dewdrop Cave
This cave didn't look like much more than a depression with a caved-in ceiling to us. The guidebooks say "most of [dewdrop cave] is visible from the trail". The rocks here seemed rather perilous for not much reward. We started to clamor into this cave and turned back. Rating: Moderate
From Dewdrop Cave turn right for Indian Tunnel, or continue on for Boy Scout and Beauty Cave.

Indian Tunnel
This tunnel was lots of fun! Don't let the easy rating fool you. There is a stairway at the entrance, then walk to the left, scramble up a big rock pile, and finally exit at the far end. While the ceiling is high, and a lot of light enters, where to go is not immediately obvious. Our four-year-old crossed through the cave and loved it, though she needed a hand up or down at times.
Once you scramble out of the "secret exit", you must follow posts in the rock to cross the lava to get back to the paved trail. This element was also a lot of fun as you feel "off-trail". Our girls were very careful in the cave, then one of them fell here, as the rocks are sharp and uneven so watch your footing. Rating: Easy
Boy Scout Cave
This cave is best for older kids, teens, and adults. The entrance is very narrow with a low ceiling. You have to lower yourself into the cave, which retains ice all year round and can have several inches of water inside. You explore, then exit the same way you enter. We did not attempt this cave. Rating: Difficult
Beauty Cave
This cave has a wide entrance, though you'll pick your way down a slope of rocks until you reach the cave floor. The cave floor is flat, and easy walking, though there is no light, so you'll need a headlamp. You'll quickly reach the back wall- beyond here the cave is closed due to an unstable ceiling.
We didn't find this cave difficult, and although it was fun to use our headlamps, we didn't find it nearly as interesting as Indian Tunnel. Rating: Moderate
How Much Does Craters of the Moon National Monument Cost?
The fee to enter Craters of the Moon in 2021 is $20 per car. You will also be covered by your Annual Park Pass. We highly recommend getting this pass, as it pays for itself in approximately three park visits, and is good for 12 months from purchase at all national parks and national monuments.
Buy Now: American the Beautiful National Parks Pass

Why is it Called a National Monument and Preserve rather than a National Park? What's the difference?
National monuments are a different category than national parks. A national park must be designated by Congress and must be an area that is being preserved for its scenic, recreational, or educational value. National monuments can be designated by the President and protect a wider range of sites with cultural, historic, or scientific value.
Craters of the Moon was designated a national monument in 1924 by President Calvin Coolidge. This is the same year that Robert Limbert published an article about the site in National Geographic Magazine.
In 1970 Congress designated the area around the monument to be Craters of the Moon Wilderness, in 2002 it was declared a preserve protected by the National Park Service.

When is the Best Time to Visit Craters of the Moon with Kids?
The most popular months to visit Craters of the Moon with kids are in the summer- the fields of lava are hot and dry, and the caves are cool and moist. Fall and spring bring more varied temperatures and with them more variety in the plants around the lava beds. In winter, the park is only accessible via skis or snowshoes.
We visited in mid-September and found the air temperatures warm enough to explore in t-shirts, with added sweaters for the cooler caves. There was no snow to be seen in any of the Cones, which for many families is a highlight of visiting in the spring.

How Long Should I Plan to Spend with My Family at Craters of the Moon?
You can explore most of Craters of the Moon Park in half a day. If you want to do all the hikes, you may want to spend a full day. If you can, plan to arrive early in the day so you can explore as much as you like.
Craters of the Moon is situated along a 7-mile one-way loop road, that begins at the visitors center. While the entire park is over 1,000 square miles, the portion that families can easily explore is quite small.

What To Bring (and Not Bring) to Craters of the Moon National Park with Kids
Here are a few items that you'll find useful at Craters of the Moon, and a few things you should leave home.
Headlamps
If you're considering exploring caves, you'll want a headlamp. Plus gearing up makes it more fun!
Soft Hats or Helmets
Consider wearing a soft hat or helmet to protect your head from cave ceilings and outcroppings. Avoid hats with a brim that may limit your ability to see above you.
Sturdy Shoes
You'll definitely want to bring sturdy footwear to explore the cave and the paths of Craters of the Moon.
Loose Items
The wind at Craters of the Moon can be fierce. When climbing up Inferno Cone, the wind can grab any kind of hat or loose item in an instant. We ended up chasing three different hats across the cone. Don't make the same mistake, leave the hats, even tight-fitting ones, in the car.

Clothes or Shoes Worn in Other Caves
Make sure to leave at home (or in your car) anything you've worn inside another cave system. This includes shoes and backpacks.

Is Craters of the Moon Accessible?
Much of Craters of the Moon is reasonably accessible. The walking paths are largely paved and smooth. While there are stairs to descend into caves, there is a lot of this park that can be enjoyed from the paved surfaces, making this an easy park for all ages and abilities.

How did Craters of the Moon Form?
About 15,000 years ago lava rose up from deep fissures in the earth in an event known as The Great Rift. The most recent eruption was about 2,000 years ago. Most of the lava tubes and caves that you'll explore at Craters of the Moon were from at this time period, from an event called The Blue Dragon Flow. Watch for iridescent blue streaks in the rocks.
Cool Facts About Craters of the Moon National Monument and Preserve

Astronauts actually trained for missions to the moon here. That's how "lunar" this landscape really is. Although craters on the actual moon are the result of meteors, rather than volcanic activity.


Some of the lava tubes here are approx. 2000 years old.


Geology has lots of cool vocabulary to describe various types of lava flow like "pahoehoe", which means lava with smooth, flowy or ropy texture, like folds of lava.


What is Nearby Craters of the Moon?
When we visited, we stayed in the small town of Arco, Idaho after visiting Craters of the Moon.
Grand Teton National Park is 3 hours away,
Shoshone Falls Park in Twin Falls, ID is considered the "Niagara of the West". It is just under 3 hours away.

There You Have It: Craters of the Moon with Kids
Craters of the Moon is so much fun to explore as a family, be sure to add it to your next family road trip through Idaho! If your kids are interested in space, geology, or caving, Craters of the Moon will be a big hit.
If you love exploring caves, don't miss our guide to Mammoth Cave in Kentucky, with a special guide dedicated to choosing the right Mammoth Cave tour for you.
Don't miss our other guides to National Parks: from Glacier to Yosemite, to Arches hiking trails and Bryce Canyon hoodoos, we've visited many!