Review: The Crayola Experience- Is It Worth It?
We visited the Crayola Experience in Easton, PA with our two kids, ages 4 and 6 1/2 in June of 2021. Here is everything you need to know to figure out if this themed attraction would be a fit for your family.
We visited as part of our Epic Cross-Country Road Trip– in fact, it was our first stop on day one!Gearing up to hit the road? Don't miss our post on Road Trip Essentials for everything you'll need!


What is the Crayola Experience?
The Crayola Experience is a family-friendly attraction full of crafts and creative stations based around Crayola products.
We visited in Easton, PA, but there are also locations in Chandler, AZ, Mall of America, MN, Orlando, FL, and Plano TX. The Easton, PA location is over 65,000 square feet- this place is huge!

Buy Tickets: Crayola Experience
What Age is Best for the Crayola Experience?
Our girls were just turning 4, and 6 1/2 at our visit. We felt they were in the sweet spot for this attraction. E (4) didn't want to leave after 2 hours!
I would say ages 4-8 is the key demographic here, though kids on either side of that age range will find plenty of things to do.


How Much Time Will my Family Spend at the Crayola Experience?
Crayola recommends 3-4 hours for a visit. My kids can't stay that long anywhere. I was surprised to see that we easily spent two hours exploring, and honestly could have stayed just a little longer. We didn't do every activity available but picked the ones that we thought would have the biggest impact on our kids.
Buy Tickets: Crayola Experience

All About the Crayola Experience
This was our experience in Easton, PA, the other cities may be set up differently. Some activities were closed (thanks 2020!), so there were no Crayon Characters walking around, and some other attractions were either closed or modified. I can only imagine that if everything was running, it would only be more fun!



Floor 1- Entrance and Gift Store
You enter on Floor 1 where you can take your picture in front of Big Blue, the largest crayon in the world. This crayon was made from crayons kids donated from around the world. It weighs over 1,500 pounds!
The gift shop is also on this level, as is the cafe. You'll want to browse the gift shop on your way out.
Floor 2- Crayon Wrappers, Crayola Show, and Scribble Scrubbies
As we entered, they told us a "show" was starting soon, so we headed straight to the 2nd floor. Here you can use tokens you are given when you enter to make your own crayon label. The coolest part of this was using the machine to apply the label to the crayon.
Overall, what the Crayola Experience does well, is create machines that are simple enough for small kids to operate safely, but make kids feel like they're operating something complex and special. These tokens can also be used in machines around the attraction to get free markers.
The show in the Crayola factory theater was a combination of animated crayons talking to us with a live employee demonstrating how crayons are made, labeled, and packaged. The whole thing lasted about 15 minutes- it was short enough to keep the smallest kids' attention.
I think in the past we may have been able to get up for a closer look, but from our back row seats, it was sometimes tough to see what was happening as they actually made the crayons.
From here we headed to the 4th floor, to work our way down, ending with what we knew would be the biggest hit of the day- coloring Scribble Scrubbies! When you enter each person gets a card for a free Scribble Scrubbie- these are small, white, felted animals that you can color with washable markers, then rinse and color again.

Floor 3- Water Works, Color Playground
The third floor has several craft stations including a cool-looking "make a wax mold of your hand" station for 6+ (and an extra fee). We skipped most of these and went straight to the Color Playground. A climbing structure for 4+ includes a slide and lots of levels to climb around. It was a great way for the kids to burn off some energy.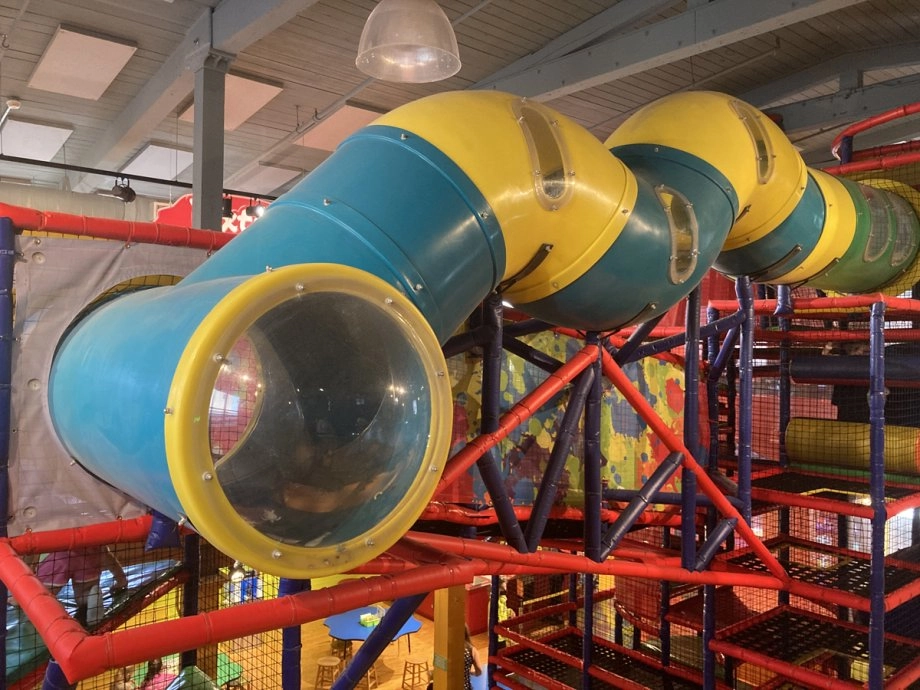 Floor 4- Melting Stations
The fourth floor has several fun craft projects that involve melting machines. You take a one-way path around the floor- you can make spiral drip art, melt crayons into keepsake shapes, and try some texture rubbing. Kids choose which color crayons to use, insert them into the machines, and then press the buttons to start the machines.
Visit this floor before floor 3- the playground from below stretches up here. Once our kids saw the play area, they were excited to get there!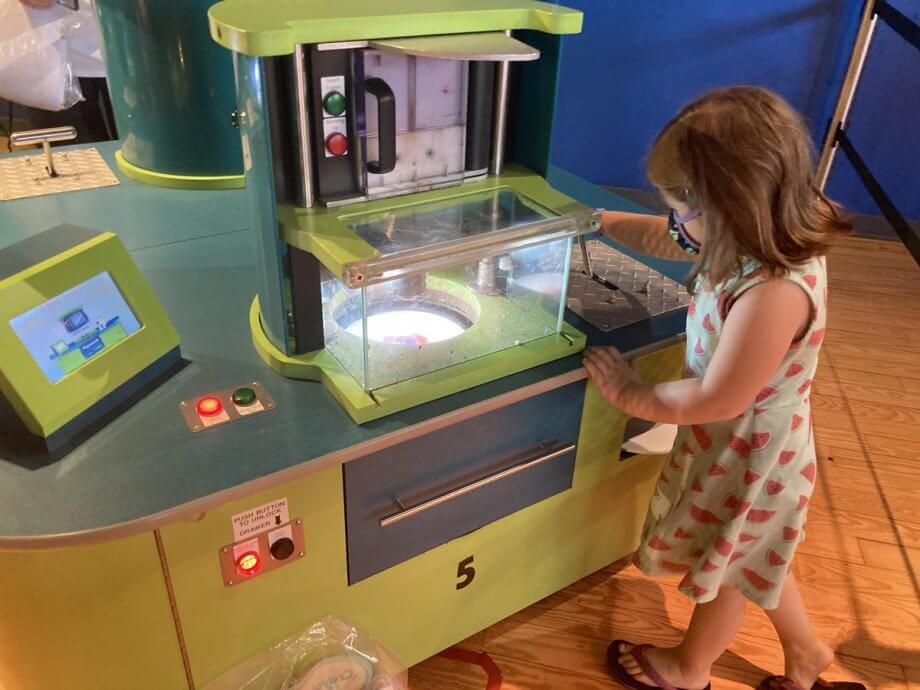 So was the Crayola Experience Worth it?
Yes! It was worth it, the kids had a great time. They talk about it fondly and love their Scribble Scrubbies. The kids have asked to go back again, which is the true test!
They seemed to be just the right age for this attraction. Many of the craft activities rotate, so you could go multiple times and find different themes or activities, especially on the third floor.
Buy Tickets: Crayola Experience

FAQ: Crayola Experience
Where is the Crayola Experience Located?

We visited the Crayola Experience in Easton, PA. There are also locations in Chandler, AZ, Mall of America, MN, Orlando, FL, and Plano TX.

The Crayola Experience in Easton, PA is located at 30 Center Square, off interstate 476 North.
Do Parents have to Pay at Crayola Experience?

Yes, adults must pay to enter Crayola Experience. The entry fee is the same for all visitors ages 3 and up. Children under 2 are free.
How Much does the Crayola Experience Cost?

As of 2022, tickets to the Crayola Experience are $24.99 per person when bought online before your visit. You'll pay an additional $3 per person if you purchase tickets on site.
There You Have It: The Crayola Experience in Easton, PA
Everything you need to know to plan your visit to the Crayola Experience. We loved our visit to the Crayola Experience, and think your kids will as well!
Read Next: 60+ Fun Road Trip Activities for Kids: How to Keep Kids Entertained on a Long Car Trip