This epic cross-country road trip itinerary is for an all-American family road trip from coast to coast! This USA road trip itinerary includes 21 states, 9 National Parks, 3 National Monuments, and 1 National Memorial and takes approximately 8 weeks.
We will start in New England (Connecticut specifically) and make our way down to North Carolina, through Denver, across to Los Angeles, then up to San Francisco, with lots of fun road trip stops along the way! When possible, we'll include alternate routes or additional stops that may be of interest.
This article may contain affiliate links, which means we may earn a small commission if a reader clicks through and makes a purchase. As an Amazon Associate, we earn from qualifying purchases. All our recommendations are independent and are in no way influenced by any advertiser or commercial initiative.
At the bottom of the post, Download a free License Plate Game to play on your cross-country road trip!


What is the Best Time of Year to Drive Across the USA?
The best time to drive across the country is in the fall or spring- you'll have the mildest weather and avoid the crowds. We didn't have that option- we are heading out into the summer crowds. We will start our epic road trip across the country at the end of June 2021, ending in California in late August.


How Do you Plan a Cross-Country Road Trip for Families?
2021 will be the summer of road trips in the United States- kids are not vaccinated and most international borders are closed. We are anticipating it will be a busy summer for driving cross-country!
We advise booking all hotel and motel rooms well in advance, with particular emphasis on the national parks, which are anticipating record crowds. Most major attractions and museums are requiring timed tickets for entry, so you will need to plan ahead.
Since we have a 4 and 6-year-old, we are limiting our time in the car to 4-5 hours a day. If you have older kids, you could do a similar route in a lot less time.
Planning a trip with kids? Our best advice is here: A Road Trip with Kids and Toddlers: 20+ Tips to Survive and Thrive.
Also check out 21 Family Travel Tips for 2021: Best Tips for Travel with Kids.


What is the Best Cross-Country Route to Take?
There are many routes you can take from the all-American Route 66 to the northern route via rt 90, or the most southern route via route 10. What route is best for you depends on what you'd like to see along the way and where you'd like to end your trip.
We will be traveling over a mix of the below routes. We started by mapping out where we have friends we'd like to stop and see, and then added in bucket list stops like the Grand Canyon.


Major Highways Crossing the US
Route 66, also called the Will Rodgers Highway, runs from Chicago to Los Angeles. It is one of the original US highway routes and was used extensively during the 1930s during the Dust Bowl. This road trip route is now known for its kitsch roadside attractions and instagram-able photo opportunities.
Route 90, the most northern route, starts in Boston as the Mass Pike, crosses to Chicago, then through Sioux Falls, to Billings and Missoula, then Spokane, and finally Seattle. This is the route you'd take to see Mt. Rushmore, the Badlands, and Yellowstone National Park.
Route 80 is a middle route that starts in New Jersey, also goes through Chicago, then runs through Omaha to Cheyenne, on to Salt Lake City, then to Reno, ending in San Francisco.
Route 70 starts in Baltimore, then Pittsburgh, on to Columbus, Indianapolis, then St. Louis, Kansas City, and over to Denver before heading through Utah with its famous National Parks of Arches, Canyonlands, Bryce, and Zion, then on to Los Angeles.
Route 40 is a mid-southern route starting in Wilmington, NC, heading through Nashville, to Oklahoma City, to Albuquerque, then Flagstaff, close to the Grand Canyon, and ending in Los Angeles.
Route 10 is the most southern route which starts in Jacksonville FL, heads to New Orleans, across to Houston, to Tuscon, and then Los Angeles.



How Much do National Parks Cost?
Entrance fees vary at each park, but fees at larger parks are between $35 and $40. If you will be visiting a few National Parks, be sure to get an America the Beautiful Pass– this annual pass costs $80 and gets everyone in your car into unlimited National Parks for one year. This pass covers entrance fees, it does not cover tour fees or lodging fees.
Don't forget 4th graders (and 5th Graders in 2021) also get a free park pass for their whole family.
When visiting National Parks, look for Junior Ranger packets in the visitor centers. The kids complete the packets, and return them to be sworn in as Junior Rangers complete with a badge! You may also want to get a family National Park Passport Book to stamp at each park.
Don't forget to download the National Park Service app, it allows you to download important information for any of the parks so you can access it when offline. From maps to parking and bathrooms, this is app will come in handy.

How Much Money do you Need for a Cross-Country Road Trip?
How much money you will spend depends on your family and your comfort level. Camping is one of the best ways to save money (make reservations early!). We are not comfortable camping, so we will be staying with friends when possible, and in hotels or motels the rest of the time.
Packing breakfast foods and snacks will save you a lot of money. Don't miss 40+ Easy Road Trip Snacks for Kids & Toddlers which includes breakfast and lunch suggestions.
The faster you move (the fewer days on the road), the less money you will spend. Including staying with friends, we averaged $125/night during the summer high season of 2021.
Staying inside National Parks is more expensive, but allows you to see the park at sunrise, and without waiting in line to get in each morning. On average, we paid $200 per night to stay at lodges inside the parks.
Outside the parks, our hotels averaged $140/night. That includes 5 nights at an Airbnb in LA and two nights in Las Vegas over a weekend.


Epic Cross Country Road Trip Itinerary
This cross-country road trip is the first leg of our Family Year Out. From California, we're hoping to head overseas to continue our Family Gap Year journey.
We are traveling with a 4-year-old and a 6-year-old, so all activities and stops will be appropriate for families with young kids. Due to the current environment, we are mostly focusing on outdoor activities, with a few exceptions.
Need help keeping the kids entertained? Don't miss 60+ Fun Road Trip Activities for Kids: How to Keep Kids Entertained on a Long Car Trip.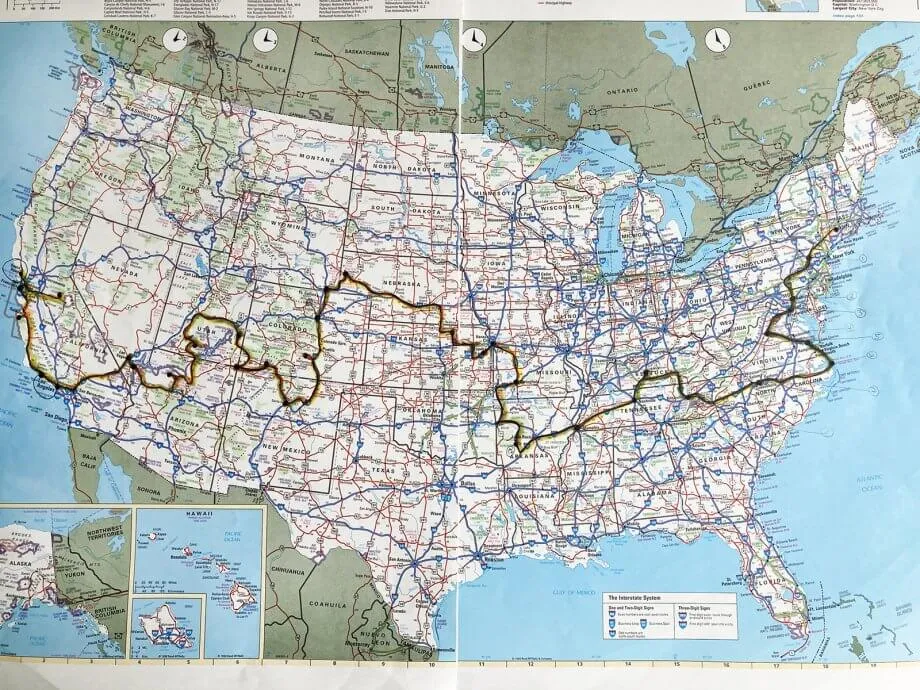 Start: Connecticut
We are starting in Connecticut, where we've been living for the last few years. We've sold our house, and all our things will be packed up into either a Pod storage container or into our car.
What have we packed into our not-so-huge Subaru Outback? Check out Road Trip Essentials: What to Pack for the Ultimate Road Trip in 2021.


Crayola Experience, Easton PA
First stop, the Crayola Experience in Easton, PA. This colorful attraction covers 65,000 square feet, with 27 different experiences. We should be able to see how crayons are made and name our own crayons among lots of other crafty activities. Some of the attractions, including the character appearances, and the playground, are currently closed. We're hoping they'll still be plenty to keep us entertained!
We had a great time at the Crayola Experience, you can read about why it was worth it!


Additional Stop: Gettysburg, PA
Continue southwest to Gettysburg, PA to visit the Gettysburg National Military Park and learn about this famous battle in the Civil War. See where Abraham Lincoln stood to give the Gettysburg Address, and don't forget to stop by the Cannonball Malt Shop!


Baltimore, MD- 2 nights
We'll spend our first two nights with friends in Baltimore. While we will mostly be hanging out in their back yard catching up, there's plenty for families to do in "Charm City".
Take a hike through Lake Roland Nature Center and Park or explore the children's fairy garden there. Take a Chessie dragon paddleboat out on the Chesapeake harbor, or upgrade to an electric pirate boat. Dress like a pirate and fire a water cannon on an Urban Pirates Family Adventure Cruise.
We loved exploring Fort McHenry– where the Star-Spangled Banner was written during the War of 1812. It was a very manageable size for the kids, with lots of bite-sized bits of information, and plenty of space to run around.

Washington, D.C.- 2 nights
We were in DC for a few days in 2019, so we are going to focus this trip on a few places we didn't get to on that trip. First on our list is the National Museum of Natural History! S(6) is really excited to see the rocks and gems, and I know both girls will love the dinosaurs.
Update: We were able to see the Hope Diamond, and some really large crystals, so the kids loved it. We spent a little time in the Hall of Oceans, but the gems were really our highlight. With timed tickets, the museum felt empty, and we had lots of space to ourselves.
We are also planning to go to the National Museum of the American Indian. I've heard great things about it, and it will set the stage for some other educational stops farther along the trip. Also, their cafe with native foods is supposed to be terrific.
Update: I would not recommend this museum for kids. It was very cerebral and involved a lot of reading plaques. They were not at all entertained. We were there for the last day of an exhibit on the Inka Trail (leading to Macchu Pichu) which should have been riveting but was not accessible enough for the kids. The cafe was closed, so we weren't able to try it.

I'm also hoping to visit the National Archives Museum to see the Declaration of Independence and the Constitution. As part of S's 2nd-grade curriculum, she will be learning about the Constitution, so this seems like a great way to jumpstart that part of her education.
Update: The timed tickets for the National Archives sold out fast- we were not able to get tickets on this visit.
Lastly, I emailed our representative to see if we can tour the White House. Tours are currently still on pause, but finger's crossed that may change by the time we get there!
Update: As of late June 2021, still closed. We tried to get a photo in front of the White House and found that we could barely get close enough to see it, due to a sudden security lockdown.
We realized at the last minute that many of the main attractions in D.C. are closed on Mondays and Tuesdays- so we drove down to Virginia to explore George Washington's family estate of Mount Vernon. We highly recommend visiting Mount Vernon with kids!
For more options in DC visit our post – Washington D.C. with Kids: Top Picks for a Family-friendly Trip
Affordable Hotels close to the National Mall: Hotel Harrington (not luxury, but amazing location), or Hyatt Regency Washington (walking to Union Station).


Charlottesville, VA- 1 night
We are stopping for one day in Charlottesville to hang out with some friends at a local park.
If you are passing by Crozet, VA, don't miss a stay at the Montfair Resort Farm! Our kids loved staying in a rustic log cabin with bunk beds. We didn't have time to check out all the activities around the lake but would have loved a few quiet days to canoe and explore the area.


Alternate Route: Natural Bridge State Park
From Washington DC, head south to Colonial Williamsburg before driving west to Charlottesville. From Charlottesville continue west to visit Natural Bridge State Park. Walk the Ceder Creek Trail to the natural bridge, then continue to the Monacan Village.


Colonial Williamsburg
We will spend a day at Colonial Williamsburg. I'm curious to see how long this keeps the kids' attention- I'm hopeful they will be intrigued by all the costumed interpreters. I know they are interested in seeing how a spinning wheel works.
Depending on our timing we may also stop at Historic Jamestowne – the first permanent English settlement in the Americas.
Update: It was hot. The distances between buildings were long. We faded. Our favorite part with the maze behind the governor's house. I think we may have made a mistake starting on the quieter end near the markets, rather than at the visitors center. Overall it reinforced some of the things we learned at Mount Vernon but was just too much for us on a muggy 90+ degree day.


Outer Banks, NC- 2 nights
We wanted to dip our toes in the Atlantic Ocean before heading to the West Coast to dip our toes in the Pacific! We will spend two nights exploring the beaches in Nags Head, NC.
The Wright Brothers National Memorial is just down the beach- visit to see where the first powered flight took place! We are also looking forward to some time just relaxing and digging in the sand.
Update: We almost skipped the Wright Brothers Memorial, but I'm so glad we went! You can read all about visiting the Wright Brothers Memorial with kids here.
Affordable Place to Stay: Sea Horse Inn & Cottages, Nags Head. These are simple rooms, but right across the street from the beach, with beach access at Jeanette's Pier. Small grocery deli, burgers, and ice cream all within an easy walk.

Greensboro, NC- 1 night
One night stopover in Greensboro, NC to break up a long drive.
Budget Hotel: Fairview Inn, Greensboro Airport. This hotel is nothing amazing, but they have an outdoor pool, and coin laundry, so it does the trick.


Alternate Route: Willmington, NC and Charleston, SC
Instead of heading west to Greensboro, continue south to Wilmington, NC, and then to Charleston, SC. In Charleston visit the aircraft carrier U.S.S Yorktown. Head northwest to Cherokee, NC.


Oconaluftee Indian Village
Next, we're headed to Cherokee, NC to visit the Oconalutfee Indian Village. The visit starts with a guided tour introducing traditional Cherokee crafts, then you'll move through a living history village from the 18th Century at your own pace. This village was so engaging! We highly recommend it if you are in the area.
You can read a full review of the Oconaluftee village with kids here.


Additional Stop: Rock City and Ruby Falls
If you have a little more time in this area, head west to Chattanooga, TN to tour Ruby Falls– the tallest and deepest waterfall open to the public in the United States. Visit Rock City (technically in Georgia) where you'll see the Fairyland Caverns, and walk the Enchanted Trail.


Cave City, KY- 2 nights
We'll base ourselves in Cave City, KY to visit two attractions- Mammoth Cave, and Dinosaur World.
Mammoth Cave National Park is a UNESCO World Heritage Site and an International Biosphere Reserve. Mammoth Cave is the world's longest known cave system with over 400 miles of mapped passageways. We are going to take the Historic Modified Tour, which is the classic tour covering about 2 miles.
Next stop- Dinosaur World Kentucky! This attraction normally includes a 15-minute Fossil Dig with every ticket, but in 2021, each child will be given a bag with three fossils when they enter. There are 150 life-size dinosaurs to see, a big dinosaur playground, and a museum of dinosaur bones and eggs. There is no food service, so bring a picnic.
Update: Mammoth Cave was amazing! We decided to skip Dinosaur World and instead had a picnic and worked on our first Junior Ranger packets. The kids were thrilled to get their official badges!
Budget Hotel: Super 8 Wyndham Cave City. This hotel happens to be very close to Dinosaur World, so we had an amazing view of their Fourth of July Fireworks from the parking lot! The kids enjoyed the pool here. There is a large grassy area so you can't always get your car close to your room, but the landscaping is nice. A decent, no frills, clean hotel.

Nashville, TN- 3 nights
In Nashville, we're planning to slow down a little. We'll wander down Broadway (Honky Tonk Highway), check out the Nashville Farmers' Market, and have some playground time at Cumberland Park. We might also feed the lorikeets, pet the kangaroos, and play on the Jungle Gym at the Nashville Zoo.
Don't Miss This Hotel: In Nashville, we stayed at the SoBro Guest House run by Black Swan. We had a one-bedroom apartment, so we slept in the bedroom and the kids slept on the pull-out couch in the small living area. It was great to have a little more space and a full kitchen for a few days. The location was fantastic, an easy walk to almost everything we wanted to do in Nashville. We also loved that check-in was with door codes, so it was super simple and convenient.


Memphis, TN- 3 nights
Memphis has so much to do! We'll be celebrating E's 4th birthday here, by taking a cruise down the Mississippi River on a paddlewheel boat.
While we're here we will also be visiting Slave Haven Underground Railroad Museum, and the National Civil Rights Museum which is in the Lorraine Motel where MLK Jr. was shot.
We will also explore Beale Street, and visit the Big River Crossing where you can put one foot in Tennessee and one in Arkansas. We are hoping to visit the Stax Museum of American Soul Music where you can dance to some vintage Soul Train episodes.
I had hoped to visit Graceland, but we were put off by the high ticket prices.
Affordable Hotel: Hilton Garden Inn Memphis Downtown. This hotel is an easy walk to Beale Street and a lot of popular Memphis attractions. Also an easy walk to a trolley station. A mid-tier, clean hotel in a fantastic location.


Hot Springs, AR- 1 night
Hot Springs, Arkansas is the home of Hot Springs National Park, a unique national park that exists in the middle of town. There are ancient thermal springs, and 9 historic bathhouses you can visit. You can fill a bottle at thermal spring fountains around town as well as two cold springs fountains. There are two places you can touch the thermal springs coming out of the ground.
Update: This town is adorable, but it was packed with people.


Ron Coleman Quartz Mining
In Jessieville, AR, just outside of Hot Springs, you can visit Ron Coleman's Crystal Mines. Take a tour of the commercial mining operation, then start digging in the public area. You can dig as long as you like, and take home anything you find. The kids are so excited about this experience!


Alternate Stop: Crater of Diamonds State Park
You could visit Crater of Diamonds State Park, in Murfreesboro, AR where you can dig for diamonds and other precious gems in their original volcanic source. Keep anything you find! These gems tend to be quite small, and hard to find, so we opted for the crystal mines with the hope that it will be more rewarding for our little diggers.


Additional Stop: Cherokee Heritage Center
On your way to Springfield, head slightly west to stop at the Cherokee Heritage Center in Tahlequah, OK. Here you'll find a replica 1710 Cherokee village and village stations that teach you about blowguns, dugout canoes, and more.


Springfield, MO- 1 night
From here we start heading north, up through Missouri. We'll stop in Springfield for a visit to Fantastic Caverns. This is the only cave in North America that you ride through- a jeep-drawn tram pulls you through the cave. Springfield is also home to the largest fork in the world!


Deanna Rose Homestead
This homestead in Overland, KS has a one-room schoolhouse from 1900, a barbershop, blacksmith, dairy barn, and more. Visit a Kanza Indian encampment, play on one of the playgrounds, or feed the baby goats.


Kansas City, MO- 2 nights
We chose Kansas City as a stop on our cross-country road trip because 20 minutes to the east is Independence, Missouri. Independence was the starting point for the Oregon Trail. We recently read this series and are excited to visit some of the original stops along the trail.
The National Frontier Trails Museum is dedicated to the history of the Oregon, Santa Fe, and California trails. Check out some original wagon ruts, and take a ride around town in a covered wagon!
Update: When we were planning this trip, the museum was open, but upon arrival in Kansas City, it has been closed due to an uptick of cases here.
Other things to do in Kansas City include the Money Museum at the Federal Reserve Bank of Kansas City and the Nelson-Atkins Museum of Art- both are free of charge. The sculpture park at the museum is a great place for little ones to stretch their legs.


Mahaffie Stagecoach Stop
Visit a working 1860s farm at Mahaffie Stagecoach Stop and Farm in Olathe, KS. This is the last public stagecoach stop on the Santa Fe Trail. Explore the grounds, see the old stagecoach stop dining room, and take a ride in a real stagecoach.

Ottawa, KS- 2 nights
We will stop to see family in Ottawa before heading out on the path of the Oregon Trail.


Alcove Spring Historic Park
Many travelers on the Oregon Trail camped in Alcove Spring, KS for a few days while waiting to cross the Big Blue River. Check out the wagon swales (grooves in the earth from many wagons passing) and take a short hike to the waterfall of Alcove Spring.


Fort Cody Trading Post
Stretch your legs in North Platte, NE at this popular roadside attraction. It's been open since 1963! See Buffalo Bill memorabilia, explore the stockade out back with a jail, wagons, and more.


Ogallala, NE- 1 night
We'll stop over in Ogallala (say that ten times fast!) to break up the drive. Start out early, you'll have a long day ahead of you full of Oregon Trail stops, ending in Cheyenne.


Additional Stop #1: Courthouse Rock and Jail Rock
Before Chimney Rock, take Highway 88 two miles south from Bridgeport, NE to spot Courthouse Rock and Jail Rock– two landmarks on the Oregon Trail.


Additional Stop #2: Carhenge and Dobby's Frontier Town
From Courthouse and Jail Rocks take Rt 385 an hour north to the pop culture icon of Carhenge, and stroll through Dobby's Frontier Town.


Chimney Rock
Chimney Rock is a distinctive landmark along the Oregon, Mormon, and California Trails that signaled to travelers that they were on the right path! Many pioneers climbed the spire to carve their names. This rock even appears on the 2006 Nebraska quarter. 9822 County Road 75, Bayard, NE.


Scotts Bluff National Monument
Scotts Bluff in Gering, NE is another landmark on the pioneer trail. Hike a trail or drive the Scotts Bluff Summit Road, the oldest paved road in Nebraska. Walk the Oregon Trail Pathway to see replicas of covered wagons and walk through Mitchel's Pass, which used to be called "Devil's Gap". When the trail changes to dirt, you are on the real Oregon Trail!
Don't forget to ask for your Junior Ranger packet, if you don't have time to complete it while you are there, you can mail it back.


Additional Stop: Fort Laramie
If you'd like to continue on the Oregon Trail, continue one more hour north on rt 26 to visit Fort Laramie in Wyoming. Fort Laramie was the largest and most well-known fort along the pioneer trail. Stagecoach lines, the Pony Express, and the transcontinental telegraph all passed through here. The fort was abandoned in 1890, you can now visit restored structures.


Cheyenne, WY- 1 night
There's a lot to do in Cheyenne, especially if you are there in July for Frontier Days, the world's largest outdoor rodeo! Visit Gunslinger Square (15th and Pioneer) Saturdays during the summer at high noon to see a performance by the Cheyenne Gunslingers- a non-profit group keeping the Old Western gunfight tradition alive.
We are heading straight to Terry's Bison Ranch where we'll be staying in one of the cabins. We'll take the Bison Train Tour and the girls will each have a pony ride.


Estes Park, CO
Stop in Estes Park for lunch (or a cinnamon roll at Scratch or Notchtop Bakery) and take the aerial tram to the summit of Prospect Mountain.


Additional Stop: Rocky Mountain National Park
From Estes Park, you can easily explore Rocky Mountain National Park. Take the Trail Ridge Road which has many overlooks and peaks at over 12,000 feet, or hike to Emerald Lake, a round trip hike of 3.5 miles.


Denver, CO- 3 nights
Next stop, the "Mile High City"! Check out the trolley that inspired the trolley in Mister Rogers Neighborhood, take a tour of the Denver Mint to see how coins are made (ages 7+), and watch a performance at Casa Bonita.
We are excited to visit Dinosaur Ridge in nearby Morrison, CO. This is where the first Stegosaurus was discovered. Take the Dinosaur Ridge Trail to see more than 15 fossils and sites along a two-mile track. There are more than 250 dinosaur tracks that can be seen here.
We may even take our kids to their first MLB game in Denver! As Red Sox fans, we planned to take them to Fenway, but that hasn't happened. The Rockies will be playing Seattle in an afternoon game when we are there.


Additional Stop: Colorado Springs, CO
An hour and a half south of Denver, Colorado Springs has a lot to offer. Explore the Manitou Cliff Dwellings of the Anasazi people, drive up Pike's Peak, or go floating or rafting down the Arkansas River.
Visit the Garden of the Gods– a free nature preserve and series of hiking trails. Hike among large sandstone formations with a backdrop of snow-capped mountains. Climb the 224 steps to the Broadmoor Seven Falls, some of the most impressive waterfalls in Colorado.


Great Sand Dunes National Park
Time for sand sledding on the tallest sand dunes in North America in Great Sand Dunes National Park! Older kids can go sandboarding (like snowboarding), but sleds are recommended for smaller kids, as it's easier to get the hang of it. Head to the dunes early before the heat sets in, then cool off in Medano Creek or with a hike to Zapata Falls.
No reservations are needed to visit the park, there is only camping within the park, there are no lodges. We'll be staying in nearby Alamosa.


Taos Pueblo
Taos Pueblo, near Taos, New Mexico is the traditional adobe village of the Taos people- ancestors of the Taos lived in this area almost one thousand years ago. No electricity or running water is allowed in the pueblo, so most people live outside the village walls and use the pueblo for ceremonial purposes.
You can take a guided tour around the pueblo. Taos Pueblo is currently closed, but we're hoping it will reopen in time for our visit!


Santa Fe, NM- 3 nights
Head south to Santa Fe! Stroll through Santa Fe Plaza and see the Palace of the Governors. While you're there grab an ice cream from La Lecheria. Spend some time wandering through the Santa Fe Farmers Market.
We are planning to visit Meow Wolf: House of Eternal Return– which has been described as a "surrealist funhouse" and "dreamlike". It is an "explorable art experience" that gets rave reviews. Update: This was So. Much. Fun. Check out the full details on Meow Wolf with Kids.
Don't miss El Rancho de Las Golondrinas (The Ranch of the Swallows), a living history museum just outside Santa Fe.


Mesa Verde National Park- 2 nights
Mesa Verde National Park protects the cultural heritage of 26 tribes who build their ancestral pueblos in this area. Most cliff dwellings can only be entered on a ranger-led tour.
We're planning to do the Cliff Palace Tour to see the largest cliff dwelling in North America, and probably the Soda Canyon Overlook Trail (1.2 miles roundtrip) that has views of the Balcony House.
We had a great time at this park- check out The Best of Mesa Verde with Kids


Four Corners National Monument
This is the monument where you can stand in four states at once: Arizona, New Mexico, Colorado, and Utah. This monument is on Navajo land and is currently closed. We're hoping it will be open this summer!


Additional Stop: Monument Valley
Continue two hours west to Monument Valley. Take a guided tour through this land that is sacred to the Navajo. Most tours drive a 17-mile Valley Drive loop of the park, famous for appearing in many Western movies. Note, this is on Navajo land, so currently also closed.


Moab, UT- 3 nights
Moab is the base for two National Parks- Arches, and Canyonlands. For a different perspective, take a riverboat cruise on the Colorado River. Also, my kids are excited to stop by the Moab Rock Shop!
Arches National Park is very family-friendly with a series of hikes that are two miles or less. We'll start with an easy walk to Sand Dune Arch, then take the 2-mile hike to Landscape Arch from the Devil's Garden Trailhead.
Canyonlands National Park is divided into sections each with its own entrance and visitor center. Coming from Moab, the Island in the Sky section of the park is the closest. If you have more time, venture farther south to the Needles section of the park.


Additional Stop: Cleveland-Lloyd Dinosaur Quarry
150 miles north of Moab, this quarry has the densest concentration of Jurassic Dinosaur bones ever found. You can visit some of the excavation sites.


Bryce Canyon National Park- 2 nights
Bryce Canyon National Park is known for its Hoodoos- tall irregular columns of rock. There are many hiking options- we will start with watching the sunrise at Inspiration Point and walk a bit of the Rim Trail.
I'm hoping to hike the Queen's Garden/Navajo Loop- it's 3 miles overall, which sounds fine, but ends with a steep uphill, which may be tough with kids. There are Starry Night Telescope Viewings at the visitor center, and even full moon ranger-led night walks!
Watch for "I Hiked the Hoodoos" medallions throughout the park- kids who bring three rubbings or photos to the visitors center get a reward! There is a shuttle that runs through the park to reduce traffic. We will be staying inside the park at Bryce Canyon Lodge.
Check out the full itinerary for Bryce Canyon: The Best of Bryce Canyon with Kids: 2 Days of Hiking and Hoodoos


Grand Staircase Escalante National Monument
This National Monument covers almost one million acres. It has three areas- Grand Staircase, Kaiparowits, and Escalante Canyon. This area is less visited than its neighboring parks, so it should be less crowded. Some of the trailheads involve driving slowly over rutted roads.
The most popular hike here is the Peek-a-Boo and Spooky Gulch. The path through these slot canyons can get quite narrow and involves scrambling over rocks, and sometimes using knotted ropes to pull yourself up a rock. The loop created by combining these two trails is about 4 miles round trip. Accessed from Hole in the Rock Road from Escalante, with a turn off at mile 30.
Peek-a-Boo Gulch sounds a bit too intense for our four-year-old, so instead, we'll try Willis Creek. Willis Creek is a slot canyon hike accessed from Cannonville. This is a fairly flat, shaded hike leading to a waterfall. This hike is about 4 miles roundtrip- but you can turn around wherever you like. You'll see the trailhead 6 miles down Skutumpah Road.
Update: We ran out of time to hike Grand Staircase-Escalante, it's on our list for next time!



Additional Stop: Zion National Park
Zion was the first National Park in Utah and is extremely popular. We are skipping Zion on this trip because of the crowds, and because you can't do everything! There are stories of long waits for shuttles (tickets in advance are now required). We'll circle back to the park when the kids are old enough to tackle part of the Narrows.
One of the most popular hikes in Zion is the Narrows, which is currently closed due to a Toxic Cyanobacteria Bloom. This hike going "top-down" requires a permit and reservation. The "bottoms up" hike does not need a permit and can be up to 9 miles, though you can turn around wherever you like. Much of this hike involves walking or wading through cold water.
A more family-friendly version of this is the Riverside walk- a 2.2 mile round trip to the entrance of the Narrows.

Horseshoe Bend
This 270-degree bend in the Colorado River is stunning. Just south of Page, Arizona, look for mile marker 545. There is a 3/4 mile walk out to the lookout point. Sunrise and sunset are supposed to be amazing here if you can make it work- be wary of the midday sun, especially in summer.
Is Horseshoe Bend Worth Visiting?
Grand Canyon National Park- 2 nights
The Grand Canyon looms large in the canon of All American Family Road Trips! While I've stopped at the main lookout point, I've never stayed in the park and explored further. We are looking forward to seeing more of this national treasure.
We will be staying inside the South Rim of the Grand Canyon at the Yavapai Lodge so we can see sunrise along the rim at Mather Point. Explore the rim trail or take the Hermit Road shuttle bus to explore seven miles of the rim with nine overlook stops.
The Bright Angel Trail heads down into the canyon, with turnaround points at 1.5 and 3 miles.
Update: This was not our favorite park. Read why in 6 Reasons to Skip the Grand Canyon on your Next Family Road Trip
.
The Grand Canyon by Helicopter
After we leave the park, we'll head to the Grand Canyon Airport for a helicopter ride over the Grand Canyon! We're excited for the thrill of the ride and to see the Grand Canyon from a different perspective.
We'll be taking the North Canyon Tour with Papillon. It's 25-30 minutes in the air, and should be spectacular! You can also book rides that involve landing at the bottom of the Grand Canyon or upgrade to an Ecostar helicopter which is quieter than a traditional one.


Additional Stop: Meteor Crater
South of the Grand Canyon, if you head east from Flagstaff, you'll find Meteor Crater and Barringer Space Museum. See the meteor impact crater that is a mile wide and 500 feet deep. Visit the discovery center to learn about the science behind the crater.


Hoover Dam
The Hoover Dam is our next stop on the way to Las Vegas! The Hoover Dam was built on the border of Nevada and Arizona, in the Black Canyon of the Colorado River. It was finished in 1935- it is 726 feet high, and 660 feet thick. It holds back Lake Mead, the largest man-made lake in the United States, and supplies water to cities as far away as Los Angeles.
While you can see a lot from the road, we're hoping to take the Guided Powerplant Tour- a half-hour of exploring the insides of the dam. If your group is 8+ you can take the longer Guided Dam Tour. The dam is currently closed and no tickets are available.
Update- we totally missed the dam! Tours are not running currently, but we didn't realize that the main highway now bypasses the Hoover Dam completely. Don't be like us- set your GPS to stop at the Hoover Dam!


Additional Stop: El Dorado Gold Mine
Head south from the Hoover Dam about 45 minutes on route 95 to tour this real gold mine. The Techatticup Mine is the most famous mine in Nevada. It was accessed by steamboat along the Colorado River and was one of the most lawless places in the West in the 1880s. Take a tour to walk through the old tunnels, see the gold veins and hear stories of the mine's history.


Las Vegas, NV- 2 nights
There is so much to see and do in Las Vegas that's family-friendly! Check out the latest floral art installation at the Bellagio Botanical Gardens, and watch the fountains perform out front. Explore the canals of the Venetian, and see live flamingos at the Flamingo Hotel. Stop by the Midway at Circus Circus to see various live circus acts.
We will be staying off the strip at the Tahiti Village Resort and Spa– this family-friendly resort has a lazy river, lots of kids' activities, and no casino. All of the rooms are suites with a kitchenette. They also run shuttles into The Strip to make getting around easy.

Seven Magic Mountains
Stop on your way out of Las Vegas at this art installation of stacked, painted rocks, some up to 35 feet tall! Approx. 10 miles south of Las Vegas on Rt 15. This was originally a temporary art installation, but it has been extended through the end of 2021.

Los Angeles, CA- 7 nights
We are visiting Los Angeles primarily to see family (hello new cousins!) and friends but we'll also be exploring the city. Make sure to spot the famous Hollywood sign, and explore the Santa Monica Pier and Venice Beach.

We will be staying in an Airbnb that is close to the La Brea Tar Pits, so we hope to check those out. Finger's crossed we'll get to take the girls to Disneyland- currently, it is restricted to only California residents.

Ojai, CA- 2 nights
We are staying with family in Ojai, we look forward to exploring the town, grabbing an Ojai Ice Cream, and heading to Libbey Park and Playground.

Solvang, CA
We may explore Solvang as a day trip from Ojai, or on our way up the coast after we leave. Solvang is known as "Little Denmark", complete with four windmills, five Danish bakeries, and a Hans Cristian Andersen Park.
You can take a tour with Solvang Trolley– see the highlights of the town while being pulled by Belgian draft horses, and listening to your guide dressed in traditional Danish garb.


San Simeon, CA – 1 night
Head up the coast along Route 1 to San Simeon. Visit the historic Hearst Castle, then head out to see the Elephant Seals at Elephant Seal Vista Point. *Hearst Castle closed in August of 2021, and is anticipating an 8 or 9 month closure while they work on the roads.


Salinas, CA – 1 night
Nearby Monterey or Carmel-By-The-Sea would also make great road trip stops along this area of the coastline.

San Francisco, CA- 2 nights
The City by the Bay! Visit the Ferry Building then take a cable car down to Fisherman's Wharf and the sea lions at Pier 39. Grab a treat from Ghirardelli and take in views of the Golden Gate Bridge. Stroll down Lombard Street with its famous hairpin turns, or take a boat out to Alcatraz.

Yosemite National Park- 3 nights
Our last National Park on this long cross-country family road trip is Yosemite! We'll be "camping" in Curry Village- in big canvas tents with beds.
Yosemite is known for its waterfalls and the monoliths of El Capitan and Half Dome. We'll take the hike to Bridalveil Falls, as well as the Mist Trail, and Lower Yosemite Falls. We'll aim for sunset at Glacier Point and explore Pioneer village.
Read all about our advice for Yosemite with Kids in 2021!


Final Road Trip Stop: Santa Rosa, CA
We'll end this epic cross-country road trip by staying with family in Santa Rosa, California. After 60 nights on the road, we'll be ready to put our feet up for a bit! Which stops are you most excited about? Did we miss anything? Let us know in the comments!
Need more road trip ideas? Check out our American Northwest family road trip including Yellowstone and Glacier National Parks.