10 Best Day Trips from Cartagena Colombia (2023)
The city of Cartagena is a fantastic place to visit- with its UNESCO heritage old town, forts, and the colorful streets of Getsemani. Once you've soaked in the magic of the city, don't miss these 10 best day trips from Cartagena. From quiet beach days to incredible geological experiences, there's something for everyone.
We visited Cartegena and the Rosario Islands as a family when our kids were 4 and 7 as part of our Family Year Out. We spent five months visiting South America including time in Colombia, Peru, and Brazil.
This article may contain affiliate links, which means we may earn a small commission if a reader clicks through and makes a purchase. As an Amazon Associate, we earn from qualifying purchases at no additional cost to you. All our recommendations are our own and are in no way influenced by any advertiser or commercial initiative.
At the bottom of this post, download free Mobile Wallpaper images to satisfy your wanderlust!

The 10 Best Day Trips from Cartagena
We've got the 10 best day trips from Cartagena, all within 3 hours or less of the city, so you still have time to appreciate the area when you get there! Cartagena is a remarkable city, there is so much to see and do in Cartagena, but don't miss all the amazing things outside the city as well.
Be sure to take safety precautions as you would in any major city. Colombia is a fantastic place to travel as a family. Check out our top travel tips for South America to make the most of these fabulous locations.
Quick Guide: The Best Day Trips from Cartegena
1. The Rosario Islands
The Rosario Islands have some of the best beaches close to Cartagena! While you can spend a week exploring the beautiful waters of these islands, you can also visit on a day trip from Cartagena. You'll find clear blue-green waters, beautiful beaches, coral reefs, great snorkeling, canoeing, and much more. If you choose to stay overnight, you can also see bioluminescent plankton!
The Rosario Islands are a one-hour boat ride from Cartagena. One of our top travel tips for the Rosarios is to take a sweater or light jacket because it can be quite windy (and sometimes quite bumpy!) on the boat. It's not unusual to get wet on the journey. These islands are part of a protected national park, founded in 1988 and one of 46 natural national parks in Colombia.
The largest island is Isla Grande, where you'll find many beach clubs and resorts. You can also visit the smaller Pirate Island for a relaxing time away from the bustle of the city. There are 27 islands, so there are plenty of options to choose from!
To visit for a day trip, you can book either a boat tour that includes snorkeling stops and lunch, or transportation to one of the Rosario beach clubs that offer day passes.

This Rosario Islands excursion gets great reviews, includes stops at two different islands, and of course a delicious lunch. (The coconut rice is amazing!) Snorkeling gear is included if you need it, though if you can, we recommend bringing your own. This trip is on a catamaran, so you'll be comfortable and relaxed. Many other tours use a speed boat, which is fast, but can often be uncomfortable.
Make sure to bring a credit card, as the boat does not accept cash for onboard purchases. This is a larger boat, so you'll need to swim into each island (it won't dock right on the sand).
Book Now: Day Trip to Rosario Islands with Snorkeling
2. Isla Barù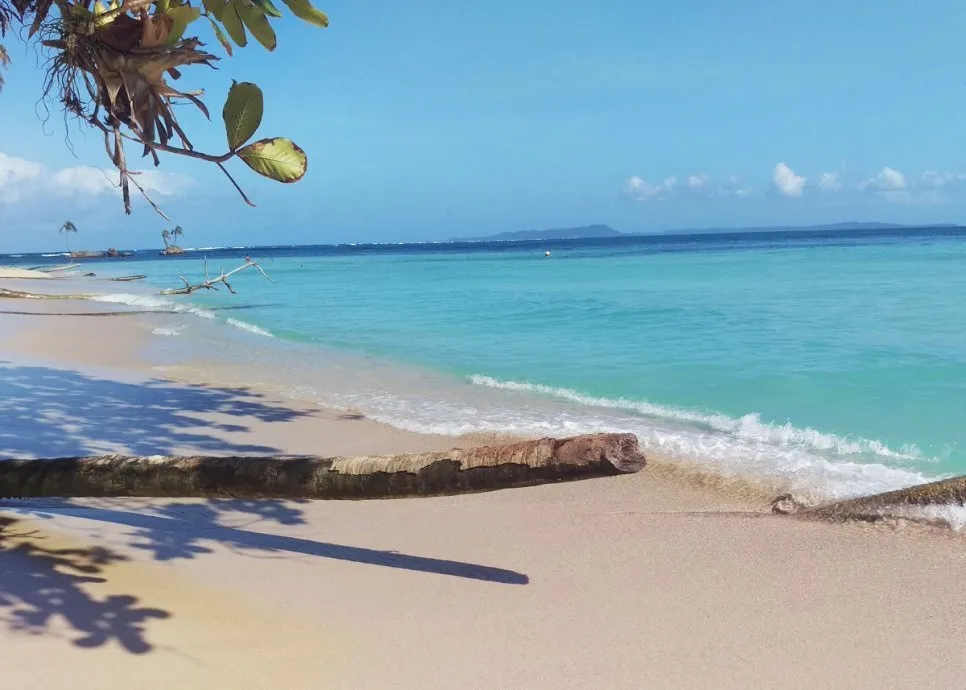 Are you looking for a fantastic spot to spend a day away from the hustle and bustle of the city? Look no further than Isla Barú! Located just 2 and a half hours away from Cartagena, Colombia, this former peninsula of Isla Barú offers something for everyone!
You can explore the underwater world with some snorkeling or diving trips on Isla Rosario, speed across the waves with a range of watersport activities like parasailing or windsurfing or go on excursions around the island to discover hidden gems such as Playa Blanca and the bird sanctuary.
Getting to Isla Barú is incredibly easy thanks to the daily boat and yacht tours that leave from Islas del Rosario in Cartagena. These boats are equipped with experienced captains who can guide you through your journey safely.
Plus, since it's only a few hours away from Cartagena, you will have plenty of time to enjoy all of the activities that Isla Barú has in store for you!
If the tour doesn't include food, don't worry! There are plenty of delicious places where you can sample the island's specialties. Head to Bar Los Borders in Playa Agua Azul, or go further to Excursiones Maritima Yainer Isabel at Cholòn beach.
This five-island day tour includes five different stops for snorkeling, beach time, and a seafood lunch. Travelers report that the equipment was top-notch. Sit in the back for a smoother ride, or near the front for a more bouncy ride over the waves.
This tour stops at some places that can get crowded, so try to book on a weekday rather than a weekend if you can. This is a speedboat, with many stops, so you won't stay in one place for very long, but you'll get a taste of five different islands.
Book Now: Five Island Boat Tour from Cartagena
3. Playa Blanca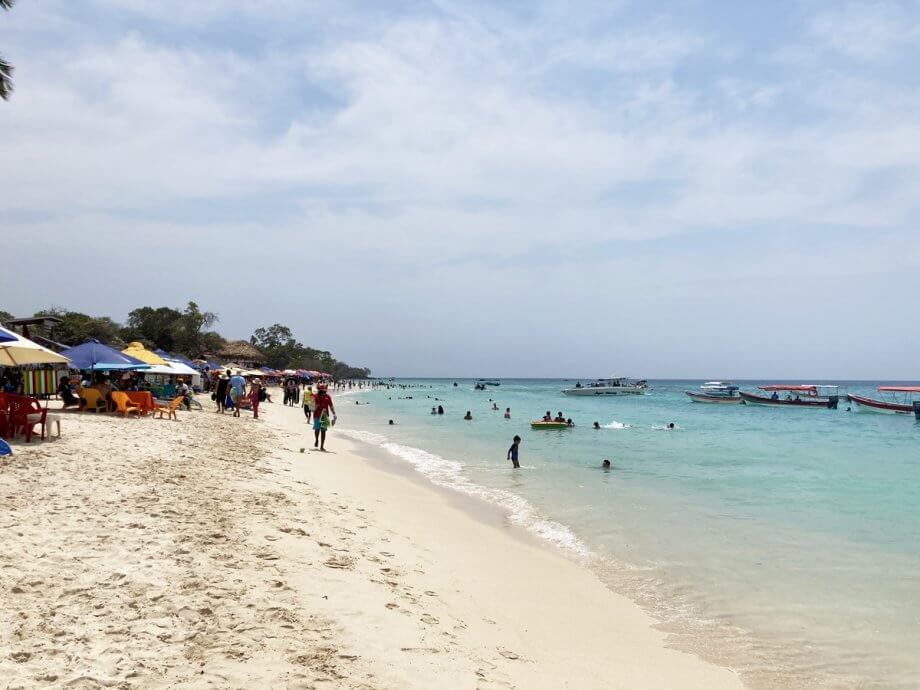 If you are looking for a day at a beautiful beach without all the hassle of a long travel day, head to Playa Blanca! Located on Isla Barú, this beach is famous for being an easy trip from Cartagena.
While you can navigate there on your own, you can also book a day tour that includes exploring the nearby mangroves, which are home to wild raccoons, snorkeling in the clear waters, or even visiting the national aviary. Of course, a fresh seafood lunch on the beach is included! You'll also have some time to relax on the beach.
Playa Blanca can get quite crowded. You'll see small motorboats lining up to take people on excursions, and restaurants have tables, chairs, and umbrellas lining the beach. Visit during the week to avoid the worst of the crowds. Despite the number of people, it is still a clean, beautiful beach.
We opted for the mangrove and snorkeling option and didn't love watching tourists hand-feed wild raccoons from the boat. While we enjoyed the beach, next time, we'd opt for this highly-rated tour that combines a morning at the National Aviary (hello conservation and responsible animal tourism!) with an afternoon on the beach.
Book Now: Playa Blanca Day Trip with National Aviary Visit
4. La Bouqilla Mangroves
Located on a strip of land tucked between the ocean and mangroves, La Boquilla captivates visitors with its small-town vibe and beachfront location.
Just a 20-minute drive from Cartagena's old walled city, this small fishing village is perfect for those who want to relax and explore one of the more remote beaches near Cartagena for the day.
This is a rustic coastal town that consists of just a few streets lined with modest homes, a few hotels, and seafood restaurants.
The beach at La Boquilla is a long, wide-open stretch of sand with a few tables, chairs, and umbrellas set up for beachgoers to rent.
Along the far edge are palapa-style restaurants serving the fresh catch of the day. When you show interest to order, they will bring out a tray of several fish for you to choose from.
Pick your favorite, order an ice-cold cerveza, and relax on the beach while they prepare it. Just make sure you are clear about prices ahead of time.
La Boquilla isn't only about lounging by the ocean while eating freshly caught fish. You can also take a guided tour of the mangrove ecosystem that is vital to the habitat of this area.
This is a great way to see some of the local wildlife and learn about the importance of mangroves to the local environment.
La Boquilla provides a fun escape from Cartagena. It's the perfect day trip for anyone seeking restful days by the ocean while exploring nature's beauty.
This three hour tour involves canoeing through the mangrove tunnels while learning about the traditional fishing villages in the area. Try your hand at net fishing, and learn all about how crabs are caught as well! A slow-paced, relaxing but informative day on the water.
This is a small group tour, with a maximum of 10 travelers.
Book Now: Canoe Trip Through the Mangroves of La Boquilla


5. Manzanillo del Mar
While Cartagena's best beaches are located out in the Rosario Islands, and the beaches close to town can get overcrowded, if you're looking for a happy medium that isn't an hour-long boat ride away but also isn't overrun, the beaches at Manzanillo del Mar can make for a good beach day trip from Cartagena.
Located about 20 minutes north of Cartagena and past La Boquilla, there isn't a whole lot out here. However, that means you can enjoy the large stretch of beach with fewer crowds. The public beach draws mostly locals and Colombians instead of foreign tourists and prices for chairs, tents, and food are much more reasonable than the beaches in town.
It is a bit tricky to get out here, but you can hire a taxi or get adventurous by taking a motorcycle taxi. It's also a fairly easy drive if you happen to be renting a car.
As another good alternative, you could opt to do a day pass or even stay a few nights at the Estelar Manzanillo, an all-inclusive and one of the best Cartagena resorts not in the islands.
While it is probably best not to plan your entire stay here since it's outside the city, splitting time between here and the city is a good choice and the daily shuttle means you can still get into town. Of course, a day pass here also makes for a great and relaxing Cartagena day trip.


6. Pink Sea of Galerazamba
Located roughly an hour north of Cartagena, you'll find one of its more interesting and unique attractions, totally unlike the charming colonial walls and boutique hotels of Cartagena. The Pink Sea of Galerazamba is a unique sight just outside of a small town and makes for a terrific half-day trip from Cartagena.
The pink sea is actually a working sea salt mine. The salty environment is the perfect habitat for microorganisms that along with lots of sunlight give the water its pink color. It's very pretty!
It's best to do this Cartagena day trip as part of a tour or by hiring a taxi for the day as the area is difficult to reach by public transportation. Lots of tours combine this and the equally interesting Totumo mud volcano.
One thing to keep in mind though is that the pink effect can go away if the salt has been recently harvested or if it has been raining a lot.
It can be a bit unpredictable so it's best to ask around to confirm it is indeed pink before going, but generally, it will be pink from late December to March and from June to September.
This private tour takes you directly to the Pink Sea of Galerazamba. The operator also has a great reputation for canceling and rescheduling if the sea is not expected to be pink! The tour lasts between 2 and 4 hours. For a longer trip, you can combine this with a visit to the mud volcano.
Book Now: Private Tour of the Pink Sea
7. Volcan el Totumo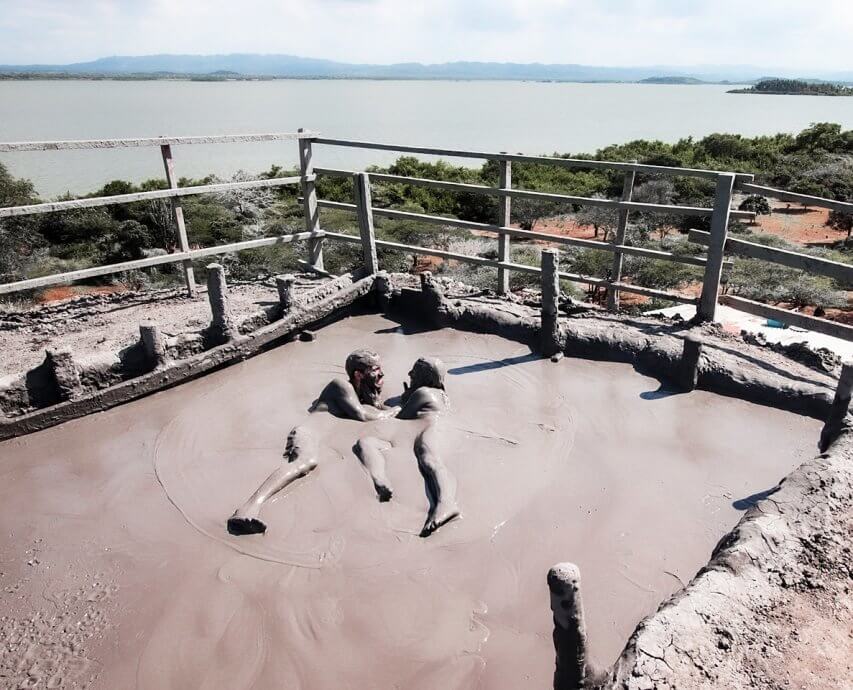 If you're looking for one of the best day trips from Cartagena, this is it. Totumo Volcano is located just an hour from Cartagena, in the direction of Barranquilla. Totumo isn't just any ordinary volcano, it is actually one that you can swim in! This unique volcano is full of thick mud that allows you to swim without sinking at all.
This is one of the smallest volcanos in the world and is just 20 meters high. However, it runs 2,000 meters deep and is full of thick mud that you can jump into. In fact, it is so thick that you can actually effortlessly float while enjoying this super unique experience. There is just a small entrance fee to enter, and there isn't any hiking or effort required to reach the top, just one set of wooden stairs.
While you may be wondering how you'll clean up- they've got you covered! There is a large lake on site, as well as a shower that you can pay just about $1 USD to use after you get out. There are also a few restaurants and souvenir shops to check out while you're there. We suggest getting some of the fresh fish that they offer.
Totumo volcano can be visited by excursion or on your own by renting a car. Want to learn more about the experience? Check out a full travel guide to the experience.
Visiting the volcano is about a half-day tour- many visitors combine a tour of the volcano with a visit to the Pink Sea to make a full-day trip from Cartagena.
Book Now: Mud Volcano Tour

8. Barranquilla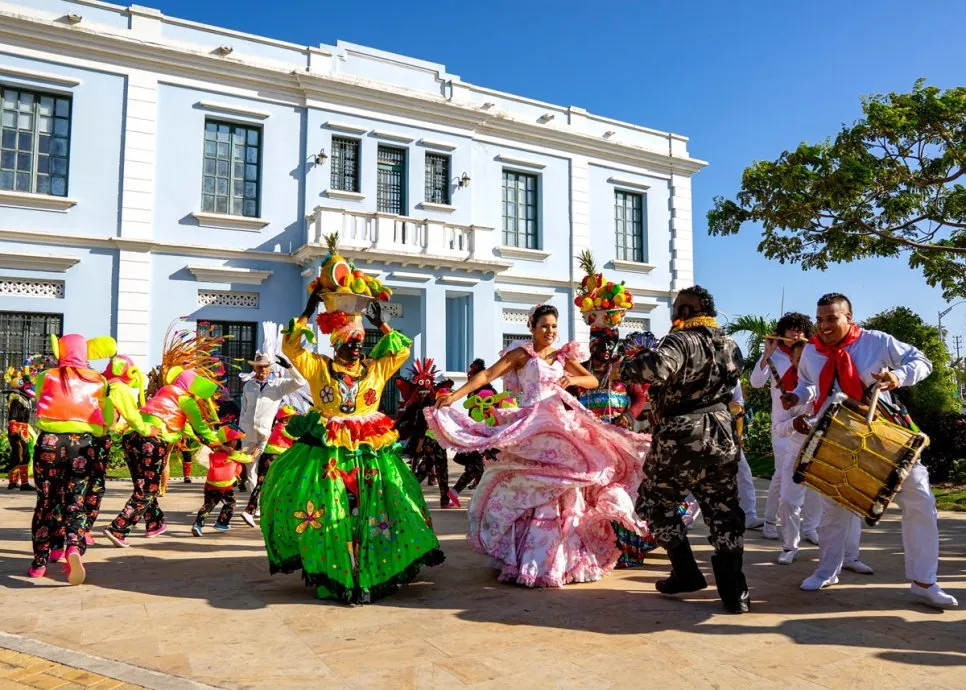 A 2-hour drive northeast from Cartagena will take you to Barranquilla – located 120km away. Barranquilla is an excellent day trip from Cartagena: it is one of Colombia's main cities, full of history and culture, home to some nice beaches and it is where Shakira – the Queen of Latin music, was born and raised!
Barranquilla is also home to the world-famous Barranquilla Carnival, so if possible, time your trip to Barranquilla to coincide with it! The Barranquilla Carnival is the second largest carnival celebration in the world after the one in Rio de Janeiro and is one of the best experiences in South America!
During Barranquilla's four-day carnival you'll see impressive parades, grand costumes, and traditional displays of Colombian dance and music. The whole city turns into a huge party and there are people everywhere celebrating – it's a great vibe!
If you can't time your trip with the Barranquilla Carnival don't worry – head to the Museo del Carnaval which is full of decorations and extravagant costumes from the carnival!
Other great museums in Barranquilla include the Caribbean Museum, the Museum of Romance, and the Museo de Arte Moderno (MAMBA). And when in Barranquilla also don't forget to visit the Magdalena River, the Malecon (where Shakira and Carlos Vives filmed the music video 'La Bicicleta'), Plaza San Nicolas, and the elegant Hotel el Prado.
The cuisine in Barranquilla is slightly different from other parts of Colombia, with a slightly Caribbean twist that makes the food taste amazing! For some delicious authentic Colombian Caribbean food head to the family-run Donde Mama restaurant, located in a beautiful old colonial house in the Prado neighborhood.
Barranquilla is easy to get to by bus from Cartagena, with prices starting at just $5 USD per person. Book your trip ahead of time with Bookaway to secure a comfortable ride with free cancellation if your plans change.
Once you're in Barranquilla, consider a food tour to taste all the best Caribbean food Barranquilla has to offer- from arepa de huevo, butifarra, chipi chipi rice, to enyucado.
Book Now: Food Tour of Barranquilla

9. Island of Tierra Bomba
The island of Tierra Bomba is located just across the bay from Cartagena. There are some nice beaches on the near side of the island overlooking Cartagena.
However, some of Cartagena's best hidden gems are on the far side of the island in the area known as Bocachica. This is the main entrance to the bay, and for that reason, it was a strategically important point to defend. Throughout Cartagena's history as a center of colonial wealth, Tierra Bomba island was attacked numerous times.
For that reason, the Spanish built several forts here. The largest, the Castillo San Fernando, sits on a point facing the entrance to the bay and is directly across from the Fort San José.
Nearby, atop a hill, you can find the Angel San Rafael Fort, meant to protect the others from being attacked by a landing party. These forts were meant to be the first line of defense of the city. Today, they are lightly visited but wonderfully preserved.
There are a limited number of tours out to Bocachica. However, you can also catch small boats from the main port area that take locals out to the nearby town. Head to Muelle de la Bodeguita, entrance number 3 to catch a boat.
After visiting the forts, you can hang out on the public beach or head to the terrific Blue Apple Beach Club (getting a day pass here is another good way to arrange transportation).


10. San Basilio de Palenque
One of the best experiences when visiting Cartagena – which is one of the most well-known locations in Colombia – is a day trip to San Basilio de Palenque, the original free town on the Caribbean Coast. Palenque is the place to go if you want to learn about the history of escaped slaves during the 17th century.
Their descendants tell their incredible story of survival and strength through song, dance, and music; something in which you can get involved if you want. There's also a drum festival in October which is highly rated so arranging your dates in line with this is a fantastic idea!
It was quite an interesting tour, lively and upbeat at times and dejected at others, as is expected. However, it's a great way to learn about the Afro-Caribbean culture and heritage which resides in northern Colombia. The locals are curious and interested in your visit with most coming up for a friendly chat in a unique Spanish-Creole dialect.
The tour departs from Cartagena and is an hour's drive outside of the city, make sure you get a guide who is actually from Palenque as they will be able to answer questions with local knowledge and get you more involved with the community.
This tour of Palenque is run by a local resident, and gets exceptionally high reviews! Tameir writes "to actually be there is indescribable". Your guide will teach you about the history of this tremendous place, as well as the handicrafts, cuisine, and more, Don't skip this one!
Book Now: History of Palenque Day Tour
Where Not to Go on Day Trips from Cartagena
There are several places that we do not recommend going for a day trip from Cartagena! We often see places including Tayrona National Park (5 hours or more each way) Minca (4 hours each way), and Santa Marta (also a solid 5 hours each way) recommended as day trips.
While these are lovely places to visit, anything over 3 hours in each direction is just too far for a reasonable day trip. Plan to visit these other locations when you have time for an overnight or even a few days to make the travel time more reasonable.


How to Get Around Cartagena
Most tourists base themselves in Old Town Cartagena or the nearby neighborhood of Getsemani. Both of these neighborhoods are lively, safe, and easily walkable. You can also easily walk between the two areas.
For exploring outside of this area, you'll need to book a tour or hire a taxi. Uber works well in Cartagena. It is easily available and inexpensive. You cannot take an Uber from the airport (CTG) into town- you'll need an official taxi with a regulated fare, but you can take an uber to return to the airport.
Or, save yourself the hassle, and pre-book an airport transfer! A car will be waiting for you, just look for a driver holding a sign with your name on it when you exit the terminal. This is especially helpful if you're arriving late at night, or after a long travel day with tired kids.
Book Now: Easy Airport Transfer

Where to Stay in Cartagena
We recommend staying in the Getsemani neighborhood. It's less crowded than Old Town and full of colorful murals and wonderful cafes.
Recommended Hotel: Casa Villa Colonial
This hotel is in a quiet location but an easy walk to all of what Getsemani has to offer. Our room here was bright and spacious, with a pool and breakfast on the roof. Cartegena gets quite hot- so cooling off in the afternoons was wonderful. Wifi is best in the lobby, so ask for a first-floor room if you need a strong connection.
Check Availability: Casa Villa Colonial, Getsemani

What to Bring on Your Cartagena Day Trip
Ready to head out on your Cartagena day trip? Make sure you have the gear to make the most of your trip.
1. Sunscreen
It's hot, make sure to bring sunscreen and re-apply regularly!

2. Snorkel and Mask
Most companies include this in their price, but we found that due to sanitary regulations, some tours were only providing masks. Snorkeling with only a mask, is well, just holding your breath!

We recommend this traditional-style snorkel and mask– it looks just like a diving mask. It comes in different colors and has sizes for adults and kids. It has a great system to keep water out of the snorkel, so you can dive down and not get a mouthful of water. If you also want fins, you can find the full set as well.
Shop Now: Snorkel and Mask


3. Quick Dry Towel
When you get out of the water, you need a quick dry towel that absorbs well, and then dries quickly so it's ready to be used again! We use these towels from REI and they work well over and over. We prefer the large size- it packs up small, but is large enough to dry off your whole body.
Shop Now: Quick Dry Travel Towel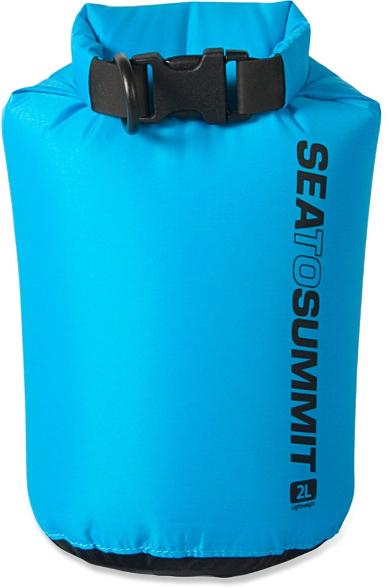 4. A Dry Bag
Keep all your gear dry at the beach! A dry bag is essential whether you're aboard a boat or dodging waves on the beach. Throw everything in this 2-liter bag and know it'll be kept dry.
Shop Now: 2L Dry Bag


FAQ: Best Day Trips from Cartagena


What is the Best Month to Visit Cartagena?

The best months to visit Cartagena are the shoulder season of February through March. December and January are the busiest months. You'll have warm, lovely weather, but it can also be quite crowded. August- November is the rainy season, so this time of year is best avoided.
What Islands Are Close to Cartagena?

The Rosario Islands are a series of 27 islands that are protected as part of a national preserve. These islands are quite close to Cartagena and make for wonderful places to relax on a day trip, or spend a few days enjoying the clear, warm waters.
Where Do I Go After Cartagena?

Colombia offers many options! After Cartagena, you can head northeast along the coast to Santa Marta and Tayrona National Park. You can also head south to Medellin, and explore this famous city, including Communa 13- a once dangerous neighborhood turned graffiti-filled tourist mecca.
How Many Days in Cartagena is Enough?

In 3-4 days you can see the highlights of Old Town Cartagena, as well as explore the narrow streets of Getsemani. While you could spend a week or longer, we recommend 3-4 days before heading to the Rosario Islands, or up to Tayrona National Park.
Is Cartagena or Medellin better?

Of course, everyone has a different opinion, but as a family, we preferred Cartagena to Medellin! Cartagena has a musical, colorful vibe that we enjoyed and a compact tourist center that is easy to navigate. It also has wonderful beaches and islands which make great day trips!

Medellin is also worth visiting, though it feels more like a metropolis. There are a lot of unique things to do in Medellín including touring Communa 13.

There You Have It: 10 Best Day Trips from Cartagena
After you've explored the town of Cartagena, head out on one (or more!) of these 10 best day trips from Cartagena. From a dip in a mud volcano to relaxing days on white sand beaches, you'll love all that this area of Colombia has to offer.
Exploring more of Colombia during your trip? We loved the lush jungle town of Jardin, as well as the colorful center of Guatape with its famous rock to climb.