Does it Snow in Argentina? The 7 Best Places to Visit in Argentina in Winter (2023)
Wondering does it snow in Argentina? The answer is "Yes", and of course, "No"! Argentina is a very large country so there is a wide variety of weather conditions during the winter. You'll find cold snowy conditions and great skiing in the south, but not much snow in Buenos Aires or the northern parts of the country. Whatever you are looking for, there are lots of fun and exciting places to visit in Argentina in winter.
Winter is a great time to visit Argentina because you can enjoy a variety of different places to visit from the wonder of Iguazu Falls to watching a glacier calf in Patagonia. We've rounded up the best places to visit in Argentina in Winter- whether you love the snow or love to avoid it!
We spent a month in Argentina with our kids, as part of our Family Year Out (what is a family year out?) but left as the chilly fall winds were picking up in Buenos Aires. We asked our friends Daphne & Larry from Our French Travels to fill us in on all the amazing things about visiting Argentina in winter.
This article may contain affiliate links, which means we may earn a small commission if a reader clicks through and makes a purchase. As an Amazon Associate, we earn from qualifying purchases at no additional cost to you. All our recommendations are our own and are in no way influenced by any advertiser or commercial initiative.
At the bottom of this post, download free Mobile Wallpaper images to satisfy your wanderlust!
Ready to Book Your Trip? Use our Favorite Travel Resources!


Does it Snow in Argentina?
Yes, it does! The southern parts of Argentina can experience regular frost and snow during the winter months. Unlike the United States, in Argentina the farther south you go, the colder it gets and the more snow you can expect.
Some parts of Southern Argentina can actually be inaccessible due to the snow and cold. Argentina has the most southern city in the world (Ushuaia, Argentina) which is very close to Antarctica.

When is Winter in Argentina?
Since Argentina is in the southern hemisphere, the winter is from June through August. This is flipped from the northern hemisphere! It is important to remember this flip when planning a trip to Argentina.
We can escape some of the warm summer months in the US by heading to winter in Argentina. There are many fun winter activities in Argentina as well. Some areas of the country stay fairly temperate which gives visitors a variety of choices and climates for wintertime.
Traveling through South America? Check out our best travel tips for South America including how to stay safe when traveling with kids.

The 7 Best Places to Visit in Argentina in Winter

1. Bariloche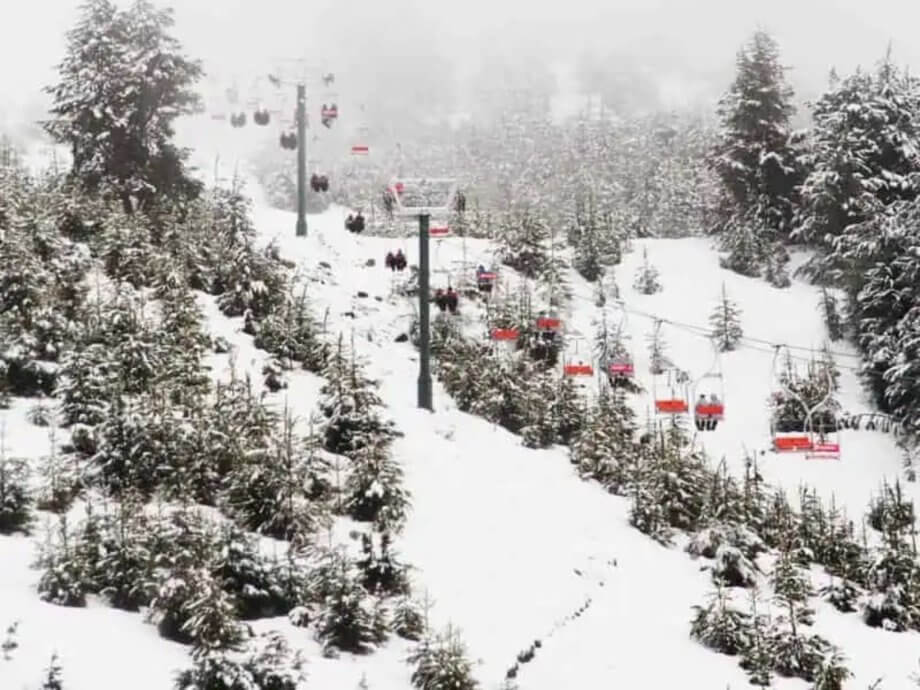 Of course, when you consider winter in Argentina, the first thing that comes to mind is winter outdoor sports. Bariloche is the place to go. It is known for its picturesque slopes, log cabin reports, and incredible skiing conditions.
Cerro Catedral is the largest ski resort in South America, found in Bariloche. If you're an avid skier, this is the destination for you.
Travel Tip: Be careful when selecting your dates as you want to avoid the school winter holidays. These usually fall in the second half of July. This is the busiest 2 weeks in Bariloche.
Things to do in Bariloche
These are some of the best things to do in Bariloche from skiing to enjoying the exquisite scenery. If skiing isn't your thing, don't worry! Bariloche has so much else to offer in its winter wonderland.

Skiing and Mountain Activities

The mountain resort of Cerro Catedral is a must-visit in Bariloche regardless of whether you like to ski/snowboard or not. There is so much to do at this resort. Not only can you do traditional snow sports, but you can also hike along some of the trails or eat at different restaurants.
If you purchase a pedestrian pass for the chair lift, you can go up the mountain on the chair lift and walk down. Of course, you can also take the chair lift down. This allows you to eat at the restaurant off the Punta Princesa lift. This lift has three stops along the way so you can truly enjoy all the wonderful views.
There are also a couple of other resorts, Cerro Campanario and Cerro Otto. Cerro Otto is significantly more expensive than Cerro Catedral so I'd suggest skipping it. Cerro Campanario has some lovely views at sunset. Consider taking the lift up (for $10 USD) and getting hot chocolate and pastries at the bar at the top to enjoy the sunset.

Drive Along the 7 Lakes Route

This part of Patagonia has some lovely landscapes. One of the best things to do in Bariloche is to explore these landscapes via car. The Ruta de los Siete Lagos allows you to drive through the beautiful lake region of Patagonia.
Ruta 40 starts in San Martin de los Andes and weaves south through lakes, villages, and forests. It is a long drive, but completely doable in one day. I would recommend using as much sunlight as possible. Of course, if you're like me who doesn't like being in the car that much, then drive about a quarter to a half the Ruta so you can be back to your hotel before it gets dark.

Eat All the Chocolate

This region of Patagonia has incredible chocolate. Rapa Nui and Mamushka are the most popular chocolate shops. There are more chocolate shops than you can count. My suggestion? Try everything!
Rapa Nui is found along Mitre Street in downtown Bariloche. They have a lovely cafe along with an indoor ice skating rink and restaurant. (If you don't make it to Bariloche, not to worry- there is a Rapa Nui in Buenos Aires that we highly recommend)!

2. El Calafate
The famous Perito Moreno Glacier is found in El Calafate. This is one of the most popular tourist destinations in Argentina during winter. It is an impressive glacier with many fun activities to do in the colorful town of El Calafate.
El Calafate has lots to do for all kinds of travelers, but as the town is surrounded by a glacier, it caters to the adventurous type of traveler. I'd say you need about 2-3 days to get the most out of El Calafate.
Things to do in El Calafate
Most of the things to do in El Calafate are more adventurous. Remember the glacier is cold so pack extra layers for your trip to the glacier!

Trek Perito Moreno Glacier

Trekking the glacier is a big deal in El Calafate. It is truly a bucket list item. There are many lengths of trips for the types of treks. Consider your fitness level when selecting a trek to take. It can be a little more arduous since the glacier can be slippery with hills and valleys. Mini-trekking is another great option if you're not sure how much you want to trek on the glacier.

Try out Patagonian Berries

Patagonia has some wonderful and unique local produce. The Patagonian berries are unique to this area of the world and cannot be found anywhere else. The local berry is called El Calafate after the town. My grandma loves this berry when it's made into syrup and she mixes it with sparkling water.
You'll find El Calafate berries in many different forms in the town. I personally like it as ice cream. Be sure to shop around when looking for products made with this berry because some shops can be completely overpriced.

Take a Scenic Glacier Tour

One of the best ways to see the Perito Moreno Glacier (a UNESCO World Heritage Site) is on a full-day tour. First, you'll explore the walkways on land that give you amazing views of the glacier. Then, you'll take a scenic one-hour cruise to view the glacier up close from the comfort of a covered boat. This lets you get close to the glacier and from a safe distance watch the ice break off.
This tour gets rave reviews (5 stars!), check out what travelers have to say:
Book Now: Full Day Tour of Perito Moreno Glacier with Boat Ride


Ready for the ultimate glacier adventure? Kayak in the waters next to the glacier! No experience is required, and all the gear to stay warm and dry is provided for you. You'll spend about 1.5 hours in your kayak and then have 2 hours of free time to view the glacier from the boardwalks.
This gives you such a unique vantage point of the glacier from the water. This tour includes hot drinks, snacks, lunch, and pick-up from your hotel. The minimum age for this tour is 14 years, maximum of 10 travelers on the tour.
Travelers say:
Book Now: Perito Moreno Glacier Kayak Tour

3. Puerto Madryn
If you're interested in seeing the Patagonian wildlife, Puerto Madryn is the place for you! There are whales, sea lions, and penguins to see while in this coastal town of Patagonia. I would recommend a minimum of 2 days here since there is so much to see, but it is still a smaller town.

Things to do in Puerto Madryn
Puerto Madryn is set up for tourists so you'll find many different activities and excursions offered around town. Being on the water, this city is not as cold as other Patagonian towns and cities. While summer is the best time to see the penguins, winter is a great time to see the whales.

Go Whale Watching

Towards the end of winter (September-November) it is the height of whale watching season in Puerto Madryn. After the penguin walks this is the most popular activity to do in this area. There are many different boats (and even a yellow submarine!) that will take you out to see the pods of whales.
This is a must-do activity in Puerto Madryn! Since it is so popular you will definitely have to book it ahead of time.
If you are tight on your budget head to Playa Doradillo and you can see the whales right from the beach. There is truly nothing like seeing these giants up close.

Visit the Welsh Community

This area of Patagonia was settled by Welsh immigrants. They had great knowledge of sheep which allowed them to prosper in the harsh conditions of the area. The town of Giaman is fascinating because you'll walk around and see signs in both Spanish and Welsh.
Some of the cool things to see in the town are how the immigrants lived when they moved to Argentina. There are tea houses for a traditional Welsh tea time (be mindful that they might be busy). Even Princess Diana visited a tea house during her visit to Argentina. There are also protestant chapels to visit and a visitors center to orient you in the village.

Explore Puerto Piramides

Puerto Piramides is a small village that is on the Peninsula Valdes. It is right on the beach, surrounded by towering pyramid-shaped cliffs. The beach is absolutely stunning and worth walking. I would not recommend going for a swim during winter, as it is very cold.
If you're a fan of seafood, this village is for you. There are many great restaurants with great views of the water. They have cozy fires inside.

4. Buenos Aires
The capital city of Argentina! This is the largest city in Argentina and you can spend your entire Argentina vacation exploring Buenos Aires. Buenos Aires is on the river and experiences a mild winter. You won't really experience much snow in Buenos Aires.
Honestly, it would take a long time to explore the entire city. I would recommend a minimum of 5-7 days while visiting. Longer if possible. Not only is it a great city there are many day trips from Buenos Aires to explore the area even more.

Things to do in Buenos Aires in Winter
Much of what you can do in Buenos Aires in winter is similar to other times of the year, just be prepared with a few more layers to stave off the chill.

Learn about Tango

One of my favorite things to do is explore a new city through its dance and food culture. There are many wonderful tango dinner shows in Buenos Aires that dance you through the history of tango in Argentina. The Caminito in La Boca is a great place to see tango street performers, as tango was originally started in Argentina.
Want to try tango for yourself? This adults-only tour combines a tango lesson, with wine tasting, and homemade empanadas.
You'll get a one-hour tango lesson, followed by an hour of wine tastings and snacking on traditional empanadas. This tour gets rave reviews from travelers (5 stars):
Book Now: Tango Lesson and Wine Tasting in Buenos Aires

Wander Through San Telmo Market

San Telmo Market is a large indoor/outdoor market in the neighborhood of San Telmo. It has many local artisans and food vendors. There are also many different produce vendors and butchers offering fresh food in San Telmo.
There are many different markets or ferias throughout Buenos Aires. The Recoleta Fair is a large outdoor market that happens every Saturday throughout the year. It's a great way to explore and learn about local artisans.

Explore Buenos Aires' Well-Known Sites

As the capital of Argentina, Buenos Aires has many well-known sites and monuments. The Presidential Palace (La Casa Rosada, famous for Evita's balcony) is located in Buenos Aires and you can even tour it! There are many places downtown that you can walk through to explore the history of Argentina.
Some notable sights include the women's bridge, the Obelisko, and the many museums. Some of the largest art museums in South America are found in Argentina. There are many places to see and things to do in Buenos Aires that make it worth visiting.

5. Mendoza
Mendoza is at the foot of the Andes mountain. Mendoza in winter is cold, but it rarely snows and has many fun winter activities. The thing that makes the cold most bearable is the fact that Mendoza is the sunniest area in Argentina. Grab a locally-made Malbec wine and it makes the cold much easier to manage.
Things to do in Mendoza in Winter
Mendoza is known for being Argentina's wine country. While there are many fun vineyards to visit and lots of Malbec to taste test, there are many family-friendly winter activities too.

Go Wine Tasting
Of course, a list of things to do in Mendoza can't be complete without a winery tour and wine tasting. It's fairly inexpensive compared to the US and Europe wineries. In winter the wineries won't be as lush, but you'll have a more personal experience without the crowds.
This small group winery tour gets amazing reviews- almost 500 5 stars! You'll visit different wineries, have a gourmet lunch, then taste more wine! With a maximum of eight travelers, this is an intimate experience where you'll really get to learn the story of the wineries and a lot about the local wines. Adults only.
Book Now: Mendoza Small Group Wine Tour

Take a Day Trip into the Andes

There are many wonderful snow-capped mountain peaks to explore in the Andes. Aconcagua is the highest peak in the Andes. It would take about 3 weeks to reach the summit. Many other tours take you along the mountains that are suitable for a much shorter visit.
Near the Andes, there's also Puente Del Inca- a natural arch forming a bridge over the river. If hiking isn't your thing, there are also horseback riding trips in the Andes. You can go a fairly high distance before making it to the snow line.
This full-day trip into the Andes from Mendoza follows the route of the Trans-Andean railway. You'll go on a one-hour hike into Aconcagua National Park, stop to see the Puente del Inca, and then enjoy a traditional asado (Argentinian BBQ) with wine before heading back to Mendoza.
This tour consistently gets 5 stars- check out what other travelers say:
Book Now: Full-Day Trip to Aconcagua National Park w BBQ

Relax At The Termas De Cacheuta Spa

The thermal pools of Termas De Cachueta Spa offer something for everyone. They have kid pools and activities that are open year-round. Since these are thermal pools they are warm year-round for a comfortable soak at the base of the mountains. The hotel at the thermal pools also offers a variety of fun adventures such as rappelling, ziplining, and rafting.

6. Iguazu Falls
Found on the border between Argentina and Brazil, Iguazu Falls is a spectacular place to visit. A UNESCO World Heritage Site, Iguazu Falls was named one of the Seven Natural Wonders of the World. Since the area is subtropical, you will experience warm weather even in the dead of winter. This area has a lot to offer, not just the waterfall.
With humid, sweltering summers, visiting Iguazu in winter is a terrific option. It does not snow in this area of Argentina. Since it is not a large town, Iguazu can easily be added to an itinerary with stops in Buenos Aires or Mendoza.
Iguazu is about a 1 hour and 45-minute flight from Buenos Aires. Once you arrive in the town of Puerto Iguazu, the Rio Uruguay bus company has a bus that goes to the waterfalls every 20 minutes. Curious how to get from Buenos Aires to Iguazu Falls? We've got all the details including the best tours of Iguazu Falls.
There are also private tours that will take you to the falls and some hotels also offer buses. Many visitors choose to visit the national parks on both the Brazilian and Argentinan sides of the falls.

Things to do in Iguazu Falls in Winter
Here are the top things to do during your visit to Iguazu Falls from the Argentinian side.

Visit Hito 3 Fronteras

In Puerto Iguazu, Argentina you can see Paraguay and Brazil across the river from Hito 3 Fronteras. It is a unique area in Puerto Iguazu that allows you to see Argentina's neighbors. This area has been developed into a large park that is ideal for a family picnic. Stop by a grocery store and have your own little picnic while enjoying the views.

Take a Full-Day Tour of the Falls

There are many different tours available to see Iguazu Falls including seeing the famous Devil's Throat. Iguazu is made up of 20-30 waterfalls and there are a variety of ways to see them. This can include walkways and circuits, biking paths, and even a boat tour.
The boat tours are particularly fun because you will boat down the river and in front of the waterfall. Prepare yourself to get wet while on this tour. It is truly an impressive sight up close.
This full-day Iguazu tour includes transportation to the park, a guided tour of the walking paths, and a boat ride up to the falls (where you will get soaked). Keep in mind that for the boat ride the minimum age is 12 years.
Book Now: Full Day Iguazu Falls Tour with Boat Ride

Go on a Jungle Adventure
The jungle surrounding the Iguazu Falls area has many fun activities for families. Since it is a rainforest, going in winter allows you to take advantage of the cooler temperatures to do even more fun activities.
You can take a horseback riding tour in the jungle. There are also adventure tours that take you ziplining or rappelling down a waterfall. The water is quite cold, so during the winter months plan to rappel down into a dry section rather than into the water.
Travel Tip: If you choose to go to Brazil's side of the falls check whether you will need a visa. US citizens do not need a visa to enter Brazil, making it possible to travel back and forth in one day.

If you are visiting Iguazu, don't miss the Brazilian side of the falls! You also may find that it makes sense to continue exploring more of Brazil- we've got a great itinerary for 3 weeks in Brazil. Also, Sao Paulo is seriously underrated! Plan to spend some time here if you are transiting through.

7. Salta & Jujuy
The Salta & Jujuy region of Argentina is one of the most unique regions in the country. Apart from Tierra del Fuego down near the Antarctic, Salta and Jujuy give visitors many unique adventure opportunities.
Given that this area is a desert, winter months are the best times to visit. Nights will get significantly colder, while the days are sunny and warm. It does not snow in this area of Argentina.
If you are coming from Buenos Aires you'll want to compare flights and rental cars between Salta and San Salvador de Jujuy. Since this is the most northern area of Argentina, many people also enter from Bolivia.
Due to the distances and the many scenic areas, this part of Argentina is best explored with a rental car.
Things to do in Salta & Jujuy in Winter
There is so much to do in Salta & Jujuy that this area could be the focus of an entire trip. I would recommend at least 3-5 days to explore this area.
Wander through Salta

The city of Salta is the largest in the Jujuy area of Argentina. In winter it is a great time to visit Salta because it's cooler which means you can explore so much more of the area. It does not snow in Salta.
Salta is also a great place as a starting point for a variety of tours such as going to Purmamarca, el Tren de las Nubes, and even visiting the salt flats.

Explore Purmamarca

This town is by far the most popular in Jujuy. You feel like you're walking in a postcard. This lovely town is close to the 7 Colored Mountains. Many towns in this area have their own colored mountains.
The whole town is practically one large market. It is a great place to buy local artisanal products. Tables line the streets with woven cloth and blankets. Keep a critical eye out to differentiate between mass-produced and handmade goods.
This day tour takes you from Salta to Purmamarca to see the 14-Color Rainbow Mountain and the Hill of the Seven Colors. This is a full day that starts and ends in Salta but takes you to some of the most scenic areas around Purmamarca including a 12th Century fort.
Book Now: 14-Colored Mountain Day Trip from Salta

Hike with Llamas
If you are going to spend a few days in Purmamarca, don't miss this llama walk! Hiking through the red mountains with llamas is such a fun and unique way to experience the mountains. The routes are different for each group depending on comfort levels, though you can plan to walk with the llamas for about 2 hours.
Travelers rave about this tour:
Book Now: Llama Trek in Purmamarca

Visit the Salt Flats

While Bolivia might be more famous for its salt flats, the one in Jujuy is not to be missed! The Salinas Grandes is a must-visit. A quick trip from Purmamarca, take Ruta 52 to Ruta 9 and you'll reach this incredible sight.
The elevation is very high in this area so packing something for the elevation won't hurt. Locally coca leaves or coca tea is used to combat elevation sickness. At the salt flats, you can actually drive on them. I would not recommend doing this unless you have a tour guide who shows you where to go.
If you're a cyclist, consider a bike tour of the Salinas. You'll bike over 14 km, enjoy a picnic in the middle of the salt flats, and even learn about salt extraction. This tour gets all 5-star reviews. If you love biking, don't miss this chance to go deep into the salt flats.
Book Now: Bike Tour of Salinas Grande
There are many areas of Argentina where you'll need a rental car to move between sites and really explore the area. We recommend Discover Cars as they give you easy price comparisons, and their quotes are always clear and upfront. No last-minute surprises!
Reserve a Car: Discover Cars

Tips for Renting a Car in Argentina

Here are some things that you need to consider when renting a car in Argentina:
-Check the required deposit, the main driver will need to put it on a credit card.
-Confirm the fuel options and requirements before leaving with the car.
-Be cautious with allowed mileage. Argentina is a large country so if you're looking to do a road trip ensure you know what mileage you need to stay within.
-You must be a minimum of 21 years old to rent a car in Argentina. If you're over 75, they will not rent you a car. Under 25 will be more expensive than those 25 and older.
-As long as your license is written using the Latin Alphabet you do not need any other documents to drive a car.
-Insurance is required to drive a car in Argentina. Rental companies will sell you insurance. Consider insurance through a credit card or check whether your insurance back home covers you while traveling.
Reserve a Car: Discover Cars


FAQ: Winter in Argentina
Does it Snow in Buenos Aires?
While it might snow in the Province of Buenos Aires, it does not regularly snow in the city of Buenos Aires (CABA). There has been snow in CABA in July, but it is still unusual to experience snow in CABA.
Does it Snow in Mendoza?
Mendoza experiences a very dry winter which makes snow fairly unlikely. It is not impossible to get snow. It has snowed in Mendoza before, but not frequently. Frost in the mornings, however, is very common.
Which Month is the Coldest in Argentina?
June is the coldest month in Argentina. In southern Argentina and in the mountains the temperature will fall below freezing regularly. In northern Argentina, it'll hover around the 50s and 40s Fahrenheit.
Does it Snow in Argentina at Christmas?
It does not snow in Argentina at Christmas time. This is because December is summertime in Argentina. Since it is in the southern hemisphere the seasons are opposite what you'd experience in the northern hemisphere.
Is Argentina Hot or Cold?
Summers can be very warm while winters can be mild in the north but quite cold in the South as you approach Antarctica. Winter frost air from southern Argentina can bring cold to the northern parts of Argentina as well. The majority of the climate in Argentina is subtropical.
When is the Best Time to Visit Argentina?
It truly depends on what you want to experience in Argentina. My favorite time to visit is in Argentina's springtime (September-November). The weather is perfect for walking around, there aren't too many tourists, and the weather is perfect.
Summers (December, January, and February) can be really hot in Argentina, but the perfect time to head to the south for some Antarctic adventures. Winter (June, July, and August) is a wonderful time to explore northern Argentina where you will be able to avoid excessive heat in those areas.
There You Have It: Does it Snow in Argentina in Winter
Winter in Argentina can be a magical time. There are so many places throughout the country that are great to visit and explore, whether you are looking for snow in Argentina or not! Not only will you get to do many different activities you'll even be avoiding most of the tourist high seasons. Argentina in winter is a great place to visit for all kinds of travelers and it offers many activities from adventurous to scenic.