Driving in Mexico: Everything You Need to Know [2023]
Ready to road trip through Mexico? Here's everything you need to know to prepare and safely drive into and around Mexico. Wondering how to drive in Mexico? There are a few things that are a little different when driving "south of the border", but driving in Mexico can easily be part of a safe, fun family road trip!
We drove from Los Angeles down to Ensenada and around Baja Norte with our kids (ages 4, 7), as part of our Baja Norte Family Road Trip. We also spent 6 weeks in mainland Mexico (check out our six-week itinerary) from Puerto Vallarta to Oaxaca, San Miguel de Allende to the beautiful village of Yelapa, and more.
This article may contain affiliate links, which means we may earn a small commission if a reader clicks through and makes a purchase. As an Amazon Associate, we earn from qualifying purchases at no additional cost to you. All our recommendations are our own and are in no way influenced by any advertiser or commercial initiative.

At the bottom of this post, download a free game of Would You Rather: World Edition to play on your next road trip.
Ready to Book Your Trip? Use our Favorite Travel Resources!
All About Driving In Mexico
Road-tripping is a great way to see Mexico at your own pace. Whether you are planning to drive your own car or rent a car for your Mexico road trip, here is what you need to know before you start driving in Mexico.
We drove our own car from California, across the Mexican border, down to Ensenada and back. You can also rent a car in Mexico for your own Mexican road trip.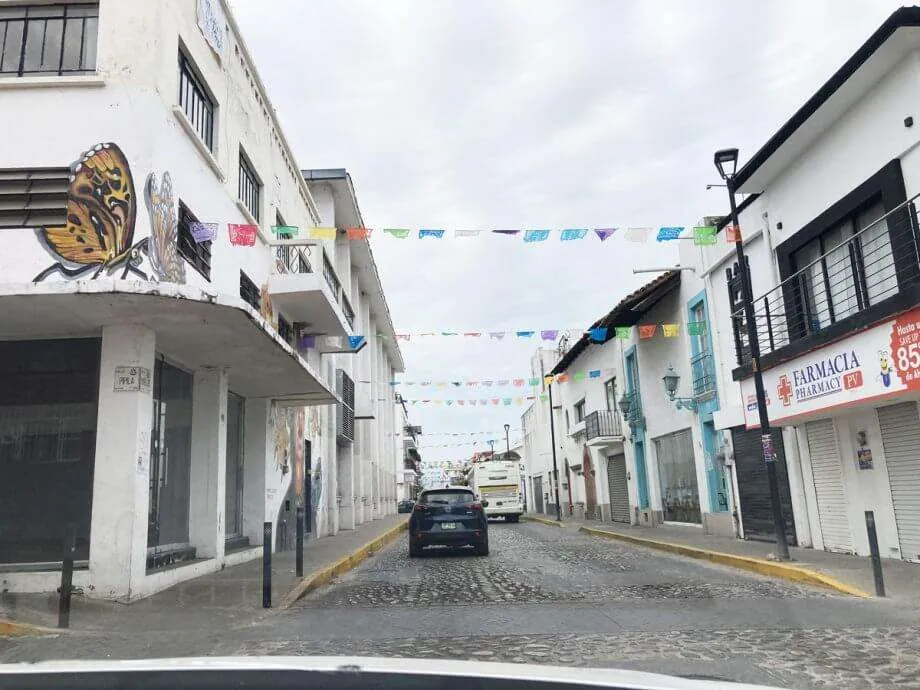 Preparing: Before Driving in Mexico
If you are planning to drive across the border to Mexico, here are a few things to prepare before you leave.
Bringing the kids? Check out the best road trip activities and road trip snacks to take with you! Don't forget to do a car safety check and get the proper gear- check out our road trip essentials for everything you need.
Keep in mind that distances in Mexico can be vast– here are some examples of the distances between cities if you are driving:
San Diego, CA to Ensenada, Baja: About 2 hours
Ensenada to Cabo San Lucas: About 20 hours
Puerto Vallarta to Mexico City: About 11 hours
(Don't miss our post on getting around Puerto Vallarta with or without a car.)
Mexico City to Oaxaca: About 6 hours
Merida to Cancun: About 4 hours
Cancun to Tulum: About 2 hours

Driver's License
You do not need a special driver's license to drive in Mexico. A valid, current US or Canadian license is all that this required. However, if you are going to be spending more than a few days driving, we suggest you get an international driving permit.
These permits can be purchased for $20 at any AAA office and are valid in over 150 countries. An international driving permit is good for one year from the date of issue.
Good to know: There is no written or driving test to get a driver's license in Mexico. You simply go to the DMV and pay the fees and get your license. So if it feels a little like everyone around you is just figuring it out as they go… you might be right.

Safety Check
Before heading out on any road trip, domestic or abroad, it is always good to take your car in for a maintenance and safety check. You don't want to be delayed or stranded because of some minor issue that could have been addressed before you left.
This is also a good time to make sure you have jumper cables, a flashlight, and more. Get our complete list of safety gear in our road trip necessities post.

Rental Car
Many people prefer to rent a car in Mexico rather than drive their own vehicle. If you choose to rent, Mexican car insurance will be part of your rental agreement. Be aware that this will significantly increase the cost of your rental.
Many car rentals will quote a low price per day that does not include the additional cost of required insurance, then surprise you with the final bill. We recommend using Discover Cars– they are really upfront about what is included in your rental.
Check Prices: Car Rental at Discover Cars
You must be 18 years old to rent a car in Mexico. You will find the same large brands that you do in the US, such as Hertz, Alamo, and Budget.
In most cases, you cannot drive a rental car across the border so you will need to cross into Mexico, then pick up your car. The easiest way to do this is to take a rideshare to the border, walk across the border, then pick up your rental car on the Mexican side.

Mexican Auto Insurance
Whether you are driving your own car or a rental, you will need to purchase Mexican auto insurance. Your US auto insurance will not cover you while you are in Mexico. There are several vendors that offer this, we recommend that you also check with your current car insurance.
We got quotes from several places, but the Mexican insurance (El Aguila) recommended via our current insurance (Geico) was the least expensive. As a bonus, the paperwork was easy to fill out as they already had our car information. For alternative quotes, check Lewis and Lewis and Baja Bound.
By Mexican law, you must carry liability insurance of at least $500,000 USD. As a ballpark, our Mexican car insurance in 2021 cost about $12 USD per day. Make sure to carry proof of your Mexican car insurance in your car at all times.
Check your Phone Plan
Before you get to Mexico, make sure your phone will work and what it will cost you. We have T-Mobile specifically because of our travel plans and our phones work in both Mexico and Canada without any interruption or plan changes or extra costs.
You will want to use your cell phone for navigation, so either plan to use your data plan or download maps to your phone for local use while you are in Mexico.

Border Paperwork
As part of crossing the border, everyone in your car will need an FMM- Forma Migratoria Mulitple. No one looked at ours, and they are free if you are staying 7 days or less, but make sure you have one. These can be filled out online, but you'll need to carry paper copies with you. Make sure to you the link above, as there are other sites that look sort of legit, and will charge you!

Staying Safe While Driving in Mexico
The number one question we hear is "Is it Safe to Drive in Mexico?" The answer is, yes, it is generally safe to drive in Mexico, but there are some basic rules that you should follow to stay as safe as possible.
Like any other kind of travel, use your common sense and don't wander into areas that are too far off the tourist path unless you know where you are going.
We wrote a guide to keeping safe while traveling, with all our best tips and tricks!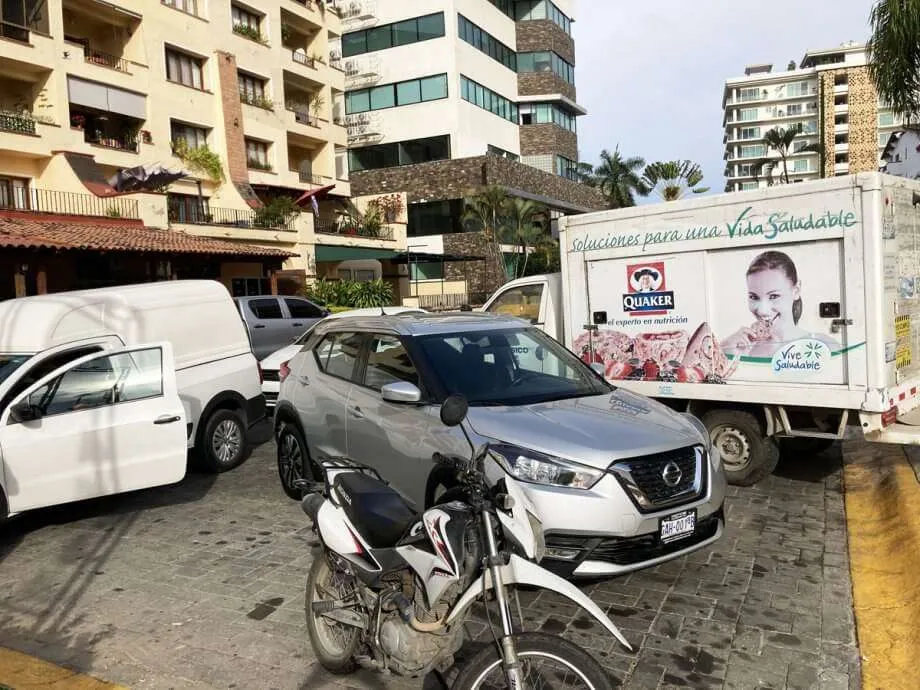 Don't Drive at Night
While this has largely to do with road conditions and the limited availability of emergency and police services, it is also a safety precaution. Most carjackings and other unsavory activities occur after dark.

Bring Car Seats
If you will be using taxis, Uber, or another ridesharing app, be sure to bring travel car seats for the kids. We have the Mifold Comfort- it's designed for kids 4+ who weigh at least 40 pounds. This product is no longer being made- but an alternative is the SafeRiderVest, which is approved for kids 3+, between 40 and 60 pounds.
For older kids, try the Bubblebum Booster or the Hiccapop Booster, both of which are inflatable, and so easy to carry when not in use. These boosters are approved for 4 and up, from 60-100 pounds.

Use the Toll Roads (Cuotas)
The State Department advises staying on toll roads while in Mexico as they are safer and the condition of the roads is better. They also recommend this as outside of major cities, there can be limited police and emergency services available. Tolls are only a few dollars and can be paid in US or pesos.
Driving from Tijuana to Ensenada, we encountered several toll booths, most of which were $40 pesos.

Use GPS
Google Maps or Waze work pretty well in Mexico if you have a smartphone. Cell service, however, can be spotty at times or non-existent. It's best to work out where you are going in advance, and always bring a physical map with you as a backup. This way if your plans change, you can plot a new course even if you are not in cell range.

Drive at the Speed of Traffic
Signage indicating the speed limit can be spotty. When in doubt, drive at the speed of traffic. Outside of major towns, I did not see any traffic police (Transito), and while I am not a slow driver, I did not want to push my luck.
Most direction apps will give you the speed limit in your current location, but these did not seem to work in Mexico. I used my common sense and drove about the speed of those around me.

Keep Cash in Your Glove Compartment
We had several people advise us to keep cash in our glove compartment. If you get pulled over, cash on hand can quickly and easily solve many problems. Luckily, we never had to test this theory, so while this may be an urban myth, it's worth passing along.
Getting Roadside Assistance
So, what happens if you need help when driving in Mexico? Whether you run out of gas (whoops!), or get a flat tire, you can call the Green Angels!
This is a hotline that will dispatch a green and white truck to help you get your car back on the road. They have been helping motorists in Mexico since 1960. They will only charge you for whatever gas or oil they provide.
Green Angels Number: 01-800-987-8224
You can also dial 078 from any highway or toll road.

How Driving in Mexico is Different from Driving in the US
There is so much to see when you are in a foreign country and driving in Mexico is no exception. The best advice I can give is to be alert and give yourself plenty of time so you are not in a hurry. Be mindful of those around you and the potential for changing conditions.

Speed Limits are in Kilometers
Outside the US, most of the world uses kilometers or km/h, rather than miles and mph. This means that speed limits, as well as distances, are in kilometers. This is not that big a deal, most US cars have both marked on the speedometer, but you should be aware.
There are roughly 1.6 kilometers in a mile, so things marked in kilometers away will come up faster than you may be used to. We missed a few turns and had to double back because the turns came up faster than we were expecting.
I found it helpful to make sure my Google Maps is set to kilometers for navigation. You can find this in settings under "distance units". If you set it to Automatic, it will switch units when you cross borders either into Mexico or Canada and back again when you return to the US.

Diagonal White Lines Across the Road
A series of white lines across your lane is to get your attention and inform you of changing road conditions. These act as minor speed bumps and can be found prior to entering a town or residential area, or before a shape curve or a very windy or narrow stretch of road.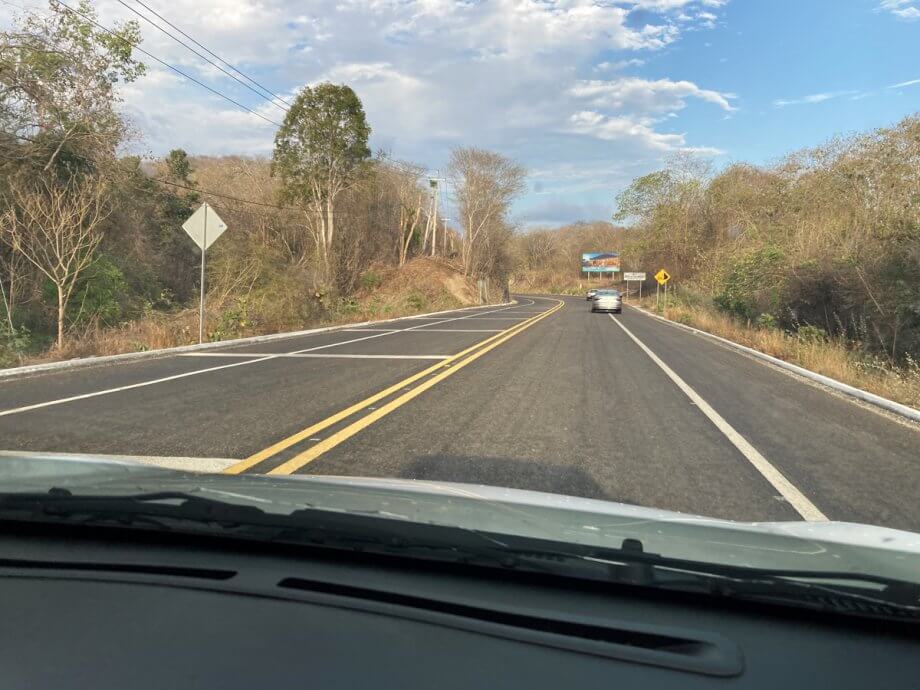 Passing and Breakdown Lanes
Like in the US, passing should be done on the left and only when it is safe. A dotted center yellow line means you can cross into the oncoming traffic lane to pass.
There are also highways with a single solid yellow line where the road is straight and you can clearly see oncoming traffic. I found myself behind four cars following a slow truck and one by one, the cars in front of me went around the truck. In this case, I waited till it was safe and passed as well.
One of the ways a slow-moving vehicle will let you know it is safe to pass it is to put on its left-hand turn signal. Make sure they are not breaking as well or coming up to an intersection or this could just mean that they are turning.
On roads with a breakdown lane, slower traffic will also use this lane so you can pass.

Speed Bumps (Topes)
Speed bumps are used to slow traffic down when entering a town or neighborhood and often without warning. If you see the car in front of you suddenly pop up, best to slow down fast. These bumps are not good to go over fast and can do some serious damage to your car if you do.

Armored Military Vehicles are Common
In Mexico, it is not uncommon to see military vehicles with mounted machine guns and troops in the back. These vehicles are usually just patroling, and while it can be a little surprising, they are there for your protection and just to show that the government is present.

Navigating Cities or Smaller Highways
Whether you are driving in dense urban or city areas, or small rural towns and highways, here are some things to watch out for.

Multiple Lanes
In cities, it is common to have multiple lanes of traffic going in the same direction. Lanes are not always clearly marked and especially around curves or where there is construction, lanes suddenly merge or appear.
Cars will often change lanes without signaling or cross several lanes and turn without warning. It is always best to drive defensively and stay alert.

Left Turns From the Right
On roads with multiple lanes and a center divider, the center lanes are often express and you cannot turn left from them. The lanes on the far right are used for slower more local traffic.
If you need to turn, you merge from the center to the right lane before a stoplight. There is a green arrow specifically for turning left from the right lane. When the light turns, you will be able to turn across the stopped traffic. This same lane is also sometimes for u-turns as well.
Alto! Watch for Stop Signs
Stop signs are often hard to see. Unlike the US, in Mexico, there are rarely white lines on the street indicating where you need to stop. The signs are on the right-hand side of the street, but often on the opposite side of the intersection. In some cases, they are used to control the speed of traffic and are placed periodically along a highway-type road, without obvious intersections.

Three Second Rule
When driving around towns and cities, make sure you stop for a full three-second at stop signs. We have been warned that this is an easy way for police to hand out tickets.
Especially when you are driving with an obviously out-of-country plate (like our CT plate), best to err on the cautious side. Many of the cars driving around have California plates, so if you also have that license plate, you will stick out much less than we did.
No Right Turn on Red
It is illegal to turn right on a red light in Mexico unless there is a sign that says you may proceed with caution after stopping. But this does not stop the taxis from doing it all the time. I got honked at while waiting for the light to turn green (it was a polite honk). So use your discretion.

Blinking Green Light
At traffic light intersections, the green light will start to blink before it turns yellow. This warning that the light will be changing soon gives you a chance to adjust your speed accordingly.
Pot Holes (Baches)
Watch out for potholes on anything but the major roads and toll roads. These can be big and deep- the kind that eat tires. This is another reason to avoid driving at night as they can be almost impossible to spot in the dark.
Tips for Getting Gas in Mexico

Don't expect to pump your own gas. Most gas stations in Mexico will have attendants to pump your gas and take your money, as well as clean your windows, and check your tire pressure or water levels.
A good rule of thumb is to look for gas stations with longer lines. These are usually the more reputable ones that are not charging for less than a liter or trying to swindle you.
Still, be aware of a few common tricks:
First, make sure the pump is set to zero when they begin to fill your gas. They will usually call this out when they start.
Second, if you are paying with cash, the exchange rates are bad, so you are better off carrying pesos. One way they might try to trick you is if you pay with a large bill, say a 500 peso note, they will show you a 50 peso and say you did not give them enough. If you count your money out loud as you hand it to them, this can help prevent this little scam.
Third, if you are paying by credit card (first check that they are equipped to take cards) never let the card leave your sight. Scammers will swipe your card, then turn and swipe it again on another device to get your information.
Expect to tip a few pesos if you are paying in cash and especially if you ask them to do anything more than just pump the gas. Rounding up to the nearest ten is common. If you are paying with a card, handing over a few pesos will go a long way.
Also, if you need to use the restroom at the gas station, expect to pay 5 to 10 pesos to the attendant by the door.

FAQ: Driving in Mexico
Is it Safe for Tourists to Drive in Mexico?

Yes, it is safe for tourists to drive in Mexico as long as they follow certain precautions, including not driving at night, and sticking to major roads.
Can You Drive in Mexico with U.S. Drivers License?

Yes, you can drive in Mexico with US Drivers License. You should have at least six months left before your license expires, just to avoid any hassles.
Can You Turn Right on Red in Mexico?

No, it is not legal to turn right on red in Mexico, though it is often done anyway. Green lights will flash before turning yellow.
Does Mexico Use MPH or KM?

Mexico uses kilometers, not miles to measure distance. You will see speed limit signs in KM/hour, not MPH. On Highways, speed limits may be as high as 110 km/hr, or about 68 mph.
What Side of the Road Does Mexico Drive On?

In Mexico, everyone drives on the right side of the road, just like in the United States.
There You Have It: Driving in Mexico
A family road trip to Mexico can be a fantastic way to explore the country. With a little preparation and a little knowledge, driving in Mexico can be a fun and safe experience. From preparing your car to traffic rules, you've got everything you need for a fun, safe experience driving in Mexico!