How To Get Around Puerto Vallarta: A Family Guide
Puerto Vallarta, Mexico is a beautiful, tropical destination. Locatedon the West Coast of Mexico, Puerto Vallarta, and the surrounding towns are wonderful to discover and easy to explore with kids. Here are our best tips to help you and your family get around Puerto Vallarta with as little stress as possible.
We visited Puerto Vallarta with our kids when they were 4 and 7, as part of our six-week trip across Mexico, which was part of our Family Year Out. Puerto Vallarta was our first stop in Mexico with the kids and a great place to get acclimated to traveling around Mexico as a family.
This article may contain affiliate links, which means we may earn a small commission if a reader clicks through and makes a purchase. As an Amazon Associate, we earn from qualifying purchases at no additional cost to you. All our recommendations are our own and are in no way influenced by any advertiser or commercial initiative.
At the bottom of this post, download free Mobile Wallpaper images to satisfy your wanderlust!
Ready to Book Your Trip? Use our Favorite Travel Resources!
Where is Puerto Vallarta?
Puerto Vallarta is a beautiful resort town on the Pacific coast of Mexico, west of Guadalajara. Puerto Vallarta is about a three-hour flight from Los Angeles. It is located in the state of Jalisco,
Puerto Vallarta is located on the Bay of Banderas, which means it has beautiful beaches with calm waters.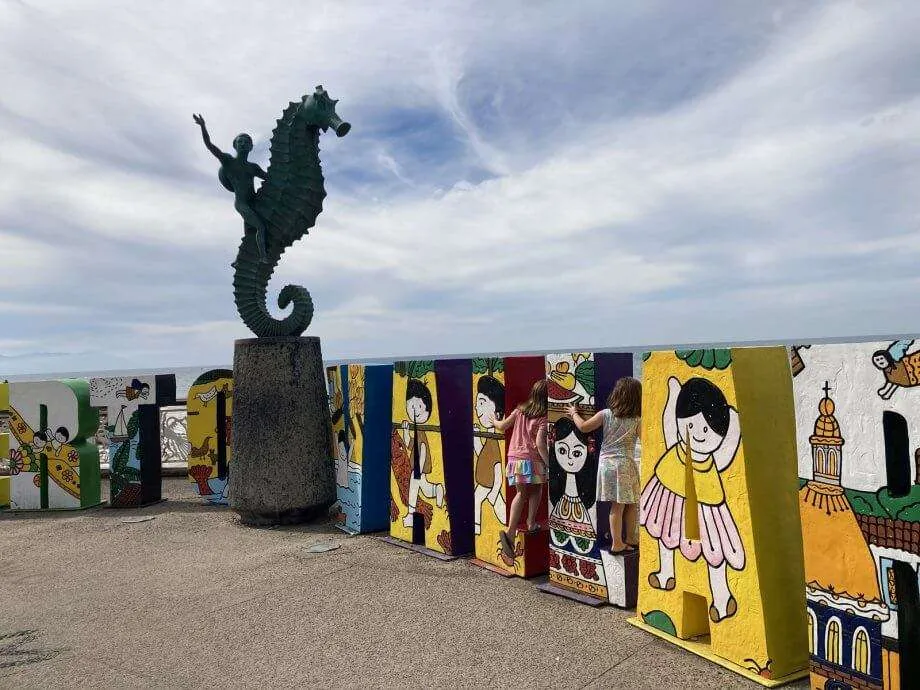 What is Puerto Vallarta Known for?
Puerto Vallarta is a popular resort destination because it's easy to get to from the United States, and has beautiful white-sand beaches. It is a wonderful location for swimming, kayaking, snorkeling, and scuba diving.
While many people visit Puerto Vallarta for the all-inclusive beach resorts, it also has a variety of cultural events, including indigenous dancers, locally made handicrafts, and great food.
How to Get from the Airport into Puerto Vallarta with Kids
Only airport-registered taxis are allowed to pick up passengers at the airport, and prices are quite high (over $20 USD) for the short drive, but you do not need to take an expensive taxi from the airport.

Airport Taxi vs Uber
The ride from the airport to the marina is only about 6 minutes and costs about 100 pesos (less than $5) in an Uber. The official taxis start at $17 USD.
The drive to the Zona Romántica is about 25 minutes, with official taxis starting at $25 USD.
You can check updated taxi prices by zone on this chart.
You cannot schedule an Uber ride ahead of time in Puerto Vallarta, you'll have to call Uber when you are ready to depart.
When you exit the arrivals terminal, you can easily get an Uber by walking just a short distance. We did this quite successfully with our two kids and all of our luggage, so you can too! We've outlined the route below to make it easy for you.

Ignore the Official Looking People
People with clipboards may try to stop you as you exit the terminal. They will tell you that you need a voucher to get an Uber, and you need to talk to someone at a desk. Don't be fooled- they are trying to get you to attend a timeshare presentation, and in exchange, will give you a free voucher for a ride into town. Just ignore them or politely decline, and keep moving.
Finding the Uber Pick up Spot at the Puerto Vallarta Airport
Once you exit the arrivals terminal, turn left. At the corner, you'll see a pedestrian bridge with a ramp going up and over the street. Turn left to reach this bridge, then cross. At the base of this bridge is the Uber pick-up location, as well as where you'll find non-airport, less expensive city taxis.
Check the arrival time and price for Uber to your destination, then negotiate with a city taxi to reach your hotel faster. We found there was a long wait for Uber, and the city taxis were willing to take us to our hotel for close to the same price (a little more).
There is also a city bus that runs from the airport into town, but with luggage and kids, this doesn't seem like a great family-friendly option.
How to Get Around Puerto Vallarta with Kids
There are a couple of ways to safely move around the city of Puerto Vallarta with kids. We'll cover the basics of each type of transportation below.
One of the biggest mistakes that families make in Puerto Vallarta is not leaving the resort! There's so much more than beautiful beaches in this town, make sure to get out and explore! Don't miss a list of things not to do in Puerto Vallarta with kids

Do I Need a Car in Puerto Vallarta?
Puerto Vallarta is a resort town with lots to do and is rather spread out. We did not have a car in Puerto Vallarta but relied on taxis and Uber. However, if you plan to spend a bit of time exploring the towns around Puerto Vallarta, a car would be handy.
When we rent cars in Mexico we use Discover Cars. They make the comparison between companies quite easy and clearly show you what insurance you are getting with the rental.
Check Prices: Discover Cars Car Rental
If you rent a car, make sure all our tips on driving a car in Mexico, from street signs, to red lights.

Walking Around Puerto Vallarta with Kids
Walking is very safe in Puerto Vallarta. We walked all over Marina Vallarta, the Zona Romantica, as well as from the Marine Terminal back towards the marina area, including a stop at a grocery store and the Walmart along the main highway.
Walking is a great way to move around each area of the city, but you'll need other transportation to move between areas.
Taking the Bus in Puerto Vallarta
Getting around Puerta Vallarta by bus is the most cost-effective way to get around, and can also be the most interesting. We did not take the bus while we were there, but if had we seen this article about busing in Puerto Vallarta, we might have!
If you decide to take the bus, make sure to have small change, or even the exact fare for the bus, as the driver won't have much time (or stay stopped) to make change.

Are Taxis Safe in Puerto Vallarta?
Before we arrived in Puerto Vallarta we read several warnings about taking cabs, and to only take them from a taxi stand. We were nervous about them but once we were there we found that taxis were often an easy and convenient way to move around.
We found taxi stands at major tourist intersections by the marina, as well as outside a large supermarket.
Taxis are not metered so you need to agree on the price ahead of time with the driver, and if language is an issue, communicating can be tricky. As noted below, we used the Uber app to get a sense of a fair price before speaking with a taxi driver.
Armed with this information, we found that most taxi drivers offered us a fair price, and we did not have to negotiate. We felt that if the price they offered was close to the Uber price, that was good enough.
Overall, taking taxis is a great way to get around if you are close to a taxi stand.

Is There Uber in Puerto Vallarta?
Yes, there is Uber in Puerto Vallarta! Uber is a safe and easy way to get around Puerto Vallarta with a family group. Try to plan ahead as you may need to wait ten minutes or longer for a car to arrive.
We often found that if we were in an area with a taxi stand, Uber gave us a great way to know roughly how much a specific destination should cost. We could then choose to wait for a car, or take a taxi knowing we weren't massively overpaying.
Uber is very handy when you are not near a taxi stand and need a ride. For example, when you are on a side street in Bucerías or leaving the farmers market in Neuvo Vallarta, you can easily call an Uber when taxis are not easy to grab.
Is Puerto Vallarta Safe with Kids?
Yes, Puerto Vallarta is one of the safest cities in Mexico in terms of the crime rate and it is very safe for international travelers. Like any city, you need to be aware of your surroundings, but in most parts of the city, day or night it is quite safe and there is a constant presence by the Mexican National Guard.
The best way to be safe at any destination is to some simple preparations ahead of time. We've gathered all our best safety advice for travel with kids.

There You Have It: Getting Around Puerto Vallarta
All the best ways to get around Puerto Vallarta with kids. There are many safe ways to move around this beautiful resort town, from using Uber to buses and city taxis. We enjoyed getting around to explore, we hope you will as well!
Exploring more of Mexico? We've got a road trip into Baja, What Not to Do in San Miguel de Allende with Kids, and where to eat in Oaxaca.