Exploring Glacier National Park with Kids: 3-Day Itinerary
Heading to Glacier National Park with kids? This 3-day Itinerary for a family vacation in Glacier National Park includes the Going-to-the-Sun-Road, West Glacier, Many Glacier, and the Two Medicine areas.
Glacier National Park is a fantastic park for a family vacation with a combination of hiking and driving. We visited as part of our Northwest family road trip. You could also incorporate Glacier National Park into a cross-country trip.
We'll cover a 3-day itinerary in Glacier National Park, as well as all the regions of Glacier, and how to decide which side of the park is the best for your stay. We'll also get into things to do at Glacier other than hiking, how to get to Glacier, what to bring with you, where to eat in and around Glacier, and where to stay when you are there.
Glacier National Park is known for its pristine lakes, many glaciers, and abundant wildlife. This is the park for hiking into solitude and keeping your eyes peeled for wildlife! There are many short hikes and viewpoints that make visiting Glacier National Park with kids a great family vacation.

This article may contain affiliate links, which means we may earn a small commission if a reader clicks through and makes a purchase. As an Amazon Associate, we earn from qualifying purchases. All our recommendations are independent and are in no way influenced by any advertiser or commercial initiative.
At the bottom of the post, Download our Top Ten Tricks for Exploring National Parks with Kids.
Ready to Book Your Trip? Use our Favorite Travel Resources!

What is Glacier National Park Famous For?
Glacier National Park is known for snow-capped mountains, hiking in alpine terrain, glaciers and glacial lakes, and clear, pristine waterways, as well as abundant wildlife.
When the park was established in 1910 there were over 100 glaciers in the park. All of the glaciers have since receded and shrunk- in 2015 only 26 of the original glaciers could still be considered active glaciers.
It has been called the "crown of the continent", as water from here flows into the Pacific Ocean, the Gulf of Mexico, and Hudson Bay. This is one of the few places where all the carnivores native to the area still thrive- including black bears, grizzly bears, and wolves. Glacier is an official Biosphere Reserve and the world's first International Dark Sky Park.
When is the Best Time to Visit Glacier National Park with Kids?
The best time to visit Glacier National Park is from mid-July to mid-September. Roads will be clear of snow and fully open. By mid-September, services start to close down and sections of roads may close. Because the season is short, Glacier can be quite crowded, so plan to start your days early to avoid crowds.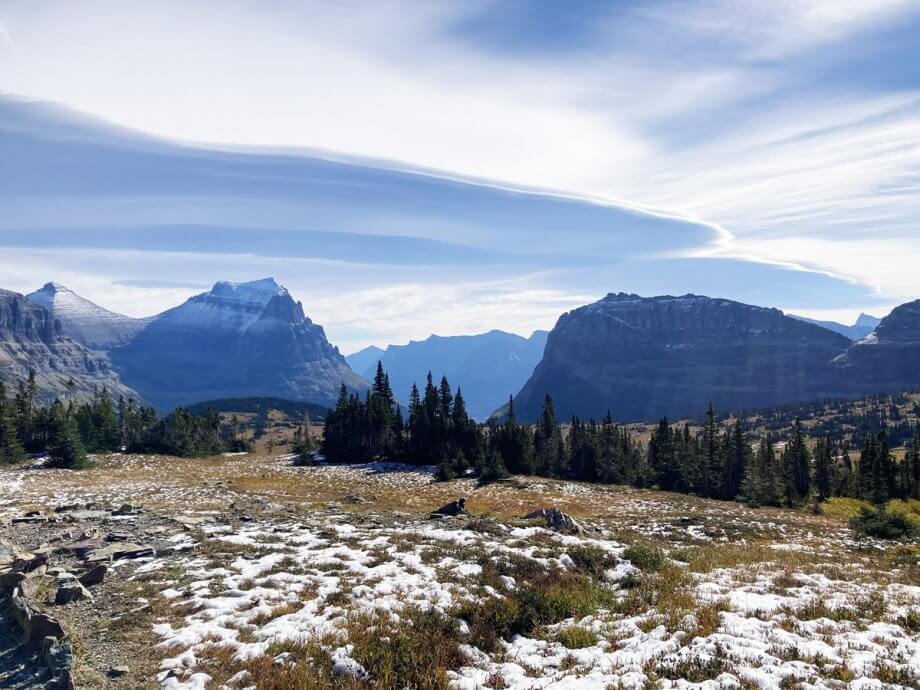 How Much Do I Need to Plan Ahead?
We advise booking lodging in Glacier National Park well in advance. Some popular lodging options in Glacier book up when released, 13 months in advance, so the sooner you can make reservations in this park, the better. Many campgrounds release dates six months in advance.
If you would like to have dinner at one of the nicer lodges in the park, you should make reservations as soon as possible. With only 3 days to explore Glacier, you'll want to make the most of it.
Download maps and apps ahead of time. Do not expect wifi or cell service throughout the park.
Planning ahead is one of our top family travel tips– national parks book up early, and you don't want to miss out on tours or lodging because you waited until the last minute.


How Much Does Glacier National Park Cost?
The fee to enter Glacier National Park is $35- that is good for your full car and lasts for seven days (as of 2021).
If you will be combining this visit with other National Parks, be sure to get an America the Beautiful Pass. This annual pass costs $80 and gets you unlimited access to National Parks for one year. This pass covers entrance fees, it does not cover tour fees or lodging fees.
4th graders also get a free annual park pass for their families.
Buy Now: American the Beautiful National Parks Pass

If you are visiting before September 10th, you must also have a reservation for the Going-to-the-Sun Road, in addition to your entrance fee or park pass! You can do this through vehicle registration online.
Important: You also need a separate vehicle reservation for North Fork, Two Medicine, and Many Glacier areas.
Look for Junior Ranger packets in the visitor centers throughout the Park. Kids fill out the packets, and return them to be sworn in as Junior Rangers, complete with a wooden badge! You may also want to get a family National Park Passport Book to stamp at each park you visit.
Glacier National Park with Kids: 3-Day Itinerary
You could spend a week exploring this park. Here are our suggestions for a Glacier National Park 3-day itinerary (3 days and 3 nights). This assumes you are driving in and will have a half-day to explore on the first day, then two full days followed by driving out the morning of the third day. You can easily extend this itinerary if you have more time. Ready for a perfect 3 days in Glacier National Park?

Day 1: West Glacier and Lake McDonald
You'll be arriving at Glacier National Park on this day, so we'll assume a half-day to explore. Enter the park from the West Side, then stop at the Apgar Visitor Center to get any updates on the park, grab maps, and get your Junior Ranger Packets. This is a small visitor center, so you won't need much time here.
It's important to start on the west side of the park, as you'll get the best view driving the Going-to-the-Sun Road driving west to east.

Lunch in West Glacier or Apgar
We stayed in the West Glacier Motel just outside the park, so the West Glacier Cafe was very convenient for a quick lunch. Their menu is limited to mostly burgers and fries, but the food is good. There is a bar next door if you need a beer to go with lunch. There are plenty of outside picnic tables out front.
Alternatively, drive into Apgar and have lunch at Eddies Cafe before exploring further. Sit on their patio and enjoy the views over the lake. Overall the food here is fine, but don't miss their delicious huckleberry and peach pie! There is an outdoor patio as well as inside booths. The kids can get ice cream cones from the gift shop next door while the adults enjoy warm pie a la mode.

Lake McDonald
As you drive into Glacier there are a few pull-offs that give you access to the edge of Lake Mcdonald. Go touch the water, take a picture with a snow-capped mountain peak in the distance and explore the colored rocks in the lake. The water here is very cold, and thus, very clear.

Lake McDonald Lodge
Stop at the Lake McDonald Lodge to view the traditional natural wood post and beam lobby with an enormous fireplace (and lots of stuffed wildlife heads on the walls). Head out to the back deck to take in views of the lake. You can also book cruises of Lake McDonald from here. There is a small gift shop in the lodge you may want to check out.

McDonald Creek
Stop at the McDonald Falls pull-off to see a lovely, wide set of falls crashing through McDonald Creek.
A bit farther up the road, you'll see another pull-off on your left with a white railing and a set of stairs descending a few steps toward the water. This is a lovely view of the McDonald Cascade. You can get much closer to the water here than at the McDonald Falls pull-off.

Trail of the Cedars
Approximately 5 miles from McDonald Lodge along the Going-to-the-Sun Road is the Trail of the Cedars trailhead. There are two sets of parking spots here, and it can get quite crowded.
The Trail of the Cedars is an easy 1-mile loop on a boardwalk or flat path. It is wheelchair and stroller accessible. You'll wind through Western Red Cedar, Black Cottonwood, and Western Hemlock trees, some of which are quite large. This is a quiet, shaded trail that winds around and over Avalanche Creek.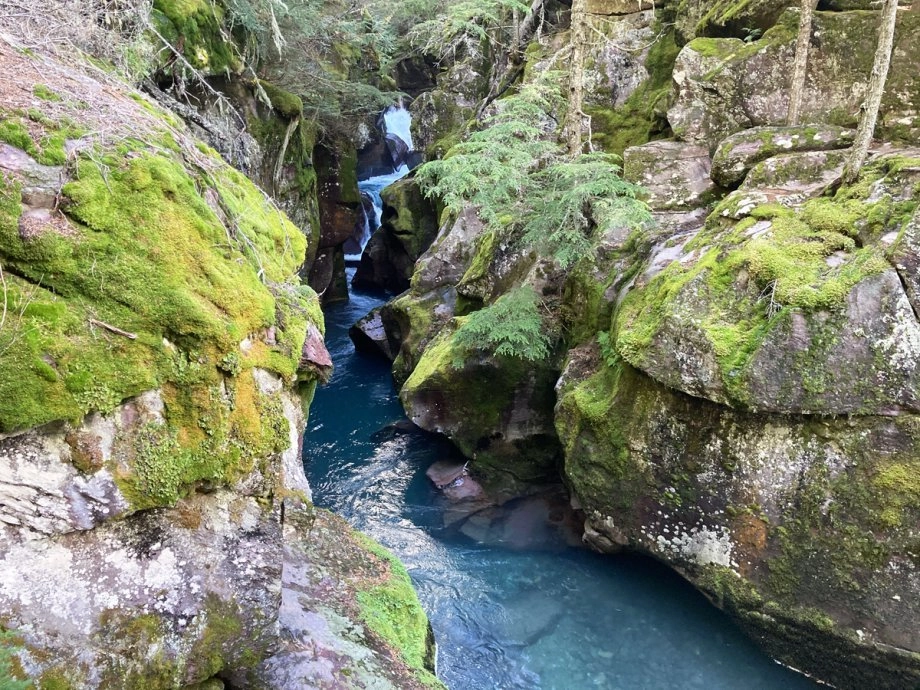 If you have more time or want to make this hike more challenging, take the turn-off for the Avalanche Lake trail. This trail splits from Trail of the Cedars about 1/2 mile in from the trailhead. It is 2 miles out to Avalanche Lake, and another 2 miles back.
You'll see hundreds of downed trees that are the result of a recent avalanche. When you reach Avalanche Lake, you'll also have views of Bearhat Mountain.

Dinner and Relax
Return to West Glacier, check into your lodging and explore the area. Have dinner close to your lodging- for a more upscale dinner try the Glacier Highland or have a casual meal at whichever cafe you didn't choose for lunch!

Day 2: Going-to-the-Sun Road
On your second day of this 3-day Glacier itinerary, start early, as you'll want to complete the Going-to-the-Sun Road and then drive around the park to return to your base in West Glacier. Alternatively, you could choose to spend your second night in St. Mary or Many Glacier to reduce drive times.
We decided to choose extra driving over packing and unpacking additional times. Next time we visit, we'll base ourselves in St. Mary and focus on the Many Glacier and Two Medicine sections of the park.
Make sure you stocked up on road trip snacks, and did a full safety check and other road trip essentials before heading out. You're going to be spending most of the day in the car.

Going-to-the-Sun Road
Drive the meandering 50-mile Going-to-the-Sun-Road that cuts through the park. This road is generally open from July through late September and is the only road that crosses the park. You can zip past the areas that you saw the day before, and head towards Logan's Pass.
There are many overlooks and stopping points, so take your time. Take a picnic lunch with you so that you can stop and eat whenever you are ready.

The Loop
The Loop is a hairpin turn that has parking in the middle. There are also bathrooms here. The Loop has the best view of Heaven's Peak- when we visited it was covered in fresh snow from the night before and looked like a layered French pastry covered in powdered sugar.
Logans Pass
When you get to Logan's Pass, park here. This is the highest elevation on the road (6,646 feet). You can explore the visitor center (with bathrooms) then head out on Hidden Lake Nature Trail.
We got to Logan's Pass a few minutes after 9 am, in mid-September, and had to circle for over 20 minutes before finding a parking spot. We almost gave up, but we're glad we stayed!
Just up from the visitors center, we got to watch a grizzly bear scratching, stretching, and digging in the grass. We were on a boardwalk with several park rangers and a ton of people taking pictures. It was fantastic to see this magnificent animal in a safe way!

Hidden Lake Nature Trail
Hidden Lake Nature Trail is 3 miles round trip, it includes steps and has amazing views at the top. The base of the trail is a boardwalk, then a gravel path with some streams crossing and a few wet spots. The trail gently heads uphill most of the way, often with built-in steps, which makes for an easy downhill return. This is one of the best family hikes in Glacier National Park.
This trail has terrific views all the way up. It is one of our favorite hikes from all the national parks we have visited. The sun was out, the air was cool, and we were surrounded by snow-dusted mountain peaks.
We saw Rock Ptarmigans (a bird that sort of resembles a peahen), and several people spotted bighorn sheep on the mountainside, though we didn't have the right binoculars to really see them. As we got higher in elevation, the kids loved throwing snowballs!
Most people take the trail to the Hidden Lake Overlook. You can continue another 1.5 miles down to the lake itself, though the park rates this section of the hike as "strenuous". When we visited this part of the trail was closed due to bear activity.

Jackson Glacier
Continue along the Going-to-the-Sun Road to Jackson Glacier Overlook. This is the one glacier you can see from the Going-to-the-Sun Road.

Sun Point Nature Trail
This is a great place to stop for lunch or a snack. There is a road that splits off from the main road and heads towards St. Mary Lake. There is a large terraced parking lot and several picnic tables. From the bottom of the parking lot, you can walk a loop that takes you to Sun Point. Marked as 0.2 miles, this trail has lovely views looking down at St. Mary Lake. It was quite windy when we were there.
From this trailhead, you can also hike to three waterfalls: Bering, St. Mary, and Virginia Falls, for a round trip of just under 6 miles.

Wild Goose Island
Continuing along the road, just before you reach the Rising Sun area, you'll see the pull-off for Wild Goose Island. This is a tiny island rising out of the lake. This view was used in the opening shot for the movie The Shining and is one of the most photographed areas along the Going-to-the-Sun Road.
St. Mary
You finish in St. Mary. If you are ready to swear in a new Junior Ranger you can stop by the St. Mary Visitor Center to find a ranger.
There are several dining options in town here including Johnson's Cafe, or continue along route 2 to East Glacier. Serrano's Mexican restaurant in East Glacier gets good reviews- they don't take reservations, so get there close to their 5 pm opening, or plan to wait.

Day 3: Many Glacier Area
For the third day of your itinerary, focus on the Many Glacier area, accessed from the Glacier's east side. This area has some of the park's most loved trails, including Grinnell Glacier and Iceberg Lake.
Here's a detailed map of the area. This area of Glacier National Park was closed for the season when we visited in mid-September, we'll have to return when it's open and our girls can handle some longer hikes!

Grinnell Glacier
In its entirety, it is a 7-mile hike to Grinnell Glacier. You can shorten it by taking ferries from Many Glacier Hotel across two lakes, cutting off several miles.
Book ferry tickets ahead of time, and be aware there can be a long wait for a ride back. You'll be rewarded at the end of the hike with a magnificent view of a glacier with icebergs floating in the lake.

Iceberg Lake
This is the other "not-to-miss" hike often cited as a reason to explore the Many Glaciers area of the park. However, at 9.7 miles, roundtrip it's more than our kids could handle. The trailhead is behind the Swiftcurrent Motor Inn. We're hoping to return in a few years when we can tackle this hike! This is one of the best hikes in Glacier National Park for teens and families with older kids.

Apikuni Falls
This trail is a 2-mile round trip with some elevation gain. Take the Poia Lake trailhead, you'll find a waterfall at the end of this trail. This is a very easy hike for most families.

Alternate Day 3: Two Medicine Area
Two Medicine is one of the least visited sections of Glacier National Park, and some families report it is their favorite! You can also explore Two Medicine Lake via boat, or kayak, or canoe. There are bathrooms at the Two Medicine Camp Store. Here's a detailed map of the area.

Dawson/Pitamakan Pass Loop
This is the most famous of the Two Medicine trails and includes some of the best views in Glacier. Topping off at 17 miles, it is not a great option for families with young kids.

Boat Across Two Medicine Lake
Take a boat ride across Medicine Lake to the West shore, then hike from there. A one-way ride lasts approximately 45 minutes. After leaving the boat, hike to Twin Falls (1.2 miles out). From here you can keep going along the Upper Two Medicine Lake Trail (4.8 miles roundtrip in total), before taking a return boat trip across the lake. Boats run until mid-September.

Aster Falls
At 2.8 miles round trip with some elevation gain. If you like, you can continue uphill to Aster Park Overlook. This starts from the end of the paved road, by the Two Medicine Camp Store.

Running Eagle Falls
This trail is a one-mile, easy walk along a boardwalk. This is a great short hike for an afternoon after you've already tacked a longer hike. The double waterfall is worth the visit.

How to Get Around Glacier National Park
There are several ways to move around Glacier National Park once you have arrived.

Drive
This is the most straightforward option for moving around Glacier National Park- you drive yourself and pull over whenever you feel like it. The downside is dealing with traffic. As there are few main roads, finding parking in busy lots can be challenging.

Park Shuttle
Park shuttles run from July 1, through labor day. These shuttles are first-come first-serve and run the full length of the Going-to-the-Sun Road from Apgar to St. Mary, from 7 am to 7 pm.
Pets are not allowed on the shuttle. Check details on the NPS site, and read the restrictions and validation details carefully.

Vintage Red Buses
Tour Glacier National Park in vintage 1930s red buses with roll-back tops. Each bus seats 17 people on bench seating, with very limited legroom.
These are considered the oldest touring fleet of vehicles anywhere in the world and are part of the heritage of the park. These often sell out and are ideal for those squeamish about driving the cliff edge portions of the Going-to-the-Sun-Road on their own.
Red Bus Tours depart from both the east and west sides of the park.
How Many Days Should I Spend in Glacier National Park with Kids?
We planned for three nights with our 4 and 6-year-olds in Glacier National Park, however, some families may prefer to have more time. You could easily spend a week here if you wanted to slow down. We have seen adults lounging by the lakeside with a book, and families checking out the mini-golf in West Glacier Village.
A three-day itinerary in Glacier National Park allows you to visit several of the many areas of this vast park but you'll have to leave other sections for a future visit.

The Regions of Glacier National Park
Glacier National Park is split into several regions, with quite some distance between them. There is only one road that cuts through the park- the Going-to-the-Sun Road connects Apgar and West Glacier on the west to Logan Pass in the middle, and finally to St. Mary on the eastern edge of the park. All other sections must be accessed by driving around the park.

Apgar and Lake McDonald
Apgar and Lake McDonald are on the west side of Glacier National Park. Apgar Village has a visitors center, gift shop, and Cafe, and is the first area of the park for visitors entering from the west along the Going-to-the-Sun Road.

Logan Pass
This is the middle area of the Going-to-the-Sun Road and the highest point on this road. Here you'll find Logan Pass Vistors Center and the Hidden Lake Nature Trailhead.

St. Mary
St. Mary is at the end of the Going-to-the-Sun Road if driving from the west, or where you enter the park from the east. Saint Mary Lake runs along the first stretch of road here, in a similar fashion to Lake McDonald in the west.

Many Glacier
The Many Glacier area of the park is only accessed from the Many Glacier entrance along Rt. 89, north of St Mary. This area is known for glaciers, glacial lakes, and is a great place to try to spot moose.
This is one of the most popular areas in Glacier National Park for hikers. When we visited this area was closed for the season- due to road construction, weather, and moose rutting season.

Two Medicine
The Two Medicine area is in the southeast of the park. It is accessed only from the Two Medicine entrance on Rt. 2. This is one of the least visited areas of Glacier National Park that are accessible by car, but some families find it is their favorite! Look for bighorn sheep and mountain goats in this section of the park.

Goat Haunt
Goat Haunt is only accessible via ferry from Waterton Park, Alberta, Canada, or through backcountry hiking. There are no roads that go to this section of the park.

Waterton Lakes
This is the sister park to Glacier, which is across the Canadian border. Prior to the border closing in 2020, tours often included sections of both parks.

North Fork
The North Fork area consists of several areas only accessible from the Polebridge entrance to the park. These areas include Kintla Lake, Bowman Lake, Quartz Lake, and Logging Lake. They are remote areas with few services.

Which Side of Glacier National Park is Better for Families?
The west side of Glacier is where most tours and activities depart. Whitewater rafting and helicopter tours for example leave from here. This is the best place to start the Going-to-the-Sun-Road so that you'll have the best views from the car. The west side also gives you access to the North Fork area via Polebridge and unpaved roads.
The east side of Glacier National Park has the easiest access to some of the best trailheads in the park. You can only access Many Glaciers and Two Medicine from the east. The east side tends to be windier and gets more snow than the west side.

Things to Do at Glacier National Park with Kids Other than Hike
There are plenty of things to do at Glacier other than hiking, depending on the ages in your family.
Don't Miss our travel bucket list for families!
Whitewater Rafting
There are several tour companies that offer whitewater rafting trips along the Flathead River. The minimum age is generally 3 years for float trips and 5 years for whitewater trips.

Canoe or Kayak
You can rent paddleboats, canoes, kayaks, or even motorboats to explore the lakes in many areas of the park. Glacier Park Boat Company handles rentals in the Apgar, Lake McDonald, Two Medicine, and Many Glaciers areas of the park.

Horseback Riding
Visitors have been exploring the park via horseback since the very early days of the park. In fact, at the Jackson Glacier overlook, you can see a tunnel under the road built specifically for horses.
Swan Mountain Outfitters runs tours on horseback within Glacier, with a minimum age of 7 years old.

Fly Over Glacier National Park
You can view the glaciers of Glacier National Park from a helicopter or a small airplane. There are several companies that run these flights.

Getting to Glacier National Park with Kids
Glacier National Park is located in northern Montana. It actually touches the Canadian border, where it joins with Waterton Lakes Park in Alberta, Canada as the world's first International Peace Park. This peace park was designated a World Heritage Site in 1995.

Fly in
The closest airport to Glacier is the Glacier Park International Airport (FCA), in Kalispell, MT. You can also fly into Spokane, which is a 4-hour drive away.

Drive In
If you are driving into the park, you'll come from either Great Falls, MT in the southeast, Missoula, Mt in the southwest, or from Kalispell or Whitefish, MT in the west.
Renting a Car
You'll need a car to explore Glacier, and the Going-to-the-Sun Road. This is a big park, and you don't want to miss a thing!
Whether you prefer a rental so you have more space, more horsepower, or because you're flying into the area, we always trust Discover Cars. They quote different companies for you, and the pricing is always clear and upfront. No surprises when you pick up your car!
Rent a Car from Discover Car Rentals

What to Bring to Glacier National Park

Warm Jackets and Rain Gear: Plan for changeable weather. Bring jackets and rain gear. Snowstorms can blow in unexpectedly even in June or later. We visited in mid-September and wore layers of sweaters, jackets, and warm hats. In the sun it can be quite warm, even in the fall, but the breeze is cold. We love these rainjackets for kids.
Bear Spray: Stay back from wildlife, and don't let the kids run too far ahead on a trail. If you won't need it for other parts of your trip, donate it to the park rangers on your way out of the park. Use your judgment- if you are sticking to heavily trafficked trails and doing a lot of driving, this may not be necessary.
A Full Tank of Gas: You'll be driving long distances, and don't want to run out of gas. There are no gas stations within Glacier.
Binoculars: You don't want to miss seeing wildlife, and you need to give them their distance.
Travel Insurance: Don't forget to protect your family! From trip interruption to lost luggage, travel insurance has your back. We love SafetyWing because it's easy and no hassle.
Get a Quote: Safety Wing Travel Insurance

Where to Eat in Glacier National Park with Kids
National Parks are often known for their historic lodges with grand dining rooms. Unfortunately, for the 2021 season, all in-park dining facilities are take-out only, and several are completely closed.
The Two Dog Flats Grill at Rising Sun Motor Inn is serving inn guests only. Plan to bring food into the park, get take-out from the lodges or eat at the villages just outside the park.
We enjoyed lunch at the West Glacier Cafe just outside the west entrance, as well as dinner at Eddies's Cafe in Apgar Village. Eddie's has table service, for both inside and outside tables.

Lodging in Glacier National Park
We stayed just outside the park at the West Glacier Motel in West Glacier Village. This complex includes an RV park with a small playground. The rooms were simple but fine, though they were lacking a refrigerator. The village includes a camp store, grocery, gift store, cafe, post office, and more.
There are seven lodgings within the park, ranging from motels to upscale lodges. The most famous lodge in the park is the Lake McDonald Lodge, which is built in a Swiss chalet style. The largest is the remote Many Glacier Hotel built by the railroad in 1914.

FAQ: Glacier National Park


When is the Best Month to Visit Glacier National Park?

June and July are the best months for your Glacier National Park vacation. While these correspond with the busiest time, they also bring the warmest weather, and all of the park roads will be open.
Which Airport is near Glacier National Park?

Glacier Park International Airport (FCA) is about an hour's drive from West Glacier. However, you may find cheaper flights to Spokane International Airport (GEG) which is a 5-hour drive from West Glacier. Or you can fly to Great Falls International Airport (GTF), which is about a 2 1/2-hour drive to the St Mary Visitor Center on the east side of Glacier National Park.
Is Glacier National Park Dangerous?

Glacier National Park is not dangerous, but you do need to be aware that wild animals are roaming around. We saw a grizzly bear during our time in the park, but there were park rangers close by, and we never felt unsafe.

At certain times of the year, areas of the park will be closed off to protect visitors and animals. For example, the Many Glacier area of the park closes in the fall as the Moose go into rutting season. During this time the Moose can be more aggressive than usual.

Of course, anytime wild animals are involved you need to be cautious and aware. Hike in groups, carry bear spray and keep your distance from wild animals.
What is the Hardest Hike in Glacier National Park?

At 22 miles one way, and including crossing the border into Canada, the hardest hike in Glacier National Park is the Bowman Lake to Goat Haunt hike.

This is not something we've tried- for more details check out this list of the Top 6 Challenging hikes in Glacier.
What Should you Not Miss at Glacier National Park?

The Going-to-the-Sun-Road is an iconic part of Glacier National Park that you should not miss! The views are amazing, and you'll pass trailheads where you can stop and further explore the park.
Which is Better- Yellowstone or Glacier National Park?

We prefer Glacier National Park over Yellowstone- but visit both to decide for yourself! Yellowstone has amazing geologic features, while Glacier National Park has more stunning scenery.
Can you Camp Anywhere in Glacier National Park?

There are 13 designated campgrounds in Glacier National Park. Reservations are available on a rolling basis six months before your arrival date.

Wilderness camping is allowed in 65 backcountry campsites. Each campsite is limited to four people and two tents. You need a Wilderness Use Permit for all overnight camping.
When Can you See Northern Lights in Glacier National Park?

It is possible to see the Northern Lights from within Glacier National Park! The lights can appear at any time, but your best chance to see them is from September to April.
There You Have It: 3 Days in Glacier National Park
This 3-day itinerary for Glacier National Park includes all the highlights of this wonderful park, which is great to explore with kids, and makes an excellent family vacation. There are lots of family-friendly hikes, and the views are stunning throughout the park.
We were lucky to have crystal-clear days to explore Glacier National Park as a family. While we didn't see a moose (doh!), we were thrilled to see a grizzly bear from a safe distance. We are already making plans to return!
Road tripping around the Western US? Consider checking out Yellowstone, or even Bryce Canyon. We also love smaller parks like Craters of the Moon, and Great Sand Dunes National Park.