Hikkaduwa Beach: Sea Turtles, Surfing, and Adventure in Sri Lanka (2023)
Hikkaduwa Beach is one of Sri Lanka's most popular beaches with everyone from families to solo surfers. Located on the southwestern coast of Sri Lanka, Hikkaduwa is known for its sea turtles, pristine beaches, protected coral reefs, and laid-back beach-town atmosphere.
The shoreline just off Hikkaduwa Beach is actually a National Park- the coral here is protected, though you can visit on snorkeling trips, or view the area from glass bottom boats. There are other sections of the beach that are great for swimming and even surfing.
Hikkaduwa is a great base for exploring more of Sri Lanka. You'll find that many of the attractions around Sri Lanka from touring tea plantations to viewing wildlife in the National Parks are accessible on day trips from Hikkaduwa. We've pulled together the best day trips from Hikkaduwa to add some adventure and culture to your beach vacation.
Due to its proximity to Colombo, Hikkaduwa also makes a great first or last stop when exploring Sri Lanka. We visited Hikkaduwa when our kids were 5 and 7. We chose to end in Hikkaduwa, relaxing on the beach before flying onward.
We'll cover how to get to Hikkaduwa, things to do on Hikkaduwa Beach including great day trips around Sri Lanka, where to stay on Hikkaduwa and Narigama beaches, and where to eat while in Hikkaduwa.
This article may contain affiliate links, which means we may earn a small commission if a reader clicks through and makes a purchase. As an Amazon Associate, we earn from qualifying purchases at no additional cost to you. All our recommendations are our own and are in no way influenced by any advertiser or commercial initiative.
At the bottom of this post, download a free guide: 6 Safety Tips for Traveling with Kids: What You Should Know Before You Travel.
Quick Guide: The Best Day Trips from Hikkaduwa Beach
Includes the Galle Fort, Madu River Cruise, Sea Turtle Conservatory, Moonstone Mine, and more!
Includes 9 Arches Bridge, Little Adam's Peak, Udawalawa Elephant Orphanage, and More!
Where is Hikkaduwa Beach, Sri Lanka?
Hikkaduwa Beach is located on the southwestern coast of Sri Lanka. This picturesque beach town sits approximately 98 kilometers south of the capital city, Colombo (or about a 2-hour drive). Nestled on the coast of Sri Lanka, this spot on the Indian Ocean offers a beautiful beach vacation, with access to so much more in Sri Lanka, including the historic city of Galle, known for its fortified old town and colonial charm.
Why Visit Hikkaduwa Beach?
Hikkaduwa attracts tourists looking for all sorts of activities, from snorkeling to surfing. Hikkaduwa National Park boasts a coral reef that will amaze divers and snorkelers. The beach also offers great waves for surfing- with locations suitable for beginners, and also for more advanced surfers.
Others are drawn to Hikkaduwa Beach to see the famous sea turtles that hang around Sea Turtle Point. These wild sea turtles swim quite close to the beach, even bumping into tourists who wade it to get close to the animals.
Ready to Book Your Trip? Use our Favorite Travel Resources!
Things to Do in Hikkaduwa Beach
Hikkaduwa Beach has a variety of water sports- from surfing to boogie boarding to snorkeling and swimming. Here are the best things to do in Hikkaduwa Beach.

Visit the Sea Turtles
One of the many reasons visitors are drawn to Hikkaduwa Beach over other beaches on the South Coast is the sea turtles at Turtle Beach. This beach is at the southernmost point of Hikkaduwa Beach, you'll see it marked on Google Maps. Here you'll find several large sea turtles who routinely swim up in the shallows.
There are locals who sell bags of seaweed to feed to the turtles which encourages the turtles to return. There are signs asking people not to touch the turtles, but very little regulation or enforcement. It is very cool to see these wild creatures up close, but please be respectful.
With the movement of the waves, the turtles often bump into the legs of tourists. They are able to swim out into the ocean whenever they like, however, all that close contact with humans is probably not great for the turtles.

Scuba Diving
There are lots of PADI-certified dive shops around Hiddakuwa, and several shipwrecks close to the beach that make for great dives. Some favorite dive spots around Hikkaduwa include Kiralagala, Godagala, and Black Coral Point.

Snorkeling
Hiddakuwa offers great snorkeling just 200 meters off the shore, making it a great beach for all levels. You'll see lots of colorful fish, and even swim next to sea turtles! The water is warm, calm, and shallow making this a great activity for all ages and abilities.
Take a Glass Bottom Boat
If you don't want to enjoy the Hikkaduwa coral reef by snorkeling, you can take a glass-bottom boat tour to enjoy the reef that way. Look for a reputable provider, as these boats can damage the reefs if the tour guide is not careful.

Surfing
There are many surf schools in both Hikkaduwa Beach and Narigama Beach just south of Hikkaduwa. There are great breaks for intermediate and advanced surfers here. The water is warm, and the high winds keep the water from being too flat. There are reefs here, so this is not the best beach for true beginners.

Boogie Boarding
Renting a boogie board is a great alternative to surfing for beginners or kids. Our kids had a great time with boogie boards, although, on the second day, Waker did slash his leg open on the reef, so be careful!

The Best Day Trips from Hikkaduwa Beach
Using Hikkaduwa as a base, you can take day trips to see a lot of the most fascinating places in Sri Lanka. If you have the time, many of these places are wonderful to visit for a few days, but if your time is limited, a day trip is a great way to see a lot in a short timeframe and have transportation taken care of for you.
Many of these locations are on our two-week Sri Lanka itinerary, and we highly recommend seeing as many as you can!

🌟 Rating: 5 Stars ⏳ Up to 7 Hours ✅ Private Tour, Amazing Reviews 🔎 Check Rates
The city of Galle was once a Portuguese colony, and it retains much of its colonial charm. This tour takes you on an adventure-packed day in and around Galle. On the private tour, you'll visit a turtle conservation center, then move on to a spice garden where you'll learn about how the spice trade is such an important part of Sri Lankan history.
You'll then take a 1 1/2 hour boat tour on the Madu River, where you'll see beautiful flora and fauna, including mangroves, cinnamon, monkeys, crocodiles, and more. Moving on, you'll visit the only moonstone factory in Sri Lanka where you'll learn about these unique stones.
You'll also visit a photo museum dedicated to the tragic 2004 Tsunami that affected the area. After lunch, you'll visit the Galle Fort, built by the Portuguese in 1588, and see the Clock Tower, Light House, Dutch Church, and more.
After 6:00 in the evening, you can visit the turtle conservation center and help release baby turtles into the ocean. Because this is a private tour, it can be customized in any way that you wish.
Book Now: Day Trip to the Colonial City of Galle
🌟 Rating: 5 Stars ⏳ 10-12 Hours ✅ Private Tour, Amazing Reviews 🔎 Check Rates
On this private day trip to Ella, you'll journey to the central highlands of Sri Lanka and see an entirely different part of the island. You'll start with a visit to the 9 Arch bridge, and then hike to the top of Little Adam's Peak for wonderful views over the hills and tea plantations. You'll then visit Ravenna Falls (be sure to climb to the top) before continuing on to the Udawalawe Elephant Orphanage.
This is a private tour and can be customized if you wish. You will not feel rushed, as you can set the pace of the day.
Book Now: Guided Day Trip to Ella
🌟 Rating: 5 Stars ⏳ Up to 9 Hours ✅ Private Tour, Amazing Reviews 🔎 Check Rates
Udawalawe National Park is one of the best places in Sri Lanka to see wild elephants. There are often large herds of elephants visible on these safaris. After driving to the park entrance (just under 3 hours), you'll spend about three hours on a safari within the park.
After your safari, you'll visit the Udawalawe Elephant Transit Home which was established by the Sri Lanka Department of Wildlife Conservation to rehabilitate orphaned elephant calves.
Wildlife in Udawalawe includes not only elephants, but boar, deer, and even a handful of wild leopards. This tour includes pick up and drop off, as well as lunch and all park fees.
Book Now: Safari in Udawalawe National Park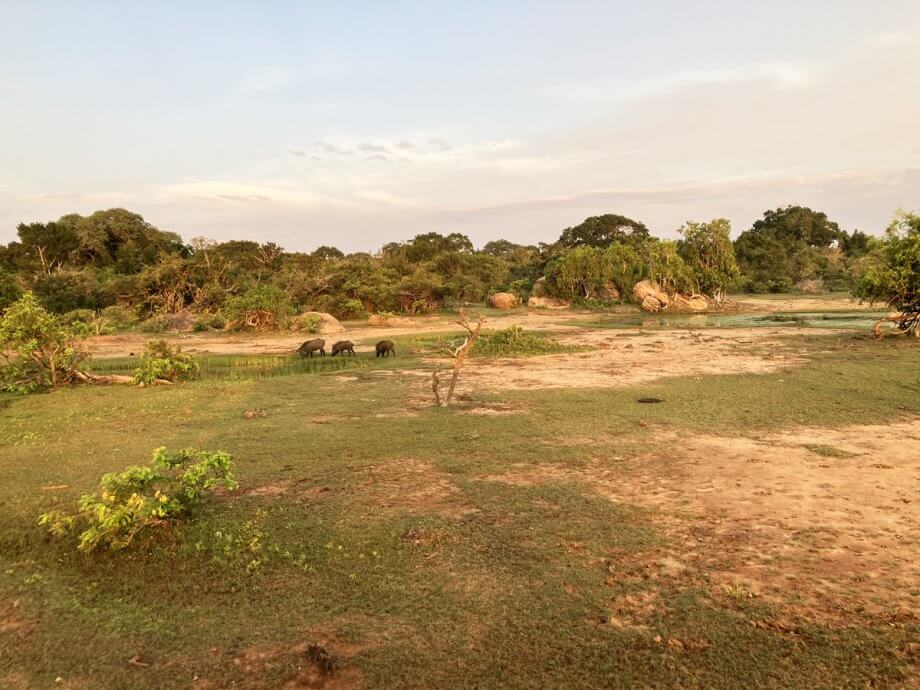 🌟 Rating: 5 Stars ⏳ 10-12 Hours ✅ Private Tour, Amazing Reviews 🔎 Check Rates
If you are interested in seeing a wild leopard, then Yala National Park is the best place in the world to go on safari. Yala has the densest population of leopards, greatly increasing your chances of seeing one.
You'll start this tour early- with 4 am pick up to drive the 3 hours to Yala National Park. You'll spend about 4 hours inside the park before heading back to Hikkaduwa.
Even if you don't spot a leopard (and sightings are not guaranteed), you will probably see elephants, water buffalo, deer, boar, crocodiles, and more.
Book Now: Yala Safari Day Trip
We visited Yala National Park and spent a full day on safari, where we saw a wild leopard. We wrote a full guide to booking a safari in Yala if you have more time to visit.

🌟 Rating: 5 Stars ⏳ Up to 7 Hours ✅ Private Tour, Amazing Reviews 🔎 Check Rates
Located just over an hour south of Hikkaduwa, Mirissa Beach is known for whale watching– you can see blue whales from here. The sea is notoriously choppy, so be prepared for potential seasickness. We had one kid spend much of the ride throwing up. (We recommend SeaBands for motion sickness).
This tour starts with a 5 am pick up, your boat will depart at 6:30, You'll have breakfast on the boat and enjoy 3-6 hours of whale watching depending on how far out the whales are. You may see giant blue whales, fin whales, sperm whales, or orca whales.
Book Now: Mirissa Whale Watching Day Trip

Travel Tip: In between Mirissa and Hikkaduwa you'll pass Welagama Beach, where the famous Stilt Fishermen of Sri Lanka are set up. While they longer actually fish here, it's still fun to stop and see them. If you are traveling on your own, make sure you ask before you take a picture or you'll find the price is quite high.

🌟 Rating: 5 Stars ⏳ 12 to 14 Hours ✅ Private Tour, Amazing Reviews 🔎 Check Rates
This tour takes you to the jungles of Sigiriya, in the middle of Sri Lanka where you'll visit two UNESCO World Heritage Sites. The first is the Sigiriya Rock Fortress, also known as Lion Rock. Called the 8th Wonder of the World, this 200-meter-high rock has the remains of a rock fortress at the top. Climb to the giant lion paws that gave the rock its name, and then up to the top for wonderful views.
The second part of this tour is to Dambulla Cave Temple. While there are over 80 caves in the complex, visitors can enter five caves that have been in use since the 3rd Century. Called the Golden Temple of Dambulla, these Buddhist cave temples are heavily decorated with paintings and statues including over 153 Buddhas.
Book Now: Sigiriya-Dambulla Day Trip
🌟 Rating: 5 Stars ⏳ 6 to 8 Hours ✅ Private Tour, Amazing Reviews 🔎 Check Rates
The Kannilya Rain Forest is a UNESCO-listed biosphere reserve where you'll spot many varieties of birds as well as monkeys, snakes, and chameleons. You will meet a wildlife tracker at the gate of the reserve who will take you on a trek through the rainforest.
This is one of the largest remaining rainforests in Sri Lanka. There are two natural waterfalls you'll see here, you'll also have a chance to swim in the river if you like. Lunch is included in this tour.
Book Now: Kanneliya Rain Forest Tour
When is the Best Time to Visit Hikkaduwa Beach?
The best time to visit Hikkaduwa Beach is between January and March. This is the dryest time of year with lots of sunshine and pleasant temperatures ranging between daily highs around 92° F (33° C) and lows of 75° F (24° C).
April is the hottest month of the year and May through September is Monsoon Season on the southern side of the island.
Where to Stay in Hikkaduwa Beach
We stayed off of Narigama Beach which is much quieter than the main stretch of Hiddaduwa Beach. This is a great beach for families as the sand is wide, the water is shallow, and it doesn't get too packed during the day.
Hikkadwua beach is a bit more narrow and more crowded, but also the center of the action, with more surfers and tours leaving from here.

Universal Beach is where we stayed on our visit. The rooms are large but basic- the most awkward part is no bedside tables. The rooms have nice balconies, and the hotel is right on the beach. The restaurant downstairs is delicious and has a good variety of options for breakfast. There are beach chairs right outside, so no need to rent anything extra. The family that runs this place is very nice and accommodating.
Book Now: Universal Beach Guest House
Hotel Dolphin is right on the beach, with balconies and ocean views. There's a restaurant on site that gets rave reviews from travelers. You'll roll out of your room to the sun loungers waiting on the beach out front.
Book Now: Hotel Dolphin Hikkaduwa
Where to Eat in Hikkaduwa Beach
There are a lot of restaurants along the beachfront in Hikkaduwa, as well as across the main street. We found that a lot of the places previously recommended online had closed when we visited. These are places that were open in 2023, so hopefully will remain open! Many of the beachfront restaurants were adequate but not worth seeking out.

Ocean Vibe Cafe
This place is right on the main strip of Hikkaduwa Beach, with beach views and everything from smoothies to avocado and egg sandwiches, and burgers with handmade fries.
Chill Space Cafe
On the North end of Narigama Beach, the entrance to this place is hidden back from the road, with a deck over the water- at high tide the waves wash right under it. Live music at night, and a reggae vibe. Food ranges from traditional curries to seafood and pasta.

Salty Swamis
This narrow coffee shop has a retail shop at the front, and then seating reaching all the way back to the beach. Lots of specialty coffees and smoothie bowls, great vegetarian options including veggie tacos, and the Swami Bowl which has roasted pumpkin, kale, and other veggies on top of couscous.

How to Get to Hikkaduwa Beach
Private Transfer
The easiest way to get to Hikkaduwa Beach is by private transfer. Your hotel can help you arrange this, the price will vary according to the fuel prices at the time. Hikkaduwa is 140 Km, or approximately a two-hour drive, from Bandaranaike International Airport in Colombo.
You can take a train from Colombo to Hikkadwua, but it involves taking a tuk-tuk to the railway station, traveling to Colombo Fort Station, and then changing trains to Hikkaduwa. Depending on the transitions, this may take 5 hours or more.
FAQ: Hikkaduwa Beach, Sri Lanka
Why Hikkaduwa Beach is famous?

Hikkaduwa Beach is famous for having Sri Lanka's only Coral Sanctuary, and an abundance of sea turtles, making it one of the best places on the island for snorkeling and diving. It also has a great variety of breaks year-round, and is great for surfers, from beginners to advanced.

Can you swim at Hikkaduwa Beach?

Yes, you can swim at Hikkaduwa Beach! You can also boogie board or surf. There are great sandy beaches here for all sorts of water sports.

There You Have It: Hikkaduwa Beach, Sri Lanka
Hikkaduwa Beach is a popular beach destination on the southwestern coast of Sri Lanka, offering something for everyone from families to surfers. This beach town has pristine beaches, stunning coral reefs, and a laid-back atmosphere. The protected coral reef just off the shoreline provides an incredible snorkeling experience, one of many things to do in Hikkaduwa.
Hikkaduwa serves as an excellent base for venturing farther into Sri Lanka. Don't miss our top pick: Private Day Tour of Galle. Many exciting day trips are easily accessible from Hikkaduwa, from UNESCO Heritage Sites to wildlife safaris in national parks. Whether you choose to start or end your Sri Lanka adventure here, Hikkaduwa offers a convenient location close to Colombo, making it an ideal spot to relax and unwind in Sri Lanka.
Heading over to India? Don't miss a visit to the incredible Taj Mahal!