Is Horseshoe Bend Worth Visiting?
Horseshoe Bend in Page, Arizona has become one of the darlings of Instagram. A horseshoe-shaped bend in the Colorado River, images of the green water curling around the red rocks have created the aura of a must-see destination, but is Horseshoe Bend really worth visiting? Here's an honest summary of what it's like to visit Horseshoe Bend, as well as our suggestions for alternate ways to see Horseshoe Bend.
This article may contain affiliate links, which means we may earn a small commission if a reader clicks through and makes a purchase. As an Amazon Associate, we earn from qualifying purchases at no additional cost to you. All our recommendations are our own and are in no way influenced by any advertiser or commercial initiative.
At the bottom of this post, Download our Top Ten Tricks for Exploring National Parks with Kids.

Where is Horseshoe Bend?
Horseshoe Bend is located just south of Page, Arizona along Highway 89. The route is well-marked. Page is 2 hours from Flagstaff, AZ; 4 hours from Pheonix, AZ; and 2 1/2 hours from the Grand Canyon.
We visited as part of our family cross-country road trip, in between stays at Bryce Canyon and the Grand Canyon.
If you are planning a road trip, don't miss our top suggestions for road trip activities for kids, and the best road trip snacks.
Ready to Book Your Trip? Use our Favorite Travel Resources!

So, is Horseshoe Bend Worth Visiting?
So the answer is yes, maybe. Depends on your situation.
The Pros:
The site itself is stunning. The colors are exquisite. If you look closely you can see the banks of the river are covered in green biological soil crust. This is a living layer microbial layer that takes many years to grow that we had just learned about on our visit to Arches National Park! It was cool to see it in action in another setting.
Horseshoe Bend is an unusual natural phenomenon and a wonder to behold.
The Cons:
It's busy and hot, hot, hot. The location means that it's easiest to visit on a road trip. For us, a trip through Page, Arizona fit nicely between Bryce Canyon and visiting the Grand Canyon. But, that meant passing through mid-day, so that we could be at the Grand Canyon for sunset.
(I didn't love the Grand Canyon, read why in I'd skip the Grand Canyon on our next trip).
If you are staying in the area to visit Antelope Canyon or nearby areas, this would be a great place for sunset, though I can't speak to the sunset crowds.
The heat at mid-day was searing. Even a half-mile in the heat left our kids grumpy and unruly. We stopped in each of the shade shelters to get a break from the heat on the way back up to the parking lot.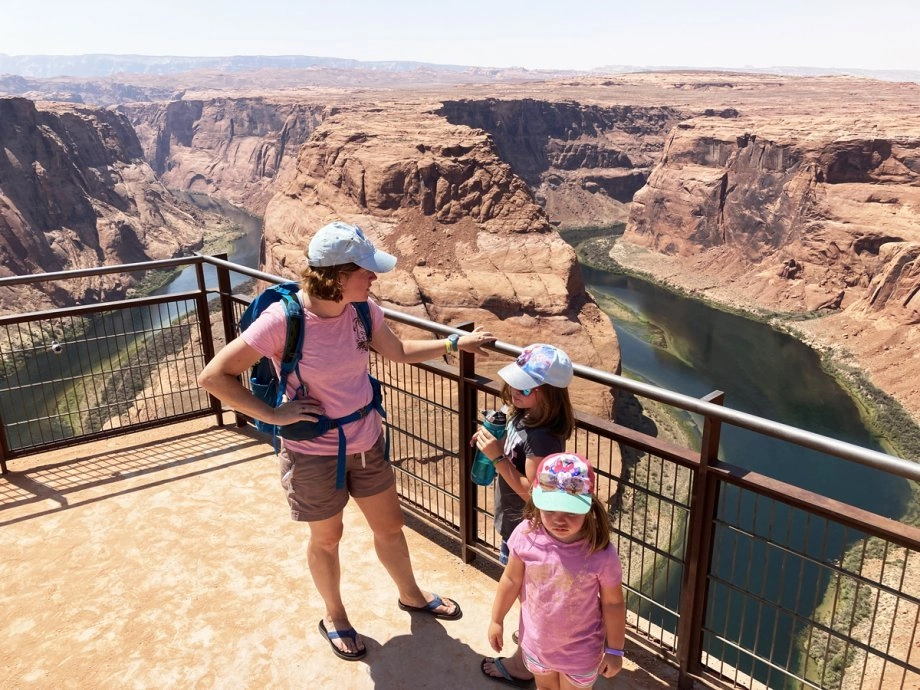 How Much Does it Cost to Visit Horseshoe Bend?
There is a fee of ten dollars per car as you enter the parking lot for Horseshoe Canyon. Because this is not a National Park, your Annual Park Pass will not help you pay the entrance fee here. Your fee is good for one entrance, you cannot leave the parking area and then return later in the day without paying a second time.
How Long is the Hike out to Horseshoe Bend?
From the parking lot, the walk to the overlook is just over half a mile. But there is no natural shade, so the walk can be brutal in the middle of the day. There are two benches with overhangs to create shade that you can stop at along the way to get a break from the sun.
The hike is not difficult, the path is wide and gently graded. Our kids easily did the walk in their flip-flops. The land is an open desert here. Once you get to the overlook, you'll have one viewpoint over a 1000 foot drop into the canyon.

When Should I Visit Horseshoe Bend?
Ideally, you should visit either early in the day to avoid the heat, or at sunset. Sunset provides the best views as well as lower temperatures. Some visitors complain of the cold as the temperature in the desert can drop fast at night. Be prepared for wind and chilly evenings if you chose to visit for sunset.

Is There Another Way to Visit Horseshoe Bend?
Yes! If walking the desert path is not your cup of tea, there are several other ways you can visit Horseshoe Bend, from a helicopter ride, to a rafting trip.

This 40 minute helicopter tour of Horseshoe Bend includes 20 minutes of fly time, where you'll see views of Antelope Canyon, Lake Powell and Horseshoe Bend. You'll also land atop Tower Butte, a rock formation on Navajo Indian land.
Check Prices: Helicopter Tour of Horseshoe Bend
You can also combine a visit to Horseshoe Bend with a trip to Antelope Canyon from either Flagstaff or Sedona. This trip includes off-roading in Antelope Canyon with a guide, as well as a visit to Glen Canyon with views of Colorado River, Lake Powell, and Vermillion Cliffs, and a stop at a Navajo Trading Post.
Book Now: Small Group Trip to Antelope Canyon and Horseshoe Bend
Want to see Horseshoe Bend from the water? Take a smooth water rafting trip along the Colorado River which will pass through Horseshoe Bend. Check out some ancient petroglyphs, stop for a riverside lunch where you can go for a swim, and drift around Horseshoe Bend on your way to Lee's Ferry.
This is not an adrenaline filled white-water rafting trip, but a gentle float down the river. Kids ages 6 and up can participate. Be prepared for very hot sun (there's no shade on the river), and very cold water.
Book Now: Colorado River Float Full-Day Trip

Is Horseshoe Bend Crowded?
We visited in early August- the crowds were manageable, but as we started back up the path several tour buses full of people were heading down to the overlook. The overlook area is not especially large. This is by no means an empty, quiet spot for contemplation.
All those social media pictures of people sitting on orange rocks looking romantically out over Horseshoe Bend are very staged. You should be staying on the path, and not climbing out on the rocks.
We saw several people climbing out onto the rocks for photos and I gave my kids a stern lecture to not ever do that. People who disregard the rules are putting themselves in danger, and setting a terrible example for all the younger kids watching.

Where Should I Eat in Page, Arizona?
We ate lunch at Fiesta Mexicana, I highly recommend it. They have a lovely open but covered front patio where we ate. The inside is quite large, and they were fairly busy for lunch when we visited. The mole was delicious, and the menu was quite varied. S (6) actually ordered an avocado salad and loved it!
Other places to eat in Page, AZ that we haven't tried but come with high recommendations include:
Big John's BBQ – Known for its Texas BBQ, they do have outside seating, right next to the meat smokers. This place is hard to miss and you drive through town. They sometimes have live music, so check their website.
Birdhouse– Fried chicken and beer, with open-air tables.
R&Ds Drive-in– Diner food that gets great reviews. Tables inside and out.

There You Have It: Is Horseshoe Bend Worth It?
Horseshoe Bend is a beautiful phenomenon that you should try to see at least once, but don't expect it to be a meditative experience. This is a mass tourist spot right now. Waker would have preferred to skip it entirely, I felt like it was worth seeing once, but I don't expect we'll be back unless it's by boat!