7 Best Things to Do in Jardín, Colombia with Kids (and where to eat)
Jardín, Colombia is a lovely jungle town that is a relaxing place to spend a few days as a family. We've compiled all the best things to do and where to eat in Jardín with kids. Here are our best transportation, activity, and travel tips for enjoying Jardín as a family.
We visited Jardín as part of our Family Year Out when our kids were 4 and 7. We spent 3 weeks in Colombia, visiting Jardín in-between visits to two different neighborhoods in Medellin. We also loved exploring Cartagena, there are some great day trips you can take from Cartagena, including the stunning Rosario Islands.
If you're basing yourself in Medellin, consider a day trip to the colorful town of Guatape.
This article may contain affiliate links, which means we may earn a small commission if a reader clicks through and makes a purchase. As an Amazon Associate, we earn from qualifying purchases at no additional cost to you. All our recommendations are our own and are in no way influenced by any advertiser or commercial initiative.
At the bottom of this post, download a free game of Would You Rather: World Edition to play on your next trip!
Ready to Book Your Trip? Use our Favorite Travel Resources!

Where is Jardín?
Jardín, Colombia is a small colonial town in central Colombia in the department of Antioquia. It is about 80 miles south of Medellín, though the bus ride from the larger city takes 3 to 4 hours.
Worried about traveling through Colombia? Check out our best tips for travel in South America.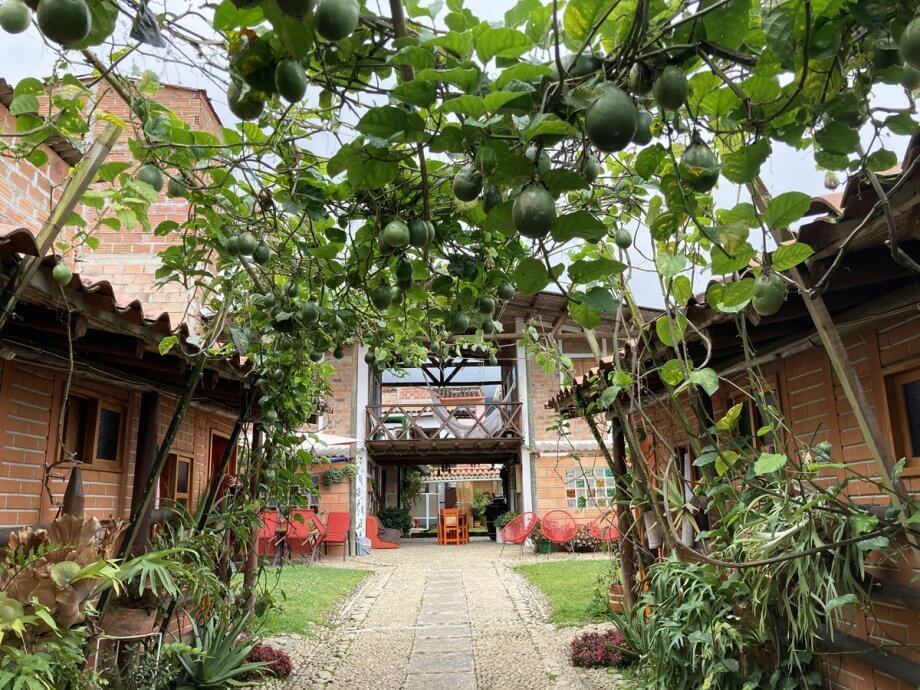 What is Jardín Colombia Known For?
Jardín is known for its traditional, preserved town center, and for being in the coffee-growing region of Colombia. You'll find a peaceful village with traditional homes painted in bright colors. The surrounding mountains are full of coffee plantations, banana trees, and fruit orchards. The setting of Jardin is just spectacular- you're surrounded by beautiful mountains and clean, fresh air.
Things to Do in Jardín with Kids
There are lots of things to do in Jardín with kids! All of these are great ways to get out into nature and enjoy the lush setting of the town.


1. Hang out in the Main Plaza
Called Libertadores Principal Park, the main plaza is where people hang out in the later afternoons and evenings. Cafes line the square, many with overhangs so that small tables up against the walls are out of the rain. You'll see many older local men in farmer's hats tipping their chairs back and enjoying the day with a cup of coffee beside them. Grab a seat and sip a coffee. Our kids loved finding bits of greenery, sticks, and stones to play with, in the center square while we enjoyed our coffee.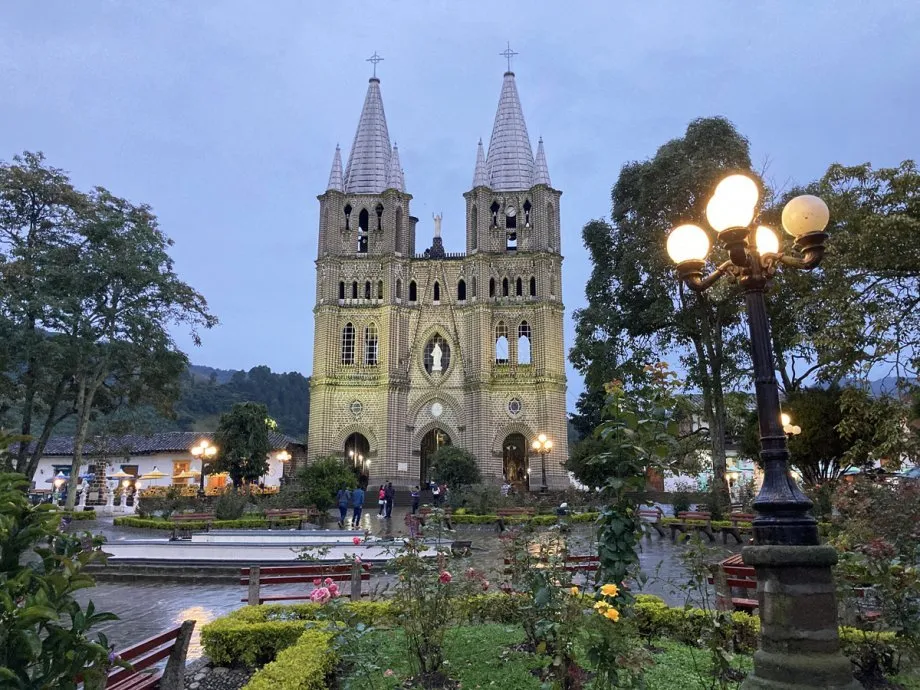 2. Visit the Central Cathedral
At the east end of the main plaza is the Basilica Menor of the Immaculate Conception. You'll see the metal spires of this beautiful cathedral from all over town, as well as from the hills above town. Make sure to step inside- it's a wonderful mix of brown stones, white grout, blue tile, and gold accents.

3. Visit a Coffee Farm
This is a great time to learn all about Colombian coffee! One of the best things to do in Jardin is visit a coffee farm. You'll also get a chance to ask all your questions about what it's like to farm in this region.
We visited Finca Los Angeles, a fifth-generation farm in the hills above Jardín. We got to pick coffee beans, which was the highlight for the kids, as well as see how different generations have processed the beans to remove the skins.
We had a great visit and highly recommend it. Andres and Angela can be contacted on WhatsApp for a reservation. You can add an English-speaking guide if your Spanish, like ours, is still a work in progress. They also arranged a taxi to and from town for us.
Check out all the great reviews they get on TripAdvisor.
4. Hike to a Waterfall
The hike from town to Cascada La Escalera is an easy hike that gets you out of town and up into the hills and wildlife around Jardín. It took us about an hour each way to reach the waterfall, though our girls stopped at every "secret fairy waterfall" on the side of the road along the way.
The waterfall is actually two waterfalls, that end in the same pool. You can't swim here, as the water is only a few inches deep, but it is refreshing to take off your shoes and wade through the water.
To get to the waterfall, head out of town on Calle 13. Stay to the right when the road splits by Restaurant Bar La Terraza. Follow this road, you really can't get lost. After you cross a bridge by Finca Monte Florido, make a sharp right-hand turn onto a small road marked with a sign saying Cascada La Escalera. You'll head steeply uphill on this road paved with two tracks.
From here the waterfall is only about a five-minute walk away, though there was one point where water was streaming across the road and we had to carry the kids across.
5. Hike to El Mirador del Cristo Rey
Following the same road out of town (Calle 13), there are several ways to get to El Mirador del Cristo Rey. The first is to make a left at Bar La Terraza and follow this road to the next restaurant- La Argelia. Make a left here, past an old water wheel.
You will soon pass onto a farmer's land and step around fences, and up cobbled walkways. There tends to be water running down this path, so it can get slippery. At the top of the hill when you intersect with the road, make a left and you'll soon see the Mirador.
The alternative is to stick to drivable roads, but it's a long way around via Finca Monte Florida, and then Cafe Jardín. Lastly, there is a narrow dirt path that leads from the side of the cafe at the Mirador, straight down to town.
We attempted to take this path twice and were hit with rainstorms that made it too tricky both times. We hear that this path can be difficult and slippery even when conditions are dry.
There is a small cafe at the lookout point, with seating under a palapa, as well as benches set out closer to the edge of the hill. We ordered several juices here, and the dessert of the day. The juices were some of the best we had in Jardín- less watered down than others. More details under restaurants, are below.
6. Look for Gallito de Rocas
Head to the Reserva Natural Jardín de Rocas to see these crazy red-headed birds. Also called cock-of-the-rock, these birds with their red hoods are the national bird of Peru. Often you'll hear the males screeching, jumping, and dancing for the females.
To visit these strange-looking birds, head south of town on Calle 9. Just before the bright yellow bridge, turn right down a steep road, with two cement tracks. You'll see a wooden door to the preserve on your right as the road begins to turn.
Ring the call button, and a woman will come to let you in and take payment. She will also lead you into the garden and show you where the birds are currently visible. There are several seating areas where you can sit and quietly watch the birds.
The cost is 10,000 pesos per person, half-price for kids (2022). The reserve is only open from 3-5:30 in the afternoon when the birds are active and often feeding.
7. Visit the Cueva del Esplendor
This waterfall inside of a cave can only be reached through a tour, as it is on private land. We hear that it can get quite touristy, as two carloads (about 20 people) reach the cave at the same time, but that the cave itself is worth seeing.
Book Now: Cave of Splendor Tour
Where to Stay in Jardín with Kids
We stayed at the Hotel Kantarrana Urbana Jardín, and I would stay there again without hesitation. The hotel is right in the middle of town, so very convenient to all the cafes and restaurants. However, once you enter the big wooden door, you are in a calm space with plants, and vines of passionfruit growing above you.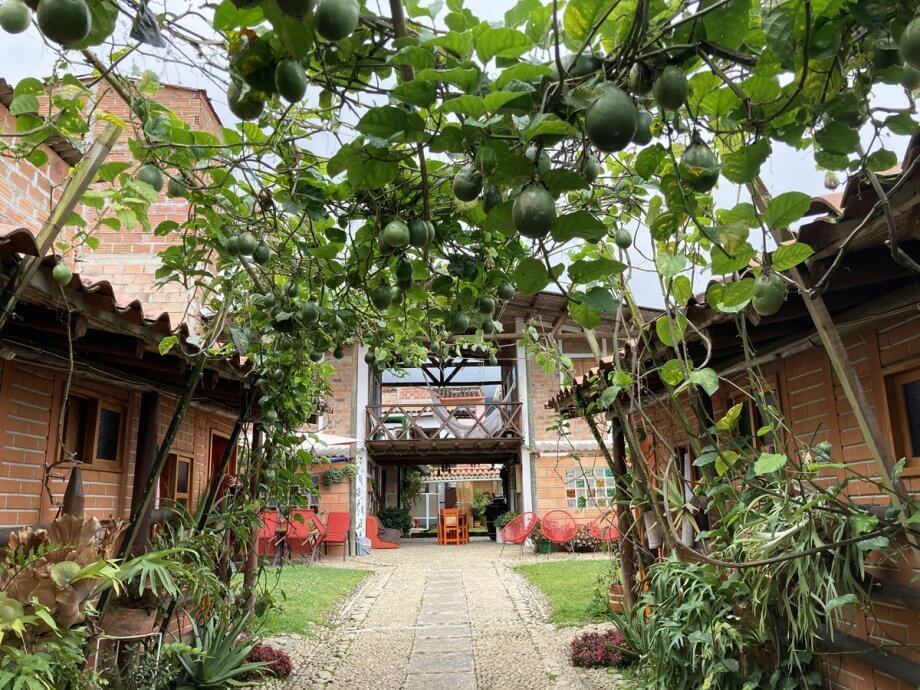 We stayed in a second-level family room with a double bed and two single beds. Outside our door was a balcony with a hammock, small table, and couch so we felt we could enjoy the fresh air anytime, rain or shine.
A hot breakfast of fruit, eggs, and arepas is served each morning. The kids loved that breakfast also came with an agua chocolate (hot chocolate) each morning!
Check Availability: Hotel Kantarrana Urbana Jardín
Where to Eat in Jardín with Kids
Jardín is not a large town, but there are quite a few restaurants to choose from. We initially struggled to find good budget-friendly, family-friendly places to eat as many of the places we found recommended online have closed. Here are the best places to eat in Jardín with kids that we found during our stay.

Best Coffee and Pastries: Cafe Macanas.
This place has the best coffee in Jardín. It is located right next to the main cathedral, and at first, it looks just like the many cafes on the square. However, most of the small cafes lining the square serve traditional coffee, not espresso.
When you enter Cafe Macanas you'll find a series of colorful courtyards. Not only do they have wonderful espresso drinks, but the savory and sweet pastries are also very good. They also serve breakfast, which we didn't try.

El Jardin de Jardin
This is a plant store and cafe all in one. Serving vegetarian food, we particularly liked the Sandwich Jardinensis, which had avocado, tomato, and hummus.

Don't Miss Dinner: Bella Italia
Since we didn't come to Jardín to eat Italian food, we almost skipped this restaurant, but it was easily the best meal we had in Jardín. The pizza was good, but the handmade fettuccini was a showstopper. We also had the eggplant appetizer (highly recommend) and a delightful panna cotta for dessert. Also, this place had the best (Italian) wine we've had in Colombia. Don't miss this place!

Cafe Jardín
This cafe sits on the hill above Jardín, from the town you can see the Heart Jardín sign next to the cafe up on the hill. They roast their own coffee beans here and have delicious treats.
Along with our coffees, we shared a brownie, some alfajores (cookies with dulce de leche in the middle), and some jugos aguas. This is a great place to sit and enjoy the wonderful views of the town below. This restaurant is actually above the statue of Cristo Rey that you see from town.

Journal
This restaurant serves a solid Menu del Dia. You choose the protein, and your plate comes with rice, salad, and fried plantain. Both kids really liked the frijole soup which was a bean broth with chunks of potato in it.

El Tabulé Cocina Fusión
This restaurant has middle eastern decor and a mix of options on its menu. The vegetarian tacos were quite good, as was the vegetarian shawarma. The kids got bowls with garbanzos and grilled veggies- they were disappointed that the restaurant was out of pita bread (one of their favorites), but the falafel that came with their meals was delicious.

Mirador Cristo Rey
Located right in front of the Christ statue on the hill, you can sit at benches to enjoy a drink and the view, or sit under the palapa and enjoy a full meal. We had some delicious juices (don't miss the lulo), and their postres del dia- which was a sweet cheese with blackberry sauce and arequipe (Colombian caramel) on top. It was absolutely delightful- we ate it too fast to take a picture. The larger meals around us also looked good. Closed Tuesdays and Thursdays.
How Many Days to Spend in Jardín with Kids
We stayed four nights in Jardín and felt it was the right amount of time for us. Since it is a 3+ hour drive from Medellin, we recommend spending at least two nights in town.
We had one day during our stay when it rained for several hours straight, and we were happy to stay dry inside. If we had come for a shorter trip, we might have found it frustrating to not be able to explore during this time.
Read Next: Your Worst Fears: A Complete Guide to Keeping Kids Safe While Traveling the World.

When is the Best Time to Visit Jardín, Colombia with Kids?
The dry season in Jardín is from December to February, and July to September, though temperatures are pleasant all year long. We visited in early March, and found that it rained once on most days, but usually for a short time.
We recommend having raincoats with you anytime you go on a hike or even to the center of town, as it could rain at any time.
How to Get to Jardín Colombia
Rapido Ochoa runs six buses a day from Medellin to Jardín. There are several stops along the way, so the journey takes a bit over three hours, although our trip back to Medellín took over four hours with traffic.
The landscape along the way is beautiful, you'll twist around valleys covered in jungle, and of course coffee plants and a lot of banana trees. The road is a bit windy and slow, but we found that time passed quickly with such captivating scenery.
Buses leave from Terminal Del Sur in Medellín and arrive in the center of Jardín on Calle 8. Buses leave Jardín from Calle 8 between Carreras 5 and 6. Book round-trip tickets to ensure there is space on the return bus, as most buses hold only around 20 passengers each.
FAQ: Jardin, Colombia
Is Jardin, Colombia Safe?

Yes, we found Jardin, Colombia to be quite safe. We felt comfortable walking around town day and night. We always practice common sense and take normal precautions when we travel as a family. You can read our best safety tips for traveling with kids.
How do you pronounce Jardin Colombia?

Jardin is pronounced "HAR-DEEN", with the J pronounced like "Jose".
Is It Worth Going to Jardín with Kids?

Absolutely! The plants, animals, and overall views here are stunning. After the crazy motion of Medellin, Jardín is a place of calm relaxation where you can breathe in clean air and listen to rushing water all around you. This is a wonderful place for kids to roam a bit and enjoy exploring the outdoors while learning about coffee and banana plants.
How High is Jardin, Colombia?

The town of Jardin, Colombia is at an altitude of 5,740 feet/1750 meters, with mountains rising up around it.
Do I Need a Car in Jardín?

No, you don't need a car in Jardín. Most activities are within walking distance of town. There is no Uber in Jardín. For larger tours, transportation will be arranged for you. There are also three-wheeled tuk-tuks and regular taxis around town that can take you up or down the mountains around town as needed.
There You Have It: Things to Do in Jardin Colombia
Our guide to Jardin, Colombia includes all the best things to do in Jardín with kids, where to stay in Jardin, and where to eat while you are in this quiet Colombian town. Don't miss this lovely jewel in the Colombian jungle, it's such a peaceful place!
Looking for another short trip from Medellín? Check out our guide to visiting the town of Guatape, which makes a great day trip from Medellin.
If you're headed to Cartagena, check our list of amazing day trips from Cartagena, and our guide to the Rosario Islands.