Sweet Beans: All About the Jelly Belly Factory Tour
Jelly beans are one of my favorite treats to take on road trips- they store well, don't melt, and you can hand out just a few at a time. What better way to start a road trip than with a visit to the Jelly Belly Factory in Fairfield, CA?
The Jelly Belly factory tour takes you above the floor of the factory where you can watch actual Jelly Belly jelly beans being made and packaged. Videos along the way teach you about the process, as well as fun facts about Jelly Belly jelly beans.
This article may contain affiliate links, which means we may earn a small commission if a reader clicks through and makes a purchase. As an Amazon Associate, we earn from qualifying purchases at no additional cost to you. All our recommendations are our own, and are in no way influenced by any advertiser or commercial initiative.
At the bottom of this post, download a free game of Would You Rather: World Edition to play on your next road trip!
Ready to Book Your Trip? Use our Favorite Travel Resources!

Where is the Jelly Belly Factory?
We visited the Jelly Belly Factory in California when our kids were ages 4, and 6. The Jelly Belly Factory is at 1 Jelly Belly Lane, Fairfield, CA, about halfway between San Francisco and Sacramento. This was the first stop on our American Northwest Road Trip.

What Kind of Candy Does the Jelly Belly Factory Make?
The Jelly Belly factory makes jelly beans, licorice, candy corn, gummy worms, chocolates, and other sweet treats. They also have a full line of Harry Potter beans and chocolate treats. However, most of what we saw on the tour was jelly beans!
Did you know that Very Cherry is the most popular flavor of Jelly Belly jelly bean?
We love the Grab & Go Bags, at 3.5 oz each you can try a couple of different combinations! S(6) picked out the Unicorn Mix for her birthday- it's got eight flavors of sparkling jewel jelly beans!


What Do You Get to See at the Jelly Belly Factory?
The Jelly Belly Tour is self-guided, you can go through it at your own pace. It starts with an introductory video that teaches you about the family behind the brand, and a bit about how jelly beans are made. From there, you'll walk along a path above the factory floor, so you can look down at the machines and workers below. There are videos every so often that explain the process.

A Bit About Jelly Belly
Jelly Belly is a family-owned company that's been making candy for six generations. They started making jelly beans in 1965 and acquired the name Jelly Belly in 1980. With over 100 flavors, they now sell jelly beans in over 80 countries.
They were a small company that got a big break when then-governor Ronald Reagan became a public fan of the brand. His favorite flavor was licorice. In 1983 Regan as President, even sent some Jelly Belly beans into space!


How are Jelly Beans Made?
The process of making a jelly bean is fascinating! I used to work in the specialty food industry, so it was really fun for me to see how they had the factory set up and all the different machines they use to make it more efficient.
Each jelly bean takes 7-14 days to make! Here's a bit about the process, it's by no means complete but gives you an idea of how complex the process is to make this treat.
The Insides of the Jelly Bean
The insides of the jelly bean are flavored, as well as the shell. First, a candy slurry of sugar, water, and corn syrup is made in a big kettle. Each kettle holds enough slurry to make 200,000 jelly bean centers. The slurry is flavored, cooked, poured into jelly bean molds, and then frozen.
Adding the Shell
The jelly bean centers then go into rotating drums that look a bit like a small cement mixer. Each one holds 250 pounds of jelly bean centers. Flavoring and sugar are spooned in as the candies rotate until the right shell is formed. Apparently, if it's done wrong the whole batch can stick together!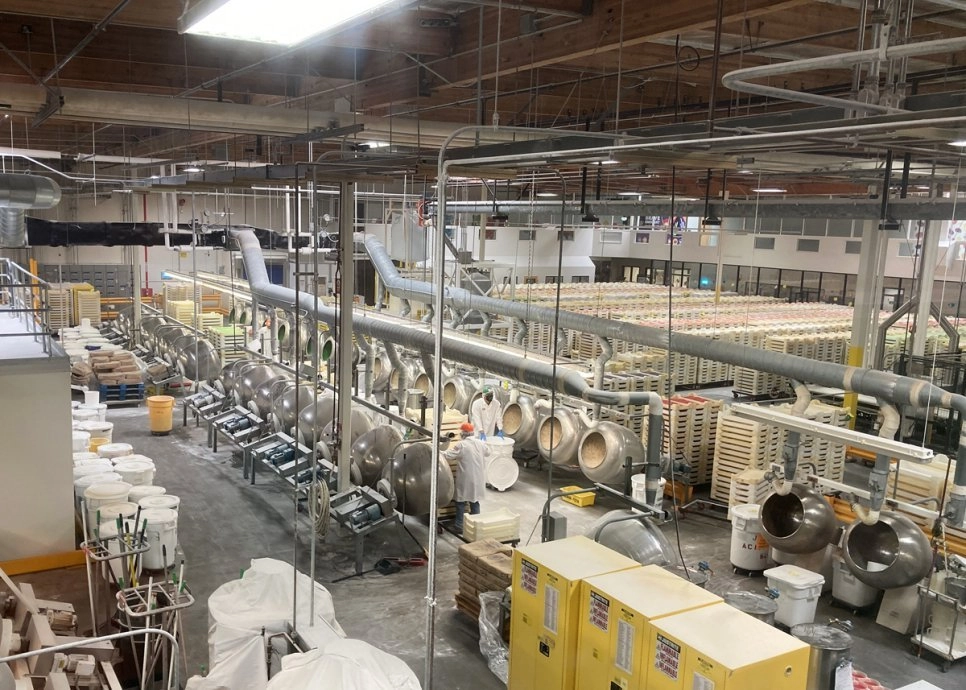 Finishing the Jelly Bean
After the center is finished, the jelly beans are sorted, and any misshapen beans are removed (you can buy some of these "Belly Flops" in the gift shop!) The Jelly Belly logo is stamped on each bean, then they are ready to package!

Is the Jelly Belly Factory Kid-Friendly?
Our kids loved the experience overall. However, they didn't have the patience to stop and listen to all the videos. There are two games along the route, though we didn't spend too much time on them.
One is a goalie game- stand on the yellow pad and try to swat the flying digital jelly beans out of the goal. Our kids weren't tall enough to signal to the computer to start, we had to jump in to get it going, then let them play! The second game is a head-to-head competition sorting jelly beans on a screen.
The kids loved seeing the machines working- moving trays and boxes back and forth. They have a special spider robot arm that sees the bags of jelly beans on the conveyor belt, picks them up, turns them in the right direction, then puts them in boxes for shipping. The kids also loved browsing the gift shop and picking out a few special jelly beans to take with us!

What Else Can I Do at the Jelly Belly Factory?
Once you've finished the tour and taken your time peering through the glass at the workers below, there are a few other things to do at the Jelly Belly Factory.

The Jelly Belly Chocolate and Wine Experience
On the second floor, as you exit the tour, you'll have the option to add on the Jelly Belly Chocolate and Wine Experience. This is for adults only, though minors can tag along. There are six pairings, each includes wines from Suisun Valley Wineries paired with Jelly Belly Chocolates.

The Jelly Bean Art Gallery
As you enter the factory you'll see several examples of jelly bean art. There are more hung throughout the factory. After the tour, there's a small art gallery with additional works. All of these are images (mostly portraits) made in a mosaic style using jelly beans.

The Jelly Belly Gift Shop
On the first floor, where you first buy your tour tickets, is the Jelly Belly Gift Shop. You can buy jelly beans and a small selection of other merchandise with the company logo.
There is also a Chocolate Shoppe on one side of the gift shop, that did not appear to be open when we visited.

Wait, No Sample Bar?
No, no sample bar. In the past, the Jelly Belly Gift Shop included a sample bar, where you could request up to three jelly belly flavors at a time. You were then welcome to get back in line for another three. Sadly, this is no longer available and seems to have been permanently removed. We were a bit bummed about this- sometimes you want to try a Kiwi-flavored jelly bean without committing to a full bag! Mint Chocolate Chip, anyone?

The Jelly Belly Cafe
The Jelly Belly Cafe offers a selection of hamburgers, sandwiches, and salads. They have indoor and outdoor seating available. We didn't stop to try it.
How Many Jelly Belly Factories Are There?
There are currently three Jelly Belly Factories- Fairfield, CA; North Chicago, IL, and Rayong, Thailand. The factory in California makes most of the jelly beans for the US and is the only one currently offering tours.

What Does it Cost to Visit the Jelly Belly Factory?
In 2023, there is a charge of $7 per adult and $3 per child to take the Jelly Belly Tour. They give you a sealed sample of jelly beans and a paper hat to wear for the duration of the tour.

When is the Jelly Belly Factory Open for Tours?
The Jelly Belly Factory is open for tours from 9:15- 4 pm daily. If you can, try to visit during the week when candy-making is sure to be going on. If you visit during the weekends, you will probably not get to see the factory in full operation.
They are closed for New Year's Day, Easter Sunday, Thanksgiving Day, and Christmas Day.

How Long is the Jelly Belly Factory Tour?
We spent about an hour and a half at the Jelly Belly Factory, though you could spend longer if you watch each video from beginning to end.

There You Have It: The Jelly Belly Factory Tour
We loved starting our road trip at the Jelly Belly Factory Tour. We could spend as little or as much time as liked. I would have loved a more in-depth tour of what was happening below us, but the kids didn't have the patience for more. Overall we all learned a lot and had an excuse to eat some delicious jelly beans, and stock up on irregular Belly Flops for the rest of our road trip!
Exploring more of California? Check out our guide to Yosemite, and the Trees of Mystery where you can take a canopy walk through the redwoods.
Road Tripping? Make sure your car is stocked with all the road trip essentials, and that you've packed road trip snacks and road trip activities.
Considering Christmas in California? Don't miss our one-day itinerary for holiday magic in San Francisco.