Your Worst Fears: 17 Ways to Keep Kids Safe While Traveling the World in 2023
As we travel around the world with our kids we are constantly asked "How is it? Is it Safe?". The answer is almost always a qualified "Yes", but there are always risks. Here are our best strategies to reduce those risks as much as possible, and keep your kids safe when traveling.
This article may contain affiliate links, which means we may earn a small commission if a reader clicks through and makes a purchase. As an Amazon Associate, we earn from qualifying purchases at no additional cost to you. All our recommendations are our own and are in no way influenced by any advertiser or commercial initiative.
At the bottom of this post, download a free game of Would You Rather: World Edition to play on your next trip!
Ready to Book Your Trip? Use our Favorite Travel Resources!
Safety Tips for Traveling with Kids
Every parent worries about their child getting injured, sick, or separated from them when traveling. However, with proper preparation, you can prevent many of these situations, and ease your fears about traveling with kids. There are always risks with travel, just as there are risks with putting our children in cars or even in organized sports.
Here are our best safety tips to keep your children safe while you explore the world together.
Traveling to South America? Check out our safety and travel tips just for South America with kids.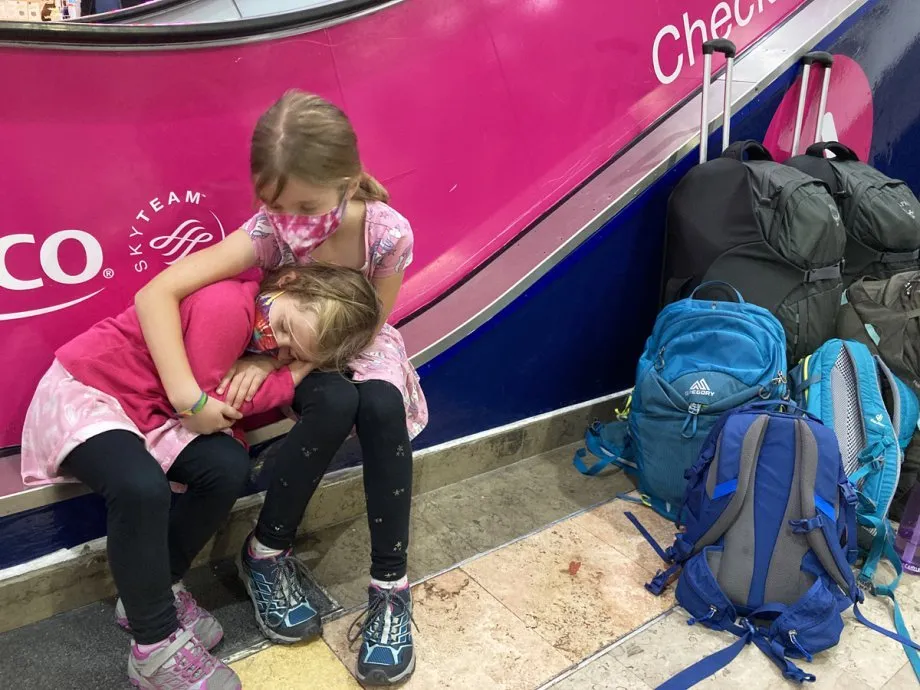 1. Make a Separation Plan
One of the most important ways to keep your kids safe is to have a clear plan as to what to do if you get separated. This is a conversation that should happen several times so you are confident that the kids understand exactly what to do (and what not to do).
There are several important parts to this plan. This is one of the most important things you can do to keep your kids safe- and it's often the most overlooked.

Getting Separated: Stationary Location
If you get separated in a stationary location, teach your kids to stay still. If they wander, they are much harder to find. Tell them to stop moving, and wait, that You will find Them. If a set amount of time has passed and they don't see you, they should find a safe adult to ask for help.
In certain situations, it can be helpful to designate a meeting point. For example, in Grand Central Station, you might say, "If we get separated in the crowd, meet at the big clock". This works well for older children who can navigate to the meeting point on their own, in larger spaces like malls, theme parks, or stadiums.

Getting Separated: On Moving Transit
You also need a plan for if you get separated on moving transit, like a metro or subway. We have been taking our kids to New York City since they were little, and trains can get crowded. Have a clear plan for what happens if some of you get on the train (or off) without the whole group.
We tell our kids- if we get separated, and you are on the platform, stay there. We will circle back and come find you. Do not get on the next train. It will take us time to come back, just wait. If we get separated and you are on a moving train, get off at the next stop and wait. We will come to find you.
Again, if a certain amount of time passes, they should find a safe adult to ask for help.

Kids Part: How to Find a Safe Adult when Separated
When kids get lost or separated, they can get scared, and often shy. Teach them to look for safe adults to ask for help. We teach our kids to look for adults in uniform, or parents with kids.
When many of us were young, we were taught about "Stranger Danger", this concept has largely been replaced with teaching kids how to find a "safe" adult versus someone who might be a "tricky" adult who shouldn't be trusted. We also talk to our kids about trusting their instincts and listening to their "gut" about who is safe and who is not.
Adult Part: What to Do if You Can't See Your Child
So, you've planned as best you can, but you turn around, and your child is nowhere to be seen. It happens. So, what do you do? Just like we need to rehearse with our kids how to act in a scary situation when separated from the group, we as adults need to rehearse how we would react.
First-don't panic, chances are quite high they have just wandered off and are safe.
Second, shout their name. People have a tendency to panic quietly, and not make a fuss. Be Loud.
Other people around you can then help you. The more people who are looking, the faster you will find the child, and the less likely they are to be hurt.
Lastly, shout a description, such as "I'm Looking for my Five-Year-Old Eric, he's wearing a Spiderman t-shirt and a blue hat!".
2. Family ID Bracelets
One of the first things we did before embarking on our Family Year Out, was to get the whole family silicon ID bracelets. We made it very clear to our kids that they must wear them at all times, and we do the same.
We use RoadID bracelets, which come in a variety of fun colors, and three sizes in each pack, so you can choose the right size for each person, and even change sizes as they grow.
You can personalize the bracelets however you like- for our kids, we include their name, mom + phone, dad + phone, allergies (or state "no allergies", and blood type. Make sure to include the correct country code in front of your phone numbers.
The kids know that if they get lost or separated, or there is any kind of emergency where they need help, they have our contact information on their wrists.

3. AirTags or Tiles
We use Apple AirTags in a couple of ways. First, we have them attached to the inside of our luggage, so we can track any missing bags. More importantly, they are in the kids' backpacks that they carry with them on travel days. This way if they wander off (or leave their pack behind), we can track them and their backpack easily.
For younger children, you can also attach an AirTag directly to their clothing. Tiles and other GPS locators can be used in a similar manner. AirTags can be engraved for free, so you won't get them mixed up. The batteries last approximately one year.
We also like these color-coded silicone AirTag Covers that allow you to clip the tag to something, as well as keep the tags from getting scratched up over time.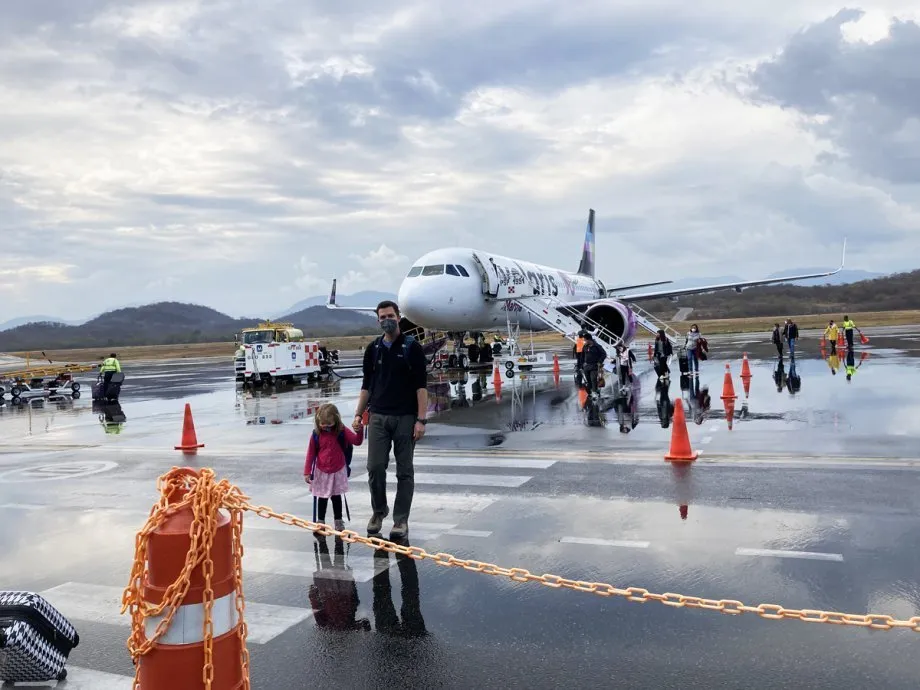 3. Create a Family Safety Code Word
Create a codeword the kids will remember, but not use often in everyday life (Avocado! Alligator!) This is a family password that tells the kids (who are often clueless about what is going on around them) that you are in a serious and potentially dangerous situation.
When they hear this word, ("We are in an Alligator Situation") they should know to stop whatever they are doing, be quiet, follow instructions, and save their questions for later.
They can also use this word to get your full attention if they see or feel something is wrong or potentially dangerous.
Be clear that the priority is to make sure everyone is safe first, and provide explanations second.

4. Practice Water Safety
Water is one of the most dangerous elements on many family trips. The stronger your kids are as swimmers, the safer they will be. Consider getting kids swimming lessons before you leave home.
Set clear rules around pools, lakes, and rivers. Rules might include "no running, and never go into the water without us". We also teach our children not to roughhouse in the water, (no grabbing or dunking) and to respect different swimming abilities.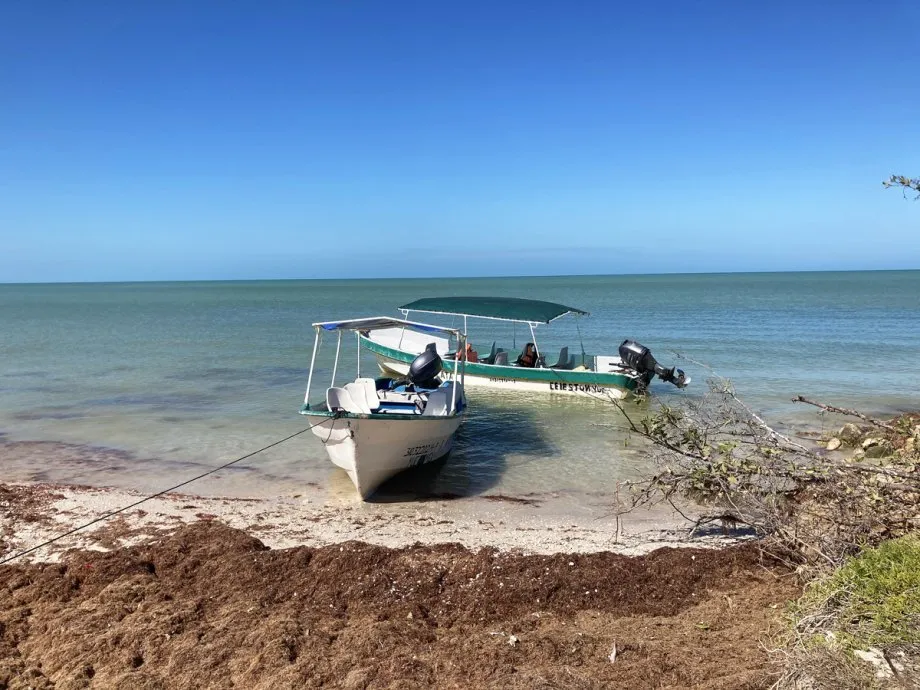 Make sure adults clearly communicate who is responsible for watching any children playing in or near the water. Accidents often happen when one adult thinks the other is paying more attention than they actually are.
If you are staying in a house or apartment with a pool, check that the fence around the pool is secure, and that small children can't wander into it without your knowledge.
When in doubt, there are portable door alarms you can buy to alert you to wandering children. You can attach these to interior doors, or directly to the pool gate.
5. Child Proof Your Accommodations
Generally, hotel rooms will not present a hazard to children, but you'll need to check apartments or rental houses more carefully.
Travelers report exposed wires and unsafe balconies. Remember that safety standards and expectations vary by country. You may need to remove chairs from balconies (depending on the age of your children) or create barriers around hazards.
Check for windows on high floors that are fully openable with no gates or other barriers. Make sure older children are aware of any hazards and how to avoid them.

6. Get Travel Vaccines
Make sure your children are up to date on any travel vaccines for your destinations. Before we left for our Family Gap Year we weren't sure exactly which countries we would be visiting, so we all got vaccinated for Yellow Fever and Japanese Encephalitis.
Wherever we go, we have the proper vaccines (and the paperwork to prove it). Some vaccines will need boosters over time, while others are only once or twice per lifetime.
Planning long-term travel? Don't miss our planning guide: How to Plan a Family Year Out.

7. Pack First Aid Kits
Create a first aid kit to immediately handle any minor emergencies. We have two kits- one is for injuries and is carried with us at all times. It includes things like band-aids of various sizes, Neosporin (antiseptic cream), cortisone cream, Afterbite Itch Lotion, Moleskin, Arnica bruise lotion, a tick remover, and nail clipper and nail file. This will handle most minor cuts, bruises, rashes, and bug bites.
We also have a second kit for sickness- this includes chewable fever tablets, kids' stomach medication, cold & cough medication, and electrolyte powder as well as similar adult medications. This is what we use when a child has the sniffles, a fever, or a stomach bug. These are the items that you generally don't need instantly, but will be glad to have on hand instead of running out to find a strange pharmacy in the middle of the night.
We find that the easiest way to carry these is in zip lock bags, all contained in a small zippered travel pouch- usually the pouches designed for pencils or art supplies are a good fit.
Gearing up for long-term travel? Don't miss our full guide on what we pack for long-term travel.

8. Purify Your Water
One of the most common ailments when traveling is Traveler's Diarrhea. You never know exactly where it comes from, but water is often the culprit. We recommend using a Steripen to sanitize any tap water before you or your kids drink it.
This lightweight pen uses UV light to sterilize the water and remove 99% of any bacteria that could make you sick.
Check Prices: SteriPen Ultra Water Purifier
However- make sure to research the water at your location. If there are heavy metals in the water, they will not be removed by either UV purification, or a water bottle filter. In these instances, it's best to stick with bottled water.
Hitting the road? Check out our full list of road trip gear and supplies.
9. Consider Bright Clothes
If you are heading to a crowded location, whether that is an airport or a sports stadium, consider dressing your family in bright clothes that are easy to spot in a crowd.
Likewise, bright swimwear makes it easier to spot your child in a crowded water area. Avoid blue swimwear that will blend in with the water, you want your child to be as visible as possible.

10. Take a Photo
As an added layer of protection, consider taking a quick family photo before you leave for a particularly crowded location. This will give you a record of what everyone is wearing that day in case you get separated.
When you are fighting panic when looking for your child you may find it hard to remember which t-shirt they put on that morning, as well as how to best describe them- a picture is worth a thousand words.
Also- take a photo of your luggage before you check it at the airport- it'll be easy to find on your phone if you luggage doesn't show up on the baggage carrousel!

11. Travel Car Seats
Car seat standards vary widely by country, and each family will decide their own comfort level with transportation as their children age. While we use standard high-back car seats and boosters for our kids when in the United States, we rely on the MiFold Travel Car Seat when overseas. Update: Since these car seats are no longer available, we have some new recommendations below.
Many families report great results with the RideSafer Travel Vest. This vest is not cheap, but it is approved for ages 3 and up, with a weight of between 30 and 60 pounds.
For older children, a booster seat will allow them to use a standard shoulder-belt seatbelt safely. There are two inflatable options, both of which weigh about a pound: the Bubblebum Travel Booster Car Seat, safe for kids 40 to 100 pounds; and the Hiccapop Inflatable Booster Car Seat, which is for 40-110 pound kids. The two products have slightly different shapes which may work better for different kids.
12. Safety for Toddlers
For toddlers, we highly recommend a backpack with a harness. This allows you to prevent them from running off (at an airport, into a busy street), and they feel like they are carrying a special bag with their things in it. Many parents have been successful with these by using them only on certain occasions and treating them like a special item that the child is excited to use.
We like these cute Skip Hop backpacks with detachable harnesses in different animal shapes.
13. Research your Destination
One of the most important ways to keep your family safe is to do research before you head to your destination. In most large cities you will find very safe neighborhoods and neighborhoods that are best avoided.
When visiting National Parks, or other outdoor areas, research which hikes are appropriate for your kids' age and ability.
When our youngest had yet to develop a sense of danger and caution, we turned around on a few hikes that meandered along cliff edges with steep drop-offs. The level of vigilance required to keep our children safe in those situations took the fun out of the hike.

14. Build Street Smarts
One of the best ways to keep kids safe in the long term is to help them build their own street smarts. Explain to them why you do certain things to help keep your family and your belongings safe.
For example:
"See how I keep my bag in front of me on the subway? That makes it harder for someone to grab my bag or unzip it and grab my wallet."
or
"We are crossing the street to avoid that homeless man who is screaming (or peeing)!"
So much of what we do on a daily basis, such as not leaving bags unattended becomes second nature. Pointing out these actions to kids allows them to understand the small things you do to keep everyone safe and protect your belongings as you travel. It also helps them to slowly build their awareness of what is happening around them.
(As a side note, it will also lead to interesting conversations about why people may be homeless and how to tell which people might be best avoided).
14. Know your Comfort Level
Safety standards vary widely by country. Not comfortable putting your child in the back of a taxi with no seat belts? Speak up, and get a different taxi.
While we may be ok with our children not wearing life jackets in a slow-moving boat in shallow water, for a faster boat, we'd insist upon it.
These comfort levels vary by person, and by the age of the child. You are the ultimate decision-maker about what is ok for your child. Better to make a fuss and change plans, than regret it later.
15. Buy Travel Insurance
Don't leave home without travel insurance!
Travel insurance not only covers things like baggage loss and trip interruptions, but it will also cover any medical treatment that you need overseas. It will also cover getting you home for more serious treatments if needed.
We use SafetyWing travel insurance which is designed for long-term travelers. We set our policy to renew every 30 days until we turn it off. This means we can set it up, and then not think about it unless we need to make a claim.
SafetyWing covers all countries except Iran, North Korea, and Cuba, so you don't need to constantly update them on your plans. This is helpful, if like us, you are constantly changing your destinations!
Get a Quote: SafetyWing Travel Insurance

There You Have It: Safety Tips for Travel with Kids
With these strategies, you should be ready to travel the world as a family with confidence.
Ready to start planning?
Check out one of our most popular posts, and brainstorm bucket-list travel with kids!