What is the Largest City in Morocco?
Thinking of traveling to Morocco, but not sure which city is the largest? The answer depends on whether you are talking about by area, or by population, but don't worry, we've got all the answers for you!
We spent over a month traveling around Morocco with our kids when they were 5 and 7 as part of our Family Year Out. We explored from the port of Tangier, through the Atlas mountains, to the modern city of Casablanca.
This article may contain affiliate links, which means we may earn a small commission if a reader clicks through and makes a purchase. As an Amazon Associate, we earn from qualifying purchases at no additional cost to you. All our recommendations are our own and are in no way influenced by any advertiser or commercial initiative.
At the bottom of this post, download a free pdf of Safety Tips for Traveling with Kids.

What is the Largest City in Morocco by Population?
Casablanca is the largest city in Morocco by population. With over 3.35 million residents, Casablanca has the largest population in Morocco. Casablanca is the financial and business center of the country, and also one of the most famous cities in Morocco.
When visiting Casablanca, be sure to visit the Hassan II Mosque, completed in 1993, that extends out over the water. This is one of the few mosques that non-muslims are welcome to visit and boasts the tallest minaret in Morocco.
At the time of completion, it was the tallest minaret in the world. It has now been surpassed by the Djamaa el Djazaïr Minaret in Algiers, Algeria which was finished in 2019.
You can visit this mosque as well as other highlights of Casablanca on a half-day tour. You'll see the Cornich running along the sea wall, as well as the Casablanca Central Market.
Check Details: Half-Day Tour of Casablanca Highlights
How to Get Around Casablanca
Casablanca is a large city, and you'll need a strategy to get around easily.
First, we highly recommend booking transport from the airport into town ahead of time. Using Booking's Airport Transfer service you can book ahead, and get a competitive price without all the haggling.
We also love using the airport transfer service when we have an early morning flight. Last time we flew out of Casablanca, Air Maroc recommend we get to the airport four hours in advance! Having a car pick us up at the door makes these early mornings much easier.
Once in town, you'll find there is no Uber. The app Careem does work in Casablanca, but it can be tough to find drivers, and the wait times can be long. The advantages of the app are set prices and paying ahead by credit card, rather than using cash.
We recommend using this app to get an idea of what the ride should cost, and then negotiating with a passing red petit taxi. You'll pay a bit more than the app suggests, but will be able to negotiate an ok rate.
Ready to travel to Morocco? Check out 10 Days in Morocco: A Family Guide to Exploring Morocco


What is the Largest City in Morocco by Area?
Fes is the largest city in Morocco by area, at over 500 square kilometers,. Home to some of the oldest tanneries in the world, Fes is known for its leather goods, as well as for its skilled artisans.
Fes ranks second in terms of the largest city in Morocco by population, with just over one million residents. Fes served as the capital of Morocco for centuries and is still considered the cultural capital in many ways. Fes lost its capital status when the French declared Rabat their capital in 1912.
Fes is the oldest city in Morocco and is known for its narrow medina packed with goods for sale, where donkeys still carry goods through on a daily basis. Fes is also home to the oldest university in the world.
Fes is one of the cities we recommend visiting as a family, check out 17 Fantastic Things to Do in Fes, Morocco with Kids.
To really see Fes, you should consider a guided tour of the medina– you'll learn the history of abandoned riads, see a working tannery, and even visit the seven gates of the royal palace.
This is a great way to acclimate to this bustling city- this full-day tour includes areas both inside and outside the old medina.
Check Details: Full-Day Tour of Fes
What is the Third Largest City in Morocco?
Ok, so Casablanca is number one, Fes is number two, and ranking as the third largest city in Morocco is… Tangier!
Tangier is the first city many tourists see in Morocco, as it's just across the strait from Spain. Taking the ferry from Tarifa, Spain to Tangier, Morocco is quick and easy, the trip lasts just about one hour.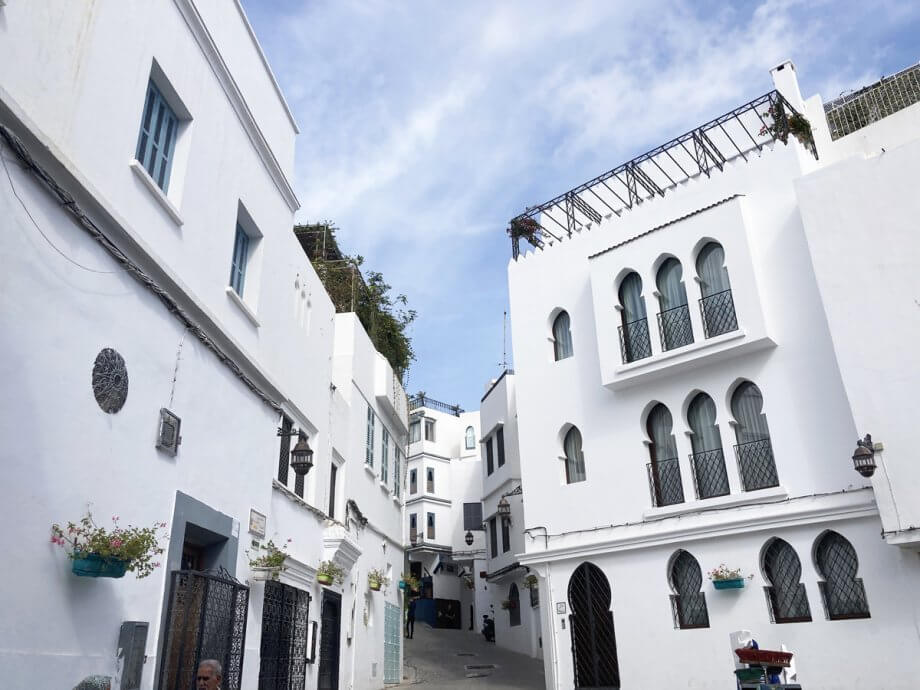 How Close is Morocco to Spain?
At its narrowest point, there is only 14 km between Morocco and Spain! On a clear day, you can see the coast of Spain from Tangier and vice versa.

What is Tangier Known For?
Tangier is an international city, that is much less dependent on tourists than many other cities in Morocco. Its port location means it is a crucial center of trade between Africa and Europe.
From 1923-1956 Tangier was an independent zone jointly administered by France, Spain, Britain, and Italy. It was a tax-free zone that even had its own flag. During this time it got a bad reputation for fraud, smuggling, and other illicit activities.
Called the "white city", sections of Tangier are stunning and dotted with cafes and boutiques. Tangier is also where tangerines originated! Tangier now boasts a high-speed train that connects it with Casablanca in only two hours.
Read Next: Morocco's Blue Pearl: Visiting Chefchaouen with Kids

How Large is the Country of Morocco?
Morocco has a population of just under 35 million people. It is just larger than the state of California, with an area of around 447 square kilometers.
It borders the Mediterranean and the Atlantic Ocean. From the port city of Tangier, you can see the coast of Portugal and Spain on clear days.

What is the Capital of Morocco?
The capital of Morocco is Rabat. Located north of the famous city of Casablanca, Rabat is the Royal City, with the main residence of the royal family. Here you'll find embassies, palaces, and the Mohammed V Mausoleum.
There are four Imperial Cities of Morocco, each has served as its capital at some time in the country's history. The four cities are Fes, Rabat, Marrakesh, and Meknes.
Fes was the capital of Morocco for centuries, however, the French made Rabat their administrative capital in 1912. When Morocco gained independence in 1955, they made Rabat the capital.

What are the Official Languages of Morocco?
There are two official languages in Morocco: Arabic and Tamazight. French is widely spoken, and is often used as a common language for communication, but is not an official language.
Tamazight is also called Amazigh or Berber and is the traditional language of the Berber people. You may see some roadsigns translated into Tamazight, especially close to Casablanca- the language has a very geometric appearance, a bit like Greek.

What Religion are Moroccans?
99% of Moroccans are Sunni Muslims. You'll find many mosques around Morocco, and hear the call to prayer five times a day from pretty much every corner of every city.

There You Have It: The Largest City in Morocco
Everything you need to know about the largest cities in Morocco: the top three are Casablanca, Fes, and Tangier. These three cities are very different, and all worth a visit!
Read Next: 10 Days in Morocco: A Family Guide to Exploring Morocco
Don't Miss: The Ultimate Family Travel Bucket List: 100+ Adventures Around the World.