Exploring Meow Wolf with Kids: Santa Fe's House of Eternal Return
Wandering through the mind-bending world of Meow Wolf with kids is a lot of fun! This Santa Fe-based art installation is a unique experience for the whole family. Part puzzle, part art piece, part blacklight wonderland, there is no set path through the exhibit. Instead, you wander and explore until you end up circling back on yourself and think maybe you've seen it all…
We visited Meow Wolf Santa Fe when we drove cross-country in the summer of 2021 which took us through Santa Fe, New Mexico. At the time, this location was the only Meow Wolf, they have since expanded with different themed locations in Colorado, Nevada, and Texas.
Hitting the road? Don't miss our post on road trip essentials for all the supplies and gear you'll need!

This article may contain affiliate links, which means we may earn a small commission if a reader clicks through and makes a purchase. As an Amazon Associate, we earn from qualifying purchases. All our recommendations are independent and are in no way influenced by any advertiser or commercial initiative.
At the bottom of the post, Download a free License Plate Game for the kids to play on your next road trip!
Ready to Book Your Trip? Use our Favorite Travel Resources!

What is Meow Wolf?
Let's let them define themselves. According to their website, Meow Wolf is an artist's collective that creates "immersive, multimedia experiences that transport audiences of all ages into fantastic realms of storytelling". There are lots of references to the multiverse if that helps explain it for you.
The Santa Fe permanent exhibit is called House of Eternal Return. There is a story that winds through the exhibit and clues along the way that you access via QR codes. These were often lengthy, and we didn't take the time to read them while in the exhibit, though many people took much more time to move through and read everything.
House of Eternal Return in Santa Fe opened in 2016 and has been very popular, you'll need to reserve tickets ahead of time.

Why are They Called Meow Wolf?
Apparently, the creative team behind the project pulled two words from a hat, and Voila! This is a funky experience where you can't expect it all to make sense. There is a funky wolf sculpture in the parking lot if that helps tie it all together.


What Happens When You Arrive at Meow Wolf?
When you arrive, you'll line up according to your timed tickets. They'll then lay out the rules of the exhibit. The main things to know are that you cannot bring backpacks or large purses, or any food or water into the exhibit. There are lockers available for use for one dollar. Also, any kids under 14 must stay with an adult at all times inside the exhibit.
When you purchase your tickets, you'll have the option to add chromatographic glasses for a dollar each. We got two sets of glasses and rarely used them. They don't stay on easily and were a bit of a pain to carry around. If we went again, I'd skip these.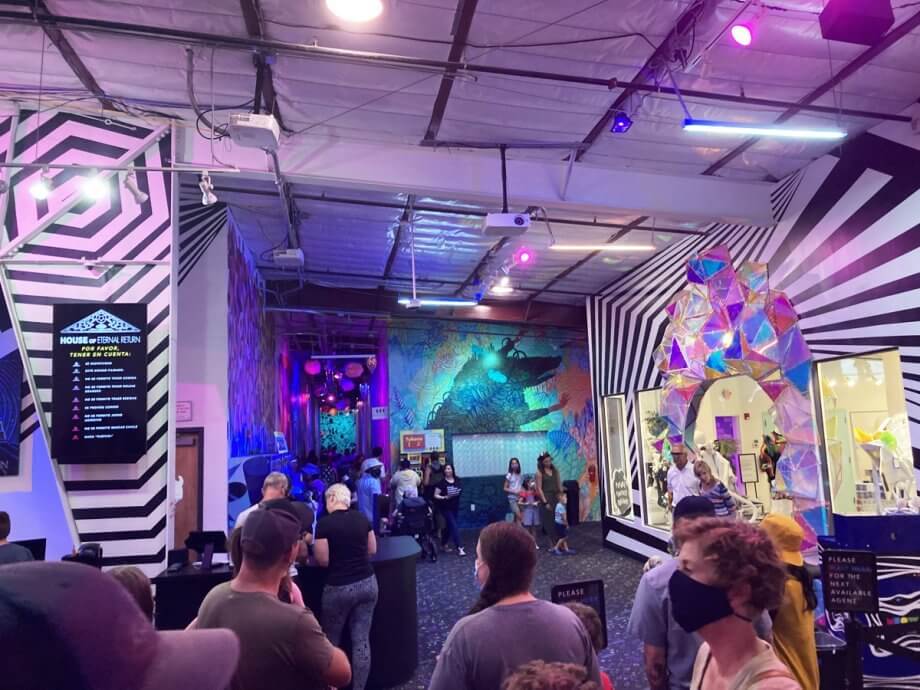 So, Get to it, What's Inside House of Eternal Return?
Uhmm, I can't tell you. No photos from inside the exhibit can be shared, we can only show you the outside and the lobby. We wouldn't want to spoil it for you! You can see some images on their website to get an idea of what you will see inside the exhibit space.
The experience is over 20,000 square feet, featuring more than 70 rooms and the work of over 100 artists. It's a bit of a maze, which adds to the fun!
There is a cafe and a gift shop in the lobby to check out once you've explored multiple universes.

Is House of Eternal Return Scary?
There was nothing in the experience I would consider scary. We have kids who can be pretty sensitive sometimes, and there was nothing that ever caused them to pause.
This is a place to explore, that is about magic and fantasy and alternate realms. As the visitor you are the active participant, there is nothing that jumps out at you, or is done to you. You are continually in control of your own journey.

What Did the Kids Think of Meow Wolf?
Both kids had a great time, Meow Wolf Santa Fe is definitely kid-friendly.
E (4) said, "I can't believe we did that. I want to do it all again and again and again." "I liked everything!"
S (6) was more reserved. First, she said, "It was fine." Then after she had some recovery time she said "It was amazing!". I think she had a good time but was sometimes frustrated that she had to stick with us and couldn't run around on her own.

How Long Will We Spend at Meow Wolf with Kids?
Our kids (4 and 6) spent over two hours inside Meow Wolf and could have spent more time returning to sections they'd seen before. In some ways, it's like a mind-bending epic playground.
There are lots of places within the exhibit to sit down and immerse yourself in that space for as long as you'd like. With young kids, we didn't stay still for long.
There are several spaces that have lighting changes- if you go through too quickly you may miss some of the beauty of these spaces. We stuck together for the full experience. If you separate from your group you'll probably have a hard time finding them again!

Is There Another Location to Experience Something Similar?
Not going to be in Santa Fe anytime soon? There's a permanent exhibit called Omega Mart in Las Vegas, and a location in Denver called Convergence Station. There is now a new location in Grapevine Mills, TX (north of the Dallas Airport) called The Real Unreal that opens mid-July 2023.
There's an additional location planned for Houston in 2024. Tickets for most of these locations go fast, so plan ahead.

There You Have It: Meow Wolf Santa Fe with Kids
The Meow Wolf experience is lots of fun for all ages. Some people were very intense about solving the puzzle of the house and learning all about the family involved in the story. With running around Meow Wolf with kids, it's almost impossible to focus at that level, so we just enjoyed the visual experiences.
Our one complaint is that we would have preferred fewer people in the exhibit at one time. There were several times when we could have "discovered" things, that were obvious because there were so many people around us doing the same things. The thrill of discovering some secret passageways was dampened by the crowds.
If I was visiting without kids, I probably would have taken more time in some sections, keeping tabs on two kids in changing, and sometimes dark spaces takes some energy. However, there were lots of kids inside, and it is definitely a kid-friendly space.
After thinking about the experience, we all thought it would be fun to go again. There's so much to absorb on your first visit it can become a bit overwhelming. Give it a try!