After more than a year and a half, we finally got back into New York City! Here's our 1-day itinerary for a family day trip to New York City with kids in 2021 on a hot summer day. This includes MOMA, Central Park, AMNH, and more. We drove in for the day, and then out again that night, so this was a very long day. If you are staying in a hotel you could get an earlier start and slow the pace a bit.
This article may contain affiliate links, which means we may earn a small commission if a reader clicks through and makes a purchase. As an Amazon Associate, we earn from qualifying purchases. All our recommendations are independent and are in no way influenced by any advertiser or commercial initiative.
At the bottom of this post, download a free game of Would You Rather: World Edition to play on your next family trip!



Is New York City Dead?
Throughout the last year, there has been a lot of talk of the city changing and losing its energy. Crime is up, and Broadway is still closed, but as of June 2021, most of the city is now open. Before we leave the East Coast this summer (on a long cross-country road trip), we wanted one more day in this city we love.
We are happy to report that on a Saturday that topped over 90 degrees, the city was buzzing, and everyone we encountered was friendly and welcoming- grateful to see the city back up and running.
New to New York City? Check out our Beginner's Guide to NYC.


New York City with Kids: One Day Itinerary
There is so much you can choose to do in one day in New York City with kids. We based our choices on what we've done in the past, and what we most wanted to do before we leave the East Coast. This itinerary is a great mix of indoors and outdoors, which is perfect for a hot summer day when you want to enjoy the nice weather but also need some breaks from the heat.

Park on the Upper East Side
We drove into the city and parked the car on the Upper East Side, close to where we planned to have dinner. That way we could easily put tired kids into the car at the end of the day without a long walk or public transportation. Parking in a garage for the day (on a weekend) cost us $20.

Take the Subway
We took the subway down to MOMA. This involved two different trains and approximately 4 escalators. When we move around the city, these transportation moments are just as exciting to the kids as the final destination. We practice how to follow the signs to get to the right platform. Once on the train, it's a great chance for them to sit down and people watch. We took the 6 train from 86th Street to 51st street and changed to the E/M to 5th Ave/53rd.

Grab Some Breakfast
Before heading into MOMA we grabbed some breakfast from Joe & the Juice on 6th ave/55th street. The kids shared the Red Supreme Vegan Shake which has coconut and dates in it- it was very filling, almost chewy. I had the Iron Man (strawberries and kiwi) which was sweet and delicious, Waker had the Green Sport (pineapple and cucumber) that was less sweet and more refreshing. The online menu lists some muffins and breakfast breads, this location didn't have those when we were there, but the juices worked out well as we could (mostly) walk and sip.

The Museum of Modern Art
MOMA currently has timed tickets- we had tickets for 10:30, and so we were in line for when they opened. The line was long but moved very quickly once the doors opened. While MOMA has entrances on 53rd and 54th streets, they are currently using 53rd street to enter, and 54th to exit only. The coat and bag check is closed, so you'll have to carry whatever you bring with you throughout the museum. Masks are required for all visitors. Children 16 and under are always free.
We headed straight to the 5th floor to see the highlights of the permanent collection. We felt like we had the museum mostly to ourselves. Each floor has a single entrance to create a one-way path through the collection. The kids wanted to see Van Gogh's Starry Night, but along the way, we saw countless masterpieces, from Monet's mural-sized triptych Water Lilies to Picasso's Les Demoiselles d Avignon.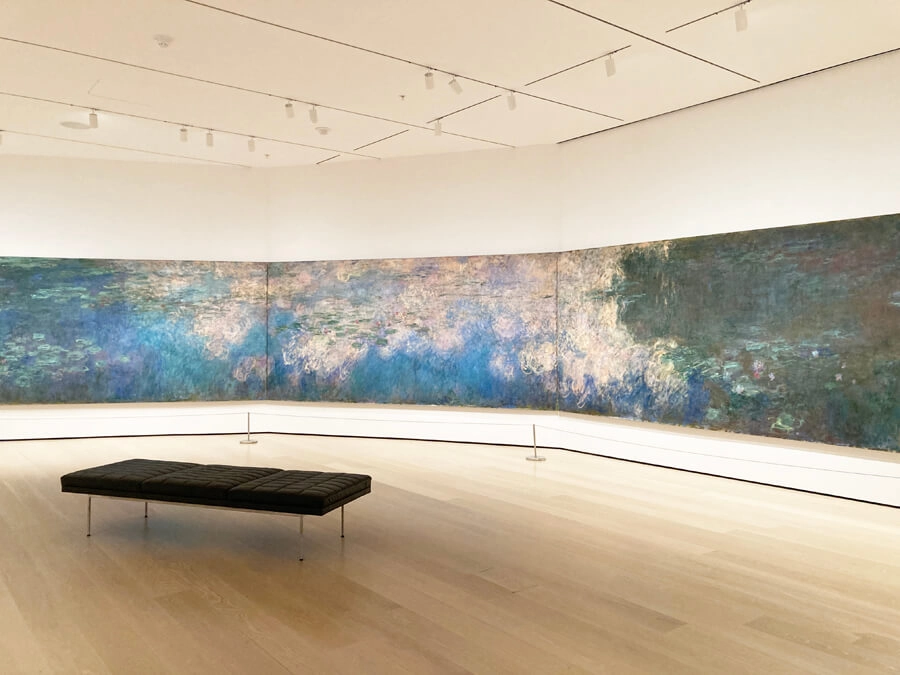 We browsed the fifth and fourth floors, as you descend the art gets more modern. After about an hour the kids were starting to lose focus, so we headed down to the garden. There is currently a Calder exhibit on the first floor and a few of his sculptures in the garden, but we mostly focused on the permanent collection.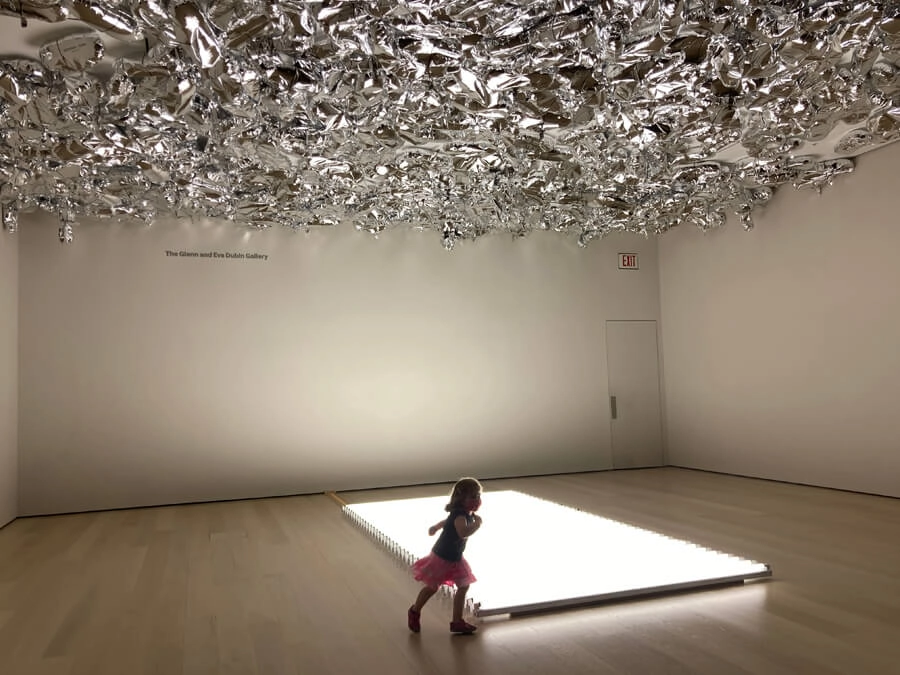 Of all the amazing art that we saw, the kids were most intrigued by the gift shop, so save time to visit the museum shop on the lower level.

Shake Shack and Central Park
After leaving MOMA we headed to the Upper West Side to get lunch. We took the M7 bus from 54th and 6th Ave, across Columbus Circle, and up to 77th and Amsterdam. Walk one block east and you'll find Shake Shack on the corner of Columbus and 77th.
Place your order (or order via the app) and head to Central Park to wait for your food. They were very busy- our food took almost an hour to be ready, despite the app indicating it would be ready much sooner.
One of our top tips for traveling with kids is keeping them well fed! We always carry snacks, so when lunch takes longer than expected we can share some almonds or a granola bar while we wait. Check out our other 21 Family Travel Tips for 2021.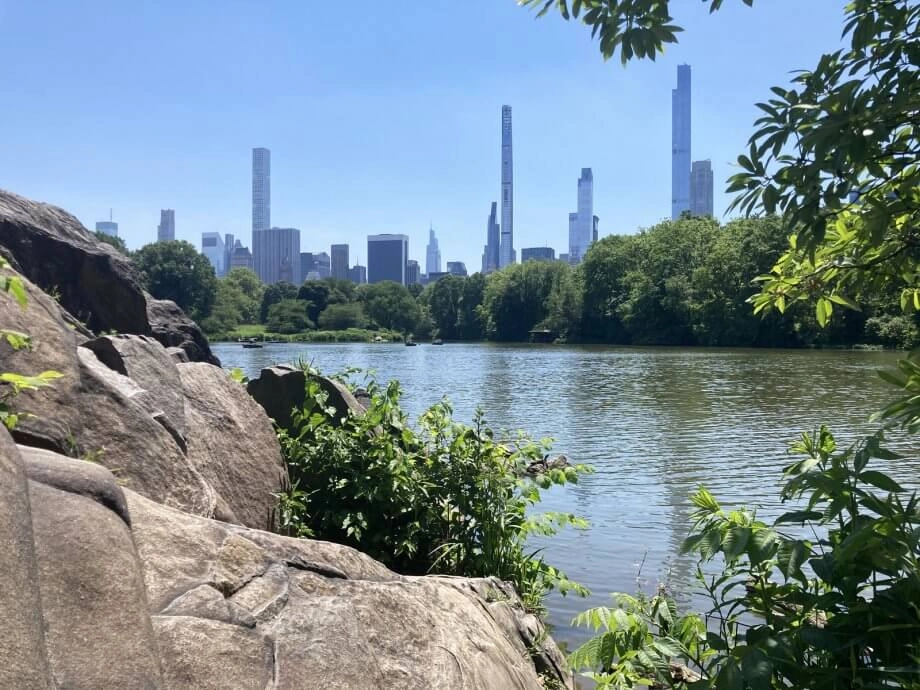 We let the kids climb rocks and explore paths in the park to run off some of their energy and then had a picnic in the park. On a beautiful Saturday, we saw turtles sunning themselves, watched people rowing on the lake, took in the skyline, and heard live music in two different places. Central Park is always a fantastic place to spend some time when in New York City with kids.

Alternate Stop: Rockefeller Center
When you leave MOMA you are very close to Rockefeller Center (between 49th/50th, in the middle between 5th and 6th Ave). While many of the stores are currently closed, you can browse this famous plaza. Top of the Rock is open, for spectacular views of the city. The famous toy store FAO Schwartz at 49th btw 5/6th Ave is also open, starting at 11:00. The American Girl Store (a favorite for my girls) also opens at 11:00, on 51st btw 5/6th Ave.
To get to Rockefeller Plaza, walk down 5th Ave to visit the iconic St. Patrick's Cathedral on your way (btw 51/50), or walk down 6th Ave to grab cupcakes at Magnolia Bakery (corner of 49th street).


American Museum of Natural History
After lunch, we had timed tickets for the American Museum of Natural History. This museum is a kid favorite- lots of dinosaur bones, the iconic blue whale in the Hall of Ocean Life, and a wonderful planetarium.
On our way into the museum, my travel cutlery set off the metal detector. The guard who checked my bag was so nice, we chatted, and he thanked us for coming, expressing how grateful he is to have visitors again. This was the vibe we experienced all day, we didn't see anyone disgruntled or sharp during our visit.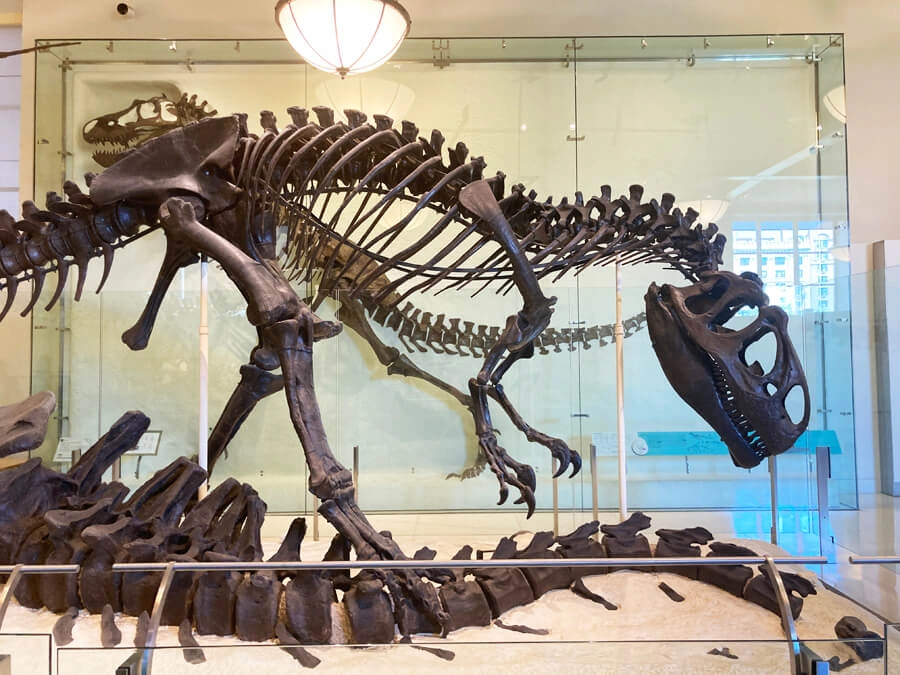 After the heat of Central Park, the air conditioning of the museum was a welcome change. The museum was not at all crowded. Masks are required at all times. We started with the temporary exhibit The Nature of Color, which had some fun interactive elements, then checked out the dinosaurs on our way to Creatures of Light, all about bioluminescent organisms. Both exhibits were interesting and accessible for a wide age range.

Riverside Park Playground
After the Museum of Natural History, we walked over to Riverside Park to play on the Neufeld Playground at 76th and Riverside. We chose this location because it is close to our friend's apartment where the kids could change after getting soaked. Many New York City playgrounds include water elements, so plan ahead with an extra set of clothes, flip-flops, and a wet bag. A lot of kids run around these playgrounds barefoot, we prefer water-friendly shoes when possible.

Alternate Location: Tecumseh Playground
This is a fantastic playground that has water features, much closer to the Museum of Natural History. You'll pass it if you take the bus from MOMA, it's on the corner of West 77th and Amsterdam, with a bit of an "Old West" theme. The kids have played here before and loved it. They have a hard time passing it and not stopping!
Half a block south on Amsterdam is Levain Bakery– their cookies are world-famous for good reason. Treat yourself!

Take a Break
After a long day of walking, climbing, and playing, we all needed a break. We headed to our friend's apartment to relax and let the kids play indoors out of the sun. If you are staying in the city, this is a good time for some downtime in your hotel room.

Dinner on the Upper East Side
For our last stop of the day, we headed back to the Upper East Side to meet my Aunt for dinner. As we got on the M86 bus I completely forgot that for Select Service buses you need to get your tickets ahead of time at the kiosk by the bus stop. The bus driver pointed out my mistake but let me scan my metro card on the bus anyway.
It felt like everyone we met was willing to give us a little bit of grace as we all readjust to the city opening up again. The city overall felt a little softer and a little more optimistic than I expected.
We had a wonderful dinner at MazMezcal on 86th btw 1/2nd Ave. The kids had thick mango and raspberry drinks, one of our girls broke a glass and the staff cleaned it up quickly and with humor and goodwill. We shared their Platanos Flameados for dessert. Made with bananas, brown sugar, and ice cream, it is similar to bananas foster. It was delicious!
Trying to decide where to eat? Some of our favorite restaurants of all time are in New York City!

Heading Home
After dinner, we changed the girls into pajamas and got into the car to drive home. It was a very long day, with a lot to take in, and lots of walking. We were all exhausted but had a great day. New York City is alive and well, and we're so glad we got to spend the day there!
Is there one thing about New York City that you've missed the most during the past year? What would you do with one day? Tell us in the comments!