American Northwest Family Road Trip: National Parks and the Pacific Northwest
This Pacific Northwest family road trip loops from San Francisco out to Utah and Montana, up to Canada, and then down through Seattle and the Pacific Northwest. The American Northwest is packed with amazing wildlife, incredible scenery, and some epic national parks.
On this northwest family road trip itinerary, you'll cross through 9 US states, 1 Canadian Province, and visit 5 National Parks including Yellowstone National Park and Glacier National Park, along the way. You can start anywhere on the loop that is convenient for you.
This route as planned should take about 4 weeks, though you could easily spend a lot more time at the major National Parks. Use this route to get northwest or pacific northwest family road trip ideas, or modify it to fit your schedule and the age of your kids.
When possible, we'll include alternate routes or additional stops that may be of interest along this northwest road trip.
This article may contain affiliate links, which means we may earn a small commission if a reader clicks through and makes a purchase. As an Amazon Associate, we earn from qualifying purchases. All our recommendations are independent and are in no way influenced by any advertiser or commercial initiative.
At the bottom of the post, Download a free License Plate Game for the kids to play on your American Northwest family road trip!
Ready to Book Your Trip? Use our Favorite Travel Resources!

Pacific Northwest Family Road Trip Itinerary
This northwest family road trip is the second leg of our Family Year Out. We started with a 60+ day cross-country road trip.
We are traveling with our 4-year-old and our 6-year-old, so we are trying to limit our time in the car to 4-5 hours a day. There are a few longer days on this trip to cover some of the vast distances between sites.
If you have older kids, you could do a similar route in a lot less time. All activities we recommend are appropriate for families with young kids. Due to the current environment, we are mostly focusing on outdoor activities, with a few exceptions.
Need help keeping the kids entertained on your family road trip? We've got all the best road trip activities, road trip snacks, and all the road trip essentials from gear to safety equipment.

What is the Best Time of Year to Visit Yellowstone and Glacier National Parks?
Yellowstone and Glacier National Parks both have their peak season during July and August, which is also when you will find peak crowds.
Visiting Yellowstone National Park in September and October means fewer crowds and fewer mosquitos. During this time you can expect high temperatures in the low 60s, with cold nights. Avoid spring in Yellowstone, as this is called "mud season".
Summer temperatures in Glacier National Park average in the 70s, with cooler nights in the 40s. As you get into September the temperatures drop, but you also have a chance of seeing the Northern Lights. By October, you may see snowfall, and sections of the park start to close for the season.
We visited Yellowstone in mid-September, followed by Glacier National Park a week later.
Don't forget to buy your America the Beautiful National Parks Pass before you go!
Buy Now: Annual National Parks Pass

Start: San Francisco
We are starting from just north of San Francisco, but you could start this family road trip from anywhere on the loop.
We are heading out in early September, so we should be avoiding the summer crowds, though we'll be hitting the end of the season in some of the national parks, and found that some of the boat tours will no longer be running.
If you'll be spending any time exploring San Francisco, consider getting a San Francisco CityPASS which admits you and your family to 4 major attractions in the city.
Check Prices: San Francisco CityPASS
San Francisco is a great city to explore as a family, from the tourist hot spots of Pier 39 and Fisherman's Wharf to curvy Lombard Street and a ride on a traditional cable car.
If you'll be bringing your car into San Francisco, consider booking your parking spot ahead of time via SpotHero. They show you a map of the area you are interested in, so you can choose the best price around, and know that a spot will be waiting for you. Keep in mind most hotels either don't include parking or charge a hefty fee to add it to your reservation.
PreBook Parking: SpotHero San Francisco
Affordable Hotel: Riu Plaza Fisherman's Wharf. A great, walkable location close to many popular sites. Modern, comfortable, and spacious, with a hot breakfast. Our room had a view of the Golden Gate Bridge until the fog set in.
Check Availability: Riu Plaza Fisherman's Wharf

Considering San Franciso at Christmas? It can be magical! We've got a one-day itinerary to walk you through all the best of the holiday season in the city by the bay.


Jelly Belly Factory Tour
First stop, the Jelly Belly Factory Tour in Fairfield, CA!
Head to One Jelly Bean Lane to take a self-guided tour above the factory floor to learn how Jelly Belly jellybeans are made, with games and interactive exhibits along the way.
Finish by browsing the Jelly Belly Candy Store to pick up some bellyflops (odd-shaped or mixed-up jellybeans) or stop by the cafe for coffee or even lunch. We love jelly beans as travel snacks- they don't melt and a few go a long way!
This was one of our kids' favorite stops along the whole Pacific Northwest road trip!

Davis, CA
Stop for lunch in Davis, CA. This is a university town, with lots of options for food. Waker spent some time growing up here, so we'll be showing the kids around town and meeting up with some old friends.

Reno, NV- 2 nights
Reno is called the "Biggest Little City in the World", there's a lot to do here! Take a relaxing stroll through the Truckee River Walk, or play in the arcade while watching circus acts at Circus Circus carnival midway.
We are so excited to be hitting Reno just at the right time for the Great Reno Balloon Race! This is the world's largest, free hot air balloon event. We'll arrive on a Friday, then get up very early in the morning to watch over 100 hot air balloons rise at dawn on Saturday!
After such an early morning, we decided it was best not to try to drive to Utah, so we'll have an easy afternoon and then head out the next morning.
Stop for brunch at Squeeze In– their portions are huge, and their hot chocolate is epic!

Bonneville Salt Flats
From Reno, the next stop on your northwest family road trip is a six-hour drive to the Bonneville Salt Flats. This will be one of the longest drive days. You can also visit the flats as a day trip from Salt Lake City, it's about 110 miles East.
The Bonneville Salt Flats are over 30,000 acres of land that used to be Lake Bonneville. The original lake was the size of Lake Michigan- when it dried up it left behind these salt deposits.
It's best to visit the salt flats during summer and fall when the flats are most likely to be dry. You'll see an expanse of white glittery salt stretching to the horizon. This is a truly beautiful and almost unearthly spot. Don't miss it!
You can visit the Bonneville Salt Flats Speedway if you want to try driving on the flats- make sure they are completely dry, or you risk getting your car stuck in deep mud. Many movies are filmed here, and speed records are set. Take exit 4 off I-80 and follow the signs to the speedway.
If you're more interested in exploring the Salt Flats than driving on them, there's a viewing area at a rest stop 10 miles from the town of Wendover, UT. You'll see it on the map as "Salt Flats Rest Area".
The best viewing area is going westbound- there is no way to easily cross from the eastbound side of the highway, and the next exit is quite a few miles away.
Update: There were races happening when we visited so we could only walk a few feet out on the flats briefly. On a quiet day, this would be a magical place!

Wendover, UT- 1 night
After visiting the salt flats, stay in the nearby town of Wendover for the night.
Budget Hotel: Super 8 by Wyndham Wendover. Simple, clean rooms, breakfast included.

Shoshone Falls State Park
It's a 3-hour drive from Wendover, UT to Shoshone Falls State Park. This waterfall has been called the "Niagara of the West". It's over 900 feet wide, making it one of the largest natural waterfalls in the United States. It's at its most impressive in the Spring.
In the summer some of the water is diverted for irrigation, and it may even be dry in the fall as the water is refilling the reservoir upstream.

Craters of the Moon National Monument- 1 night
Craters of the Moon is a large area of lava flow, with a few sagebrush plants and cinder cones mixed in. Astronauts explored here in 1969 while training for a trip to the moon. You can explore lava tubes, but you'll need a free permit from the visitor's center.
The caves are generally free of ice and snow from May onward. Make sure to bring flashlights or headlamps and protect your head.
There is a seven-mile loop trail that circles the park, you'll explore from there. After the visitor's center, follow the loop until it splits to the right. Here you'll find the short hikes to Snow Cone and Splatter cones. Continue along the loop.
At the next intersection, decide whether to head right for Big Sink, the Molds Trail, and Buffalo Caves (closed in 2021), or continue along the loop to the next intersection.
Stop here to explore Indian Tunnel, and two caves of moderate difficulty- Dewdrop Cave and Beauty Cave. This area also has Boy Scout Cave which is more difficult.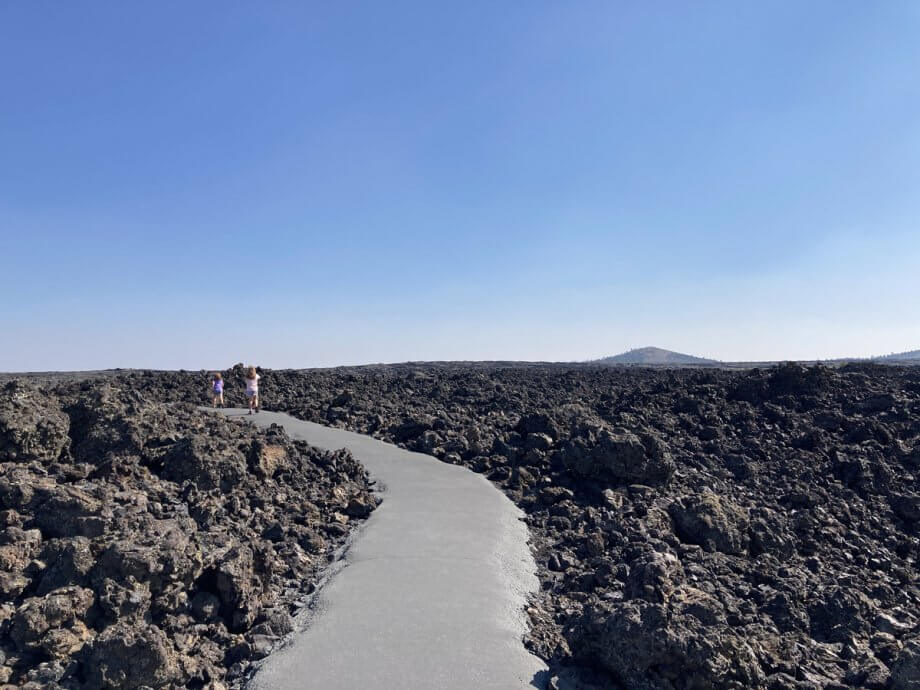 We highly recommend checking out Craters of the Moon with kids, then plan to spend the night just north of the park in Arco, ID.
Budget Hotel: Arco Inn Motel. A no frills Motel, with a park across the street that has a playground.
Check Availability: Arco Inn Motel

Grand Teton National Park- 2 nights
From Arco, you'll have about a three-hour drive up to Grand Teton National Park in Wyoming. This park is full of hiking trails, and wildlife, keep an eye out for bears, and never let the kids run ahead of you on a trail. If you're going to surprise a bear, best it's an adult, not a kid!
You could easily spend a week exploring this park. There are a lot of trails in the family-friendly 2-3 mile range. One of the most popular hikes involves taking the Jenny Lake Boat Shuttle across the lake, then hiking 2 miles road trip to Inspiration Point and back.
You can hike around the lake as well, but you'll add two miles each way to the journey. From the boat, you can also hike the 1-mile round trip to Hidden Falls before heading up to Inspiration Point.
You can raft on the Snake River- either a slow float or a more adventurous rafting adventure. Tours leave from the Jackson Lake Lodge. For sunset, drive up Signal Mountain Summit Road for great viewpoints.
We weren't able to get lodging in the park (see Travel Tips: plan ahead!), so we'll be staying in Jackson, WY.

Affordable Hotel: Alpine Motel. This is a gem in an expensive town. Includes a kitchenette so you can do some cooking yourself, or at least eat take-out at a table on real plates. In a quiet area, but close to downtown restaurants.
Check Availability: Alpine Motel

Yellowstone National Park- 2 nights
Head up to Yellowstone National Park, just an hour from Grand Teton. Yellowstone was the first National Park and is one of the most famous. The park covers over 2 million acres and has over 900 miles of trails to explore.
Download the Yellowstone Park App for info, guided audio tours, road closures, and geyser eruption predictions. You could spend a lot of time exploring this park- we found 3 days in Yellowstone to be the perfect amount of time.

Old Faithful and Wildlife
When you enter the park, head straight for the Old Faithful area. From here you'll see the most famous geyser, as well as Morning Glory Pool, a famous hot spring with intense colors.
There are two places best known for seeing herds of bison and other wildlife in Yellowstone. The first is Lamar Valley, the second is Hayden Valley.
The road between Canyon Village and Roosevelt is scheduled to be closed until May of 2022. This makes Lamar Valley much more difficult to reach, as it's a long way around!
Hayden Valley is a 20-mile stretch between Yellowstone Lake and Canyon Village- it often gets congested with traffic. There are often a lot of bison and even grizzlies on this stretch of road.

Mammoth Springs
Mammoth Hot Springs, with its other-worldly formations, is at the northernmost point of the park. From here you can also check out Gardner, MT. We will visit this area on our way out of the park, heading north into Montana.

Livingston, MT
About an hour after you leave the Mammoth Springs area of Yellowstone you'll be in Livingston, Montana. Stop here for lunch, stretch your legs and stroll down Main Street to soak up the Old West ambiance.
This is the town in Montana where much of "A River Runs Through It" was filmed. Anthony Bourdain dubbed the Murray Hotel in Livingston one of his favorite hotels in the world.
Pinkys serves breakfast all day and is known for its pancakes. Closed Wednesday and Thursday.
Gil's Goods has wood-fired pizza, salads, and hamburgers. Closed Tuesdays.
If you are feeling open-minded, try Faye's Cafe, you give them an idea of what sounds good, and they'll make it for you! Set price per meal with a drink included.
If you have more time to spend in Livingston, check out this article in Thrillest.

White Sulphur Springs, MT- 1 night
We'll be visiting a friend in White Sulphur Springs, known for its ranching and natural hot springs. This small town sits in the middle of the Lewis and Clark National Forest.
Affordable Hotel: Spa Hot Springs Motel. The only motel in town, your room includes access to the three hot spring pools in the center. Call to make a reservation, you have the option of newly renovated rooms (where we stayed) or older rooms for a lower price.
Book Now: Spa Hot Springs Motel

Alternate Stop: Lewis and Clark Caverns
These magnificent limestone caverns are part of Montana's first state park. Discovered in 1892, you'll need to take a guided tour to see these vast caverns. These caves are closed during the winter with the exception of a special candle-lit tour. Located in Whitehall, MT about 1:15 min West of Livingston.

Alternate Stop: Helena, MT
The capital of Montana, Helena started as a camp during the gold rush. Take the Last Chance Train Tour to see some of the highlights of the city. Take a self-guided tour of the state capital building with its massive rotunda, or head over to the Great Northern Carousel to ride some native animals, including a mountain goat and a cutthroat trout!

Gates of the Mountains Boat Tour
Just north of Helena, the Gates of the Mountains Boat Tour takes you on a 2-hour cruise on the Missouri River. The Lewis and Clark expedition named this area the "Gates of the Mountains". Follow in their footsteps as you admire towering limestone cliffs as you glide along the river.
We loved this tour- we saw two bald eagles! The rock formations here are really cool.

Great Falls, MT- 2 nights
Continue your northwest road trip to Great Falls, Montana! Check out the five waterfalls the town is named for in Giant Springs Park, then visit the Lewis and Clark Interpretive Center to learn about this important expedition. You can also visit the First Peoples Buffalo Jump State Park, about a 20-minute drive outside of town.
If your kids are as excited about grilled cheese as ours are, check out The Block. The menu is all sorts of variations of grilled cheese, with a few nachos options as well.
Don't Miss Hotel: Hotel Arvon. With contemporary art all around and an Irish pub attached, this historic hotel is a great stop. Rooms are narrow, but the location is an easy walk to everything downtown.
Book Now: Hotel Arvon
Glacier National Park- 3 nights
Glacier National Park has over 700 miles of trails and the famous Going-to-the-Sun Road. You must have an entry reservation ticket and a park pass to drive this road from late May to Mid-Septeber. Make sure to get a Vehicle Reservation.
West Glacier and Saint Mary's are connected by the Going-to-the-Sun-Road, a 50-mile scenic drive that is the only road through the park. Drive West to East to be on the outside of the road, with the best views, but also with sheer drops off the side.
We'll be staying in West Glacier Village at the West Glacier Motel just outside the west entrance to the park.
From the East side of the park, you can access the Many Glaciers area and the Two Medicine area. Both have great hikes and lots of wildlife. The hike out to Grinnell Glacier is the most popular in the Many Glaciers area.
It is a 7-mile hike unless you take a series of ferries from the Many Glacier Hotel. This shortens the hike to make it family-friendly. The boats stop running for the season in Mid-September, so this won't be an option for us.
Read our full itinerary for Glacier National Park.

Bonners Ferry, ID
Plan to stop for lunch in Bonners Ferry, about a three-hour drive from West Glacier. We're planning to try the Two Tones Cafe which has a lovely back garden, but you can also check out Mugsy's Tavern and Grill. There are quite a few options in this town.

Christina Lake, BC- 3 nights
After Glacier, cross into Canada and west to Christina Lake. The lake the town is named after is 18 km long and the warmest tree-lined lake in British Columbia! We'll be visiting friends here, but this is a great place to relax and explore the lake by kayak, canoe, or paddleboard.
Update: We had to reroute our family road trip to successfully cross the Canadian border, which was a bit of an ordeal at the time.

Alternate Stop: Nelson, BC
Nelson, BC sits on Kootenay Lake, making it a great place for water activities. Take the 2.2-mile round-trip hike to Pulpit Rock or stroll along Baker Street for shopping, coffee, or ice cream, keeping your eyes peeled for street art throughout town.

Alternate Stop: Princeton, BC
This is a great place to break up the drive to Vancouver if you'd like to limit your hours in the car. We stopped for lunch here and had a lovely lunch at Thomasina's Cafe in an old theatre building.

Vancouver, BC- 3 nights
Less than an hour from the US border, we've heard many people rave about the beauty of this city- we're so excited to visit!
Visit Granville Market, check out Stanley Park and its famous seawall and first people's totems, then head to the Richmond Night Market. Consider a whale watch if you're visiting from May to October- over 20,000 grey whales migrate past the coast here!
This 2.5-hour food tour of historic Gastown looks like lots of fun for the whole family.
Book Now: Gastown Historic Food Walking Tour

Affordable Hotel: Sandman Hotel Vancouver Downtown. Great location, walk to the ferries to Granville Island, or to restaurants in Yaletown or Gastown.
Book Now: Sandman Hotel Vancouver Downtown

Seattle, WA- 3 nights
If this is your first visit to Seattle, make sure to visit Pike Place Market to watch the seafood workers throw fish.
This famous market has all sorts of delicious things to eat- donuts, empanadas, smoothies, elote, greek yogurt, cheesecake on a stick, and more.
Head out to the Seattle Center to see the Space Needle. This is a not-to-be-missed Seattle icon, and it's lots of fun! The elevator going to the top is glass. You can explore the open-air observatory deck, then go down one floor to the rotating observatory. It's soo cool to watch the ground move underneath you!
Consider combining the Space Needle with a visit to the Chihuly Garden and Glass Museum. The Museum of Pop Culture is also right next door. I was unsure whether our girls would be interested in the Chihuly museum, but it was a huge hit! We watched a glass-blowing demonstration in the garden and the girls were transfixed. We all learned so much and had a great time together.
Consider getting Seattle CityPASS– it covers the Space Needle, the Aquarium, and two other attractions of your choice including the Chihuly Garden and the Museum of Pop Culture. It saves you close to 50% off admission.
Book Now: Seattle CityPASS

The Artists at Play Playground in the same area makes a great stop for kids- the climbing structure will keep even older kids occupied.
Take a ride on the Seattle Great Wheel– it's slow and steady, so even though it's quite high (175 feet!), it's perfect for the whole family.
To see a different side of the city, this Underground Seattle History Tour is really fun and affordable! It's got lots of history for the adults, but the cool underground spaces that you can't normally enter will fascinate the kids.
Book Now: Seattle Underground History Tour

Affordable Hotel: La Quinta Inn Seattle Downtown. We ended up staying here for five nights. It was very comfortable, and we walked all over town including to Pikes Place Market and the Space Needle. Breakfast is included.
Book Now: La Quinta Inn Seattle Downtown

Alternate Stop: Mount St. Helens
Three hours south of Seattle is the magnificent Mount St. Helens. During your visit, you can see evidence of the famous 1980 eruption. You can camp here, or stay in one of the park's yurts. You'll approach the mountain via the Spirit Lake Memorial Highway. At mile 33 stop at the Forest Learning Center for lots of great kid activities.

Portland, OR- 3 nights
Portland's slogan is "Keep Portland Weird", so of course, there are a ton of kid-friendly things to do!
We started with the downtown but were disappointed by Pioneer Courthouse Square. The downtown has gotten a bit rough- so choose your locations carefully.
We thoroughly enjoyed our visit to the famous Powells Books and then had lunch at The Roxy on Harvey Milk Street, which was funky and fun for us all (update: now closed). They serve breakfast all day, which makes it a win for kids.
Taste test some of Portland's most famous doughnut shops- Voodoo, Blue Star, and Pip's Originals, then walk it off on one of the trails in Forest Park.
Parking in Portland can be tricky, as street parking is often tight. Save yourself some stress and pre-book parking on SpotHero. You can reserve for just an hour or two.
Check Prices: SpotHero Parking in Portland

Just 30 minutes from Portland is Columbia Gorge and Multnomah Falls. This 620-foot waterfall is sure to impress! You can either take a short walk over the bridge crossing the middle of the falls or a longer hike to the top of the falls.
One of our favorite meals in Portland was at brunch at Broder Nord. This Scandinavian restaurant was a delightful place to meet friends for brunch. We sat at a picnic bench outside and enjoyed aebelskivers served with lemon curd and lingonberry jam among other things. Bonus, it's right next to Blue Star Donuts if you want to take some to go…
Speaking of donuts, just go all in and take the Underground Donut Tour! You'll tour the city while trying five different donut stores, perfect for families.
Book Now: Portland Underground Donut Tour


Oregon Coast- 2 or 3 nights
After rerouting from Seattle up to Canada we had a few days to explore the rugged, beautiful Oregon coast. We started in Seaside, Oregon, home to a long esplanade, and lots of family-friendly shops.
This is the place to get saltwater taffy, ride a carousel, and play in the sand. There's even a swing set on the beach!
Next, we headed down the coast to the much smaller town of Pacific City. You'll find the main sandy beach area next to Pelican Brewery. There's lots of soft sand to play in, if you head to your right, you'll find the Cape Kiwanda sand dune. Climb the dune for delightful views of the coast (and a bit of exercise), or explore the tide pools at the base of the dune.
When you're ready, have dinner on the patio of the Pelican Brewery. The food is delicious, and you'll get a lovely sunset view. We recommend the Bad Santa Ale if it's in season!
Affordable Hotel Seaside: Seashore Inn on the Beach. Great hotel just off the beach. We had side views of the ocean. Walk to anywhere in town.
Affordable Hotel Pacific City: Surf & Sand Inn. One-story motel with very friendly customer service. Clean and comfortable, a short drive to the beach.
Book Now: Surf & Sand Inn
Alternate Stop: Cannon Beach
Cannon Beach is fifteen minutes from Seaside and about 1 1/2 hours from Portland. This beach could be a day trip from Portland, or you could use this as a starting point for heading down the beautiful, rugged Oregon coast.
Known for its iconic Haystack Rock, you've seen this beach in the classic 1980's movie Goonies. Fly a kite on the windy beach, then grab an espresso or some sweet treats from the Chocolate Cafe in town. Check out the family-friendly Public Coast Brewing for beers and burgers. This is a more upscale town, full of art galleries and boutiques.

Eugene, OR
Leaving Portland, you can take your time meandering down the coast, or head to Eugene- the 2-hour drive that makes for a great lunch stop. We ended up staying longer than originally anticipated and were very impressed with this town.
Don't miss the 5th Street Public Market. The market has a large food court, with everything from gyros to Thai food, and many other stores including a large toy store and a beautiful home store.
Check out Hideaway Bakery (yes, it's a bit hidden, as it shares a parking lot with Mazzi's Italian restaurant). They have a great covered, outdoor seating area. This is the kind of place you want to spend a quiet morning with a coffee and a muffin.
Also, if you missed Voodoo Doughnuts in Portland (or didn't want to stand in a crazy long line), the location here had no line at all.
Budget Hotel: Courtesy Inn Downtown. Everything in Eugene is a ten-minute drive. This town is just easy. Clean and simple rooms.
Book Now: Courtesy Inn Downtown

Alternate Stop: Bend, OR
Bend, Oregon is known for its great outdoor activities, its farmers market, and of course, the last Blockbuster! There are lots of family-friendly breweries packed into the city as well.
Don't Miss Hotel: Campfire Hotel. They have campfire-themed rooms and a big fire pit area outside to congregate. They also have a heated swimming pool and hot tub.
Book Now: Campfire Hotel

Alternate Stop: National Dunes Recreation Area
The National Dunes Recreation Area is over 31,000 acres- full of wetlands, dunes, and beaches. You can go sandboarding, hike the dunes, or take an ATV across some of the dunes.
Fun Fact: These enormous dunes (some reach 500 feet) inspired the science-fiction classic "Dune" by Frank Herbert.

Alternate Stop: Crater Lake National Park- 2 nights
Crater Lake is the deepest lake in the United States at 1,943 feet- it is also one of the most pristine. Created by a collapsing volcano, it is known for its clarity and intense blue color.
Drive the rim of the lake for fantastic views, then take a boat tour out onto the lake. To get to the boat launch, take the Cleetwood Trail 1.1 miles down to the shore of the lake.
Leaving the Klamath Falls area, head west to Ashland which makes a great lunch stop. Then continue to Crescent City, CA on the coast before heading south.

Bandon, OR
Bandon, Oregon makes a great place to stop along your tour of the Oregon coastline. Check out the tidepools at Coquille Point during low tide to find lots of sea creatures. Fly kites at Face Rock State Park, then visit the old town for fish and chips while you watch the fisherman at the marina.
From Bandon, you will continue down the coastline and into California.

Klamath, CA
Klamath is a great place to explore the redwoods of California. This is also one of the last few places you can drive your car through one of the trees (mirrors in please!). Visit the Yurok Country Visitor Center to learn more about the Yurok Tribe, one of several who traditionally lived in this area.
We'll be stopping here for a quick lunch break before heading down the coast.
Update: We ended up stopping for the day in Crescent City, just north of Klamath, so we could start the next day at the Trees of Mystery– a fun roadside attraction built through the redwoods.
Don't miss Trees of Mystery! It was a lot more fun than we expected, for all of us. Read all about it in our Trees of Mystery Review

Patrick's Point State Park
About 45 minutes south of Klamath, is Patrick's Point State Park. This is a one-square-mile park along the Pacific Ocean. It has tide pools, the chance to search for agates, sea stacks, and amazing views.
You can also visit Sumêg Village, which includes several traditional Yurok plank houses. In the spring and fall, you may be able to see migrating grey whales.
Hike the 2-mile Rim Trail, and decide whether to take one of the short trails down to the shore or hike inland to one of the higher viewpoints at Ceremonial Rock or Lookout Rock.

Fortuna, CA- 1 night
We'll continue down the pacific northwest coast, passing through Eureka, CA, and stopping for the night in the smaller town of Fortuna, pop 12,000. Fortuna is a great place to explore the redwoods and puts you only a five-hour drive from San Francisco.
Stop by Eel River Pub and Brewery– they have a delightful, expansive beer garden to hang out in. Their menu has a lot of variety, including quite a few salads, and some vegetarian options. We also loved that they have a section of "smaller meals". All the beer is organic, they are actually the first certified organic brewery in America!
From Fortuna, you can take The Avenue of the Giants (rt 254), which parallels Rt 101 for 33 miles taking you through the redwoods and giving you access to hiking trails
Budget Hotel: Redwood Riverwalk. This place calls itself a boutique and has a cute lobby and outside eating area, but the rooms need updating. Walking distance to the Eel River Brewery.
Affordable Hotel: Comfort Inn & Suites Redwood Country. Hot breakfast, an indoor pool and hot tub, and more spacious rooms.
Check Availability: Comfort Inn & Suites Redwood Country

Fort Bragg, CA
After getting your fill of the redwoods, head to Fort Bragg, to see Glass Beach. The beach is named after all the sea glass mixed into the pebbles on the beach. Please don't take any glass home with you!
Fort Bragg is also known for the Skunk Train, an old-fashioned train that has been chugging through the redwoods since 1885. You can also take a rail bike along a section of track.
There are lots of cute shops to browse in town, including a sock shop, and a local bookstore. We had a delicious lunch at Headlands Coffeehouse (don't skip the African vegetable samosas), then crossed the street for treats at A Sweet Affair Patisserie. There are so many beautiful and tasty options here, you'll have a hard time choosing. Our favorite macaroon was the Coconut Caramel (we tasted several), and we also enjoyed the cheesecake baked into a poached apple.
Mendocino, CA
Just 10 miles farther south is Mendocino, CA. A popular weekend getaway from San Francisco, Mendocino is a great place to stop for lunch. If you have more time, explore Russian Gulch State Park.

Final Road Trip Stop: San Francisco, CA
We'll end this northwest family road trip by returning to the City by the Bay, San Francisco, California.
How Much Does a Northwest Family Road Trip Cost?
How much money you will spend depends on your family and your comfort level. Camping is one of the best ways to save money, though you need to make reservations well in advance. We are not comfortable camping, so we will be staying with friends when we can, and in hotels or motels the rest of the time.
You can save a lot of money on food by packing breakfast foods and snacks.
Don't miss our list of the best road trip snacks which includes ideas for breakfasts and lunches.
Including staying with friends, we averaged $100/night on this northwest family road trip during the fall of 2021. Staying inside National Parks is more expensive, but allows you to see the park at sunrise, and avoid waiting in line to get in each morning.
We were able to get a room inside Yellowstone National Park, but stayed just outside of Glacier National Park and Grand Teton National Park.

How Much Do National Parks Cost?
Each National Park has a different fee, but in general fees at larger parks are between $35 and $40 per car. If you will be visiting a few National Parks, be sure to get an America the Beautiful Pass– this annual pass costs $80 and gets you unlimited access to National Parks for one year. This pass covers entrance fees, it does not cover tour fees or lodging fees.
Buy Now: America the Beautiful Annual National Park Pass
All 4th graders get a free annual park pass for their families.
Look for Junior Ranger packets in the visitor centers at National Parks. The kids complete the packets, and return them to be sworn in as Junior Rangers complete with a wooden badge! You may also want to get a family National Park Passport Book to stamp at each park.
Download the National Park Service app before you leave, it allows you to download important information about any of the parks so you can access it when offline. From maps to parking and bathrooms, this is app will come in handy.

What Should I Pack for a Long Family Road Trip with Kids?
We've got you covered! We drive a "not-so-huge" Subaru Outback, so space matters. Check out our list of road trip essentials to make sure you are prepared, as well as our best road trip activities for kids.
Don't forget travel insurance! We find that SafetyWing is the best insurance for long-term travel.

Consider Renting a Car
If you'll be flying into a new city before starting your road trip, you'll need to rent a car. Even if you'll be driving the full trip, consider whether your current vehicle is the right choice- you'll be adding a lot of mileage, and want to make sure your family (and your luggage) can comfortably fit for long stretches of time.
For car rentals, we recommend Discover Cars. They help you compare a large list of rental companies and are always upfront about what's included. The best part is that they offer free cancellation if your plans change.
Check Prices: Car Rental from Discover Cars

How Much Do I Have to Plan Ahead?
We advise booking all hotel and motel rooms well in advance, with particular emphasis on the national parks, some of which are limiting visitors. Some popular lodging options in both Yellowstone and Glacier National Parks book up a year or more in advance, so the sooner you can reserve rooms in these parks, the better.
Most National Parks including Yellowstone National Park and Glacier National Park have limited cell service and wifi, even in lodges. Plan to download maps ahead of time or pick up paper maps at the visitor's centers.
Planning ahead is one of our top family travel tips– it can save you a lot of stress when traveling with kids!
There You Have It: American Northwest Family Road Trip
This loop will take you 30+ days across the American Northwest on a fantastic family road trip. From San Francisco to Montana, to Canada, and then through the Pacific Northwest, this route covers a lot of ground.
Which stops are you most excited about? Any recommendations for alternate stops?
Ready to cross another North American border? Check out SoCal and Baja Road Trip.