9 Things Not to Do in Puerto Vallarta with Kids
Puerto Vallarta is a great family-friendly destination on the Pacific coast of Mexico. You'll find many lists of all the activities you could do in Puerto Vallarta, but here's a list of what not to do in Puerto Vallarta with kids to make the most of your family vacation.
These travel tips for Puerto Vallarta with kids cover everything from how to get into town from the airport, to how much cash you need! We've also got all the best places to eat in Puerto Vallarta.
Puerto Vallarta was our first international stop on our Family Year Out when our kids were 4 and 7 years old. During our time in Puerto Vallarta, we learned a few things not to do in Puerto Vallarta with kids! This was a great town to get our family acclimated to traveling in Mexico.
There's so much to do with kids in Puerto Vallarta, from hanging out in the hotel pool to exploring the city, to day trips to the surrounding towns. We spent a week in Puerto Vallarta at the start of our six weeks in Mexico. We also visited Ensenada, Oaxaca, Yelapa, and San Miguel de Allende among others.
This article may contain affiliate links, which means we may earn a small commission if a reader clicks through and makes a purchase. As an Amazon Associate, we earn from qualifying purchases at no additional cost to you. All our recommendations are our own and are in no way influenced by any advertiser or commercial initiative.
At the bottom of this post, download free Mobile Wallpaper images to satisfy your wanderlust!
Ready to Book Your Trip? Use our Favorite Travel Resources!

Where is Puerto Vallarta?
Puerto Vallarta is a resort town on the Pacific coast of Mexico, west of Guadalajara. It is in the state of Jalisco, about a three-hour flight from Los Angeles.
Puerto Vallarta is on the Bay of Banderas, which means it has a beautiful sheltered coastline with calm waters. It is south of Mazatlán, and north of Acapulco.
What is Puerto Vallarta Known For?
Puerto Vallarta is a popular resort destination because it's easy to get to from the United States, and has beautiful white-sand beaches. It is a wonderful location for swimming, kayaking, snorkeling, and scuba diving.
Puerto Vallarta also has a variety of cultural events, including indigenous dancers, locally made handicrafts, and great food.
Puerto Vallarta is also a great place to see Humpback whales. Thousands of humpbacks migrate through the Bay from mid-December to mid-April each year. While you can take a tour to see the whales (we recommend this whale watch), if you are lucky, you may also see them playing in the water just off the beaches of Puerto Vallarta.
9 Things Not to Do in Puerto Vallarta with Kids
During our time in Puerto Vallarta, we picked up a few tips about what not to do in Puerto Vallarta with kids. Hopefully, these family travel tips will help you make the most of your vacation!
1. Take a Taxi from the Airport
There is no need to take an expensive taxi from the airport. Only airport-registered taxis are allowed to pick up passengers at the airport, and prices are quite high (over $20 USD), but there is an easy way around this.
When you exit the arrivals terminal, you can easily get an Uber by walking just a short distance.
Price Comparison: Airport Taxi vs Uber
The ride from the airport to the marina is only about 6 minutes, and the drive to the zona romantic is about 25 minutes. We stayed in the marina area, where a Uber cost us 100 pesos (less than $5), vs the Zone 1 pricing for official taxis going to the marina starts at $17 USD for 3 people or less and goes up from there. The official taxis to the Zona Romantica start at $25 USD.
You can check updated taxi prices on this chart.
You cannot schedule a ride ahead of time in Puerto Vallarta, you'll have to call Uber when you are ready to depart. If you try to put in the airport as your pick-up location, it won't allow you to call a ride, but once you move away from the main building you'll be able to call Uber.
Don't miss our complete guide to getting around Puerto Vallarta including detailed instructions for finding the Uber pick up location.
2. Expect to Pay with Credit Cards
Mexico is largely a cash-based society. Even in a popular tourist resort like Puerto Vallarta, you'll find that many places do not accept credit cards. Many restaurants in particular, only accept cash.
If you do not have enough cash to pay for your meal, make sure you verify with the restaurant whether they take credit cards before you order your meal. ATMs (cajero automáticos) are easy to find, from banks in the Zona Romantica, to along the Marina Vallarta tourist strip.
It is recommended to tip around 10% on meals. Often the few restaurants that accept credit cards are unable to add the tip (propina) to the bill, so you will need to leave a cash tip instead.
3. Stay Only At Your Resort
Puerto Vallarta has lots of fantastic family-friendly resorts. Some are all-inclusive, some are not. Either way, make sure to get away from the resort!
Our favorite family experiences in Puerto Vallarta were walking around the town, not staying at the hotel (no matter how inviting the pool)! There are so many things to do in Puerto Vallarta, make and effort to get out and explore.
Make sure to walk the Malecon with its art sculptures- you'll also find art galleries, souvenir shops, and restaurants. During our strolls down the Malecon, we also saw an indigenous dance troupe, as well as the Voladores de Papantla, who climb a tall pole while dressed in traditional outfits, and then spin down via ropes while the master spinner plays the flute.
One of our favorite evenings out was the Thursday Night Market at the Marina. This market includes lots of fresh food- we ate our dinner by browsing the market, munching on everything from samosas to empanadas, to fresh pies. You'll find artisans of all types, from clothing to jewelry to paintings. The quality of the market is quite high, we highly recommend a visit!
Depending on what month you visit, there may be festivals or other events going on. Check this event calendar for the latest on what's happening during your visit.
4. Expect Everyone to Speak English
While Puerto Vallarta has a lot of tourists, you will find many locals who do not speak English. In fact, the woman at the tour desk in our hotel did not speak much English. We are constantly working on improving our Spanish, and find that a little effort (and a little Google translate) goes a long way!
5. Be Afraid to Walk Around Puerto Vallarta with Kids
We felt very safe in Puerto Vallarta, and we walked around a lot- not only in the touristy areas of the marina and the Zona Romantica but also along the in-between strips.
We walked from the marina terminal, up to Walmart, and then along the highway towards the marina. There was never a time we felt unsafe, or like we needed to change our plans or direction.
You can feel safe exploring and wandering around Puerto Vallarta. Of course, common sense still prevails. Use your street smarts, keep your phone tucked away when not in use, and keep an eye on your belongings.
6. Only Visit the Centro and Zona Romantica
While we enjoyed the Centro and the Zona Romantica, we also spent a lot of time in the marina area and exploring towns around Puerto Vallarta.
We took a day trip to Yelapa– we highly recommend it. We wrote a whole post about how to make the most of your time there. The guys running the ferry will encourage you to stay on the beach and spend money with their vendors- don't miss the beautiful village!
We took a whale-watching tour from the marine terminal- don't miss a chance to see the humpback whales that migrate through Banderas Bay!
These day-long cruises include either breakfast or lunch depending on your departure time, and drinks as you cruise the bay.
Check Prices: Whale Watch in Puerto Vallarta

We also checked out Nueva Vallarta for their weekly market and spent a day in Bucerías which has a great stretch of sandy beach.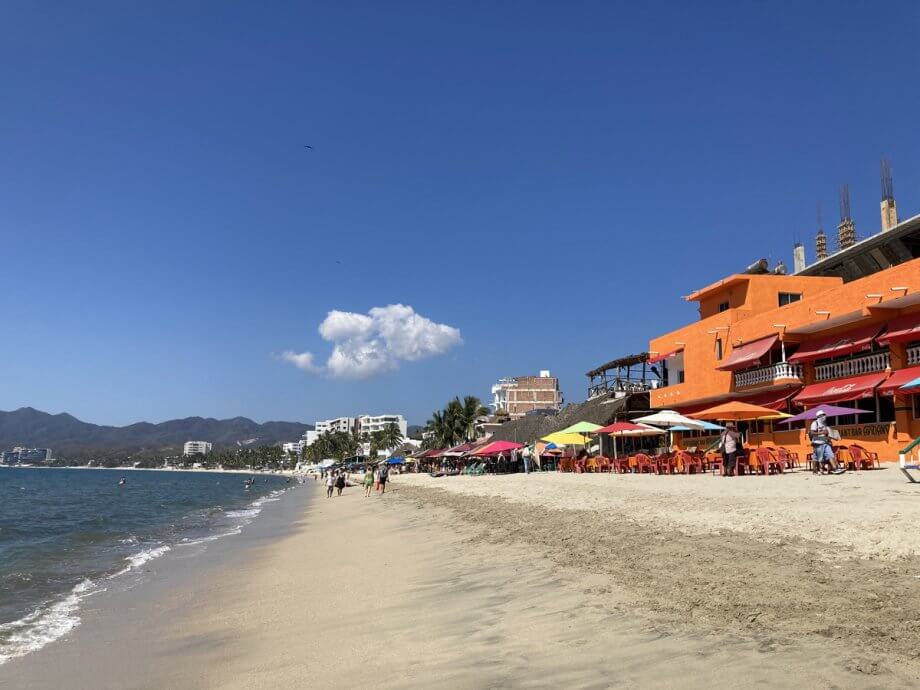 7. Expect Water to be Free at Restaurants
If you order water at a restaurant, be prepared to pay for it. In many restaurants in Puerto Vallarta, whether you order mineral (sparkling) or natural (still), you will be charged for the bottle.
We have found that in other cities in Mexico, still water is provided free of charge, and we are only charged if we request an Agua Mineral. However, this seems to be how many of the restaurants in Puerto Vallarta operate, so be prepared.

8. Drink the Water
The water in Puerto Vallarta is some of the cleanest in Mexico, however, it's still best not to drink the tap water.
You don't need to worry about the quality of water in the restaurants- they all cook, make ice, and make drinks from filtered water.
Many hotels provide at least one bottled water per room, but you can also use a filtered water bottle or UV purifier. We use a SteriPen, which uses UV light to kill any bacteria in the water before we drink it.
Check Prices: Steripen UV Water Purifier

9. Forget Travel Insurance
Don't forget travel insurance! Travel insurance covers everything from trip interruption to lost luggage. In this age of changing conditions, you don't want to head out unprotected.
We use SafetyWing, which offers great travel insurance for long-term travel as it automatically renews every 30 days, and we don't need to constantly update the list of countries we plan to visit.
Get a Quote: SafetyWing Travel Insurance

Is Puerto Vallarta Safe for Families?
Yes, we found Puerto Vallarta to be a very safe place for families to travel together. We explored all over the city, as well as towns around Puerto Vallarta, and never felt unsafe.
Puerto Vallarta is one of the safest cities in Mexico, and generally only suffers from a few petty crimes.
Needs safety tips? Here is everything we do to stay safe, from Airtags to code words.
Family-Friendly Places to Eat in Puerto Vallarta
There are lots of family-friendly places to eat in Puerto Vallarta from breakfasts of waffles and Nutella to plates of pasta or pizza. Here are a few of our favorites:
Cafe Tacuba: Victor's Place (Marina Vallarta)- This colorful Mexican restaurant includes a shot of tequila with every drink you order and a small ice cream sundae at the end of the meal for the kids. The food is delicious, the atmosphere is upbeat, and the prices are affordable. Cash only.
Location: Av Paseo de la Marina Local #128

Pancho's Takos (Zona Romantica)– The al pastor tacos at this place are famous for a reason. The tacos are cheap and delicious. You'll probably have to wait in line for a table, but the line moves fast. You order from a checklist and the food comes quickly. Cash only.
Location: Basilio Badillo 162
Los Alcatraces (Marina Vallarta)– This restaurant has a cool, cozy atmosphere. We loved it for breakfast. The waffles here were delicious and not smothered in sweet sauces like the over-the-top version at Mr. Cream Pancakes two doors down.
Location: Condominios Marina Sol Int. 3y4
Where Should I Stay in Puerto Vallarta?
We recommend staying in the Zona Romantica- we stayed in the Marina Vallarta area instead and regretted not being able to easily walk to a sand beach with the kids. We would have preferred taking an Uber up to the marina area to explore and have easy access to Playa de Los Muertos, rather than the other way around.
Recommended Hotel: Hotel Posada de Roger. This hotel has a great location in the Zona Romantica. It's within walking distance of the beach and gets great reviews. It has a shared kitchen as well as a restaurant on site.
Check Availability: Hotel Posada de Roger

Do I Need a Car in Puerto Vallarta with Kids?
We used taxis and Uber around Puerto Vallarta and the surrounding towns. However, you may prefer to have a car to explore Bucerías, Nuevo Vallarta, or some of the more southern beaches.
If you choose to rent a car, we recommend Discover Cars. They are very upfront about their pricing.
Get a Quote: Rental Car from Discover Cars
If you are considering renting a car in Mexico, be sure to read up on Driving in Mexico.

Is There Uber in Puerto Vallarta?
Yes, there is Uber in Puerto Vallarta! There is sometimes a delay in getting a ride, and you may find it faster to grab a city taxi. The taxis are quite safe, you'll see them at taxi stations throughout the city. Make sure you agree to a price beforehand. Cash only for regular taxis.

How Many Days Do I Need in Puerto Vallarta with Kids?
We spent seven nights in Puerto Vallarta, and there was still more we could have explored. You can see the main markets and beaches in town in three days, and then you'll want to add time in for any day trips or excursions that interest you.
We hoped to visit Sayulita but didn't have time to add it to our itinerary. We also would have enjoyed adding in a day of snorkeling.

When is the Best Time to Visit Puerto Vallarta with Kids?
We visited in January and found it an ideal time to visit Puerto Vallarta- the weather was warm enough for lounging in the pool, but not too warm to enjoy walking around town.
The rainy season runs from July through October, so you'll want to avoid those months. Winter is the high season when crowds and prices tend to be higher, so the shoulder months of April and May come highly recommended.

FAQ: Puerto Vallarta with Kids

Is Puerto Vallarta Kid-Friendly?

Yes, we found Puerto Vallarta very kid-friendly. From easy day trips to fun beaches, and rocking horses on the promenade. There are tons of things to do to keep kids entertained in Puerto Vallarta.
Are beaches in Puerto Vallarta swimmable?

Yes, Puerto Vallarta has great, clean beaches where you can swim and relax on the beach.
What is the rainy season in Puerto Vallarta?

The rainy season is from June to mid-October, which is also the hottest time of the year. The most popular time to visit Puerto Vallarta is from December to March.

There You Have It: What Not to Do in Puerto Vallarta with Kids
All our best tips, including the most important things not to do in Puerto Vallarta with kids, from transportation to logistics. There is so much to see in Puerto Vallarta, we hope you enjoy exploring this town with your family.