Exploring Oconaluftee Indian Village with Kids in Cherokee, NC
The Oconaluftee Indian Village in Cherokee, NC is a great place for families to learn about Cherokee culture. Exploring this living history village was fascinating for both kids and adults. Wander under the shade of the forest, learning about different art forms from how to make a blowgun to ceremonial uses for wooden masks.
We visited Oconoflutee as part of our family road trip cross-country when we were seeking out alternatives to the colonial experience. We'll cover what to expect during a visit to Oconaluftee, other things to do in Cherokee, NC, as well as where to eat in Cherokee. We'll also include some resources for other places you can learn more about the Native American experience in the US.

This article may contain affiliate links, which means we may earn a small commission if a reader clicks through and makes a purchase. As an Amazon Associate, we earn from qualifying purchases. All our recommendations are independent and are in no way influenced by any advertiser or commercial initiative.
At the bottom of the post, Download a free License Plate Game for the kids to play on your next family road trip!
Hitting the road? Don't miss our post on gear and supplies for your road trip for everything you'll need! We've also got all the road trip snacks, road trip activities for kids, and even road trip tips for families.


What is the Oconaluftee Indian Village?
The Oconaluftee Indian Village is a working, living history village that tells the story of the Cherokee people in the 1750s, as they adapt to outside influences. There are demonstrations of crafts from beading to weapons, dwellings to explore from homes to community structures, and talks in the town square and council room.
The village area is very shaded, which makes it a very pleasant, cool space to walk around even in the heat of summer.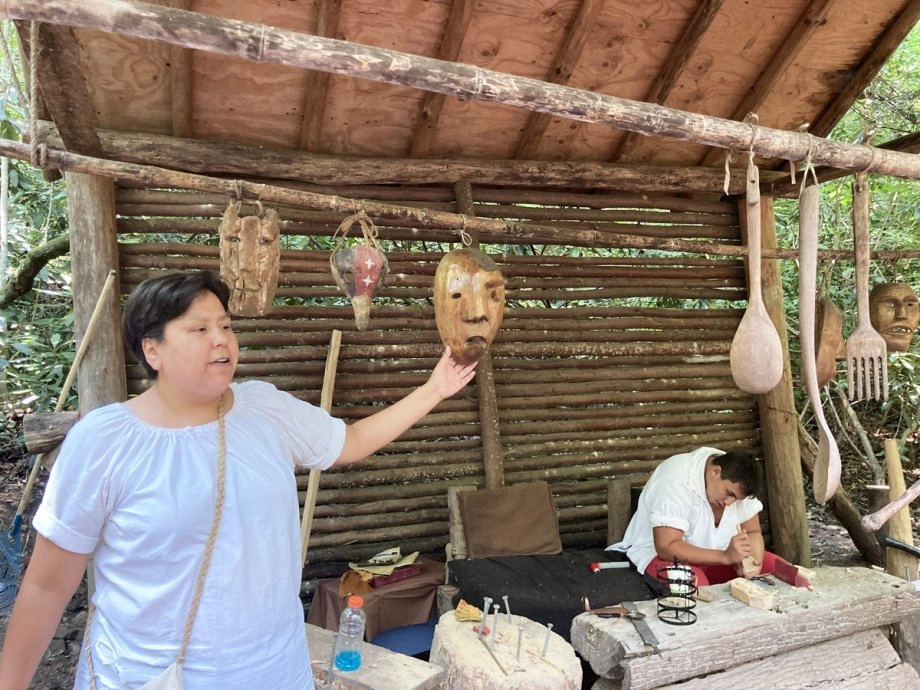 What Will I See In the Oconaluftee Village?
There are several areas in the village as you proceed through. Each visit starts with a guided tour that begins about every twenty minutes. The website says that the living history section (dwellings and community structures) is self-guided, however, on our visit, our tour guide stayed with us through this area and continued to explain what we were seeing.
After the living history section, you can attend a talk in the Square Ground and one in the Council House.

Traditional Cherokee Craft Area
To begin your visit you'll be guided through a series of craft stations, where artisans are practicing traditional Cherokee crafts. These range from pottery and beadwork to creating blowguns and arrowheads.
There are a variety of materials on hand to show how things were done traditionally, and then how techniques changed as European materials were introduced.
The group was pretty small, so it was easy to see the artisans and there were lots of opportunities to ask questions.

Homes and Community Structures
There are examples of dwellings from different times so you can see how their building styles adapted and changed with the European influence. I was astounded to hear that the average Cherokee at the time, both men and women, was 6 foot 7 inches tall! The dwellings in the village are built at 1/3 scale, so you'll need to use your imagination a bit.
Most of the structures are wattle and daub, meaning they are built of logs covered in mud and grass. One of the homes has a hole in the outer wall so that you can see the underlying woven structure.

Cultural Talks
There are two cultural talks at the Oconaluftee village that alternate every half hour. We attended the talk in the Square Grounds, the cultural center of the village. It lasted about half an hour and was fascinating. We learned about the seven clans of the Cherokee, and what each clan is responsible for within the community. Unless all seven clans are represented, a place cannot be considered a village.
We also learned a bit about music and ceremony as well. The kids stayed entertained during the talk, though they would have needed a break before sitting still for another half an hour.
There is a second talk with more of a focus on governance that is held in the Council House. We missed that one, as E had a bloody knee and was ready to move along. I would have loved to stay and learn more.

Dance and Time of War Shows
There are two shows that are held daily- a Time of War reenactment and a traditional dance show. These usually happen during the summer months at noon and 3 pm, they were not running when we visited.

Oconaluftee Gift Shop
There is a small gift show near the exit that showcases handmade products, some by the artisans you may have met along the way! There is also a small place to buy drinks and snacks.

What does Oconaluftee mean?
Oconaluftee comes from the Cherokee word "Egwanulti" which means "by the river", and appears in Western journals from 1775. It can also mean "separated Oconee people".

Who are the Cherokee People?
The Cherokee call themselves Ani-Yunwiya, meaning "principal people". The Cherokee Nation is the largest tribal nation in the United States. They originally lived in the Southeastern US (North Carolina, South Carolina, Georgia, Alabama, and Tennessee). During the 1830s and 1840s, many were moved west to what is now Oklahoma along what is called the Trail of Tears.

How Long Should I Plan for Our Visit?
We spent about two hours in the village, with kids ages 4 and 6. I would have liked to have stayed a little bit longer, but E (4) took a tumble off the bleachers and was ready to move on.
Beyond the Oconaluftee village, there's a lot to do in Cherokee, NC from learning about Cherokee culture, hiking, and waterfalls, to casinos.

What Age is Best for the Oconaluftee Village?
We found the village accessible for ages 4+. The older kids asked a lot more questions about tool-making and crafts, but our four-year-old was engaged and interested.
As adults, we found the tour and the village itself interesting as well. One of the highlights for us was the detailed explanations in the Square Ground talk.

Where to Eat in Cherokee, NC
We stopped at Saunooke Village in Cherokee to get lunch from the Front Porch Cakery and Deli. This center is a lot of fun, but was also packed! We had to circle a bit to find a parking spot during the lunch rush.
The Cherokee Welcome Center (with bathrooms) is in the middle, there are fountains and a lazy river for the kids to play in, lots of gift shops, and a few restaurants to choose from.
We got sandwiches and a few cupcakes to share from Front Porch Deli, then ate them at a picnic bench near the water. Plan a bit of time to spend here, we didn't realize how much was here, or how busy it would be, so what we had expected to be a quick lunch stop took much longer, and the kids would have loved more time to play in the water.

Other Things to do In Cherokee, NC
If you have more time to spend in Cherokee, NC there is a lot to do! Cherokee has lots of gift shops, a casino, and some great hiking trails. You are also on the edge of the Great Smoky Mountains National Park.
You'll find lots of gorgeous views and pull-offs on your drive in and out of Cherokee. If you are heading North from Cherokee, don't miss Clingman's Dome! For more options in Cherokee, check out the city website.

Museum of the Cherokee Indian
The Museum of the Cherokee Indian is located at 589 Tsali Blvd. Cherokee, NC, just a few minutes drive down the road from the Oconaluftee Indian Village. With over 11,000 feet of exhibition space, this would be a great way to expand your experience.

Unto These Hills Drama
Unto These Hills is an outdoor play that dramatizes the story of the Cherokee people. Located next to the Oconaluftee Village, you'll see signs from the parking lot.
The story begins with the arrival of the Spanish in 1540 and continues through the Trail of Tears. Performances run rain or shine, with doors opening at 7 pm and the main show beginning at 8 pm.

Visit Mingo Falls
Twenty minutes north of Oconaluftee Village, you'll find a short 1/4 mile uphill hike to reach Mingo Falls. Called Big Bear Falls in Cherokee, the waterfall cascades down approx. 200 feet. Here are detailed directions to find the trailhead.

Watch for Elk
Leaving Cherokee, we found ourselves in an elk traffic jam! We had not seen these creatures before- similar to a deer, but larger, with cream-colored rumps. Cars were pulled off to the side or stopped to let the herd cross the road. At one point rangers were on site to help manage the traffic and protect the animals.

Resources for learning about Native America Cultures
When planning our cross-country road trip I looked for resources to incorporate learning about Native Americans into our trip. We have read books about the Oregon Trail and were planning to trace part of the route, and talk about the Western settler experience.
I felt we should be balancing this with some stops that focus on the native experience as well. The first recommendation I found was to focus on sources created or curated by native Americans.
Three places across the country stood out: the National Museum of the American Indian in Washington, DC., the Oconaluftee Indian Village in Cherokee, NC, and the Cherokee Heritage Center in Tahlequah, OK.
Our kids (4,6) were bored by the museum in DC. It was too intellectual, and not visual or hands-on enough for them. We loved our time at the Oconaluftee Village. Unfortunately, the Cherokee Heritage Center in Oklahoma is currently closed.
We were hoping to visit Taos Pueblo, but they are also currently closed. If you have recommendations of similar places where we could learn about a different tribal nation, we'd love to hear them!

Traveling through more of North Carolina? We also enjoyed visiting the Wright Brothers Memorial, it's terrific with kids!
Off season? Check out things to do in Charlotte in winter. Heading to Kentucky? Don't skip Mammoth Cave!