One Day in Seoul: 4 Unique Itineraries to Enchant Any Traveler
Have only one day in Seoul, South Korea? Grab a cup of green tea and come along for not one, but four wonderful itineraries. These one-day itineraries offer something for everyone, from the history buff to the K-pop fan, each one done and tested!
We spent a month in South Korea with our kids and we all loved exploring this dynamic city which mixes old and new with lots of green spaces. After a whirlwind week in Seoul, we started making plans to return.
Wondering how to fit such an amazing city into a short time? We reached out to Mina Coleman at No Texting and Tacking to create the best one day in Seoul itinerary. Staying for more than one day? Mix and match these Seoul itineraries to explore even more of the city.
As a full-time traveling family, with three teens, Mina and her family have become experts in fitting in the coolest sights and sounds of any destination, without being bored (number one trip-spoiler for any kid). While they prefer slow travel, some destinations, like Seoul, are more expensive, so they pack the best into a short amount of time.
Can you see all of Seoul in a day? No, of course not, but you can still see plenty! This post will cover several options for touring Seoul in one day. Since Seoul has a lot to offer, it is best to pick highlights in close proximity to each other. Otherwise, you risk losing precious time on public transport and sitting in taxis.
This article may contain affiliate links, which means we may earn a small commission if a reader clicks through and makes a purchase. As an Amazon Associate, we earn from qualifying purchases at no additional cost to you. All our recommendations are our own and are in no way influenced by any advertiser or commercial initiative.
At the bottom of this post, download free Mobile Wallpaper images to satisfy your wanderlust!
Ready to Book Your Trip? Use our Favorite Travel Resources!
What is Seoul South Korea Famous For?
What isn't Seoul famous for?! At the reputable age of over 2000 years, Seoul's many palaces have walls that can talk forever. South Korea's unique and desirable location has invited rich cultures and traditions throughout the years, mostly via invasions.
Combine the cultural heritage with rapid modern development in the 21st century, and you really can see and taste it all in Seoul.
From palaces to K-pop venues, with a bit of too much sparkle, in a true Gangnam style – young, old, and the impossible teens will not leave Seoul disappointed.
Korea is famous for being extremely safe- in fact people will leave purses and laptops behind when visiting the restroom, without any concern. However, if you are traveling with kids, make sure you've talked about staying safe and make plans for getting separated, etc. We have a full guide for traveling families with our best safety tips.

One Day in Seoul Itinerary
Since we travel with our three teens, almost every day of our trip must include a bit of something for everyone. Rather than dividing the options by interest, I will offer you our way of making everyone happy in a single trip – it is challenging but doable.
Most attractions and places I am recommending are close enough to each other that you can combine two itineraries together, especially if you enjoy walking and have the energy or older kids. 
Consider a Tour of Seoul
If you have limited time in Seoul, consider a walking tour to help you get the most out of your time in town. A tour will move you around town in the most efficient way, showing you more in less time.
Here are two tours that would be a great introduction to Seoul for first-time visitors with limited time. One is a day tour, the other an evening tour so that you can wander on your own during the day.
🌟 Rating: 4 1/2 Stars ⏳ 3 Hours ✅ Private Tour, Top Sites and Hidden Gems 🔎 Check Rates
This walking tour of Seoul includes Gyeongbokgung Palace, Bukchon Hanok Village, Jogyesa Temple, Gwangjang Market, and more. This is a great introduction to many aspects of life in Seoul- from palaces, and temples, to street food.
This tour takes all the stress out of finding your way around Seoul and trying to hit all the highlights in a short time. With a three-hour tour, you will still have time for other activities as well, having checked off a few of the main attractions!
🌟 Rating: 5 Stars ⏳ 3 Hours ✅ 1 Hour Food, 2 Hour Walking 🔎 Check Rates
This evening walking tour leaves you the day to explore on your own and focuses both on street food and exploring the city. You'll spend the first hour at Gwangjang Market learning about Korean street food in this famous market.
The second half of the tour walks to Naksan Park, along the city wall to the East Gate (Dongdaemun Gate), and then to Dongdaemun Design Plaza. The maximum number of travelers on this tour is 10.
Book Now: Evening Food and Walking Tour of Seoul
Option 1: History and Korean BBQ
Unless you have strong preferences for another itinerary, start with this classic history combo for your one day in Seoul. This day starts with a tour of the Gyeongbokgung Palace. If you have to pick one palace to visit in Seoul, let it be this one.

Gyeongbokgung Palace
This palace is huge, there is a lot to see, and plenty of space for kids to run around. Shade can be a challenge, so keep that in mind when visiting in the summer.
Gyeongbokgung Palace is closed on Tuesdays. closes between 5 p.m. and 6:30 p.m., depending on the season. We made the mistake of exploring some of the city and Bukchon Hanok Village first and barely had time to tour.
If you have time, you can rent a hanbok – the traditional South Korean dress, which will grant you free access to the Gyeongbokgung Palace. Everyone under the age of 18 is also free, regardless of attire. It is a relatively new change in their foreign visitor ticketing policy.
Regardless of whether you wear traditional attire or your regular street clothes, you'll see a lot of people inside the palace in Hanboks, which makes for fun photos.
Editors Note: We rented Hanboks as a family, and our kids were quickly reassured when they saw so many other people dressed up too. We also had no trouble getting family photos as lots of people offered to take photos for us. We had so much fun we also rented traditional attire in Japan.

Korean BBQ
After the Palace visit, you will need a break, so I suggest one of the nearby Korean BBQ restaurants. There are a few highly rated ones right around Bukchon Hanok Village.
After lunch, walk around Bukchon Hanok Village and enjoy traditional Korean architecture. Keep in mind that people do live there and many are a bit fed up with tourists taking photos of their homes. We had to be a bit sneaky about it and made someone a bit angry. But then, again, we walked with three loud teens, so we were hard to miss.
After the Bukchon Hanok Village, hang around the palace, if you wish. The area is very popular and there are often various expos and fests around. We walked into two different ones.
Visiting the palace until noon, and the village in the afternoon, along with a nice lunch should be more than enough, even for walking enthusiasts. If you are exploring with young kids, I would not push it much beyond this.

Myeongdong Street Food
With a few hours left to explore you should have time for a few street food treats at Myeongdong. It is very busy and in complete contrast to Bukchon Hanok Village, so definitely worth visiting.

Option 2: City Vibes and K-Pop
If you are visiting Seoul because your teen daughter is designing K-pop quizzes in her spare time, then you absolutely must devote at least half a day to Myeongdong. It is one of Seoul's busiest neighborhoods.
There are hundreds of shops there and some of the highest prices in the world, so I would not recommend it for shopping. Head to the underground market for that (more on that below).

Myeongdong Street Market
Myeongdong has amazing and very affordable street food options, we tried quite a few treats and the traditional Tteokbokki (rice nuggets in spicy red sauce) were pretty well-made. Even for me, and I am not a fan of spicy food.
My favorite was the tiny egg breads – a bit sweet and soft, yummy, try them.

Editors Note: Called Gyeran-ppang, these were a family favorite for us as well- kind of like a mini cornbread with a fried egg on top. There are so many fun foods to try here we made a dinner out of this area more than once!
If visiting Myeongdong with kids, try to go there earlier in the day, because towards mid-afternoon, it becomes extremely crowded.
Once your head starts spinning from shops and crowds, take a break!

Myeongdong Cathedral
Visit the birthplace of Roman Catholicism in Korea – the magnificent Myeongdong Cathedral. A place where you can truly appreciate silence. It will be a nice break for younger kids too.
After the quiet break, go underground. There is a whole other South Korea under South Korea. You can probably spend an entire visit just browsing shops in the underpasses and around subway stations.


The Myeongdong Underground
The Myeongdong Station shopping area, underground, is where you must buy your K-pop albums. My teen daughter did all the research for that and I believe her. The prices there really are about half of what you might find at, let's say Target, in the US.
I know nothing about K-pop, except that their singers wear lots of makeup, but those shops were crowded with fans and there was a very pleasant lack of sparkles and kitschy gear, just lots of albums in boxes.
If looking for K-pop shops, it is easy to miss them. They reminded me more of tiny bookshops, rather than K-pop fan stores.

Nanta Cooking Show
For the evening, treat yourself and your family to a Nanta Cooking Show, at the Nanta Theater. This show is fabulous- it's mostly physical humor, so you don't need to worry about not understanding the language.
The show centers around a team in the kitchen who are rushing to prepare for a 6 o'clock wedding. Cabbage goes flying, knives are flashing, and all sorts of comedic chaos unfolds. There's juggling, percussion using kitchen tools, and lots of laughs.
If you visit on the weekend, you can reserve an afternoon show at 2 pm. Otherwise, choose between a 5 pm, or an 8 pm performance. Reservations are always a good idea, but tickets are sold online 2 hours before the show, as well as an hour before, on-site.
That day should be more than filled with adventure already, but if you take the bus for a few stops, you can swap one of the sightseeing options with one of the museums I am recommending below. You will lose around 40 min. in public transit though.
Editors Note: We took our kids ages 6 and 8, to the show. We all enjoyed it, but the kids were literally laughing the entire time. If you have kids who appreciate physical humor, don't miss this show! This show was a highlight of our visit to Seoul. No photos during the show are allowed.

Option 3: Amazing Hiking and Views
If you want a great view of the city and prefer to be outside, this is the best itinerary for you! You'll visit the Namsan Tower in Namsan Park which offers a great workout with breathtaking views along the way.
Out of all the fun things we did in Seoul, this day outing was definitely my favorite. But then, again, we love walking. The kids do too, they just don't always realize it!

Namsan Park
The Namsan Park is very well-maintained and the trail leading to the Namsan Tower is plenty wide. There are lots of remnants of the Seoul City Wall.
There are also lots and lots of stairs! South Korea is definitely one of those countries for stairs lovers, hence the workout.
If climbing with kids, you might want to take it easy and let them run around a bit. Or just take the Cable Car which is walking distance from the Hoehyeon Subway station.
You have to pay to climb Namsan Tower, but the views around it are plenty spectacular, so we did not see a need to go any higher.
Do bring a small lock and a heart, or an old cell phone case and hang them somewhere there, amongst all the others. The place is covered in love messages, such a cute tradition, and ah, so Korean.
There are vending machines selling the souvenir locks, so you don't need to come prepared. Take lots of photos and remember to make the Korean heart symbol as you pose for the photos.
When it is time to go down, there are buses running frequently, but we decided to walk down the hill – it is a LOT of walking. Again, with some great stops for watching the sunset and taking pictures. You won't be alone, everyone knows about those sites and gathers there.

National Museum of Korea
If you are able to rush through the hike and the tower, visit one of the museums nearby. Both the National Museum of Korea and the War Memorial are just a few bus stops away. See details below!
The Namsan Tower is also pretty close to Myeongdong, so you could fit the busy shopping and street food in, but you will want to take the Cable car, to have enough time to add this.

Option 4: Rainy Day Ideas in Seoul
What if you end up in Seoul and it is raining? This makes it no fun to head out on outdoor hikes, walks, or explore palaces… Fear not, go to the museums!
When traveling with teens keep in mind that museums often count for homeschooling hours.

National Museum of Korea
The National Museum of Korea is a large, spacious, and fascinating museum to spend a few hours in. The displays are on different levels and, like everything in Korea, there are plenty of instructions and signs as to where and how to start your tour.
Guided tours are available as well, in English at 10:30 a.m. and 01:00 p.m. Tickets are free, and they even offer free PDF Guides in English for Teens and Kids, so the day can really turn into a world schooling field trip.
How about a robot-guided tour? Their QI tours (Curating Robot Guided Tour) are led by cute robots, which answer all kinds of questions (including "Where is the bathroom?"). They also stand still for pictures. I am not sure what expo the kids might like the best, but they will not forget the robots.
As with most museums, the inside cafe does offer sandwiches and drinks, but they are a bit expensive.

Lotte Department Store
After touring the museum, you might want to take a bus (N15) and get off at Myeongdong, at the Lotte Department Store station.
You will be right in the middle of the busy city area and there are hundreds of restaurants and coffee shops to offer shelter from the rain.
Grab lunch at one of the restaurants, then head to the Nanta theater, if tired of walking.

Visit a Cat Cafe
There are a few cat cafes in Seoul, so you can research and pick the one closest to your itinerary option.
We had to go to the cat cafe, while in Seoul's Myeongdong neighborhood. To be perfectly honest, it was not very high on my list. But then there are the kids.
Since ours are already old enough, my husband and I left them all at the cat cafe, while he and I went to look for lunch. I asked them to take photos and tell me all about it.
The entry cost was 10,000 won, which is around $8 and includes a drink. There is no restriction on the time you spend at the cafe. Our kids stayed there for almost two hours. There were that many cats to pet.
You have to remove your shoes before you go in. They have a bunch of free slippers and flip-flops available. If you prefer, bring your own, or wear socks.
All the cats we pet (I snuck inside for a bit too, while waiting for the kids to finish their drinks) looked very well cared for. There were cats everywhere! It did not smell bad at all.
Editors Note: We found it best to go to cat cafes early in the day. If you visit in the afternoon, the cats can be a bit tired, having had plenty of food and attention already.

Nanta Cooking Show
If you are visiting the theater without reserved tickets, they are sold online two hours before the show, as well as in person, an hour beforehand. But there is no guarantee of availability, so it's best to reserve in advance.

Additional Things To Do in Seoul, Korea
Here are some other wonderful things to do in Seoul if you have more time and energy left. Seoul is not a very large city and most major attractions are within the same area, so it is doable to throw in a couple of extras.

War Memorial of Korea
Another must-see museum in Seoul is the War Memorial of Korea. It is quite big and does focus on modern history, not surprisingly.
We did not have time to visit, but reviewers shared plenty of exciting displays of military equipment to keep both children and adults intrigued.
The museum is very close to the National Museum of Korea, so you can easily visit both. It is also not too far from Namsan Park and Tower, so that would be another good combination of a museum and a hike.
You would need the subway, or a bus to reach Namsan Park. Bus 605 will take you there, you have to get off at Huam Market and walk a bit to the park.

Gangnam Style Trip
We made a special trip to the world-famous Gangnam neighborhood. We had to. The kids wanted to. Frankly, I did too.
It is a very large district with many smaller neighborhoods within it, so you can easily make a day out of that outing.
There is the famous Gangnam hands statue, after the popular Gangnam Style song (yes, we played the song and danced at the statue, like everyone else).
Right next to it, is the largest underground mall in the world – the Coex. We went in briefly, just for some traditional non-Korean Auntie Ann pretzels.
There is a massive library called the Starfield Library with books reaching up to the ceiling (don't miss this), as well as the Coex Aquarium if touring with kids. Tickets for the Aquarium are around $20.
There are also more restaurants than you can count. There is a fun running lane inside with markers for the distances, in meters, for those running for exercise. Why not!
Apart from the busy (I mean super busy) skyscraper area, there are the Seonjeongneung Tombs, which we walked to, but it is a long walk.
At the Gangnam subway station, you can take exits 9, 10, 11, and 12, all leading to the busy district or the large underground shopping center, (not the Coex), there is another one at the subway station.

Photo Booths
Photo booths are everywhere in Korea and are quite popular with young teens. We saw parties of giggling kids at many such city "attractions".
These booths are usually open 24/7 and you will have to do the entire process by yourself. There are no store associates for help. But, like everything in Korea, there are plenty of signs to guide you.
These photo booths offer accessories for the photos, such as plush toys, hair bands, and sunglasses. These accessories are big, loud, and lots of fun for the whole family.
If traveling as a family, you might want this fun and very Korean memory together – a photo booth session.
Photo booths are so popular you will have no trouble finding them in any downtown area of Seoul.
Editors Notes: The booth we used had instructions only in Korean (or if there was a translate button we couldn't find it), so we had to use Google Translate quickly as there are some "countdowns" where you have to make choices quickly. We recommend having your translation app ready in case you need it.
Also, we highly recommend opting for the "digital option" on the machine before you take pictures. We were feeling rushed and stressed by translating and missed this option, we got really awesome physical prints, but wish that we had the digital version as well.

Demilitarized Zone (DMZ)
If traveling to Seoul with kids or teenagers, taking a day to visit South Korea's Demilitarized Zone, will be an invaluable lesson in modern history.
While not in Seoul, there are trips and tours, which can be booked from Seoul, taking you to the zone. Most tours visit the Imjingak Pyeonghwa-Nuri Park and the Bridge of Freedom. This bridge is famous for the prisoner exchanges that happened here in 1953 after the Armistice. Over 12,000 POWs walked across this bridge and back into South Korea.

This park also has memorials to the many separated families, as well as the Peace Train, the destroyed locomotive that was the last to cross the border, as well as other memorials, and even a small amusement park.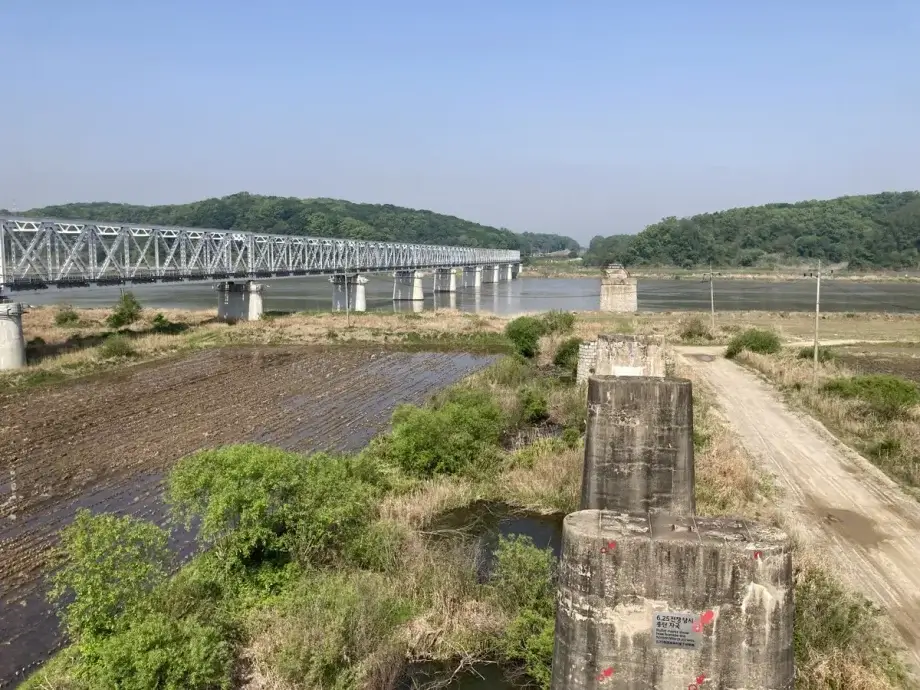 You will then move on to the Third Infiltrations Tunnel, where you put on a hard hat and descend down into a tunnel that was dug by the North. Lastly, you will visit the Dora Observatory where you have views of the North and their propaganda villages on a clear day.
To visit the JSA (Joint Security Area), also known as Panmunjom, where the conference room has the border running right through the middle, you must be at least 11 years old. Because North and South Korea and technically still at war, this area is heavily fortified, though many of the landmines have been removed in the last few years as steps have been made toward reconciliation.
If you visit the JSA, be aware that there is a strict dress code that includes wearing a collared shirt and no sandals or ripped jeans, as North Korea has in the past used photographs of visitors to the JSA in its propaganda.
The only tricky part is that due to history actually being written there as we speak, there is never a guarantee that the JSA will be open for visitors. This is due to the extremely strained relations between South and North Korea.
Check a few weeks before your trip to ensure the border is open- often the JSA will close when other aspects of the DMZ remain open. It will take the day to get there and back, as there is much to see there. If you book the earlier tour at 08:00 am, you will be back in town mid-afternoon, giving you some time to grab food and do some other sightseeing as well.
Editors Note: We took our kids (ages 6,8) on a day trip to the DMZ as it was a valuable chance to explain the history of these two countries. Also, their great-grandfather died in the Korean War, so we discussed the US context as well. They were too young to visit the JSA, but we still found the experience extremely worthwhile.

DMZ Day Tour
This is the tour we took of the DMZ that we highly recommend. It is an 8-hour tour- keep in mind that all tours leave quite early in the morning (around 7:30), as they have to line up to get tickets to access the DMZ, and tickets are limited. Your first stop will be at the ticket office, then the tour operators will decide the order of your visits based on the time of the tickets they are able to get.
There is also a short movie included in the tour, which is quite optimistic about the relationships between the North and the South. There was nothing during the day that was inappropriate for children of any age, you do not need to worry about any graphic images, etc.
Book Now: Day Tour of the DMZ

When is the Best Time to Visit Seoul, South Korea?
It is best to visit Seoul in the spring, early summer, or early fall. We visited Seoul and South Korea in early May. South Korea offers four beautiful seasons. While it is truly a busy city, Seoul, like much of South Korea, has a few amazing hills and plenty of outdoors to explore.
Outdoor concerts and events are held during the warmer months. Visiting during the late fall, cold winter, or hot and muggy summer might make city hikes a bit of a challenge.

Where to Stay in Seoul, South Korea
There are so many options for where to stay in Seoul, South Korea. It's best to base yourself close to the main sites so that you spend most of your time visiting, rather than traveling across the city.

If you want a hotel close to downtown, close to the subway, close to restaurants and attractions, family-friendly, with breakfast included and at a good price – look no further.
Le Mong offers king-size beds in the rooms, not something terribly common in a crowded city like Seoul, not at this price point anyway.
They also have a cute little garden, a bit of tranquility with the skyscrapers in the background, pretty cool.
Keep in mind that bathrooms in Korea are very relaxed about privacy. Between the three hotels we stayed in, none had a true separation between the living room and the bathroom.
Since we always had to book a separate room for our teens, they ended up hanging towels to create some privacy in their room, kind of irritating, kind of funny – it's all part of the experience, right?

If you wish to really relax and enjoy your stay in Seoul, pick The Plaza. If you are on vacation, might as well make great hotel memories too.
The hotel is right in the middle of it all, in the downtown, while offering calming luxury and pampering sauna and a large indoor pool. It has bathrooms with privacy and king-size beds. Book your stay and unwind in style.

How to Get Around Seoul
It is very easy to get around Seoul, it has excellent infrastructure. We never got lost changing subways and buses, and even though we love walking, we rode public transportation a lot, because we wanted to see a lot, in a limited amount of time.

Choose a Navigation App
First of all, Google Maps does not work in Seoul. You will end up completely confused and frustrated. You will need to download a different application to help guide you around town.
We decided to use KakaoMap and it guided us all throughout the city. There is free wifi at the subway, so you can follow your route precisely. Walking directions work well too, but when they are mixed, you may have to follow the map a bit closely. Google Maps has a similar issue.
Editors Note: We used Naver Map, and had a good experience with that as well.

T Money Card
To pay for public transit (as well as taxis), it is easiest to buy a T-money card and recharge as needed. Convenience shops (like 7-Eleven) around town offer this card and recharging service, it is very easy.
For kids, ask at the counter when you buy the card, and they will input the child's birthday so that the card charges the reduced child fare. These cards come in fun designs, so it's easy to tell which card belongs to which family member. Each person must have their own card to tap as they get on and off of public transit.

Using the Seoul Metro
Seoul Subway is an excellent and very fast way to get around. We changed stations and trains quite a few times a day and I took so many photos of their caution and warning signs. I could probably write a book about it. It is quite entertaining.
The stations are written in Korean and in English, as are the announcements on the trains, so you should have no trouble getting around.
Which direction the train is going is indicated by which stop is next in each direction. So, unlike other cities, where you need to know the end of the line to navigate, you'll need to know the next stop in the direction you'd like to go.
Many of the subway stations are also underground shopping strips with tons of inexpensive goods, trinkets, and snacks. Some stations also offer luggage storage, if you are only running around for the day.
Something to keep in mind is the many stairs at subway stations. There are escalators at most stations, but some exits only have stairs, and many of them!

Taking the Buses in Seoul
City buses are very punctual and the KakaoMap app we used guided us right to the bus stop and listed the expected bus arrival time.
Buses are very convenient to ride and we do enjoy them because unlike the subway, we get a mini city tour every time we hop on. It is nice to reach your sightseeing spot quickly, but getting there is part of the adventure.
The T-money card can be used on all the buses.

Taking a Taxi in Seoul
Taxis are easy to grab from any street in Seoul. There is no Uber in Seoul and you do need a local phone number to request one via an app, or phone. We did buy a SIM card because Joe worked, while we toured, so we had the local number, but we are not fans of taxis. Most taxis seat 5 people, and with 5 of us in the family, we need a minivan, which is usually a hassle to arrange.
Editors Note: We used the Kakao T app, (T stands for Taxi). You cannot register a credit card on the app without a Korean account, so you'll need to select "pay the driver" and pay in cash or ask to use a card for your ride. However, this app eliminates the need to communicate your destination or negotiate the price of the ride. The app gives you the estimated cost of the ride, but all trips are metered and this may be slightly more, or less than the app.

Walking Around Seoul
Our favorite way to tour and reach places is by simply walking. Ever since we sold our cars and moved to live on a sailboat (Can you Live on a Boat?) a four-mile walk to the grocery store is a no-brainer.
We spent hours walking around Seoul. It is a very busy city, but all the cool places to visit are actually not that far from each other. Some of the hikes might be a bit tricky because there are hills around town and quite steep ones too.
But, for the most part, walking is perfectly doable, crossing busy streets is easy (unlike in SE Asia) and there are plenty of places to stop and rest, eat, or use a bathroom – a major scoring point when traveling with younger kids.
I think Japan might be the only country to rival South Korea in terms of public bathrooms per capita – they are everywhere and are very clean.

How to Get to Seoul
You might be arriving in Seoul by plane, bus, or train, depending on where you are coming from. We arrived on an express bus, which I will rave about a bit below, but we left by plane.
There are two international airports in Seoul – Incheon Airport (ICN) and Gimpo Airport (GMP). From either, you have many options for reaching the busy tourist district as well as Seoul's main attractions.
Editors Note: Watch flight prices into Seoul, you can often find deals from within Asia. We flew to Korea after spending a month in Hanoi, Vietnam, and found it less expensive to fly from Hanoi, Vietnam to Seoul, Korea than to geographically closer places in SE Asia.

Airport to Seoul via Taxi
If you do not have much time, and it is going to be just a layover, you might want to get a taxi. They are fast and reliable. Well, as fast as traffic allows.
Taxis will take a T-money card, as well as cash, and you can purchase a T-money card at the convenience stores at the airports.
A taxi ride might be a better option from Gimpo Airport because Incheon is a bit far from Seoul and it will be more expensive.

Airport to Seoul by Train
If you land at Incheon Airport, taking the AREX train is the best option. You can also take it from Gimpo. In either case, you will begin exploring the city from Seoul Station.
From Incheon Airport, the AREX Express Train will take you there in around 40min, for KRW 9500 (one way). The slower, All Stop Train will take just about an hour but will cost about half the fare.
From Gimpo Airport, it is a lot closer, and the cost for the All Stop Train (there is no express train, because Gimpo is a lot closer) is around KRW 2000, depending on where you get off.

Airport to Seoul by Bus
From Gimpo Airport, the slowest way to reach downtown is by bus. Unless you need a particular bus stop to be close to, it is much faster to get the All Stop Train.
From Incheon International Airport, you can reach Seoul by a Deluxe or a standard bus.
We arrived in Seoul via one of their Express Deluxe Buses and the experience is absolutely worth it.
The time to reach the city center will be around an hour, but you will get a mini tour, while riding to the city, in a first-class leather seat, with all the legroom in the world.
We did not want to get off the bus when we arrived in Seoul.

FAQ: One Day in Seoul South Korea
How Many Days in Seoul is Enough?
If you have a week in Seoul, you should be able to visit all major attractions, but it will be a busy week. Every day, depending on the weather, you can tour a museum and do a busier activity, such as a hike, or a downtown area. 
Can you speak English in Seoul?
Many young people speak English in Seoul. However, most middle-aged people do not. Luckily, all signs at subway stations and main tourist attractions are in Korean, as well as in English. Google Translate can help you speak to anyone who does not speak English.
What is the coldest month in Seoul?
January is the coldest month in Seoul, with freezing temperatures and snow. The average lows in January are 16-18 F, (-8 to -13 C), and the average highs are in the mid 30's F (0-2 C).  Seoul is a city of four seasons. We visited in May and had amazing warm and sunny weather. 
What is the hottest month in Seoul?
July and August are the hottest months- they are also quite humid. July and August also see the largest amount of rainfall for the year. This can be quite an uncomfortable time to be in Seoul.
Is Seoul friendly to tourists?
We found Seoul to be a very friendly place for tourists and families to visit. It is a busy place, so there is a sense of rushing and some areas can be very crowded, but we never felt awkward, or unwelcome. You will often see people wearing red cowboy hats in tourist areas who have maps and are available to answer your questions.
What is the famous food district in Seoul?
The Myeongdong district is the most famous district for street food in Seoul. Visit here for a varied selection of street food, as well as restaurants. Traveling with kids, we found that was the best way to sample a larger variety of foods. One of our teens is not a fan of Asian food, yet he found plenty of options there. I do not like spicy food and love Japanese food, so I was happy too. 
Is it expensive to stay in Seoul?
The cost of accommodations in Seoul very much depends on where you are staying. It is an expensive city overall compared to SE Asia, though it is inexpensive compared to many European cities. Even some nicer hotels will offer relatively small rooms, compared to what American travelers might be used to at home.

There are hostels if you prefer. Hotels and apartments are cheaper away from the busy central districts. 
There You Have It: One Day in Seoul
One day in Seoul can truly offer a taste of it all – rich history, great food, and tons of fun. Nothing is average in Seoul – the spicy is very spicy, the steep hills are really steep, the busy streets are crowded, and the subway caution signs rival your favorite horror movie.
Whichever of these four itineraries you choose for your one day in Seoul, you will have a great day. Visiting Seoul is an intense adventure, with a lot of color and sparkle. My advice – take it all in – it is a one-of-a-kind place you will remember forever.