A Family Year Out: Packing for Long-Term Travel: Updated 2023
Packing for long term travel, whether a family year out (or a family gap year), a sabbatical, or full-time travel is a big enterprise. When packing for long-term travel, you want to pack light, so you won't be dragging unnecessary gear around the world, but you also want to have what you need in many different possible scenarios. If you need a gap year packing list, or long term travel packing list, this list is great place to start.
When we began planning our family year out, we anticipated having a set itinerary that moved geographically across the globe. As the year went on, and many borders closed, it became clear that we would have to be more flexible. We started planning 1-2 countries ahead, with a general idea of where we would head next. In the end, this travel gear has seen us through more than two years of full time travel, three seasons of climate, and many, many countries.
Like planning for a family year out, there is no one right way to pack for family long-term travel, but this is what has worked for our family. We are a family of four, our kids were 4, and 7 at the start of our journey. Not sure what we're talking about? Check out What is a Family Year Out?
We'll cover packing for long term travel, from technology to kitchen supplies, to packing cubes and what clothes we carry. We've also included a list of items we started carrying, and then left behind.
This article may contain affiliate links, which means we may earn a small commission if a reader clicks through and makes a purchase. As an Amazon Associate, we earn from qualifying purchases at no additional cost to you. All our recommendations are our own and are in no way influenced by any advertiser or commercial initiative.
At the bottom of this post, download free Mobile Wallpaper images to satisfy your wanderlust!
What is Long-Term Travel?
This packing list is intended for families planning long-term travel. Long-term travel is a general term, that can mean full-time travel, a family gap year, or even a month or two of travel.
If you plan to do laundry on the road and need to be self-sufficient while traveling, rather than planning to do laundry or other chores when you get back home, we consider that to be long-term travel.
We started our Family Year Out with six months of road-tripping around the United States, then six weeks in Mexico. We were hoping to travel for at least a year, but did not have a set return date. After one year, we had visited 20 countries, including Peru, Colombia, Brazil, Italy, Croatia, Sri Lanka, and more. We're still going!
Ready to Book Your Trip? Use our Favorite Travel Resources!
Our Packing Journey
When we started our family year out with an epic cross-country road trip, Cynthia and I were packing our stuff in our backpacking packs. We knew that there would be many places on our trip where we would need our hands free, and many of the places we hoped to see would not have nice paved sidewalks to wheel traditional luggage around.
The original idea packing concept was we would each carry a large backpack with our things and some of the kid's stuff. Waker would carry a second pack with the rest of the kid's stuff, Cynthia would carry a day pack, and that would leave us each a hand free for a kid.
Turns out, we needed a lot more space than that!
After three months on the road, we knew we needed to make a few changes. In addition to the packs we were hauling, we had a 40-liter duffel for all the overflow clothing, a laundry bag for dirty clothes, several reusable grocery bags carrying all our food supplies, and a cooler.
We would check into a hotel in the evening and it would take us at least three trips to get all our stuff in the room.
We knew we had to pack lighter, and we needed a better system.

Luggage for Long-Term Travel
We did a lot of research and decided on larger wheeled backpacks for each adult, plus a larger backpack for the girls' clothes.
Here's how we made it all work, so we can carry everything in one trip, with our girls each carrying a small backpack, weighing around 10% of their body weight.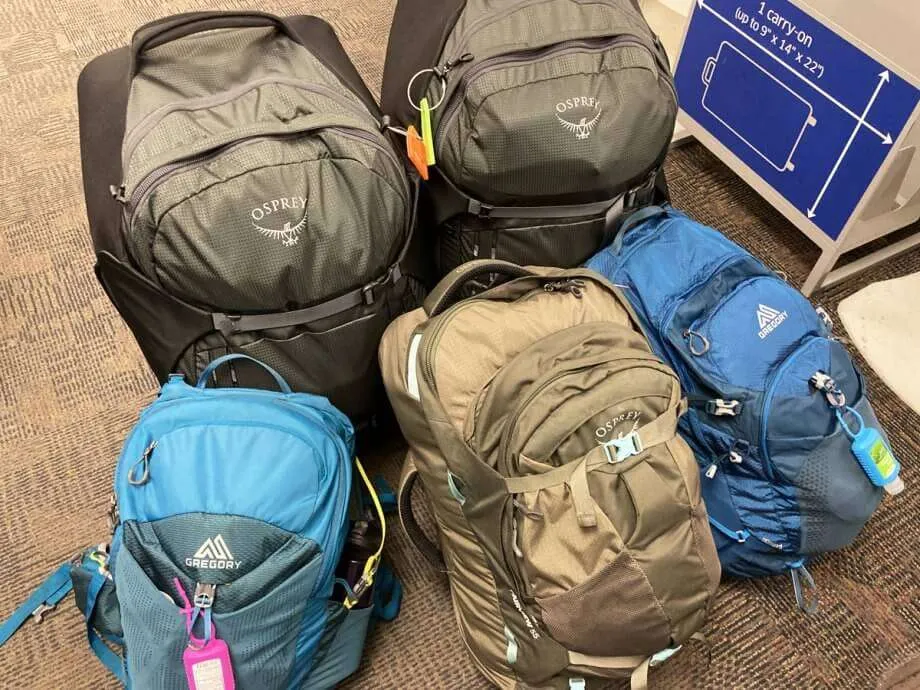 We found we were often lugging our bags for short distances, and putting them on our backs did not always make sense. These Osprey wheeled backpacks mean we can pull our packs on wheels when on smooth surfaces (airports, hotel hallways), but still have the option of carrying them backpack style when needed (stairs, cobblestone streets).
The Osprey Sojourn 80L packs are big: 28 inches long, and roughly 16 inches wide, with a minimum height of around 10 inches if not packed full. There is one large zippered opening and a second small zippered pocket at the top to hold things for easy access. The bag opens horizontally, like most suitcases, rather than top-loading like a traditional backpack. it also has two external compression straps that protect the outer zippers.
The large wheels and collapsible handles make the pack easy to maneuver, I was able to handle two, pulling one and pushing the second with no issues.
Inside the main compartment, there are two side zippered pockets as well as two mesh pockets on the top flap. For a large bag like this, I find all the pockets really helpful for organizing, while still having plenty of room for packing cubes.
Check Prices: Osprey Sojourn 80L
We can hold all our stuff in these packs, as well as some of the kids' extra gear, and have a little room left over for things we might pick up along the way.
Packed as they are, they currently weigh between 39-44lbs (18-20kg). We are starting out a little heavier than we would like, but we are also carrying extra snacks and lots of liquids (bug spray, sunscreen, lotions) that we will use up as we go.
**Update: We have had two of the Sojourn 28″/80L Wheeled Travel Packs for two years and have really put them to the test. The bottom of one of them now has two large cracks in the plastic molding just above the wheels and will no longer stand up when fully packed.
Osprey has a lifetime warranty and will repair or replace the bag, but as we are still traveling, this is not possible and their current turnaround for repairs is 6-10 weeks. We still are happy with these bags and would likely get them again if we were starting out now.
In 2023 Osprey re-released the Sojourn Wheeled Travel Series with some new updated features and while I still like the 28″/80L, Cynthia is looking at the 25″/60L as it is a little smaller in all directions and has a more adjustable backpack harness that would likely fit her 5′ 2″ frame better.
We initially bought the Osprey Fairview 55L for Cynthia but found it still too small for long-term travel. However, all the kids' packing cubes fit into it nicely. The front zip-off pocket of this bag holds all their other accessories including their hairbrush, pouch of hair ties and accessories, bruise lotion, and nightlight.
This backpack zips fully open like a suitcase, allowing full access to the interior, rather than being top-loading like a traditional backpack. The front section can be zipped off and used as a small daypack, which has come in handy.
The inside front flap contains a large mesh zip pocket that can be used to separate things. We keep our pouch of medicine in this pocket. We rarely need to access it, but always know where it is.
This backpack has two handles, so it can be carried in either orientation if you're not wearing it on your back. We've also found it can be balanced on top of one of the Osprey Sojourn bags and wheeled along with it.
Check Prices: Osprey Fairview 55L
Luggage Security
We carry several things to secure our luggage when necessary. This may be in a luggage locker in a bus station or secured to a pole in a train compartment so we can visit the dining car without worrying about our things going missing.
All of these items are kept together in a small zip pouch.

Luggage Locks
We carry a standard TSA-approved luggage lock for each of our large bags. These don't weigh much and provide peace of mind. We don't use these often, but when leaving our larger bags in storage for a few days while we jaunt off to the jungle with just backpacks, it's nice to know the bags are locked.

Luggage Cables
We have two lightweight cables that can be looped through bags and used with the luggage locks to secure our bag to a pole, or another secure part of a bus, train, or boat so someone can't walk off with our bags when we aren't paying attention.

Combination Pad Lock
We also carry one combination lock. This comes in handy for bear lockers in national parks or luggage lockers in bus or train stations. Update: This wasn't worth the weight! We never used it.
AirTags
Each of our bags has an AirTag GPS tile so we can track the bag if needed. These devices have a battery that lasts about a year.
Check Prices: AirTags
Don't miss our safety tips for traveling with kids- from AirTags to family code words!

AirTag Silicone Covers
We initially had AirTags loose in each of our bags but found it easy to lose track of them. We also saw that they were starting to get scratched up bouncing around our bags.
We bought these silicone AirTag covers which color code each tag, protect them, and allow us to easily clip them into place so we always know where they are.
Check Prices: AirTag Covers

Extra Batteries for Airtags
We carry one set of extra batteries with us so we can swap these out in our AirTags after being on the road for a year. AirTags take a flat watch-style battery that may be hard to find on the road and weighs very little to carry with us.

Carry-On Backpacks
It is important to use that our backpacks function as both carry-ons on long travel days, and day packs when we are on hikes, day trips, and other adventures.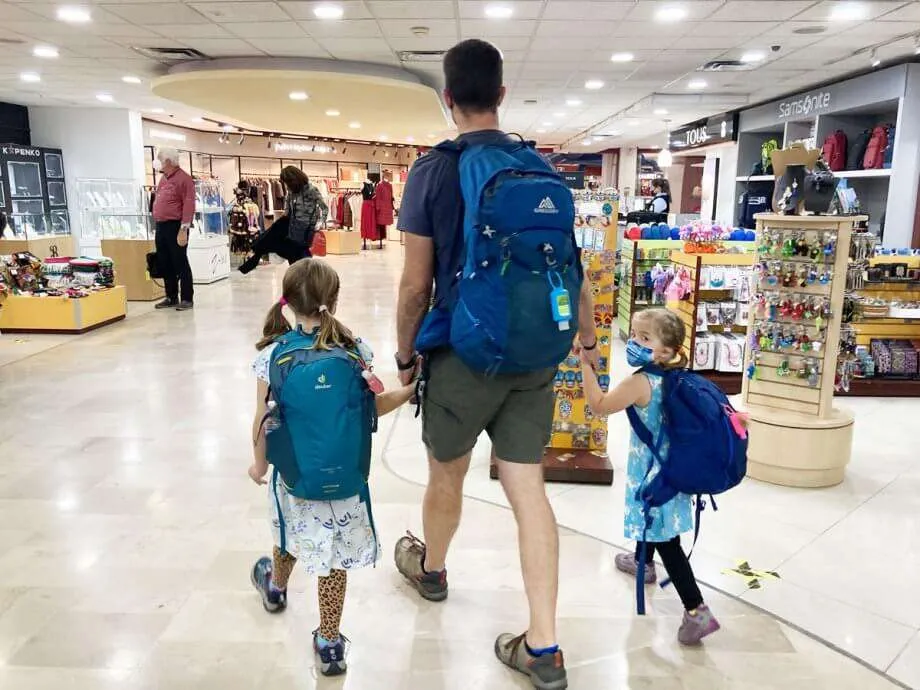 Cynthia carries the Gregory Maya 30L. This light and easy-to-adjust pack fits her well and has a nice 3D foam back panel to keep her back cooler on longer hikes. With both an interior and 3 exterior zippered pockets for small personal items, the pack is easy to organize and keeps what you want within reach.
She uses the separate zippered compartment designed for a water reservoir for her laptop and headphones, as well as larger travel documents. The outer mesh stuff sack has come in handy countless times for jackets, snacks, maps, and information packets. The two mesh water bottle pockets are accessible while wearing the pack and can handle even our large 40oz insulated water bottle.
Check Prices: Gregory Women's Maya 30L Pack
After spending the summer trading off with Cynthia's pack, I decided to get my own, so I now carry the Gregory Citro 36L H2O. This pack is bigger than the Maya, has a rigid frame, and comes with a 3-liter water reservoir. You can get the Citro 36 without the reservoir, but it also does not have the separate zippered pocket that it fits in.
We mostly use water bottles on our hikes, as they are easier to refill and easier to share, so I left the reservoir at home for now and use the pocket for my laptop and headphones instead.
Perhaps the biggest difference in the Citro pack is the VaporSpan ventilated suspension that keeps the pack away from your back and allows for lots of airflow. This and the larger size make it a great day pack that is comfortable for all-day adventures.
**Update: The suspension frame that keeps you cool also means it doesn't fit under the seat on an airplane, or up top on a long bus ride. Which is annoying. In hindsight, we'd trade a slightly hotter pack for the flexibility of being able to stuff it into a smaller space when needed.
Check Prices: Gregory Men's Citro 36L Pack
Kids Backpacks
Our 4 1/2-year-old has the REI Co-op Tarn 18 Kids Backpack. While REI says it is sized for 8 to 12-year-olds, we found that it fits her with room to grow, while being large enough to hold what she needs to carry.
We cannot say enough good things about this pack. It is well made with easy-to-use zippers, interior, and exterior zippered pockets, two mesh water bottle holders, and an exterior stuff pocket for a hat or jacket. It has a padded waist belt with a small zip pocket on each side.
**Update: After two years we still love this bag. It's still going strong, and still fits our 6-years old well.
Check Prices: REI Tarn 18 Kids Backpack
Our 7-year-old has a Deuter Speed-Lite 20L backpack. After carrying around a much larger backpack for school, she did not want a smaller volume size pack and this was the smallest and shortest 20L we could find.
It is a minimalist pack with an interior divider where she keeps her iPad, headphones, and a notebook. There is an external zippered pocket for small personals and a stuff pocket that can be reached from either side, although we wish it could be unclipped at the center. There are two mesh water bottle pockets and a minimal waist belt.
Check Prices: Deuter Speed-Lite 20L Backpack

Packing for 3 Seasons
We realized early on, as we were struggling to figure out how to easily carry all of our clothes and gear, we needed to limit our travels to three seasons.
We plan to "follow the sun" as best we can. This means we will spend most of our time in warm locations where we can spend time outdoors, and mostly eat outdoors as well.
However, even generally warm locations include cool mornings and evenings, so we are still carrying middle-weight items such as warm fleece pants, hats, and knit gloves so we are prepared for cool weather.
Not sure which seasons you should prepare for? Check out our bucket list of family adventures to think through your plans.

Packing Light for Long-Term Travel
When we were figuring out our packing system we read many posts of people who packed "carry-on only" and managed to pack very light.
While one of our top family travel tips is "Don't Overpack" we find that this means something different to everyone. Ultimately, we prefer to carry more clothes and do laundry less frequently.
Our kids are at an age (4 and 7) where they frequently get dirty and trying to keep them in just a few items of clothing would be stressful and difficult. When E(4) slipped in the mud and was covered in thick mud from her sweater down to her sneakers, we were really glad we had brought a second sweater as a backup.
We've detailed below approximately what works for us, but you'll figure out for yourself what exactly "comfortable" means to you.
I can't live for a year with only one pair of socks or one pair of shoes, so I won't ask my kids to do that either.
**Update: We are still working on reducing what we carry. It is an endless battle.

Clothes and Shoes
All of our clothes and shoes fit into packing cubes in our main bags. We find that what one needs to travel comfortably for long-term travel- whether that's three months or a year or longer, varies dramatically from person to person.

Packing Cubes
Packing cubes tend to come in standard sizes regardless of the manufacturer. We have a variety of cubes from several different manufacturers.
While there are small differences between the types of packing cubes, overall we love how they keep us organized. We can easily move our cubes into a dresser if we'll be in one place for a while. Even when we're moving quickly, they keep our things organized, even when spread out over the floor.
Here are the different types of cubes we are currently using:
Amazon Basics: We mainly use these packing cubes. Amazon Basics sets contain either four of the same size or one of each size; large, medium, small, and slim. We have one of the different sizes when we were first trying to figure out what sizes would work for us.
Being able to color-code our cubes so each member of the family has a different color is really helpful. This especially helps keep each kid's clothes sorted and organized.
Check Prices: Amazon Basics Packing Cubes
Gonex: 4 medium-sized packing cubes. I like this brand. They have smaller mesh openings than Amazon Basics, but I find this makes them easier to open and close. I am 6ft 2in and I find the medium size works well for most of my clothes (I have changed the way I fold some of my clothes so they pack better).
Eagle Creek: These packing cubes come in sets of three with three different sizes. They are a solid color and are made of a much lighter-weight material than the other brands.
We use these for organizing items other than clothing, such as hair accessories, kitchen tools, and toiletries. We have two sets, one is blue and top-loading, the other is green and side-loading.
Shoes
We have also noticed that what shoes families carry varies widely. We started out carrying Crocs for our kids as well as their sneakers and flip-flops and decided they weren't necessary for us.
All of us are carrying water shoes that are useful for kayaking, boating, and exploring rocky beaches. We've listed the specific shoes for each person in the details below.
Update: Don't skip these! Especially on rocky beaches, these have been essential.

How We Use Our Packing Cubes
Here's how these packing cubes worked best for each of us. Everyone organizes differently, this should be a guideline for how your clothes may fit best into packing cubes.

Men's Clothes
Based on Waker, 6'2″ adult. 4 medium cubes, 1 small cube, and 1 slim cube.
Medium Cube: Underwear and one pair of long underwear
Medium Cube: T-shirts and one long sleeve t-shirt
Medium Cube: Pants and Shorts
Medium Cube: Two fleece sweaters and two long sleeve sun shirts
Slim Cube: Socks
Small Cube: Swim Trunks, Rashguard, Travel Towel

Shoes: Waterproof Hiking Shoes, Flip Flops, Water Shoes

Women's Clothes
Based on Cynthia, 5'3″ adult. 3 medium cubes, and 4 small cubes.
Medium Cube: T-shirts and Tanktops
Medium Cube: Pants and Dresses
Medium Cube: Sweaters and Fleece
Small Cube: Shorts
Small Cube: Socks and Underwear
Small Cube: Pajamas and Bras
Small Cube: Swimsuits, Rashguard, Travel Towel

Shoes: Waterproof Hiking Shoes, Slip-on City Shoes (Sketchers), Water Shoes, Flip Flops

Kids Clothes
Based on a 4 and 7-year-old, both wearing approx. size 6-7. Each child has cubes in one specific color. We use masking tape and a Sharpie to label each cube so we can all keep track of what belongs where.
Each child has 1 medium cube and 4 small cubes, as well as 1 shared medium cube.
Small Cube: Socks, Underwear, Pajamas
Small Cube: T-shirts and Tank Tops
Small Cube: Shorts
Small Cube: Pants
Medium Cube: Warm Pants, Sweaters, Dresses
Medium Cube: Shared cube with both girls' swimwear, goggles, water shoes, and wet bag.

Shoes: Sneakers, Flip Flops, Water Shoes

Jackets and Outerwear
Jackets and Outerwear can be tough to pack. We have struggled at times with the best way to pack these, and how much to invest in new pieces that pack down a little smaller and a little lighter.
Each of us also currently carries the following outerwear gear:
Waterproof Rain Shell
Cynthia has a Patagonia Torrent Shell 3Layer Jacket, which fits over her warmer jacket when needed.
Waker has a Mammut Masao HS Jacket. This is his second Mammut hard shell, the previous one lasted almost fifteen years. Mammut makes great technical gear that won't break the bank.
Both girls have waterproof Columbia Arcadia Rain Jackets. While they roll up nicely, they do not fit into their packing cubes so we carry them in our bags instead.

Warm Jacket
Cynthia has an REI Co-op 850 Magma Down Jacket. This folds into its own pocket to zip up into a nice, compact pouch.
Waker currently has a Barbour Flyweight Chelsea Quilted Jacket that has worked well in New York City, and Iceland, but is not all that packable. We ended up ditching this and replacing it with a jacket from Decathalon along the way.
Waker has the Patagonia Men's Down Sweater Jacket on his wishlist. At only 13oz or 371g, it is packed with 800-fill-power responsibly sourced down and packs into the interior zipper pocket for easy travel.

Gloves
We all keep a pair of middle-weight knit gloves in the pocket of our warm jacket. That way, we always know where they are, and if it's cool enough to need a jacket, our gloves are easily available.

Warm Hat
We all carry warm knit hats. These come in handy in light rain, and generally cool or chilly weather.

Baseball Hat
We all carry a baseball hat to keep the sun off our faces in hot weather. We all have fair complexions, and sometimes just sunscreen is not enough.

Personal Care Items
Of course, we carry standard toiletry items including shampoo and condition in travel sizes. Many of our items fit in our family toiletry kit. All of the liquid items are held in a packing cube to keep them all together.
Here are a few items worth pointing out:

Family Toiletry Kit
We use a family toiletry kit that hangs in the bathroom and holds all of our toothbrushes, toothpaste, and basic toiletries. It's not huge for four people, so we also keep additional personal items in other pouches.
There are a couple of small mesh zip pockets to hold smaller items and a small mirror. We like that it makes all the shared items easily accessible to everyone and easy to pack and unpack.
Check Prices: Family Toiletry Kit

Scissors and Comb
Waker cuts his own hair, and we cut the girls' hair as well. We carry a small pair of sharp hair-cutting scissors, and a small tooth comb for haircuts.
Beard & Hair Trimmer
Waker has used a lot of different trimmers over the years and knows it is not easy to find one device that does everything really well.
He is really happy with the Braun MGK5280 All-In-One Trimmer for face, hair & body. Its lithium-ion battery lasts 100 minutes and a full recharge takes only one hour. You can wash the blades off in water for easy cleaning and it comes with a bag for easy transporting.

Kids Hair Accessory Pouch
We have a small Eagle Creek Top Zip Packing Cube that holds the girls' hair accessories. This includes three sizes of hair ties, a small bottle to spray water, hair clips, and soft headbands.


Laundry Supplies
Laundry is a constant companion on the road with us. Our kids create laundry very quickly, often getting food or mud on their clothes. We choose to carry more clothes so we can do laundry every week or two, rather than packing lighter and washing clothes every day or two.

Laundry Bag
We carry a white cotton laundry bag that all of our dirty clothes go into. If needed, this bag can be tossed into one of our large packs for a travel day.
For some families, it makes sense for each person to carry their own laundry until it's time to wash, but our kids are too little for that system at this point.

Small Laundry Bag for Masks
We carry a small drawstring delicates laundry bag to hold our dirty cloth masks. This keeps them separate in the laundry, so they don't get twisted, torn, or generally lost among the larger clothes.
Update: Nope, we don't use this, and cloth masks have now been replaced with the surgical disposable kind.

Laundry Sheets
Looking much like a dryer sheet, a laundry sheet is made of dehydrated detergent. We love our Earth Breeze laundry sheets– they make carrying laundry detergent simple and easy.
You tear one sheet into pieces and place it in the bottom of a traditional top-loading washer or place the pieces in the drawer for dry detergent in a front loader. You pay a little more per load, but these are incredibly lightweight and easy to carry.
They are also environmentally friendly as you have no plastic jug to recycle. We take them out of the paper packaging and store them in a ziplock so we don't have to worry about moisture getting to them.
Check Prices: Earth Breeze Laundry Sheets
Update: LOVE THESE! I'm actually having a new pack sent over from the US. These are so much easier than shopping for liquid detergent, and so easy to carry.
Dryer Sheets
We carry a second ziplock of dryer sheets. Be sure to mark the outside, so you can easily tell which is which!

OxiClean Stain Stick
Some kind of stain remover is a necessity for us. This Oxyclean Stain Stick is a gel, so we don't have to worry about liquids spilling. Pretreat stains, then throw them in the laundry bag until you're ready to wash.


Snacks and Food Supplies
Of course, we always carry snacks! For hikes, for long days waiting for buses, and everything in between. We also carry a packing cube with a few kitchen essentials so we're always prepared.

Water Bottles
We carry a Camelbak Eddy + Renew 25oz water bottle. We find that with all the wear and tear, they are easy to clean and the bite valves last a long time and do not leak.
We also have a Simple Modern 40oz insulated water bottle with three different lids. This is a large water bottle great for longer hikes and or as a refill for our smaller one. It also gives us the option to keep things warm or cold.
Update: Waker really wanted this insulated option, but after a few months decided it just wasn't worth its heavy weight. Great for at home, but didn't make the cut for long-term travel.

Snack Pouch
Originally we carried various snacks- granola bars, almonds, etc in a zip-lock bag. However, this bag was opened and closed multiple times a day, so we knew we needed to find something sturdier.
This pouch from REI was designed to be a toiletry bag, but it is perfect for holding snacks in my carry-on. It has a top zipper and a wide bottom so it holds a variety of snack sizes easily. It has a side loop if you want to attach it to the inside of a larger bag, and a small inside zip to hold small things separately. This bag is sturdy, easy to clean, and easy to open and close.
Update: We Love this Bag. We would get a second one if they were easily available outside the US.

SteriPEN
We carry the SteriPEN Ultra which uses UV light to purify our drinking water. We did not need it in the US as all the places we visited had clean drinking water. Now that we are traveling outside the US, we use it daily.
The Ultra has a rechargeable battery that works up to 50 times on a single charge. It cleanses a liter of water in 90 seconds- the UV light kills over 99.9% of bacteria, viruses, and other things you don't want to drink.
Check Prices: SteriPen Ultra
Pocket Knife
A knife is really handy for cutting up snacks or treats to share. Waker loves this simple Gerber Zilch folding knife. It was under $20 and if we lose it or it gets confiscated at an airport or train station, it is not the end of the world.
**Update: Yup, it got left behind on our trip to Lokrum Island in Croatia. We ended up getting a replacement for Christmas.
Check Prices: Gerber Folding Knife
Packing Cube: Kitchen Essentials
We have a large eagle creek top-close packing cube that holds our cutting board (8 1/2 x 11″), and all of our kitchen items from travel cups to bottle brushes. In this packing cube we carry all of the below items:

Paring Knife with Sheath
Having a good safe knife for cutting up fruit or dividing up meals is really important. We carry this 4-inch paring knife with a sheath from Kuhn Rikon in red, but they have lots of colors to choose from. (Make sure this stays in the checked luggage when you are flying.)

Cutting Board
This little cutting board is great for cutting up apples, making meals, serving food, or even doubling as a plate. We carry this 8.5 x 11-inch rigid poly cutting board. We found ours at Walmart for just a few dollars.

Travel Knife Sharpener
A good sharp knife is one of the most important tools for cooking. If you have stayed in a place that has a kitchen and provides utensils, you already know finding a good knife is hard.
This little travel knife sharpener is easy to carry and really comes in handy. It's lightweight and easy to use, and you will leave the knife better than you found it. Bring on those tomatoes!
Update: Essential! This has saved us at so many apartments!
Check Prices: Travel Knife Sharpener

Tea Bags
Hotel coffee is generally awful, and we don't want to buy coffee every day. When we are home, we start each morning with a cup of coffee, when we are traveling, we find we prefer to make ourselves a good cup of tea in the morning. There is often a way to easily heat water in the hotel room. We carry tea bags in several varieties so we have some of everyone's favorites.

Collapsable Travel Cups
This is a set of 4 silicone travel cups that collapse flat. Each one comes with a lid that helps them to stay fully collapsed. These are great for holding snacks or drinks on the road and also double as a rinse cup for brushing teeth when needed. These are a bit heavy, so consider how many of the 4 you really need to carry.
Don't tell the kids, but these are also great for holding a bit of whiskey when the hotel only provides paper cups.

Travel Bowls
We carry a set of four rigid plastic bowls that we picked up inexpensively at Walmart. They are perfect for yogurt, cereal, rice and beans, and just about anything else you can think of. They nest together and clean up easily. We contemplated replacing these with collapsable bowls with lids but found that the collapsable bowls were too heavy to carry around.

Travel Cutlery Sets
We love these stainless steel cutlery sets– they feel like you are eating with real cutlery. However, they can get heavy, so we have taken out the pieces that we don't use often (like the metal straw), and combined two sets into one case. The knives are problematic for metal detectors, so we also removed those. This way, we don't have to worry about removing the set from our carry-on for plane rides.
Update: We actually had the forks taken from us at airport security in South America (why? I'm not sure). So we only have the spoons now which makes this much less handy.

Dish Soap
We carry a small bottle of dishwashing soap (3 oz) with us so we can always put our travel dishes and cutting board away clean.
Bottle Brush
I originally bought this CamelBak water bottle cleaning kit to keep the girls' water bottles clean for school. But now that we are traveling we use it for all our water bottles. The main brush is too big to carry with us, but the small one for the straws and mouthpieces has been essential in keeping things clean.

Mini Travel Towel
We keep a small quick-dry travel towel in with our kitchen supplies. This is a 15 1/2 inch square towel that comes in handy to dry dishes and clean up spills as needed. It packs up small and weighs about half an ounce.
Check Prices: Mini Travel Towel

Technology for a Family Year Out: Computers, Cords, and More
Part of our time spent traveling includes blogging for the adults, and schoolwork for the kids via an online program. As such, we have a lot of technology to carry around!

Laptops
We both carry a MacBook Air with the Mi chip. These are not cheap laptops, but collaborating and moving from our phones to our computers is a breeze. And the new M1s run so efficiently, we can use them for multiple evenings without charging.
Check Prices: MacBook Air

External Hard Drives
We have two portable external hard drives for backing up our laptops. These Element Drives by Western Digital hold 2 TB of storage and come with a USB 2.0/3.0 connection. We opted for the cheaper HDD over the SSD which was over three times as expensive.
We also bought this short USB 3.1 cord with Micro B to USB C to connect to our M1 laptops without needing an adapter.
Travel Tip: Make sure to store your external hard drive with back ups separately from your laptop.
iPads
We choose iPads for our kids based on the tech requirements for their online homeschooling program. Many families prefer Kindles to limit game time. We find our kids spend most of their "free screen time" watching PBS Kids shows.
We also use these iPads for video calls with family while we are away.

Adult Headphones
We both carry two pairs of wired EarPods. Why? One for our phones with lighting connections and one for our laptops with 3.5mm headphone jacks. These work just fine most of the time, and have great sound and mics for video chats, but we find over-ear headphones are more comfortable for long use or flights.
While I have not yet tried them, I am interested in the new Flagship ANC Over-Ear Headphones from Status. I have seen some very promising reviews and while most agree they are not as great as the Sony WH1000XM4s, they a pretty close and currently less than half the price.

Kid Headphones
The kids each have a pair of JBuddies Pro Wireless Headphones from JLabs. We are really happy with how these are working out. We are still only using them as wired headphones, but being able to unplug them to untangle them has been key.
Update: After two years of steady use, these headphones are just starting to show wear and tear. Considering how many times these have been stuffed in and out of backpacks when going through security at airports etc., we are quite impressed.
Check Prices: JBuddies Kids Headphones
See our full review of the best headphones for kids.
Travel Power Strip with International Adapters
We carry the GR-8 USB Travel Power Strip with 8 International Adapters. This has four three-prong outlets, four smart USB outlets, and surge protection. The whole kit weighs only a pound and is relatively compact.
Update: This is one of our essential items. It's the first thing we unpack in a new place, as our devices are always on low! Charges everything, everywhere.

Check Prices: Power Strip and Adapters

Portable USB Charger
This portable charger works via USB. It can recharge a cell phone or an iPad on the go. I keep this in my carry-on, so I don't have to worry about running out of cell phone battery when I carry our boarding passes, maps, and navigation apps on my phone.
We have used this charger during a power outage that lasted several days and found that it can fully recharge our phones multiple times on one charge.
Medicine
We carry two different pouches to handle minor injuries and minor sicknesses.
Our first aid kit holds a variety of items including band-aids, antiseptic cream, tweezers, a tick remover, after-bite lotion, and cortisone cream.
Our second pouch contains items for if one of us is feeling poorly: cough drops, fever reducers, Immodium tablets, Pepto Bismol nausea tablets for adults, and similar tablets designed for kids. We are not carrying any liquids, but have found that most basic medications can be found in tablet or powder form.
Here are a few items that we carry that we think are worth mentioning specifically:
Electrolyte Powder
These pouches of flavored electrolyte powders are easy to carry and easy to use- simply add them to a bottle of water. These are a great way to address dangerous dehydration quickly, whether that's from throwing up or sunstroke.
**These have definitely come in handy. We used them all (thanks Mexico and India!) and then got replacements.

Fever and Pain Tablets
Until we started packing for long-term travel, I had no idea that chewable fever tablets for kids existed! I wish I knew about these long ago.
Advil Junior chewable tablets are so easy to carry- I keep a bottle in my purse for any unexpected illness or injury. These are NSAIDs, so they reduce inflammation. They are helpful for minor pain relief (earache, toothache) or fever reduction. These are approved for use with kids ages 2 and up.
Check Prices: Chewable Fever Tablets

COVID Tests
Hopefully, we won't have to use these, but we have several at-home COVID tests that we can use quickly if either we have symptoms, or are notified of possible exposure. These have a tight expiration date, so we won't carry them indefinitely, but give us some peace of mind as we will likely be traveling places where rapid tests are hard to find.
Update: Expired and left behind before we needed them. Finger's crossed this isn't something we'll need to carry going forward.

Melatonin
This supplement mimics your body's natural response to the end of the day. Taken a few hours before you want to go to bed, these tablets help your body adjust to jet lag.
Some people find that their kids have reactions to these, so discuss them with your pediatrician before using them. However, we find our kids fall asleep within 15 minutes of taking a half a pill, which really helps us get on top of jetlag.


Mosquitos and Sunburn
We carry a series of lotions, sprays, and other gels to deal with the effects of bug bites and too much sun. We stock up on these ahead of time because some of these items can be hard to find on the road.
Bug Spray (non DEET)
We use this Off Botanicals natural, non-DEET bug spray for every day, "there are a few bugs bothering us" use. We don't have to worry about the effects of this on the kids' skin.

Bug Spray (Picaridin)
This bug spray is for use in malaria zones, where bugs are not just a nuisance, but an actual health danger. Picaridin is a recent alternative to DEET in the United States but has been approved in Europe for decades. Unlike DEET, Picardin will not damage any clothes or plastics it comes into contact with (like your sunglasses).
Mosquito Spray for Clothes
Also for malaria zones, this mosquito spray is for use on clothes, rather than on skin. You spray your clothes before you wear them. This spray stays on your clothes through six washes, so you don't have to constantly reapply.
Check Prices: Mosquito Spray for Clothes

After Bite Itch Eraser
This small roll-on "pen" is part of our first-aid kit. After Bite applies a liquid to itchy bug bites that helps take the sting out of bug bites. This works for mosquitos and other biting bugs that sometimes leave itchy bumps or welts.
Sunscreen
We all have fair skin and have found that sunscreen is hard to find in certain parts of the world, so we always carry a good supply with us.

Aloe Gel
When we got a bit too much sun in Thailand we were shocked at how much a small bottle of gel with soothing aloe cost there. We now carry a family-size bottle with us for anytime one of us gets too much sun.

Money & Documents
Keeping your important documents and money clearly organized is important. Here's how we have it all sorted out for our Family Year Out.

Passport Pouch
We depend on our Family Passport Holder. It holds a pen, our passports, our WHO yellow fever vaccination cards, our Global Entry Cards, our PADI cards, and extra passport photos.
We also keep in here copies of the kids' birth certificates, our international driver's permit, and some extra cash in USD.
This study zip pouch keeps everything contained, with a slot to hold printed boarding passes on the front cover.
It's worth noting we also keep digital scans of all of these important documents should something happen to the originals.
Check Prices: Family Passport Holder

Coin and Currency Pouches
We carry several small pouches for holding different currencies. One holds back up USD cash and credit cards we don't use often. A second pouch holds extra cash in the currency we are currently using, and a third is an everyday pouch we carry with us daily holding a small amount of the currency of the country where we are traveling.
However you arrange your cash, the key is to never put too much cash in one place, and always have some USD cash as a backup in case your credit cards or debit cards don't work as you expect them to.

Plastic Document Folder
We have a slim plastic document folder with a pocket on each side that we can slide printed documents into. These vary from bus tickets that need to be printed to immigration forms that we will need to present on paper.
We also carry a small square calendar in here that we find useful for planning out our next stops.

Travel Insurance
Don't forget your travel insurance! We use SafetyWing– we love that it renews automatically every month until we request for it to stop. We don't need to list where we are going ahead of time, so we can keep our plans flexible without worrying about updating our travel insurance.
Get a Quote: SafetyWing Travel Insurance
Carry-On Items
There are several items that come in handy that stay in our carry-on for long travel days. We use our packs slightly differently when they are day packs.
You can see a full list of how we pack for days out and in our carry-ons. First aid kits are key!
Travel Booster Seats
We use our Mifold Travel Booster Car Seats in every taxi and Uber that we take, however, these are no longer available.

Alternative travel-friendly car seats are the SafeRiderVest for kids 3+, who are between 30 and 60 pounds.
For older kids, check out the Bubblebum Booster or the Hiccapop Booster, both of which are inflatable, and so easy to carry when not in use. These both work for kids who are between 40-100 pounds.

Travel Watch
Waker has a Timex Command Urban 47mm Silicone Strap Watch. He loves the time zones by city, two saved time zones besides your current, vibrating alerts and alarms, Indiglo, an easy-to-read display, and water resistance to 10 ATM.
Check Prices: Timex Command Urban Men's Travel Watch
Cynthia has a Timex Ironman Transit 33mm Mid-Size Resin Strap Watch. She likes the two time zones and easy-to-read display with the day of the week and date and Indiglo. This is her third watch in this series. It just works for her, it's colorful, and it's not expensive.
Check Prices: Timex Ironman Travel Watch

Ear Plugs
We love these earplugs! These colorful earplugs come in a box with two sizes, Cynthia found the smaller size more comfortable for her. They don't block out all sound (we can still hear the kids calling) but they dull the sounds so you can sleep when in a noisy place, or when someone around you is snoring.
These sit inside your ear, so you don't press against them when you put your head against a pillow. They have a long tail that sits in your upper ear that you use to pull them out. We keep this in a small pop-top travel container. Highly Recommend.
Check Prices: Reusable Ear Plugs

Travel Pillow & Sleep Mask
We debated over whether to bring our inflatable travel pillow, so we'll have one travel pillow between the four of us for whoever needs it most. Each of us has a sleep mask to block out light.
Light Scarf
Cynthia carries a light cotton scarf in her carry-on that can be used for extra warmth or to cover her shoulders in a church or other religious setting. It can also be used as a head covering if needed.
Turkish Travel Towel
These Turkish beach towels are great. We use these as travel blankets on planes and trains. We use them as beach towels to sit on and to dry off with. These are fairly light, soft, hold up well, and are helpful in many situations. We carry two of these, so each kid can curl up with one if needed.
*Update: After 2 years, both of our Turkish towels are still going strong. We wrap the kids with these on long bus rides, and use them at the beach to lay out. These have so many uses.
Buy Now: All Purpose Beach and Travel Towel
Playing Cards
We carry a standard deck of cards and a small notebook for keeping score. There are endless games you can play with a regular deck of cards.
We also carry SushiGo, which we love to play as a family.

Small Pack of Crayons
Cynthia carries a small bag of crayons in her purse that we can use in a pinch- sometimes we find that restaurants have run out of crayons. S(7) loves to play tic-tac-toe while waiting for our food.
*Update: ditched these after they became too heavy and the girls started carrying their own soft purses they bought in Peru. Now they each carry a small set of markers and a notebook to draw in.

Sharpie
We use a Sharpie for so many things! Putting the girls' initials on things, marking papers or cups. This simple, small, item comes in handy a lot.

KN95 Masks
We have switched the whole family to KN95 masks for long travel days and public transportation.
These kids' KN95 masks fit our kids (4 and 7) well. We scrambled at the last minute after we bought another brand marked as "kids" and found that they were too big to comfortably fit our kids.

Pouch for Cloth Masks
We have a zip pouch that holds all of our reusable, washable cloth masks that we don't use in everyday situations where we aren't around a lot of other people.
Update: No longer necessary, we use disposables for long travel days.
Small Packs Facial Tissues
These small packs of tissue generally come in sets of eight. We find that we don't need them for a while, then one of the girls will get a runny nose and need three or four packs in quick succession. These little packs also make a great substitute for toilet paper in a pinch.
Wet Wipes
Antiseptic wet wipes are great for cleaning up sticky fingers and faces, and also for wiping down tray tables and other public surfaces we may be touching in our travels.

Wet Bag
We carry a thin wet bag in a carry-on. Should one of the girls spill something and need to change clothes, we have a place to easily store the wet/dirty item.

What the Kids Carry
It is recommended that kids carry no more than 10% -15% of their own body weight in a backpack. With both of our kids hovering around 50 pounds, that means we need to limit what they carry in their backpacks to around five pounds or so. Here is what each of our girls currently carries:

iPad & Headphones
Each girl carries her iPad, her headphones, and all the associated cords. This means their iPads are available for entertainment on long travel days. They know that this means they cannot sit on or mistreat their backpacks and that they are being trusted to carry something of significant value.

Motion Sickness Wristbands
Sea-Bands motion sickness wristbands have saved our girls from getting sick on windy roads. They come in a small reusable holder, so they are easy to pack and don't weigh much. These run very small, so get the adult size, even for younger children.
Buy Now: Sea Bands Motion Sickness Wristbands
Pajama Packing Cube
Each girl carries in their backpack a packing cube that contains their pajamas, socks, and underwear. This is helpful in a few ways- first, they start to get used to the idea of carrying their own stuff. More importantly, when we get in late to a hotel, they have everything to get ready for bed right at their fingertips (except their toothbrush and toothpaste).
If we are delayed and they want to change into pajamas before a long flight or bus ride, we have them with us, and they are easy to get to. This also saves us from repacking before flights.
Lastly, if we have any kind of accident on a long travel day, from not making it to the bathroom, to spilling food or slipping in the mud, they have a complete change of clothes handy in the form of pajamas.

Sleep Mask
Each girl carries a cute sleep mask with them. These are lightweight, and allow them to sleep anywhere they choose.

One Comfort Item
Each girl has the option of bringing one small comfort item with them, that they like to sleep with. They are responsible for keeping track of this item and packing it into their bag.

Slim Notebook
Each girl has one notebook to use as they please. This can be used as a journal, for taking notes during school or simply drawing pictures. We try to find the lightest-weight version we can, as paper can get heavy quite quickly.

Coloring Book
Each girl chose one coloring book to take with them for entertainment on long travel days.

Pouch of Markers
Each girl has a slim, zip pencil pouch that holds a few markers. We have found that often the four of us to sit in groups of two on planes and buses, so both girls get a window seat, and we can still talk to each other. The result is that it's more difficult to share things like markers and pencils than if the girls were sitting together, so we plan for this ahead of time.
Pencils & Sharpener
We also carry one zip pouch of pencils and a small sharpener. This is more for school work and practicing handwriting than for general entertainment.

Small Pouch for Treasures
Each girl has a small mermaid tail pouch with color-changing sequins and a top zipper. While this is far from necessary, it is a great way to talk about limiting the treasures that our girls pick up along the way.
They tend to love keeping ticket stubs, small rocks, shells, and other things that can quickly add up to clutter and extra weight.

Misc. Items to Pack for Long-Term Travel
Here are a few miscellaneous items that we carry that may come in handy for your family! These items also show that while we try to pack light, and only bring what is necessary, we also make some exceptions for everyone's overall comfort.

Packable Shopping Bags
We carry a few reusable shopping bags that fold down small and are lightweight. These are perfect for small grocery runs, carrying souvenir purchases, and even extra bags of snacks when traveling.

Kids Nightlight
We carry a small nightlight to use in hotel rooms. Our character nightlight comes from IKEA (similar to this nightlight), and works both on a rechargeable battery, and when plugged in. This helps the kids feel more comfortable when sleeping in lots of new places.
Update: This version finally died, and we replaced it with a much smaller, lighter travel lantern. We love that it charges via USB.
Buy Now: Rechargeable Travel Lantern/Nightlight

Santa Key
We are (fingers crossed) still going to be traveling by Christmas next year. We have a faux brass "Santa Key" that we use every year. It is a special ornate key that you put outside your door on Christmas Eve, that only Santa can use.
This allows Santa to easily visit you, even when you don't have a large fireplace. This is one just a few items that I'm packing for our family year out so we can preserve traditions, and all feel comfortable celebrating the holidays in a new (we have no idea where) space.
Birthday Candles
We carry a few birthday candles and a small box of matches. We celebrate birthdays with a muffin, a single birthday candle, and a round of "Happy Birthday" first thing in the morning.
We have kept this tradition going on the road- Eloise got a pastry with a candle in Memphis on her 4th birthday, Waker is next up in February, when we'll be in Mexico.
Update: So far we've celebrated birthdays in Morocco, Jerusalem, Paris, and more. We always make a point of picking up decorations and dessert wherever we are.

Fix-it Tin
This is an Altoids tin where we keep little things like super glue, rubber bands, twist-ties, safety pins, clothespins, and extra mask parts. This is the tin of extra bits to save the day when something breaks.

Things We Considered Packing for Long-Term Travel (but left behind).
There are several things we considered packing for our family year out but decided to leave behind. We're mentioning them in case they are important to you. We'll let you know if we end up missing any of these!

Cameras for the Kids
Our kids love taking pictures, and they had older model digital cameras with SD cards. However, the batteries constantly needed to be charged and most of the pictures were blurry. We considered getting them better cameras but decided it was just one more piece of potentially expensive gear to keep track of.

Binoculars for the Kids
Our kids have "starter" inexpensive binoculars, and they have loved having them on road trips. They've enjoyed using them to tell cows from goats in the fields in the distance. However, they are heavy and don't really work well, so we are leaving them behind.
Tub Plug
We initially anticipated doing a lot of bathtub laundry on our trip. We found instead that many budget hotels in the US have coin-operated laundry for guest use, and rarely had to resort to sinks or tubs. As we move overseas, we anticipate sending our laundry out more than washing in our room.

Travel Clothesline
We debated about this one and pulled it from our baggage at the last minute. We find that we do laundry either when machines are available, or we send it out.
This travel clothes drying line could come in handy for hanging wet swimsuits, but we generally don't feel comfortable hanging things on hotel balconies, regardless of whether we have a way to secure our things.
Warmer Clothes
By leaving our snow jackets, boots, and gaiters behind, we're eliminating the possibility of suddenly heading towards a cold climate.
One of our dream destinations was Austria for Christmas- if we decide to head there for Holiday 2022, we'll have to stock up on warm gear on the road. We decided not to haul a lot of bulky gear for a year on the off chance we may need it once or twice.
Update: We did celebrate December walking around Vienna, Austria enjoying the Christmas markets. We picked up a few things at Decathalon in Istanbul before we arrived, but were mostly fine with our three-season gear.

There You Have It: Packing for Long-term Family Travel
There's everything we are packing for long-term travel and a few things we chose not to pack for our Family Year Out!
Ultimately each family's bags will look a bit different, but we hope we've given you a few good ideas for what to pack, and saved you from forgetting a thing or two when you pack for your family year out or long-term trip!
Read Next: Full-Time Travel with Kids: 3 Month Report
Don't miss our full page dedicated to long-term travel planning, packing, and exploring on a Family Year Out!