4 Days in the Amazon: Peru's Jungle with Kids
For many families, a trip to the Amazon Jungle is a bucket list item. While most people think of Brazil for visiting the Amazon river, you can also visit the Amazon in Peru. A trip to the Amazon jungle with kids includes boat rides through rivers and lakes, spotting exotic animals, and learning about the healing power of plants found in this special area.
We took our kids for 4 days into the Peruvian Amazon when they were 4 and 7 as part of our Family Year Out when we spent one month in Peru. Don't miss things to do in Lima (don't skip this city!), a guide to Puno (known for Lake Titicaca), and the Sacred Valley town of Ollantaytambo.
This article may contain affiliate links, which means we may earn a small commission if a reader clicks through and makes a purchase. As an Amazon Associate, we earn from qualifying purchases at no additional cost to you. All our recommendations are our own and are in no way influenced by any advertiser or commercial initiative.
At the bottom of this post, download free Mobile Wallpaper images to satisfy your wanderlust!
Ready to Book Your Trip? Use our Favorite Travel Resources!
Where is the Amazon in Peru?
The Amazon River begins in Peru and then flows through Brazil before joining the Atlantic Ocean near the city of Belém. It flows for over 4,000 miles (6,437 kilometers), making it the second-longest river in the world. The Amazon Rainforest is home to a wide variety of animals, including jaguars, monkeys, capybaras, and anteaters.
If you visit the Amazon rainforest from Puerto Maldonado, Peru, you'll be visiting the Tambopata Nature Reserve, on the Tambopata and Madre de Dios Rivers, which are tributaries of the Amazon River.
Check out our tips for travel in South America– from family lines, to sharing food, and staying safe.
4 Days in Peru's Jungle with Kids
We arranged a 4-day/3-night Amazon jungle excursion through Chuncho Lodge and were quite happy with it. They recommend the tour for ages 5+, E was a few months shy of 5 when we did the tour, and while she held up pretty well, there were parts of the tour that were tough for her.
Check Prices: Chuncho Lodge 4D/3N Jungle Tour
The tour included meals and lodging and transportation for our four days. We had two other people with us for the first two days, it was just the four of us and our guide for the Sandoval Lake portion of the trip.
The kids were given the same meals as the adults but in smaller portions. You can request vegetarian food if you let them know ahead of time. We found all the staff to be very helpful, accommodating, and cheerful. The food was quite good and varied. Every meal was a bit different, and we got to try several local specialties.
Pro Tip: Leave Most of Your Luggage Behind.
You won't need much in the jungle, and you won't want to be hurrying to shuffle items at the last minute while the van waits for you. It's best to pre-pack what you'll need in the jungle into one or two bags that you can comfortably carry on your back, so you can leave your other bags behind in the tour office.
Day 1- Arrival and Jungle Walk
Our guide was there to pick us up at the airport. We were then taken to the lodge office to leave all but our essential gear, then had a 1.5-hour drive out to the Tambopata River. From there we had a short boat ride to our lodge.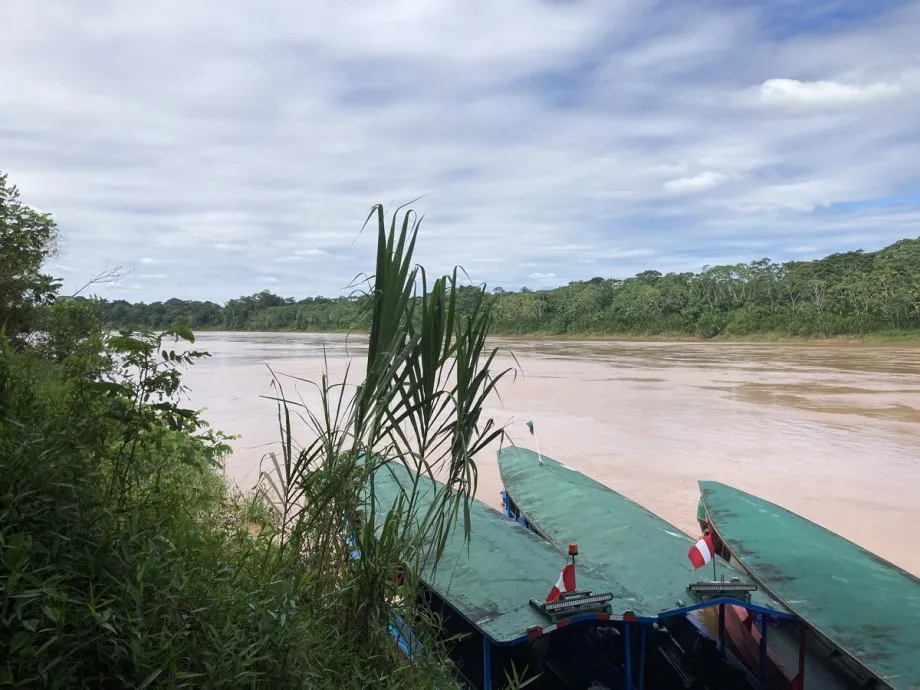 We settled into a light and open wooden cabin with beds with mosquito nets. The whole complex is powered by a generator and only had electricity from 6-9 pm. The kids discovered magnetic darts in the open-air main lodge and were happy to hang out there.
Jungle Walk
The first afternoon we took a jungle walk, looked for birds from a very tall (and slightly shaky) canopy tower, then took a night walk to look for more animals before returning to the lodge for dinner. Our guide was very knowledgeable about the area and taught us about the various plants, trees, and animals along the path, including luring a large tarantula from its hole.
There was quite a bit of standing water in the jungle, as it had rained heavily a few days before. We were all given rubber boots for the walk. They didn't have boots small enough for E (4), so we had to carry her through the water or over muddy parts. S (7) had boots, but since she has smaller feet, she also had smaller, lower boots, which meant there were a few areas where the water was higher than the top of her boots, and we had to carry her through it as well.
We visited in early April, which is normally around the end of the rainy season. The standing water from the rain before we arrived was dramatic in some places on the first day but continued to dry up over the next few days. Overall, we had lovely sunny weather with highs reaching into the 90s, with cooler, breezy evenings.
Pro Tip: Watch the Weather
Be ready to reschedule your trip by a day or two. If it rains during your scheduled few days, you will not see as many animals and have a much rougher trip. You're better off building in a little flexibility if you can to ensure dry, clear weather.
Day 2 – Early Morning with Parrots
This was the toughest day of the trip. Everyone will be up at 4 am to be in the main lodge at 4:30 to await the boat in the dark. You'll head upriver towards the Tambopata Reserve and the parrot clay licks. It was chilly in the morning- make sure to layer with rain jackets and even hats. We had our hoods pulled up against the cold wind coming off the water as we motored upriver.
We watched for other animals along the edge of the river, with the highlight being a large family of Capybaras.
The parrots flock in great numbers to the clay licks, but you can't get very close or you will startle them off. While you can spot the bright colors from afar, to see the details, you need strong binoculars. Luckily, our guide was very adept at taking photos through his telescope for us.
After a picnic breakfast, complete with hot coffee and tea, we headed upriver to look for other animals, then returned to the original clay lick to see the second round of parrots feeding. We returned to the lodge at about 11 am.
We had a bit of rest time before lunch, which is where E(4) struggled. We woke her for lunch, and she had a hard time adjusting to the early morning lack of sleep. We had a bit more downtime after lunch, then headed out for another jungle walk at about 4 pm. Some highlights of this walk included a few monkeys and a large beautiful blue morpho butterfly.
Day 3- Sandoval Lake
The next morning, we headed back to Puerto Maldonado, where we got into another boat and sailed down the Rio Madre De Dios to another part of the Tambopata Reserve. Our guide checked us in at the ranger station and then we hiked for an hour along a boardwalk to Sandoval Lake. Here we got into a boat and paddled through tight channels until it opened up onto the lake and over to our second lodging.
Pro Tip: Pack Light
You will be carrying your gear on this one-hour hike, so you'll be grateful you left most of your things at the main office!
After lunch at the lodge, we paddled around the lake in our boat (no motors are allowed), which let us quietly get up close to birds and animals. We saw many Stinky Birds, watched monkeys jump from branch to branch, and saw many other birds including some distant toucans. We finished the day with a stunning sunset on the lake.
There is no shade when you are out on the lake and the sun can be quite strong. We opted for shorts, sun hats, and flip-flops for this portion of the tour to try to keep cool.
Day 4- Return to Town
On our final day, we explore the lake a bit more before retracing our steps- hiking back over the boardwalk, and taking a motorboat back up the river to Puerto Maldonado. Our guide took us back to pick up our luggage and then drove with us to the airport where we departed.
Pro Tip: Fly in the Afternoon
Try to get a flight out that leaves as late as possible so you have more time on the lake in the morning.
Conclusion: A Great Family Tour
We had a great time, and highly recommend this tour, it was enough time to really see the jungle, but also enough time that we were ready for a hot shower. For the adults, it was also a break from making tons of decisions each day. We followed the preset program, and each meal was provided for us, without us having to choose anything!
The program worked well for the kids. While the very early morning was tough, most days ended with dinner at 7:30, so there weren't late nights.
Check Prices: Chuncho Lodge 4D/3N Jungle Tour
Getting to Puerto Maldonado
Flights to Puerto Maldonado leave from Lima via LATAM airline. Lines at the Lima airport can be quite long, and most flights officially board one hour before takeoff, so plan to arrive at the airport early. The Lima airport can be frustrating as most of the food options are outside of the security area, so we always end up rushing past to get through security and to our gate on time.
We weren't able to purchase LATAM flights from their website or app directly- they wouldn't accept our credit cards despite messages saying that they accept foreign credit cards. We ended up buying LATAM flights through BudgetAir instead.
Read Next: Family-Friendly Peru: The Best Things to Do in Lima
What Should I Bring to the Amazon Jungle with Kids?
Here are some of the essential gear you should bring with you for your adventure in Peru's jungle.
Binoculars
If you have a good pair of binoculars, bring them! This is not a zoo, and you will see many of the animals from a distance. Our guide had binoculars he shared, but you may prefer to have your own.
Flashlight
A flashlight is essential for night walks in the jungle, preferably one with a red light setting. We made do with our cell phones, but they weren't ideal. Getting to our cabin from the main lodge involved a walk down a boardwalk and along a wooden stump path. Having a flashlight makes this much easier.
Camp Light
We love our small portable camp light. With electricity from 6-9 pm, you'll be getting ready for bed or getting dressed in the dark pre-dawn without the help of electricity. This small light lets everyone see where they are going/what they are doing easily. Also great for taking children to the bathroom in the middle of the night.

Hat
Some sort of brimmed hat to keep the sun off your face, which may also help with bugs. The sun is strong, be prepared.
Bug Spray
We opted for two kinds of bug spray- first, we pre-sprayed our primary outfits with Permethrin. Second, we used a strong Picaridin bug spray before each hike.
While we normally use a natural bug spray, we switched to the more intense spray for this location. We really liked this bug spray by Ranger Ready as it did not have the awful burning feeling you often get with DEET sprays.
Change of Clothes
The kids mostly wore the same clothes during our trip and we brought extra t-shirts and underwear. We all had an extra set of clothes in case one of us slipped in the mud, got caught in the rain, etc.
Cell Charger
You'll have a few hours in the evening to try to recharge your devices, but this lightweight cell charger comes in handy to recharge your phone in between morning and afternoon hikes so you can take as many pictures as you want.

Extra Socks
Everything in the jungle gets damp and doesn't dry quickly. Putting on damp socks in the morning is not fun, plan to bring extra dry socks for everyone.
Note: We packed swim clothes, but did not use them.
Is the Amazon Jungle Family-Friendly?
Yes, the Amazon jungle can be family-friendly! Our guide was great at explaining things to the kids, and the pace in the jungle is quite slow as we were quietly looking for signs of animals.
On the other hand, there are lots of very spiky plants and lots of ways to get hurt as well. We felt that this location was distant enough to give us the feeling of being deep in the jungle, but in reality, if one of us got badly hurt, we could have been evacuated very quickly.
Is there Malaria in the Peruvian Amazon?
Yes, there is malaria in the Peruvian Amazon! In fact, the Amazon basin has close to 44% of malaria cases in all of the Americas. Peru has one of the highest rates of malaria in South America, so it is important to be aware of the risks and take preventative measures.
We were very proactive about spraying our clothing with mosquito repellent before arriving (it lasts through approx. 6 washes), then wearing long pants and using a Picaridin spray before each outing. None of us got many mosquito bites at all.

Puerto Maldonado versus Iquitos?
There are two jumping-off points in Peru to visit the Amazon rainforest. One is Puerto Maldonado, which can be reached by plane from Lima. Puerto Maldonado can also be reached by bus- it is a cheaper and easier city to reach. Puerto Maldonado has under 100,000 people, so feels more like a town.
The second is Iquitos, which can also be reached by plane, or by a multi-night boat trip from Brazil, but cannot be accessed by road. Don't be fooled by how hard Iquitos is to get to, this is a city of half a million people.
If you are looking to see pink dolphins or experience a multi-day Amazon cruise, you'll need to head to Iquitos.
To see parrots at clay licks, and for more affordable lodge-based options, head to Puerto Maldonado.
Is It Safe to Travel in Peru with Kids?
Overall, we found Peru to be quite safe with kids. There is a very visible tourist police presence in most of the town centers we were in. We take normal precautions and stick to well-traveled towns and neighborhoods. The town of Puerto Maldonado is quite small and did not feel dangerous at all.
We've got a full post on all the ways we stay safe when traveling with kids. There may be some ideas you haven't thought of!

There You Have It: Peru Jungle with Kids
Visiting the Peruvian Amazonian jungle is an unforgettable experience for families. Not only will you see amazing wildlife, but you'll also learn about the healing power of plants and the importance of conservation. We highly recommend the Tambopata Reserve and this tour for exploring the jungle with kids.
Exploring more of Peru? Check out our guides to Ollantayambo, Lima, and Puno! Also, after you check out all the things to do in Cusco, there are some amazing day trips from Cusco deeper into the Sacred Valley.
Traveling through South America? Check out our guides to visiting Iguazu Falls, three weeks in Brazil, and an itinerary for Colombia as well.