9 Best Rome Catacombs Tours in 2023
There is so much to see and do in Rome! From the Colosseum to the Spanish Steps, there are so many attractions to visit. When in Rome, Italy be sure to check out the famous Roman Catacombs! We've pulled together the best Rome Catacombs Tour for you whether you are interested in history, art, or cruising the countryside on a bike.
When I first heard about the Roman Catacombs, I had images of piles of bones, much like the famous Paris Catacombs. However, the Catacombs in Rome are some of the oldest catacombs in the world- and seeing bones is just the beginning.

We'll cover the tours of the best Catacombs in Rome, what to expect from each tour, how each catacombs tour is different, and answers to all your questions about the different catacombs you might visit. We also have a quick history of the catacombs, as well as advice on what to bring with you on your Roman catacombs tour.
Inside the Catacombs of Rome, you'll find ancient Christian art, and miles of early Christan history stretching beneath the outskirts of the city. Rome, called the Eternal City, is such a fascinating place full of history at every turn. We spent six weeks exploring Italy with our kids, and can't wait to return!
This article may contain affiliate links, which means we may earn a small commission if a reader clicks through and makes a purchase. As an Amazon Associate, we earn from qualifying purchases at no additional cost to you. All our recommendations are our own and are in no way influenced by any advertiser or commercial initiative.
At the bottom of this post, download free Mobile Wallpaper images to satisfy your wanderlust!
Are the Roman Catacombs Worth Seeing?
Yes, the Roman Catacombs are definitely worth seeing! There is an immense amount of history in these tunnels, as well as precious artworks.
Unlike the Paris Catacombs, the main draw of the Roman Catacombs is not the bones, in fact, most Roman catacombs have removed bodies and bones from the tourist route, respectfully moving their final resting place deeper into the tunnels.
Instead, you'll see ancient passageways, places where early Christians worshipped in secret, and priceless pieces of early Christan art. National Geographic calls Rome "the capital of catacombs"- there are rumors that the legendary Holy Grail may be here- buried in a lost section of the Roman catacombs.

Quick Guide: The Best Catacomb Tours of Rome, Italy
Is There More Than One Catacomb in Rome?
Yes, there are many catacombs beneath Rome, several of which are open for visitation. You'll want to pay attention to which catacombs each tour visits, though they may switch if one is closed on the day of your tour. We've listed the catacombs of Rome that are open to the public below so you can choose the best catacomb in Rome for you.

Capuchin Crypt and Museum
Most Roman Catacomb tours begin with the Capuchin Crypt, known for its Bone Chapel. This is where you'll see all the bone art. Here you'll find 6 chapels filled with the bones of over 3,000 monks, arranged artistically to remind us all that death is part of the cycle of life. This is the most touristy part of many Rome catacomb tours, with more visual punch, and less historical significance.

Catacombs of Saint Callixtus
One of the most popular Rome catacombs to visit, the catacombs of St. Callixtus are located along the Appian Way- also called the Via Appia Antica, one of the most important ancient Roman roads. One of the largest catacombs, St. Callixtus stretches over 12 miles, with some tunnels reaching an impressive height of 70 feet!
This space includes the remains of 16 popes and many saints. It was famously featured in the movie Ben Hur. Please note that all bodies and bones along the tour route have been removed.

Catacombs of Santa Domitilla
These Rome catacombs include an underground basilica with 1,000-year-old mosaics that are newly restored. Parts of these catacombs are still unexcavated- the sacred spaces and artwork are the main draw. These are the only catacombs with some bones still on display. Closed on Tuesdays.

Catacombs of San Sebastian
The remains of apostles Peter and Paul were rumored to once reside in these Roman catacombs. This is one of the least preserved of the catacombs. Also includes some pagan Roman tombs. Closed Sundays.

Catacombs of St. Priscilla
This is one of the oldest catacombs in Rome. Several Popes were buried here, and you'll find what might be the first depiction of Mary from the 3rd Century. There are also extensive frescos in the Greek Chapel here.

Catacombs of St. Agnes
This is one of the least visited Roman catacombs on traditional tours as it is not on the Appian Way but on Via Nomentana. There are three tiers to the catacombs here, as well as the beautiful Saint Agnes Outside the Walls Basilica.

The 9 Best Rome Catacombs Tours
These are the best catacomb tours in Rome for every traveler- from those who love history to those who love the macabre. From group tours to biking tours, and even a ghost tour, we've got the best catacomb tour in Rome for you!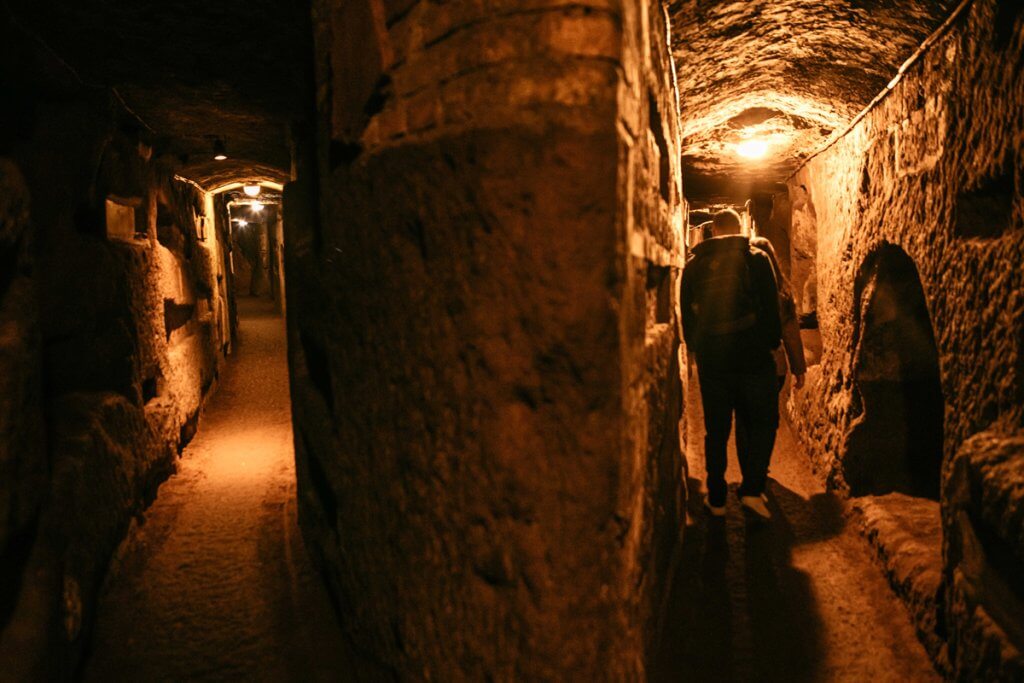 🌟 Rating: 5 Stars ⏳ 2 1/2 Hours ✅ Exclusive Rooms, St. Agnes 🔎 Check Rates
This night tour is limited to six people at a time and has access to parts of the St. Agnes catacombs that are usually off-limits. You'll start this catacombs tour at 5 pm with a visit to the Capuchin Monks Bone Chapel, then head to the Basilica of St. Agnes where you'll see the interior and then descend into the St. Agnes catacombs.
After the catacombs, you'll visit the Mausoleo di Costanza behind the Basilica, where Emperor Constantine's daughters are buried. There are impressive 4th-century mosaics here.
This tour is the only one that we found that visits these particular Roman catacombs- combine that with the extremely small size of the group, and you have a very special experience.
🌟 Rating: 4 1/2 Stars ⏳ 2 1/2 Hours ✅ Crowd Free, St. Priscilla 🔎 Check Rates
With a 5:45 start time, this evening catacombs tour takes you first to the Capuchin Crypt and its famous Bone Chapel. You'll then head outside of the main city to visit the catacombs of St. Priscilla after they have closed to the general public. You'll have a more relaxed, quiet experience in these catacombs, which are renowned for their artwork including the oldest known images of the Virgin Mary.
This tour is a little larger than some small group tours, with a max capacity of 18 travelers, travelers often comment on how knowledgeable and enthusiastic the guides are.
Book Now: Roman Catacombs: After-Hours Tour
🌟 Rating: 5 Stars ⏳ 2 1/2 Hours ✅ Small Group, St. Domitilla 🔎 Check Rates
This small group morning tour starts at the Capuchin Crypts and then moves to the Catacombs of St. Domitilla. This is a very small group- never more than six people so you can expect an intimate experience.
St. Domitilla is where St. Peter's daughter is buried and is known for its important ancient mosaics, which have been recently restored. The artwork in this Roman catacomb also includes a fresco that is the earliest known depiction of Christ as the Good Shepherd.
Book Now: Semi-Private Small Group Catacombs Tour
🌟 Rating: 5 Stars ⏳ 3 Hours ✅ Golf Cart, St. Callixtus 🔎 Check Rates
Golf carts are a really fun way to get around Rome! These vehicles don't get stuck in traffic, and are open-air, so you see more than from a closed van while cutting down on the walking time during your tour.
This catacombs golf cart tour includes a visit to the catacombs of Saint Callixtus, as well as stopping at the Colosseum, and Appian Way. This tour also includes a stop inside Basilica San Sebastiano to see a Bernini Masterpiece, as well as a stop at the famous Mouth of Truth.
A golf cart tour is fantastic for families with different abilities. The visit to the catacombs requires walking and often quite a few stairs, but the golf cart allows you to see a lot of Rome while escaping the heat, and with less walking than a standard tour.
Book Now: Rome Catacombs Tour via Golf Cart
🌟 Rating: 4 1/2 Stars ⏳ 3 1/2 Hours ✅ Aqueduct, San Sebastian 🔎 Check Rates
This small group tour is longer than the standard half-day Rome catacombs tours as it includes time to visit the Roman Aqueducts at the end of the tour. You start at the Crypt of the Capuchins, then visit the Catacombs of St. Sebastian. This is a great catacomb to visit to learn a wide history of Rome as it is only partially excavated and includes pagan tombs as well as Christian.
After the catacombs, you'll drive to the Roman Aqueducts and have time to explore and take photos at this marvel of engineering. This tour is capped at 18 travelers per group.
Book Now: Small Group Catacombs Tour with Aqueduct
🌟 Rating: 5 Stars ⏳ 3 Hours ✅ Hidden Gems, St. Callixtus 🔎 Check Rates
This hidden gems tour does not include the Capuchin Bone Crypt that most catacomb tours begin with. Instead, a visit to the catacombs of St. Callixtus is part of a larger tour designed to show you some of the hidden gems of Rome.
You'll visit the ancient gates of Rome, walk along the famed Appian Way, and see the Vatican through a keyhole viewpoint. This is a great tour if you're interested in seeing the catacombs but would like to combine it with a more expansive list of sights and countryside around Rome.
Book Now: Hidden Gems and Catacombs of Rome
We love golf cart tours of Rome- we wrote a whole article on the best tours! Don't miss the best golf cart tours of Rome– from night tours to foodie tours!

🌟 Rating: 5 Stars ⏳ 4 Hours ✅ Electric Bike, St. Callixtus 🔎 Check Rates
This five-star bike tour starts in central Rome and then heads out to the Appian Way. You can choose a 4-hour tour that includes the catacombs of St. Callixtus, or a 5-hour tour which includes biking to the Roman Aqueducts. This tour includes an electric bike, helmet, and a poncho in case of rain.
This tour is intended for all levels, but you will be biking approximately 29km (18 miles), including the first few miles from the center of Rome to the Roman countryside. There is some "city" biking, so judge for yourself whether this is right for you and your family.
Children are welcome to join this biking tour- those over 140 cm can ride on their own, shorter can join with a child extension, and infants up to 20 kg are welcome to join in a child seat at no charge.
Book Now: Bike Tour of Catacombs and Appian Way
🌟 Rating: 4 1/2 Stars ⏳ 8 Hours ✅ Combines 2 Tours, St. Domitilla 🔎 Check Rates
This double tour combines a more traditional Roman catacombs tour which includes a visit to the Bone Chapel and a visit to the catacombs of St. Domitilla, with a ghost and mysteries-themed walking tour around Rome. The catacombs tour begins at 2:30, followed by the ghost tour which begins at sunset and lasts well into the evening.
This tour is a long day- but a great way to see more of the city, and keep teens and older kids entertained. The ghost and mystery tour is a 1 1/2-hour walking tour that is limited to 20 people or less. It focuses on the darker side of Roman history- stories of executions, murders, and more.
Book Now: Rome Catacombs and Ghost Walking Tour
🌟 Rating: 4 1/2 Stars ⏳ 3 Hours ✅ Countryside walks, St. Callixtus 🔎 Check Rates
This half-day tour of Rome combines walking routes along the Appian Way with a visit to the catacombs of San Callisto. This tour does not include the Crypt of the Capuchins and it's Bone Chapel. Instead, you'll visit the Claudian Aqueduct, Mausoleum of Cecilia Metella, and Circus of Maxentius among others on your walking tour of the Roman countryside.
This is a walking tour- both above ground and below, so make sure to wear comfortable shoes and be prepared for some time in the sun while you explore the Appian way and the Roman countryside. This is a great way to get outside the city into a quieter area and also get a bit of exercise!


Tips for Visiting the Catacombs in Rome
Here are a few tips to make sure you get the most out of your tour of the Bone Chapel and catacombs of Rome.
Photography is not allowed in the Bone Chapel or in the various Roman catacombs.


These Roman catacombs tours are not recommended for people who struggle with confined spaces or have asthma or other breathing problems.


All of these Rome catacomb tours are operated in English, check for other languages as needed.


Tickets to enter the Rome catacombs may or may not be included in the tour, some expect you to purchase a ticket on-site, check details.


While the Capuchin Bone Chapel contains bones (as one would expect), most of the Roman catacombs themselves have very few or no bones on display. Instead, you'll find chambers, passageways, mosaics, and other artifacts as well as a lot of Roman history.


Because it was illegal to bury people within the city walls of Rome, the Roman catacombs are located outside the city center. These catacombs tours are a great way to learn more about Roman history and see a bit of the Roman countryside. Some catacomb tours in Rome also include visits to the Appian Way and/or aqueducts in the same area.


Roman catacombs are sacred spaces, so please dress respectfully, with both your shoulders and knees covered. Also, keep in mind that these underground spaces are quite cool, even in summer, so bring a light sweater or jacket.



A Quick History of the Catacombs of Rome
The Catacombs of Rome, Italy are some of the oldest in the world. Many of these man-made tunnels date back to the Etruscans who were mining for stone. While pagan Romans preferred to cremate their dead, Christians and Jews preferred burial. Burial was illegal within the city walls (for hygiene purposes), so these old passageways were expanded to use for burial, and later worship. This is also the reason that these sites are outside the main city walls.
Christians also worshipped in these spaces, and they are still considered sacred. You will see mosaics and paintings here. In fact, the Roman catacombs have one of the most valuable collections of Christian art outside the Vatican!
(Psst… don't forget to visit the Vatican when in Rome!)
Christians buried rich and poor next to each other, in the same manner, so bodies were labeled with name only- with no mention of status or title. When Christianity became legal in the year 313 CE, there was no longer a reason to worship in secret, and the catacombs slowly fell out of use. The catacombs were then forgotten until they were rediscovered in the 1600s by an explorer who almost died when he got lost in the extensive maze below the streets of Rome.

What to Bring on a Catacombs Tour in Rome

You won't be able to take photos inside the Roman catacombs, so only bring your camera if you choose a tour that includes other sites around Rome.


You will need a sweater or jacket as the catacombs in Rome can be quite chilly.


Please dress appropriately for sacred spaces- catacombs and basilicas require that shoulders and knees be covered and that men remove hats.


Please wear comfortable shoes that are suitable for uneven terrain.


FAQ: The Best Rome Catacombs Tours
Can I visit the Rome Catacombs without a Tour?

You can go to any of the catacombs in Rome that are open to the public and buy a ticket directly. You will then join a tour by a priest or monk and may get a more spiritual than historical lecture. We highly recommend taking a guided tour which will include transportation and a balanced historical perspective.
Which Roman Catacombs are the Best?

The best Roman catacomb depends largely on your particular interests. For history and the "wow" factor of huge, extensive catacombs, the popular catacomb of Saint Callixtus is the best one in Rome. For art lovers, Santa Domitilla and St. Priscilla are the best options. For Christian History, San Sebastian is a great choice.
What is the most visited Roman catacomb?

The Catacomb of St. Callixtus is the most visited catacomb in Rome. It has extensive tunnels, vast spaces, and a lot of history to share. It is the resting place of 16 Popes! It's also been featured in famous movies and is located close to the Appian Way and Aqueducts.
What is the difference between the catacombs and the capuchin crypt?
The Capuchin Crypt is a series of crypts that house the remains of Capuchin monks and is much younger than the Roman catacombs. The Catacombs are miles of tunnels underneath the outskirts of Rome where early Jewish and Christian citizens buried their dead and practiced their religion in secret.
Can you wear shorts to the catacombs in Rome?

No, you should not wear shorts to visit the catacombs. The catacombs of Rome are considered sacred spaces. Many miles of them are controlled by the Christian Church. You should plan to dress as you would to enter a church or basilica. For both men and women, shoulders and knees should be covered.
How many bodies are buried in the catacombs under Rome?

Hundreds of thousands of bodies are buried in the catacombs beneath Rome. As the tunnels were lost and rediscovered, there is no exact count. It is possible there are additional tunnels that have not been excavated.
Who is buried in the catacombs of Rome?

The catacombs contain the remains of Popes, martyrs, and ordinary citizens. Most were buried between the 2nd and 5th centuries.


There You Have it: Best Rome Catacombs Tours
The Catacombs of Rome are a great destination to learn more about Roman culture and the history of Christianity in Rome. For an intimate visit with exclusive access that is not available to the general public- check out our top-pick tour: Rome Catacombs Night Tour with Exclusive Access.
Traveling with toddlers or grandparents in your group? You'll love the Rome Catacombs Tour via Golf Cart which takes the walking out of your day.
Ready for a more active day? Then the Bike Tour of Catacombs and Appian Way is just right for you!
Visiting Rome? We've got the best hotels in Trastevere, our favorite neighborhood in Rome. Visiting during the hot summer months? We've got the best hotels with pools in Rome!
We've also got the best places to eat in Rome and a 4-day itinerary for Rome with kids!