14 Travel Tips for Visiting the Rosario Islands with Kids
The Rosario Islands are famous for their pristine waters, coral reefs, and some beautiful beaches in a more secluded and relaxed atmosphere away from all the noise and hustle of mainland Colombia. They are easy to get to from Cartagena but feel a world away. People come for the day, or for a few days to relax, explore and reset.
Here are our best travel tips for enjoying the Rosario Islands with kids- everything we wish we'd known before we visited these beautiful islands!
We spent four days on Isla Grande as part of our Family Year Out when our kids were 4 and 7. After spending three weeks in Colombia, this was our last stop before heading to Peru.
Make sure to check out our guide to Medellin, the jungle town of Jardin, and the colorful town of Guatape.
This article may contain affiliate links, which means we may earn a small commission if a reader clicks through and makes a purchase. As an Amazon Associate, we earn from qualifying purchases at no additional cost to you. All our recommendations are our own and are in no way influenced by any advertiser or commercial initiative.
At the bottom of this post, download free Mobile Wallpaper images to satisfy your wanderlust!
Ready to Book Your Trip? Use our Favorite Travel Resources!
Where are the Rosario Islands?
The Rosario Islands are off the northern coast of Colombia, in the Caribbean Sea. They are part of one of the 46 Natural National Parks of Colombia. These islands are about 100 km southeast of Cartagena. There are 28 islands in the archipelago, but only a few are accessible to tourists. Isla Grande is the largest island in the group.
The Rosario islands have clear blue-green water, beautiful coral reefs, small white sandy beaches, and a lot of peace and quiet. If you're looking for a wide white sand beach, you might prefer Playa Blanca, on Isla Baru, which is not part of the Rosario Islands. We visited Playa Blanca as a day trip from Cartegena.
Don't miss our full guide to Cartagena– it's such a wonderful city! We also have details on day trips from Cartagena, and tips for traveling in South America.
How to Get to the Rosario Islands with Kids
You get to the Rosario Islands via a water taxi, which you must book in advance. There are several companies that make the journey, leaving from the Muelle de la Bodeguita in the morning, with return boats in the afternoon. The trip takes about an hour each way. The boat will stop at the dock of each resort to let you off exactly where you are staying.
We used Cartegena Life since it was recommended by the hotel where we stayed. Water taxis cost about 70K pesos each way. There was a Google form included with our reservation that was not working, I noticed the night before our trip that there was a request in our email confirmation to send over passport numbers to secure our trip. Watch for this! Once I sent over that information, I got a return email that included exactly who to look for the next morning at the dock.

What Can Families Do On the Rosario Islands?
The Rosario Islands are a great way to experience the Caribbean Ocean without the crowds of beaches closer to Cartagena. You can swim, snorkel, scuba dive, or sit in a hammock and read a paperback novel. Our kids loved kayaking around the bay and playing in the warm water.

Travel Tips for Visiting the Rosario Islands with Kids
Here are our best tips for visiting the Rosario Islands with kids. Many of these things we learned along the way and wish we knew before! Hopefully, they'll help you plan a great tropical family vacation.
These tips are based on our experience visiting Isla Grande for three nights, staying at the Rosario Ecohotel.
Check Prices: Rosario Ecohotel


1. Get to the Port Early
The port is a bit chaotic- best to get there early. From the pegasus statues across from the entrance to Old Town Cartagena, head down the pier (with the water on your left. You'll pass a series of smaller boats before reaching the numbered dock gates. Your boat company should let you know exactly which gate to enter.

Find Your Gate
We left from Gate 1. There were tons of people arriving by foot and buses and the area was packed with lines of people and staff with clipboards. We were able to find our company representative and paid the dock tax directly to the company- 20k pesos per person.
They then added us to a handwritten list and gave us a receipt for our tax payment. This slip gets you through the turnstile to enter the dock. We were also given a bracelet to indicate our boat, and directions to "head to the right".
We found other tourists with similar bracelets waiting, and joined the group. By the time we got there, however, all the chairs and the standing room in the shade were taken. We ended up waiting in the sun, which was brutally hot.

The Boarding Process
Our group started to board a bit after nine- we were next in line to enter the small boat when they realized they had too many people for the boat. We were told to wait for the next boat and headed back to the waiting area.
They then realized they had three open spots on another boat, and asked us to get on there, with one kid on our laps, which we did. At this point, an inspector came over and said that boat was too full, so a discussion ensued, and the people next to us were asked to leave the boat.
Finally, we pulled away from the dock and started our journey. I believe if we had arrived a little earlier, we could have been waiting in the shade and possibly been on that first boat.
2. Wear a Bathing Suit on the Boat
It's best to wear a bathing suit and cover-up on the boat. Going out to the islands in the morning, the water is relatively calm, and most likely, you will not get wet.
However, after we arrived at our resort, we waited almost two hours for our room to be ready. There was one outdoor bathroom, we were not in our swim clothes, and we hadn't planned on changing quickly or easily.
We ended up spending our first few hours hot, hungry, and grumpy, rather than being ready to jump in the water and cool off right away. We would have been better off wearing suits on the boat so we could relax faster without going through our luggage.
On the return trip, you will leave the islands in the afternoon, when the water is much rougher. It is highly likely that you will get wet. Dress accordingly.
The front of the boat gets less spray but can be very bumpy as you hit the waves. The rear of the boat has a smoother ride but also tends to get more of the spray on the sides. If you are among the first to board or you have a choice, go for the middle seats towards the back (luggage is stowed at the bow of the boat and stays dry).

3. Leave Your Bags Behind
You won't need much on the islands- pack one bag for all of you with the essentials- bathing suits, sunscreen, pajamas, and a change or two of clothes. Leave the rest of your bags behind in Cartagena. We left our bags at the hotel we checked out of and picked them up after our trip to the islands.
The Rosario Islands are a great place to unwind and unplug, so leave laptops and other gear back on the mainland. You won't have to worry about them getting wet, and you won't need them there!

4. Bring a Waterproof Bag
We have a small waterproof dry bag that we usually keep our goggles in. This came in really handy for keeping our money and our phones dry on the boats over and back, as well as on tours around the islands. A bag like this also makes your phone less of a target than leaving it out on a table while you take a dip in the ocean.

5. Bring Water Shoes
The Rosario Islands are rocky and full of coral reefs. Which means they are tough on feet. S (7) cut her foot open in the swimming area the first day, we made sure to use water shoes each time after that. You'll be much more comfortable if you don't have to watch your steps so closely.
Check Prices: Kids Water Shoes
6. Consider an All-Inclusive Resort
We stayed at the Rosario Ecohotel, which included breakfast, but not lunch or dinner. We thought we might venture into the town in the middle of the island for some meals, so we didn't choose an all-inclusive.
We quickly found that the town is not really set up for this, and ate all our meals at the hotel.
One of the tiring aspects of long-term travel is having to constantly figure out what and where to eat- having an all-inclusive would have taken some of the pressure off of exactly what and how much food to order at each meal.
7. Look for a Sandy Beach
We found the rocky nature of the islands a bit tough for kids. S(7) was big enough and tall enough, that she could play in the water with an adult watching nearby. However, E (4) is much lighter and shorter, and not as strong a swimmer. With the current, choppy waves, and depth of the water right at the edge of the resort, we felt she could only go in the water when an adult was actually in the water with her.
Ideally, there would have been a more calm or shallow area that she could have played in more independently. If you have young kids, consider a hotel with a larger section of sandy beach. Hotel Isla del Sol has one of the largest sandy areas in a protected cove. This all-inclusive also has a swimming pool.
Check Prices: Hotel Isla del Sol

8. Expect High Prices
You are on an island, with very few options, expect high prices. Food and drinks are more expensive on the islands than on the mainland. Drinks ranged from 10K pesos for a beer, to 50K for an Instagram-able cocktail.

9. Bring Cash
Most hotels will charge food and drink to your room tab, which you can pay with a credit card before you leave. Any other purchases including tours or excursions will need to be paid in cash. There is no ATM on the island.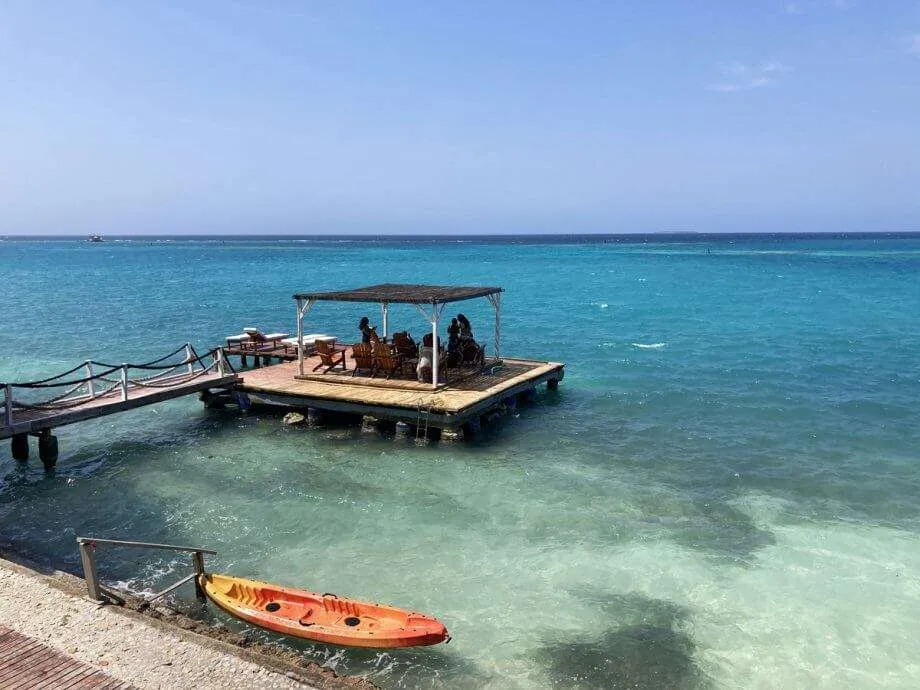 10. Handle Wire Transfers
Especially during the high season, hotels may request that you pay a 50% deposit via wire transfer to hold your reservation. As the American banking system is not set up to do this easily, cheap wire transfers can be problematic. We found Remitly to be a great resource to transfer money- we used it both for tours and for hotel reservations. You can send instant transfers for as little as $3.99 USD, or less if you can wait 3-5 days for the transfer.
Check it out: Remitly Wire Transfer

11. Bring a Beach Towel
Many of the eco-hotels charge extra for changing your towels. Save the towels in your room for showering, and bring your own beach towels. We love our Turkish beach towels– they dry quickly and are great for sandy beaches, cold boats, chilly airplanes, and everything in between.

12. Bring Earplugs
The northern side of the island gets very windy in the afternoons and at night. We had a second-floor room, and the wind just howled- topping over 20 mph one night. I'm only used to this level of wind when there is a storm and found it difficult to sleep through this less-than-calming sound. I left my earplugs in our hotel in Cartagena and regretted it, bring earplugs with you!
I love these reusable, colorful fitted earplugs– they block out sound (although not everything), and fit comfortably so you don't feel them when you press your head into a pillow.
13. Watch the Sunset at La Playita
There is a small sandy beach on a sheltered bay that is great for watching sunsets. You can access it from the small dirt paths that lead through town, past Eco Hotel Las Flores, and continue west out to the water.
As a bonus, you'll be watching the sunset from right next to the ruins of Pablo Escobar's mansion. As you walk to the beach you'll see the white arches of his house, as well as the now-empty swimming pool. It stands in stark contrast to the simple homes in the village.
14. See the Bioluminescent Plankton
Don't miss this tour! Your hotel can help you arrange a tour to the nearby bioluminescent lagoon. We booked ours with a guide named DeNielsen, though our actual tour was led by Robin. It was just our family and the guide- we've found that the best tours for us are small like this- so we can tailor them to our kids as much as possible.

Boating Out
We met up at 6 pm. Since it was too windy near our hotel to get into a boat, we walked through town to La Playita, where we switched to a boat. We then had about a 15-minute boat ride around the island to a dock in the lagoon, next to Hotel Cocoliso.
We enjoyed seeing all the different beaches and hotels as we boated around the island. We paused at Hotel Cocoliso while our guide got gear ready, and while the night got darker. It's best to go on a dark night- check that it's not a full moon.

Into the Lagoon
By the time we got back to the dock with our gear, it was quite dark, and there were lots of other people also getting in the water. We left our shoes and towels in the boat (yay waterproof bag!), and got our masks and snorkels ready.
Robin was great about finding a small lifejacket for our youngest, who is not a confident swimmer, as well as a circular life preserver we could all hang on to and stay together in the dark.
Then we jumped in! With masks and snorkels on, we put our faces in the dark water and moved our arms around to activate the bioluminescent plankton. They looked like little stars in the dark water! It was really cool, and the kids were super brave about jumping into deep water in the dark.
When we were ready, we climbed out, wrapped ourselves in towels, and got back in the boat for the ride back. As a bonus, it was a clear, moonless night, so we had amazing views of the stars on the return trip.

Family-Friendly Tour
We had considered booking a bioluminescent tour while we were in Huatulco, Mexico, but we decided against it because it involved a long two-hour drive in each direction, a larger group, and would have gotten us back to our hotel around midnight. We were thrilled that we were able to do this as a family on Isla Grande in such a family-friendly way.
There You Have It: Rosario Island with Kids
Out best tips for visiting the Rosario Islands with kids. We had a great time playing in the Caribbean Sea and getting away from the city. We hope these family travel tips will help you plan your next tropical getaway. If you are visiting Cartagena, don't skip these beautiful islands!