Wildlife Adventures in Sri Lanka: How to Plan a Safari in Yala National Park For All Budgets (2023)
Yala National Park in southern Sri Lanka is an amazing place to go on safari and hopefully see leopards in the wild. I recently had the privilege of exploring the wonders of Yala, and I'm excited to share my experiences with you. If you think you have to choose between a high-end, expensive, luxury private safari, or a bare-bones backpackers hostel, we've got great news for you- there is a middle ground! We'll help you sort out where to stay to visit Yala National Park so you can book the best Yala safari in Sri Lanka for your family- whether that's a luxury resort or a rustic camp where you feel in tune with nature.
Arranging a jeep safari in Yala National Park can be confusing and overwhelming. In this blog post, we'll help you plan your own unforgettable safari in Yala National Park. From spotting elusive leopards to encountering elephants in their natural habitat, we'll dive into the magic of this Sri Lankan wilderness together. We'll cover how to book a park safari experience, which block in the park to visit, where to stay close to Yala, the best time of year to go on Yala safari, how to get to Yala National Park, and tips for enjoying your park safari once you a there.
This article may contain affiliate links, which means we may earn a small commission if a reader clicks through and makes a purchase. As an Amazon Associate, we earn from qualifying purchases at no additional cost to you. All our recommendations are our own and are in no way influenced by any advertiser or commercial initiative.
At the bottom of this post, download a free guide: 6 Safety Tips for Traveling with Kids: What You Should Know Before You Travel

Ready to Book Your Trip? Use our Favorite Travel Resources!

Where is Yala National Park
Yala National Park is located in the southeastern part of Sri Lanka. Its vast expanse covers a significant portion of the country's southeastern lowland dry zone, making it a haven for diverse wildlife and breathtaking natural beauty. Yala National Park is about a 5-hour drive from Colombo, so it's best to incorporate your visit to Yala into a larger two-week itinerary in Sri Lanka.
Yala National Park is divided into 5 blocks. Most safari tours visit Block 1 where the largest population of leopards live. Animals are free to wander among the blocks, so there is no guarantee of sightings, and they may change their patterns due to weather, mating season, or even the migration patterns of deer.
Once a British royal hunting ground, Yala National Park was designated a wildlife sanctuary in 1900, and a national park in 1938.
Is Yala National Park Worth Visiting?
Yes, Yala National Park is worth visiting! It's a family bucket list experience that you won't forget! Yala National Park has the world's largest population of wild leopards- so you have the best chance of seeing one of these majestic and elusive creatures!
There is no guarantee that you will see a leopard, but even if you don't see one, you'll have a fantastic park safari experience and see lots of other animals including elephants, sloth bears, water buffalo, peacocks, wild boars, and more!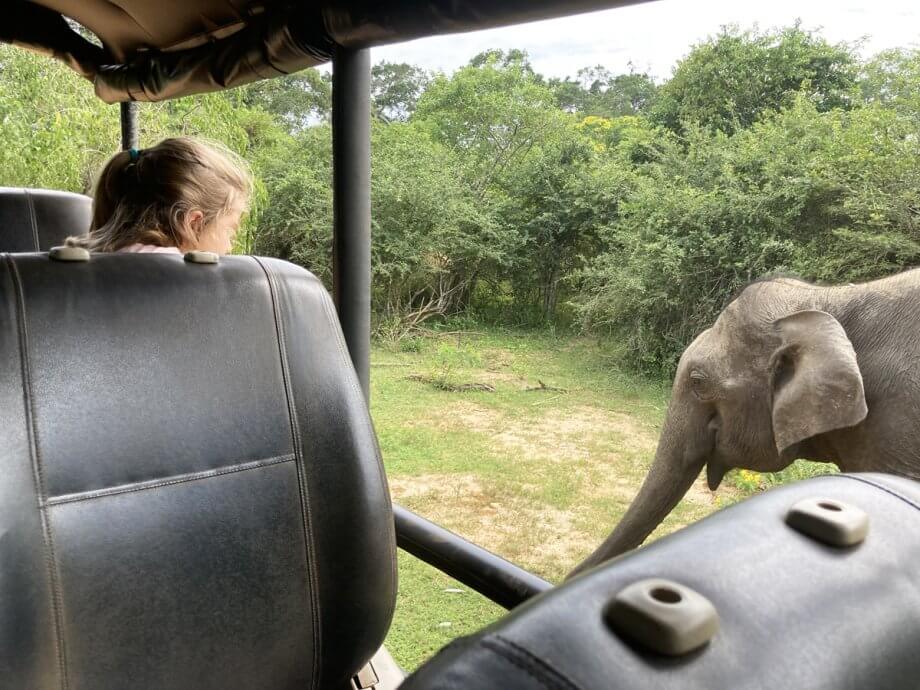 What Animals Will I See in Yala National Park?
There are 44 different mammals in Yala National Park as well as over 200 species of birds. Many people come hoping to see a leopard or a sloth bear, but there are also elephants, jackals, water buffalo, deer, boar, monkeys, and crocodiles. No animal sightings are guaranteed, but most are fairly easy to spot with the exception of the sloth bear and the leopard.

What Happens If We Spot a Leopard?
When a leopard is spotted, your guide will call in the sighting. All of the other vehicles in the area will rush to the site to try and also see the animal. This creates a traffic jam.
Vehicles in Yala do not go off-roading-they follow strict rules which prevent drivers from getting too close to animals or harassing animals. This means that when vehicles line up and crowd into one location, it can be hard for any one vehicle to move.
Secondly, your guide will record and report the sighting. Guides are able to identify most leopards on site by their coloring and spots and will be able to tell you about the animal. Every sighting is recorded so that animal movements can be tracked.
When we visited Yala, our vehicle was the first to see a leopard- near the end of the afternoon we started Amber, a 9-year-old female who was resting in the ditch at the side of the road. She quickly headed into the tall grasses, and we were then able to watch her from far away as she ate a small animal, possibly a rabbit.
When we were finished attempting to watch her- even with binoculars she was tough to see as she would dip her head down below the grass level, we were not able to move for a while as other safari jeeps had blocked us in.
To learn more about the leopards in Yala, or to see photos and details about whichever individual you spotted, check the Yala Leopard Diary. They have updated information about the migratory patterns of each animal as well as a family tree, and lots of wonderful photos.

How to Book a Safari at Yala National Park
There are two ways to book a safari in Yala National Park- as part of a complete package, or by booking lodging close to the park and then arranging the safari separately. Often, even though the safari is not included in your room rate, your accommodations will be happy to help you arrange as many safaris as you like. There are both group safari tours and private safari tours available.
If you are staying in Tissamaharama there will be opportunities to book guides from town. We highly recommend booking ahead so you can arrange for both a driver and a guide for your safari.
A driver will simply drive, and while he will do his best to show you animals he usually doesn't offer much guidance in terms of animal behavior. We found that our guide and driver worked well together, discussing routes and looking for animal tracks. You want to reputable guide who has years of experience with tracking- they should be able to hear animal alarms indicating the presence of predators and track animals using prints and scat.

Where to Stay Near Yala National Park
There are budget hostels, luxury camps, and a few mid-range camps to stay in near Yala National Park. When we started researching options, I was frustrated to keep seeing the same few luxury or high-ed jungle camps coming up in blog posts over and over- they just weren't in our budget.
We've included some of these luxury camps below- if you have the budget, these camps will pamper you and make sure you have a vacation to remember. However, if these are not in your budget, we've rounded up other options so you can still see all the epic wildlife that Yala National Park has to offer.
Try to book lodging as much in advance as possible– many of these properties only have a handful of tents, cabins, or chalets, so they book up quickly.

Staying Inside Yala National Park
There are government-run bungalows available inside Yala National Park. I've seen several comments that they are not "up to standard", but haven't spoken with anyone who has tried using them. You can stay in these bungalows for up to 3 consecutive nights. You can see the facilities here, and reserve them online. Details are scarce- if you've tried one of these please let us know how they were!

Luxury Jungle Camps near Yala National Park
These luxury camps offer every amenity- and charge over 1K USD per night. If you are looking for an unforgettable, once-in-a-lifetime, five-star experience, these lodges are fantastic. These jungle camps are in the buffer zone around Yala National Park.

This is a five-star all-inclusive resort that has luxury cabins that are air-conditioned with private plunge pools. They describe the resort as "colonial expedition chic with contemporary design innovations". Safaris and meals are included with the lodging. This place is absolutely stunning, and only a few minutes drive from Yala National Park.
Book Now: Uga Chena Huts
This five-star all-inclusive jungle resort is built in the shape of a leopard's paw, with open-air central buildings made from bamboo and other natural materials. Guests stay in luxury air-conditioned cocoons made with double-height, stretched fabric roofs looking over the Indian Ocean. They also have a family cocoon suite that has two attached pods for parents and kids to experience together, while still having some privacy. Meals and game drives are included.


Mid-Range Camps near Yala National Park
These unicorns are in the buffer area of Yala National Park- so you'll need to get a driver to take you there, but are much closer to the gate of the park, so you'll have less of a drive early in the morning. Some of these camps also offer an additional bush walk to introduce you to the wildlife in the area around the camp.
This eco-friendly resort is high-end and clearly has hosted a lot of bloggers because it comes up often. This resort is in a bit of its own category- it's more expensive than most of our mid-range options- with rooms in the range of $300-400 USD per night. As a five-star property, it's a bargain compared to the all-inclusive luxury options, but significantly more expensive than most of the mid-range. If you're debating about splashing out on your stay near Yala, this could be just what you are looking for.
This camp is located very close to Wild Coast Lodge but for 10% of the price tag. Chalets here are air-conditioned with private balconies. Chalets each have one double bed, so they don't have a great setup for larger families, though they do offer connecting rooms. The complex has a large pool and a rooftop terrace for guests to enjoy.
Book Now: Cinnamon Wild Yala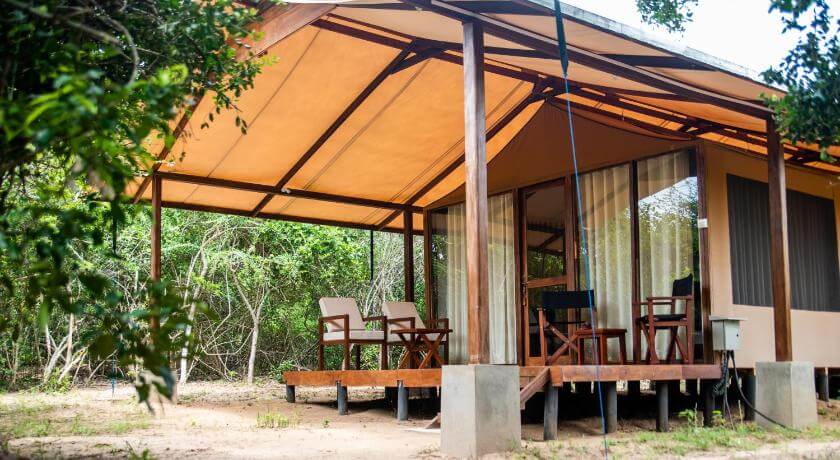 Wild Trails Yala is where we stayed, and absolutely loved it. We stayed in a tent with one double bed and two beds, air conditioning, and our own bathroom. The "tents" at Wild Trails Yala are made of lovely hardwoods, with our own front deck. Once we arrived we went on an afternoon bush walk, then hung out by a watering hole in the later afternoon until dinner was served by candlelight. There is no pool or fancy amenities, here, it really is glamping.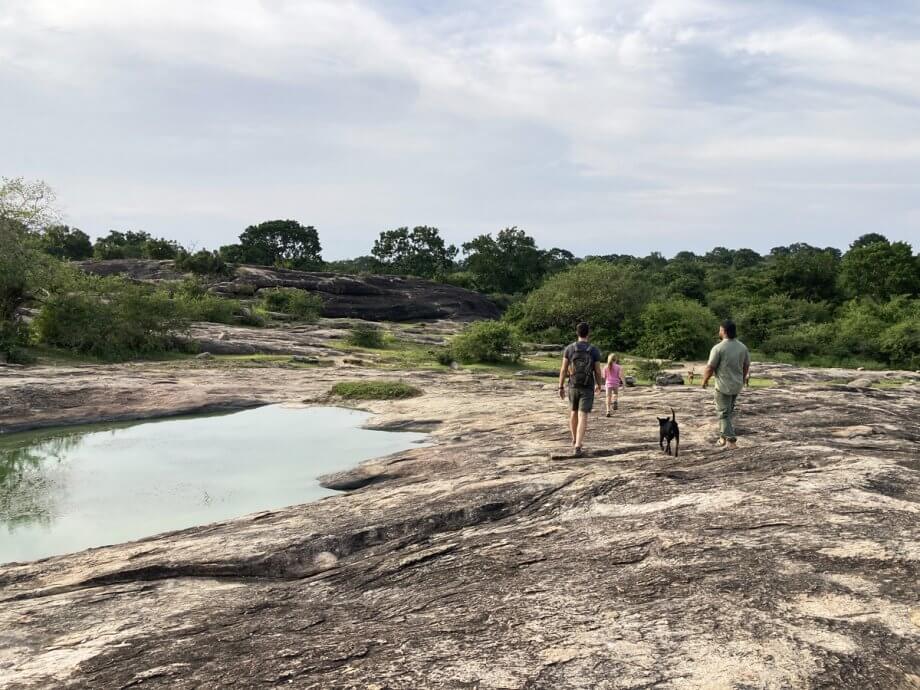 In the morning, we woke in the dark, had a cup of tea and biscuits, and headed out on our full-day safari. By the time we arrived back at camp, it was after dark. We had arranged for a driver to take us to Dikwella Beach that evening. Looking back, we would have enjoyed relaxing at camp for a second night and not rushing out so fast.
The camp here is small and simple, but lovely, and will every convenience. They made arranging our safari easy, and the guide they provided was friendly and knowledgeable. He taught our girls a bit about tracking and answered all their questions about wildlife in Sri Lanka. He even pointed out where once there may have been treasure buried inside a rock!
Book Now: Wild Trails Yala by Suri
This resort is a massive 38-acre complex, complete with a spa, a large outdoor swimming pool, and TVs in each room. This is not a camp, but a large, luxury hotel close to Yala National Park.
Book Now: Jetwing Yala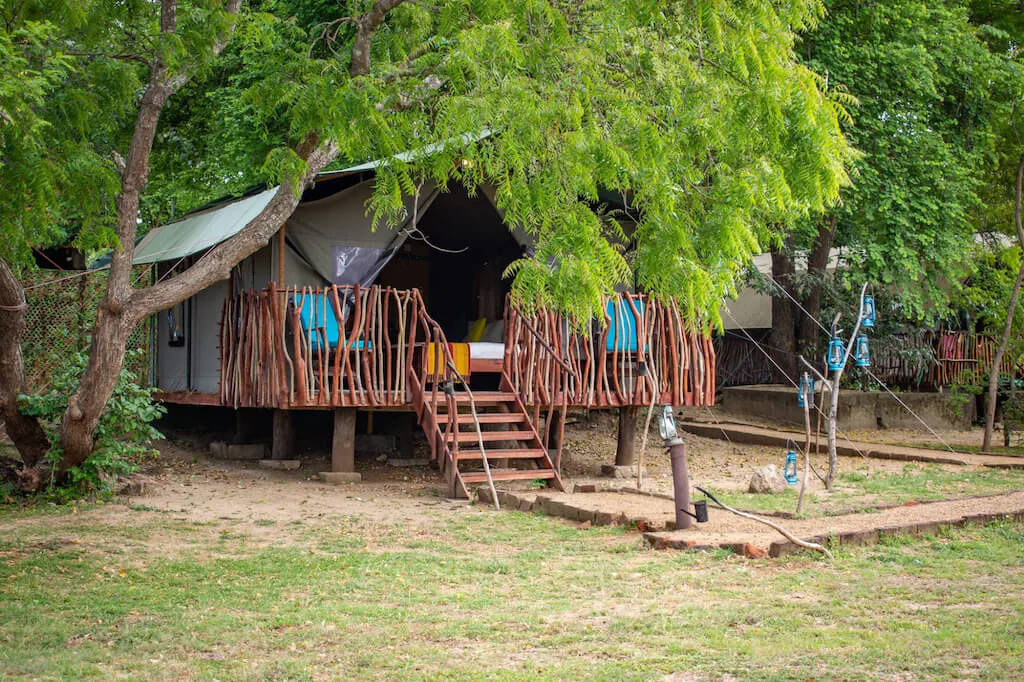 This glamping resort is located near the town of Katagamuwa and uses the northern entrance into Yala National Park than the south entrance used by those lodgings closer to the coast. Visitors report that the ride into camp is a bit bumpy due to its remote location, but that using a different entrance means a quieter safari experience, and that the guides here are experienced and top-notch.
Tents here are canvas and have a more rustic feel, though they are air-conditioned. Hammocks are available in the shared lounge area. They have an onsite restaurant, and can also arrange a bbq by the lake.
Book Now: Camp Leopard

Budget Lodging near Yala National Park
The nearest town to Yala National Park is Tissamaharama. This is where you'll find most of the budget hotels and hostels. From this town, you have about a 45-minute drive to the main gate of Yala National Park. The farther away you stay from the park, the earlier you'll have to get up in the morning to be at the gate (and in line with the other cars) before the 6 am opening. These hotels generally charge well under $100 per night.
There are many more options in Tissamaharama, here are some of the hotels with the highest guest ratings, many of these offer family rooms with multiple beds:

–Moon Light Guest House: With a 9.9/10 rating, travelers report spacious rooms, a shared garden, and staff who cook a delicious curry!

–Village Mango Resort Yala: Looking out over rice fields, these comfortable rooms are run by a lovely family who takes special care of their guests. There are hammocks and bicycles for guests to use.

–Lavender Home Yala: Run by a lovely family, you'll find comfortable family rooms with air conditioning, some with balconies on the upper story.
Safari Options at Yala National Park
When going on a Yala National Park safari you have the option of a half-day morning safari, a half-day afternoon safari, or a full-day safari.

Half-Day Morning Safari
Mornings are the best time to see animals. You'll line up with a lot of other vehicles outside the main gate of Yala National Park as the sun comes up, once the gates open, you'll want to be one of the first cars in, as the vehicles often scare off any animals that are nearby.
Expect a 4:30 departure if you are leaving from Tissamaharama and a 5 or 5:15 departure from one of the border area camps.
If you choose the morning half-day option, you'll have about three hours of safari time, then head back to your accommodation by 10 am.

Half-Day Afternoon Safari
The afternoon safaris depart from your lodging for a 2 pm entrance to Yala National Park. You'll have about three hours of safari time, focusing on the later afternoon hours when the sun is not so hot. All vehicles must exit the park before sunset.

Full Day Safari
A full-day safari is from 6 am when the park opens, until about 6 pm. We watched the sunset on the way back to our camp. This is a long day, but it gives you the best chance of spotting animals, without a lot of back-and-forth driving.
You will need a packed breakfast and lunch to eat in the park. Also, the park closes down from 12-2, and all the full day safaris stop for a long lunch break in designated areas. The park is really strict about this, as it gives the drivers and the animals a much-needed break. You'll see the safari jeeps line up a few minutes before 2 waiting to leave the designated area, but they take this break very seriously.
With four of us in the back of the safari jeep with four bucket seats and a rear bench seat, we had plenty of room to move around and switch seats in and out of the sun over the course of the day.
We spent our lunch break at a stop with a bathroom right by the river. Our guides put down a blanket and set out lunch, then we were free to play in the river until it was time to go. There are a lot of monkeys here so the guides were focused on keeping them away from our food, and then ate once we had finished.
After lunch we drove around a bit, it did start to feel like we were going back over areas we had already visited. At 2 pm it is still hot, so there are not a lot of animals around. One of the kids fell asleep at this time, and we let her rest, figuring we could wake her for any big sightings. By late afternoon there is again more to see, and then as you head back to the gate for your evening exit.

How Much Does Yala National Park Cost?
The entrance fees to Yala National Park are charged by the Department of Wildlife Conservation (DWC) depending on the number of foreigners in a jeep. Children below 6 are free of charge. Children 6-12 pay a child rate, anyone over 12 is considered an adult.
As of 2023, two adults in a jeep will pay a total of 71 USD in park fees. 2 adults and 2 children will be 106 USD. Generally, these fees are included when you book a vehicle with a driver and a guide.
Prices vary, and make sure to negotiate with your provider, but in 2023 we were quoted $150 for a half-day safari (private jeep, 2 adults 2 kids), and originally quoted $300 USD for a full-day, but were able to pay $175 USD. This included a packed breakfast and picnic lunch during our safari day, as well as an afternoon bush walk the day before our actual in-park safari.

How Much Should I Tip for a Safari in Yala National Park?
Deciding when and how much to tip is always a bit stressful, and depending on where you are coming from you may have different cultural associations or expectations around tipping. To clarify, we reached out to our host at Wild Trails Yala to learn about expectations around tipping your guide and your driver after a safari in Yala.
She advises planning to tip around $10 USD per vehicle to the guide for a half-day safari, and around $20 USD for a full-day safari. It is also recommended to tip the driver as well, though generally slightly less than the guide. Adjust as you feel comfortable based on your experience. This is not per guest but per safari vehicle in total.

Yala National Park Hours
Yala National Park opens at 6 am and closes at 6 pm. There is a mandatory lunch break from 12-2 for all vehicles that are staying for the full day.
Some years, the entire park closes for the month of September. However, in 2023, the park will not be closing unless a drought hits.

When is the Best Time to Visit Yala National Park
Yala can be visited year-round, but your chances of seeing different animals will vary by time of year.
February – July is the best time for spotting leopards. This is the dry season, so while the scenery is not as lush, the animals come out into the open to visit watering holes. We visited Yala in February and had great weather for animal spotting.
In August, the Palu trees bear fruit making it much easier to spot sloth bears who love to eat this fruit.
November to January and April are the rainy months when you are less like to see animals. Keep in mind that leopards, like other cats, do not like the rain, and will retreat into caves, so you are much less like to see one on a rainy day.
Often, Block 1 of Yala closes in September to give the park time to recover from the crowds. During this time, Block 5 is available for an alternate safari.

Which Block Should I Visit in Yala National Park?
There are five blocks in Yala National Park, but most are not open to the public. They are protected land, accessible only to those doing research, filming documentaries, or similar programs that get explicit approval.
Block 1
This is the block that most tourists visit. The animals that spend time here are used to vehicles going through and are unfazed by the traffic, and therefore easier to spot. The traffic here can be intense, with lines at the gate before sunrise.
Block 1 is the most popular block because this is where the highest numbers of leopards live. We toured Block 1, and while the actual area is small, we did see almost all of the animals we were hoping for, with the exception of the sloth bear.

Block 5
Block 5 is usually booked for safaris during October and November when Block 1 is closed due to drought and for restoration. There is less visible wildlife here, and much less traffic. The animals are shyer, and the terrain is drier. This is a great block for bird watchers, but not for seeing the larger animals. Some tourists report being very disappointed by tours of Block 5.

Blocks 2, 3, and 4
The other blocks are generally not open to the public, although some specialized tours may enter Block 3 specifically looking to see sloth bears.

How to Get to Yala National Park
While there are buses and trains that run through various parts of Sri Lanka, Yala National Park is not on any major bus routes. You can take a bus from the south coast beach towns to Tissamaharama, but if you are staying at lodging in the buffer area of the park you will need private transportation to get there from the center of town.
From Galle, take the bus marked Kataragama, Tissamaharama is just one stop before the final stop at Kataragama.
The easiest way to get to Yala is to hire a private driver for the journey which will drop you directly at your lodging which may be quite a distance from the town center.

Alternate National Parks in Sri Lanka
Sri Lanka has a massive amount of protected lands over 13% of the country is a national park, reserve, sanctuary, or similar protected space. In fact, Sri Lanka has 21 National Parks! If you can't fit Yala National Park into your Sri Lanka itinerary, there are other parks that you should consider to see wildlife in Sri Lanka.

Wilpattu National Park: Sri Lanka's largest and oldest preserve, with a dense forest cover. Close to the historical city of Anuradhapura. Here you will look for elephants, leopards, and sloth bears.

Udawalawe National Park: This is one of the best parks to see herds of elephants. Drier than Yala, it is located more inland. Located south of Ella and northwest of Yala.

Bundala National Park: This is the most impressive park in Sri Lanka for bird watching. Located just down the coast from Yala, the wetlands here attract migratory birds, and the park boasts over 200 species.

Wasgamuwa National Park– This park in central Sri Lanka, just south of Sirigiya, has the largest population of sloth bears in Sri Lanka. You will also see elephants, deer, and crocodiles.

Tips for Enjoying Your Safari In Yala National Park
Here are some tips to help you be prepared and enjoy your safari in Yala National Park.
1. Keep Your Expectations Low. This is especially important with kids! You may see a wild leopard right away, and follow them for an hour, or you might not see one at all. You may be called to a sighting to find 30 other vehicles waiting in line to see the same animal that is now deep in the grass. You will see wild animals, but it's best to keep your expectations low prior to your trip.

2. Bathrooms are hard to come by in Yala National Park. Your guide may be able to find a spot for you to squat in the bush, but the only official bathroom is at one of the lunch break locations, so be prepared for that reality.

3. The best time to see animals is in the early morning, so you'll start before dark, and be lined up (with a lot of other vehicles) at the entrance to the park before dawn. Later afternoon, starting around 4 pm is the next best time to see animals.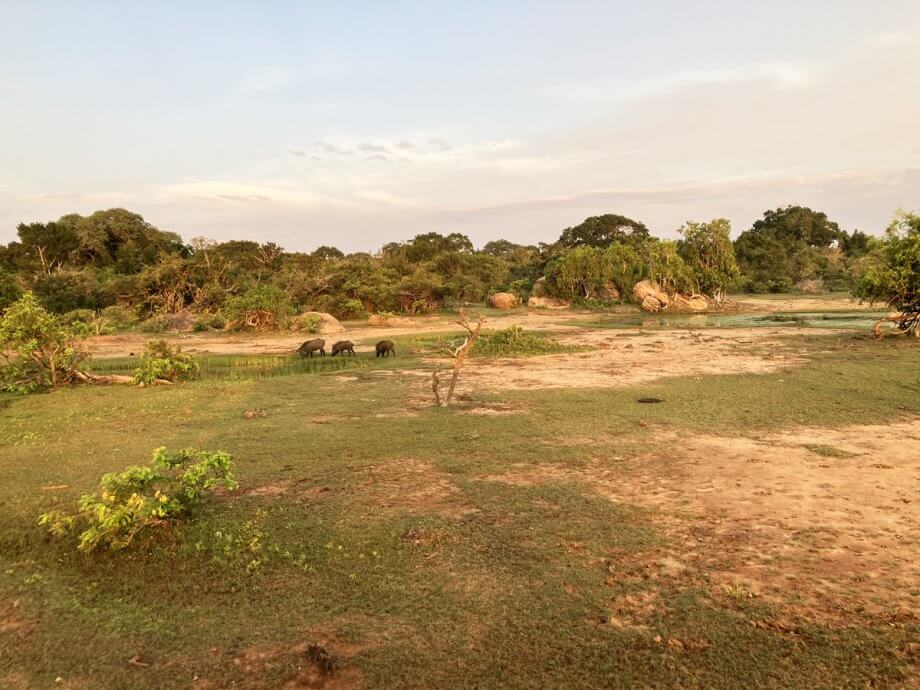 4. The afternoons get quite hot, and the animals take cover. If you opt for a full-day safari, keep in mind that the afternoon will be slow. One of our kids fell asleep in the car during this time, and we let her sleep. To some extent, it felt like we were driving around just wasting the hours waiting for the cooler times when the animals might emerge.

5. Bring water and a packed lunch. Your lodging can probably help with this, but there is nowhere to buy water or food inside the park, so come prepared.

6. Bring sun lotion, bug spray, and a sweater for the cool morning before the comes up. Remember to bring extra battery packs or chargers for your camera or phone!

7. Communicate with your guide. If you'd like to stop and take a picture, let them know. If you are ready to move on, speak up! They want you to have a good time but don't always know whether you want to stop to see the fourth peacock of the day and take photos, or just keep moving.

FAQ: Safari in Yala National Park

How much time do you need at Yala National Park?

The more hours you spend in the park, the more likely you are to see a leopard or other hard-to-spot animal. We recommend either one full day or two half days to maximize your chances of seeing these elusive animals.
How many Leopards are in Yala National Park?

There are over 100 leopards in Yala National Park, with many of them roaming through Block 1. Your guide will be able to identify and report any leopard that you view on your safari.
How Big is Yala National Park?

Yala National Park is huge- it covers 979 square kilometers or 378 square miles. That's nearly 130,000 hectares of land. It is the second largest national park in Sri Lanka, behind Wilpattu National Park.
Can you stay in Yala National Park?

Yes, you can stay inside Yala National Park, though most people stay outside the park in private lodges in the buffer area around the park. The bungalows inside the park are managed by the Sri Lankan government and have few amenities. You can see the facilities here, and reserve them online.
What animals are there in Yala National Park?

There are many animals and birds in Yala National Park including leopards, sloth bears, elephants, crocodiles, peacocks, boars, deer, jackals are more. Birds include various storks, pelicans, and herons.
Are Leopards Dangerous?

Leopards are wild animals, so they can be dangerous. Most leopards in Yala National Park as used to seeing safari vehicles all the time, and pay them no mind. However, never exit a safari vehicle unless your guide tells you that it is safe to do so.
Leopards can become especially dangerous if hurt, or if their cubs are threatened. Here's a fun article on how to survive a leopard attack.
Can you drive through Yala National Park?

Beginning in 2022, vehicles could no longer enter Yala National Park without a licensed guide. Currently, private vehicles cannot enter, you must be a registered tour vehicle.
Do You Need a Guide To Visit Yala National Park?

You need a licensed vehicle and driver to visit Yala National Park. We strongly advise also hiring a guide who will help you track and spot animals, as well as give you guidance on their behavior.
How do I get from Ella to Yala National Park?

There are supposedly a few buses that run from Ella to Yala National Park but they are not straightforward. We recommend booking a private transfer. You can ask for quotes from your hotel in Ellas as well as your camp near Yala to compare rates. We found that while everything is negotiable, most places offer fair rates based on the cost of fuel at the time. The drive time between Ella and Yala is about two hours.
How do I get from Colombo to Yala National Park?

Colombo is about a five-hour drive from Yala National Park. You can hire a driver to take you between the two cities, but you are better off enjoying other locations in Sri Lanka on your way to and from Yala. The southern beaches are only about a 1-2 hour drive from Yala.
There You Have It: Safari in Yala National Park
A safari in Yala National Park is a wonderful experience with wildlife you aren't likely to see elsewhere! We've covered all the options from luxury to budget- whether you want to be pampered, or commune with nature. You've got everything you need to know to book your safari, from what to expect, and to what to bring with you to have an amazing safari. Make sure to add a safari in Yala National Park to your Sri Lanka itinerary, finger's crossed you'll see a leopard!
Continuing on to India? Don't miss our guide to the Taj Mahal!