23 Fantastic Things to Do in Zagreb Croatia with Kids in 2023
Zagreb, Croatia often gets overlooked in favor of the coastal cities to the south but has a lot to offer. Here are all the best things to do in Zagreb with kids or families including historical sites, fabulous museums, where to eat, where to stay, and how to get around Zagreb with kids.
Zagreb is known for its green parks, and its quaint upper town, with winding streets and historic monuments. You can explore Croatian cuisine, learn a bit of history, and hopefully a few words of Croatian as well!
We visited Zagreb during our Family Year Out, when our kids were 5 and 7. Check out our recommended two-week itinerary for families visiting Croatia. In this post, we'll cover all the best things to do from museums to a solar system scavenger hunt. We'll also cover where to eat in Zagreb, how to get around (the trams are easy!), and where to stay in Zagreb.
Traveling around Croatia? We spent time in Zadar, Split, and Plitvice Lakes among others. If you can't make it to Plitvice Lakes, don't miss Krka National Park. We recommend visiting Krka as a day trip from Split.
We also have all the best things to do in Dubrovnik from rock climbing to walking tours of Old Town, to the best Game of Thrones tours. Don't miss the best places to eat in Dubrovnik on a budget.
This article may contain affiliate links, which means we may earn a small commission if a reader clicks through and makes a purchase. As an Amazon Associate, we earn from qualifying purchases at no additional cost to you. All our recommendations are our own and are in no way influenced by any advertiser or commercial initiative.
At the bottom of this post, download a free game of Would You Rather: World Edition to play on your next trip!
Ready to Book Your Trip? Use our Favorite Travel Resources!

Things to Do in Zagreb with Kids
A lot of the things to do in Zagreb can be modified according to your time, and the weather. When we visited in July of 2022 a lot of the major monuments were closed due to damage from an earthquake in March 2020. As these sites reopen, you can spend more time exploring these attractions.
One of the fastest ways to get your bearings in a new city is to take a tour. We recommend this Zagreb bike tour- they provide the bikes and the helmets so the whole family can relax and listen to the guide. Great for kids who are off training wheels and at least five years old.
Check Details: Zagreb Bike Tour

Visit the Trg Bana Josipa Jelačića
This is the main square that you will pass through several times. This is also a major conversion of the various tram lines. The heart of the city since 1641, this wide-open plaza is used for events, and as a general meeting place.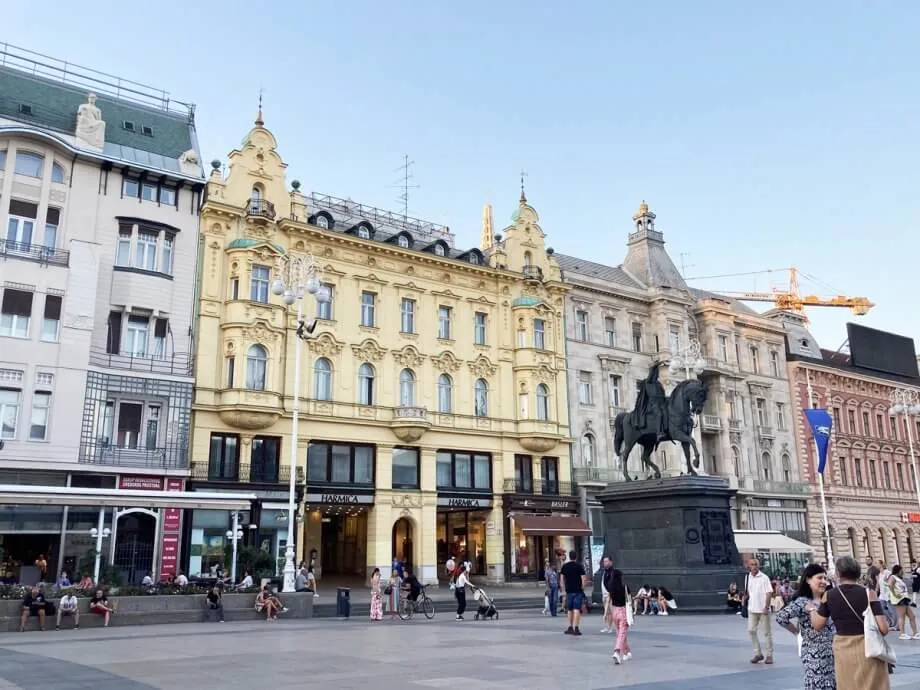 Travel Tip: The statue on horseback in the square is facing south. Face north and head to your right through the opening in the buildings, and just around the corner, you'll find a very convenient public bathroom. It's not well marked, but you'll see stairs descending, and a green elevator box. (You can find it on Google Maps.)
Buy Fruit and Local Goods at Trznica Dolac
This is the main farmer's market in Zagreb. You'll find it at the back of the Trg Bana Josip Jelacica.
In the lower, covered section, you'll find meat, fish, and cheese. Up the stairs, you'll find open-air stalls selling fruits, vegetables, and homemade items. You'll find everything from fresh flowers to handmade doll furniture.
The market is known for its red umbrellas- which have become a symbol of Zagreb. Legend says that the market used to be under black umbrellas until two lovers kissed, and the umbrellas became red with the white stripes you see today.
The market opens each morning at 6:30, and it's best to visit in the morning if you can for the best selection.
Cathedral of Zagreb
The Cathedral of Zagreb is a major landmark- its tall spires can be seen from much of the city below. It was closed when we visited, as it was damaged in an earthquake in 2020.
This gothic Cathedral is one of the tallest buildings in Croatia. It has been damaged and reconstructed several times since it was first built in 1093, with its famous spires added in the 1880s.
Inside, it is known for its world-class organ, containing over 6,000 pipes. Also of note is the stopped clock on your right as you exit- it marks the time of the previous earthquake in1880 that damaged the cathedral.
Walk Through the Stone Gate
The Stone Gate is the Easternmost gate into the city. It is also an important shrine. The shrine protects a painting of the Virgin Mary which miraculously survived a fire in the 1700s.
Marking the passage from upper town to lower town, you'll find stone slabs engraved with messages of thanks to the Virgin Mary, as well as candles lit in prayer. The shrine itself is behind an ornate iron grate.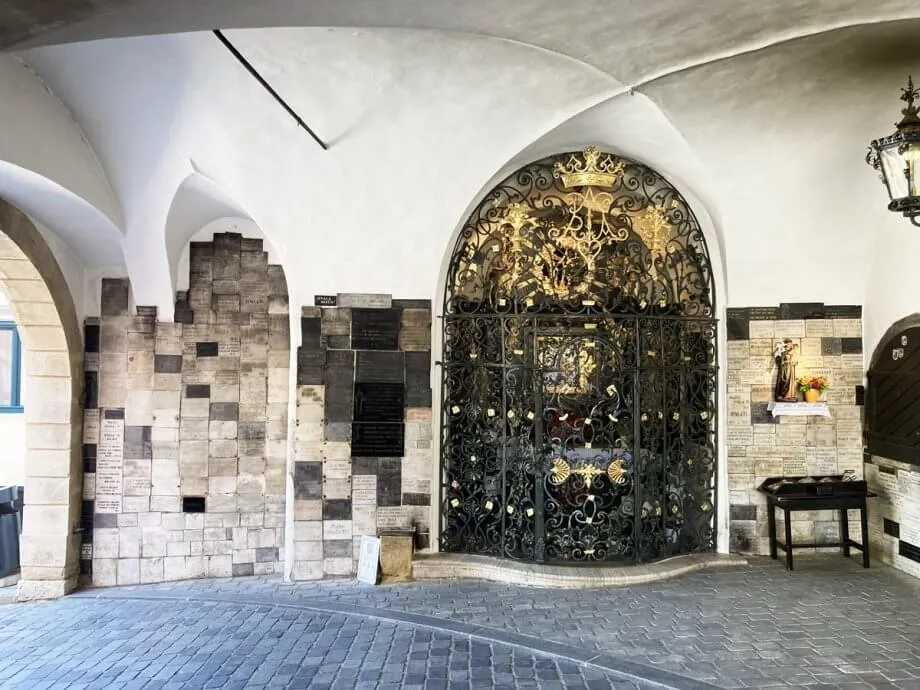 Admire St. Marks Church
One of the oldest buildings in the city, this church is often seen in photos of Zagreb. Its unique patterned roof has become an icon of the city. The roof features the medieval coat of arms of Croatia, Dalmatia, and Slavonia on the one side, and the emblem of Zagreb on the other.
When we visited in 2022 the square was closed, and tourists could not enter the church. Before this, the interior had recently been renovated, with frescos restored, and gilding applied to the ceiling. It is unclear when or if, the church will be reopened to the public.
Historically important, until 2020 Croatia's presidents were sworn into office in the square in front of the church. The current president changed this in 2020, choosing the presidential palace instead.

Climb Lotrščak Tower
Located in Upper Town, climb this tower for views of the city below. Built in the 13th century, it originally guarded the Southern gate of the town. In 1646 a bell was hung in the tower that signaled the closing of the gates.
In the 19th century, a fourth story was added, and the Gric Cannon was installed. This cannon has been fired at noon every day since January 1, 1877.
When you climb the tower you can see the cannon, and the gloves used to operate it. Plan to visit just before noon if you'd like to witness the (loud) firing from below. Prices to climb are 20 kunas for adults, and 10 kunas for children 7+ (as of 2022).
At the base of the tower, you'll find a pleasant park with benches and the station for the funicular.

Take the Funicular
After climbing the tower, take the blue funicular car back down to Lower Town. It's a very short ride (just about one minute), in fact, it's the shortest funicular in the world.
Running without incident since the 1890s, It's the oldest public transportation in Zagreb. Originally run on steam engines, it was converted to electric in 1934. Tickets are 5 kuna per person.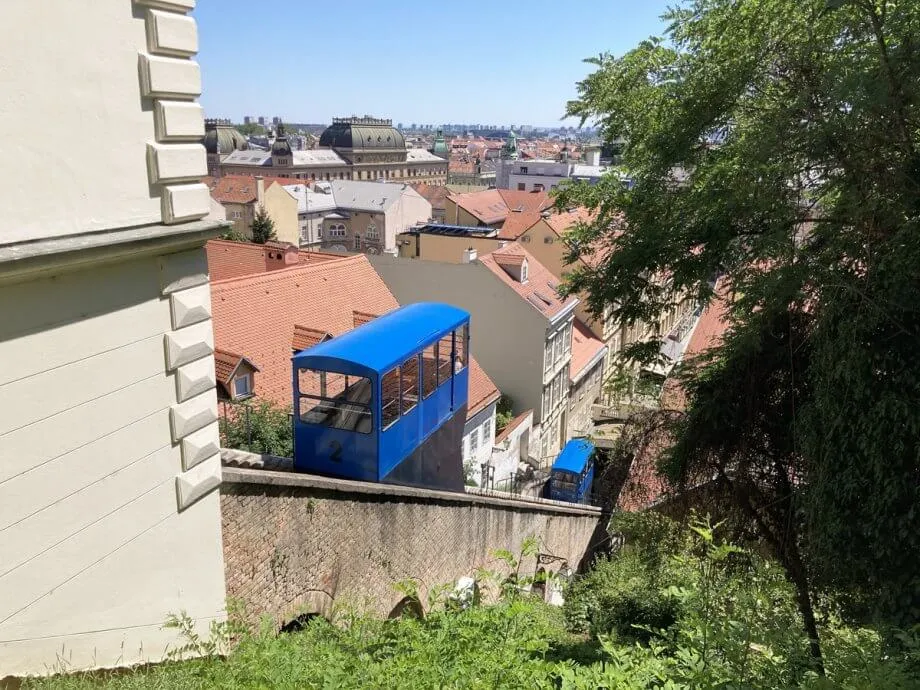 Take a Tram
Trams are a fast and easy way to move around Zagreb. The stations generally list when each numbered tram will be arriving next. Kids love taking the trams, and they give you a great view of the city while you ride.
For details about taking the tram, see the transportation section below.

Stroll Lenuci's Horseshoe
When you first exit the train station in Zagreb, you'll be looking across at Lenuci's Horseshoe, a green strip that is filled with museums, parks, and fountains. The parks consist of seven squares along three straight lines designed in 1883-87 by Milan Lenuci.
Unlike many other places we've visited, splashing and playing in the fountains seemed to be allowed. We saw several groups of children stripped down and splashing around having fun in the cool water.
The trees here provide shade in many areas, so you'll often find locals sitting on the edge of fountains, or spread out on picnic blankets enjoying the parks.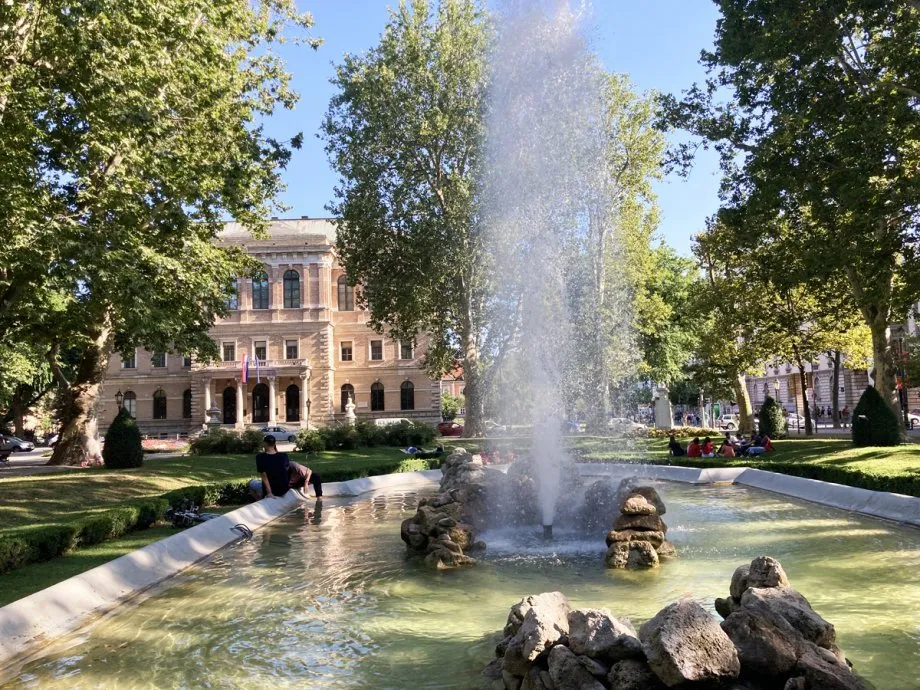 Visit the Botanical Garden
The Zagreb Botanical Gardens offer a peaceful place to stroll away from the bustle of the city. Run by the University of Zagreb, it has over 10,000 species of plants and is open to the public.
The largest garden is English style, there is also a French style garden, rock garden, as well a small wooden bridge. Open from April 1 to November 1. Trg Marka Marulica 9a.
Watch the Lamplighters
In Upper Town, there are still almost 250 gas lamps, which are lit each evening, and turned off each morning, by official lamplighters. Zagreb is the only city in the world that still carries on this tradition manually.
Head to Upper Town at dusk to catch them on their rounds, using a unique stick to perform their task.
Gaze at the Oktogon
This small space is beautiful- the pictures don't do it justice. The Oktogon is part of a passageway connecting Ilica Street to Flower Square. Wander through when you are in the center of town to check out the beautiful glass ceiling. Ilica 5.

Explore Tunnel Grič
This tunnel with a central hall is another interesting place to find in the city center. Built during WWII as a bomb shelter, it was repurposed in the 1990s to host raves, then was used as a shelter again during the wars of the 1990s. In 2016 it was remodeled and opened to the public. Radiceva 2.

Solar System Scavenger Hunt
Go on a scavenger hunt to find the complete solar system! Start with the sun, which is easy to find on Bogoviceva Street. It's quite large, about two meters in diameter. From there, see how many other planets you can find! We found the earth, but it was a challenge. These planets are built to scale, so we found the tiny earth, just under two centemeters in diameter, up high on a small wall plaque.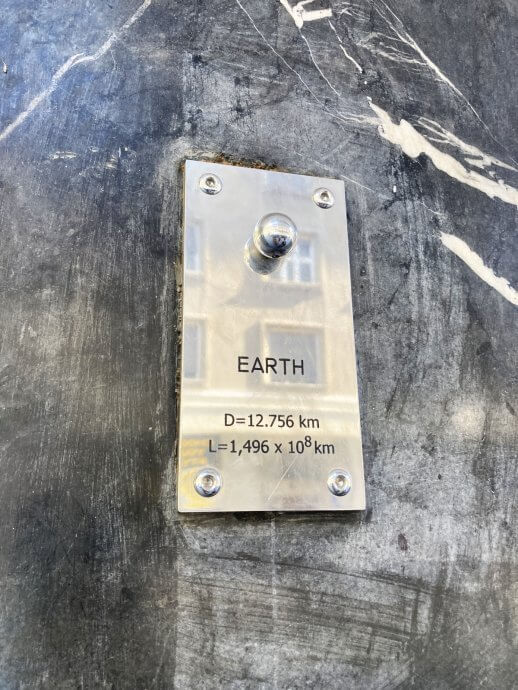 The sun was installed in 1971 by artist Ivan Kozaric. The other planets were added in 2004 by Davor Preis, completely to scale (1:680,000,000), No word on if all the planets still exist. Pluto (now an exoplanet) is 9 km away from the sun. You can read more about this under-the-radar project in this article.
Here are the addresses where the other planets should be located, though locals often don't seem to know much about these. Good luck, and happy hunting!
"Grounded Sun", Bogoviceva ul. 1B.
Mercury: 3 Margaretska Street
Venus: 3 Ban Josip Belacic Square
Earth: 9 Varsavska Street
Mars: 21 Tkalciceva Street
Jupiter: 71 Vocarska Street
Saturn: 1 Raciceva Street
Uranus: 9 Siget street
Neptune: 17 Kozari Way
Pluto: Bologna Alley (underpass)

Mirogoj Cemetary
This cemetery is considered one of the most beautiful in Europe. Owned by the city, people from all faiths are buried here. Its famous arcades were damaged during the March 2020 earthquake. When we visited scaffolding was holding it up, with pieces of upper balconies on the ground. It was in a bit of disrepair, and we weren't able to access large sections.
The lovely pathways are fun to wander. Many notable Croatians are buried here. Word of warning- we found there were a lot of mosquitos here, so come prepared!
This cemetery is a bit outside the city center, so you'll need to take a bus, to reach the entrance to the cemetery. Aleja Hermanna Bollea 27.

Museum of Contemporary Art
The Museum of Contemporary Art showcases modern Croatian art. With an emphasis on video and modern materials like neon, there are some interesting exhibits here.
Kids will love reaching the top of the museum and taking the "double slide" down to the parking lot. Look for concerts on the rooftop Saturdays in the summer. Closed Mondays. Avenija Dubrovnik 17.

Museum of Illusions
For a bit of offbeat fun, head to the Museum of Illusions. From holograms to optical illusions, this hands-on museum is lots of fun for the whole family. This is an interactive museum with things like the "Infinity Room" filled with mirrors. Plan to take lots of photos! Ilica 72.

The Art Pavillion
The Art Pavillion is a beautiful butter-yellow building on Lenuci's Horseshoe. This 19th-century building hosts changing exhibitions of major artists. The interior of the building is stunning, so it's worth a visit regardless of the current exhibition. It tends to close in between installations, so check the museum website for the latest updates. Trg Kralja Tomislava 22.

Zagreb 80's Museum
Want to show your kids the magic of a Commodore 64 computer? This is the museum for you! You can touch all of the exhibits, dedicated to the 1980s in the Eastern bloc countries. In the last room, you can actually play old computer games! Radiceva 34.

Museum of Broken Relationships
This museum is best for kids 8+. The Museum of Broken Relationships chronicles the end of relationships via objects and the stories behind them. This museum based on crowd-sourced materials is one of the most popular (and offbeat) museums in Zagreb. Prepare to get emotional! Cirilometodska ul 2.
Shop for Souvenirs
There are some fun souvenirs to pick up as you explore Zagreb. Look for Licitar Hearts. These red hearts are typically made as a cookie, hand decorated, with a small mirror in the middle. Meant for keeping, rather than eating, they were given as a sign of devotion. These hearts are now a symbol of Zagreb and a UNESCO-protected cultural heritage.
You can also look for Šestine Umbrellas, which are part of a Croatian folk costume that was still worn into the 1960s. You'll see a lot of references to neckties, or the "Croatian Cravat". Supposedly the Croatians are the originators of the modern necktie.

Visit the Sunday Flea Market
Every Sunday, Britanski Trg (British Square) hosts a weekly flea market. It opens at 6:30 and closes by early afternoon, so plan to visit in the morning. You'll find all sorts of goods including artwork, vintage clothes, old books, dishes, coins, dolls, and vinyl records.

Where to Eat in Zagreb
Croatian food tends to be meat-heavy. While we saw salads on quite a few menus, they often felt like an afterthought and were not the best items to choose.
Heading to Dubrovnik? Check out our suggestions for where to eat in Dubrovnik.

Eating in the Zagreb City Center
We found that the city center is divided into two areas. The cafes close to Trg Bana Josipa Jelecica tend to be more upscale and pricey.
Many of the restaurants in this area also require reservations. You'll see many tables with "reserved" signs. There are quite a few excellent high-end restaurants in town, if you want to check them out you'll need to plan ahead.
The exceptions in this area are Good Food (salads, sandwiches) (ul. Nikole Tesle 7), and Pingvin Sandwiches (ul. Nickole Tesle 7).
If you are in this area, you may want to stop by Juice Box (Vlaska ul 72B) for a bottle of mixed organic fruit juice- we tried their strawberry and honey juice, and it was delicious.
The area north of the main square, heading up ul. Ivana Tkalcica is packed with cafes that are half the price of those below the square. We tried a few that were adequate but not worth recommending.
Our best meal on this strip was at El Greco (ul Ivana Tkalcica 30), which serves Greek Street Food. Their Greek Salad had wonderfully fresh ripe tomatoes on it.

Coffee and Ice Cream
Zagreb has a booming cafe culture- most cafes that you'll see only serve coffee and drinks- no food. These are very social places where you'll see groups of friends hanging out together. There is often a lot of smoking as well, so these may not be the best places for kids.
The best espresso and ice cream we found were at Vincek. You have two options- the first is Vincek Slasticarnica (Ilica 18), which has full-service tables at the back and a lot of gelato flavors at the front counter.
This location can be chaotic and busy. You may prefer to go around the corner and up the hill a few storefronts to Vis-a-Vis by Vincek (Tomiceva ul 2). They have half as many flavors of gelato to choose from, but they have a lovely shaded terrace where you can enjoy your treats and a much calmer atmosphere. We highly recommend their espresso, and especially liked the Green Tea with Lemon and Mint Gelato.
For an alternate coffee choice, Cogito Coffee (Varsavska ul. 11) comes highly recommended, though they do not serve food.

Grocery Stores
If you want to cook for yourself, look for Spar or Konzum groceries stores. Both chains have a good, reasonably priced selection of products.
How Many Days Should I Spend in Zagreb?
We recommend spending at least two full days in Zagreb. You can cover the major sites in the city center in one day, with a second day for the lower town and at least one museum. You could easily spend a week if you are interested in more of the museums.
You can also easily take a few day trips from Zagreb. Many people make a day trip to Plitvice Lakes, though if you have the time we highly recommend taking two days to really explore this magnificent park.
Read Next: Two Days in Plitvice Lakes, Croatia: A Family-Friendly Guide
If you prefer to visit on a day trip, we recommend this small group tour- they include pick up and drop off in Zagreb, as well as your tickets for Plitvice, so you won't have to reserve anything online or deal with the hassle of figuring out which entrance to use. They also make a short stop at the picturesque village of Rastoke.
If you have to choose between a day trip or skipping these beautiful lakes, we urge you to take the day trip! They really are an amazing shade of bright blue/green that has to be seen to be believed!
Check Details: Day Trip to Plitvice Lakes National Park
How to Get to Zagreb
We arrived in Zagreb via an overnight train from Paris (via Munich). As you exit the train station you'll be looking straight at the beautiful Lenuci's Horseshoe series of parks. The tram stops right across the street, or you can easily call an Uber.
If you are arriving via the airport, you'll be approximately a 20-minute drive into the town center. There are shuttle buses that run to the train station in town but will take over an hour to get you there.
We recommend using Uber when leaving the airport. After you exit, take the escalator up to reach the pick-up point.
How to Get Around Zagreb
There are several always to easily get around Zagreb. Most of the city center can easily be walked on foot. If you are staying outside of the city center or would like to visit sites a little bit farther out, you have two main options.
Uber is cheap and easy to use in Zagreb. You may wait a few minutes for a car, but it's a great way to get into the city, or out to the train or bus station with your luggage.
The Zagreb Tram is an extensive system that is easy to use to move around the city. You'll need to buy single-use tram tickets at one of the red Tisak kiosks. Adults are 4 kn each, you'll want to buy several so you don't have to purchase again before each ride.
Children are free and don't need a ticket. The internet differs on precisely what age this is- I've seen both 6+ and 7+ listed. When we asked at a Tisak, the guy shrugged and said "don't worry about it", that we didn't need tickets for the kids.
We only had our validated tickets checked once during our time in Zagreb, the inspectors scanned our two adult tickets, didn't ask the age of the kids, and just keep walking.

How to Use the Zagreb Tram
Trams are numbered, you'll see lit signs at many of the stations telling you when the next tram of each number is due to arrive. Google maps will easily tell you which tram to take to your destination.
Once a tram arrives, there are yellow boxes on the poles where residents scan their tram passes. Only the very front and very back yellow boxes will have a slot to insert your paper ticket and validate it. Put the arrow end into the box slot and it'll stamp a time on it.

Where to Stay in Zagreb
We recommend staying within easy walking distance to of the main square- Trg Bana Josipa Jelacica. Whether you are above or below this really doesn't matter, but this is a central meeting point for exploring the city.
We stayed in a lovely apartment that was a 20-minute walk south of the center. We found ourselves taking the tram into the center each day, and would have preferred a closer location.
This apartment is very centrally located and includes two double beds, a living area, and a kitchen/dining area so you can cook some meals yourself.

There You Have It- 22 Things to Do in Zagreb with Kids
There's a wide variety of things to do in Zagreb- from parks to offbeat museums to climbing towers and searching for parts of the solar system. Zagreb is a very family-friendly, walkable city with a lot to offer for all ages.