14 Best Vienna Christmas Markets: Where to Go and What to Eat in 2023
Vienna Christmas markets are some of the best in Europe, in fact, many people visit Austria in the winter just for its Weihnachtsmärkte. Vienna is a beautiful city, full of Baroque, Gothic, and modern architecture, grand palaces, huge museums, formal gardens and parks, wonderful large boulevards, pedestrian-only streets, and narrow alleyways.
You can visit this amazing capital year-round, but unlike many European destinations that start to close down as the weather turns cold, Vienna starts to come alive!
Vienna is full of Christmas cheer- you'll find pedestrian walkways covered in lights, stands of treats and snacks, mugs of hot mulled wine, and lots of live performances around town. If you're lucky you may get a dusting of snow to add to the festive spirit. There are quite a few Christmas markets within the city center and many others just outside that are well worth a visit, such as the Prater, Schönbrunn, and Belvedere.
We spent a month in Vienna with our kids, combining Christmas markets with holiday concerts, a trip to the ballet, and of course all the magical other things to do in Vienna, from palaces to historic cafes. We loved celebrating the holidays here and found it an easy place to jump right into the Christmas spirit.
Which is the best Vienna Christmas Market? That depends on whether you're looking for great shopping, incredible Christmas lights with an ornate palace as a backdrop, or a boisterous atmosphere.
We've covered 14 different Christmas markets in Vienna including our family's favorites, what to expect from each market, as well as some of the traditional food and drink to look for in these markets. We've also included an address for each of the Christmas markets so you can map out where you'd like to go. When there is a website for a specific market, we've included that as well.
You can also take a day trip to nearby towns to experience their Weihnachtsmärkte (Christmas markets). We'll also discuss Austrian Christmas traditions and tips for what to expect at the Vienna Christmas markets.
This article may contain affiliate links, which means we may earn a small commission if a reader clicks through and makes a purchase. As an Amazon Associate, we earn from qualifying purchases at no additional cost to you. All our recommendations are our own and are in no way influenced by any advertiser or commercial initiative.
At the bottom of this post, download free Mobile Wallpaper images to satisfy your wanderlust!
Best Christmas Market Tour
in Vienna
Learn about Austrian Christmas Traditions on a Walking Tour
Why Visit Vienna Christmas Markets
Christmas markets in Vienna are a tradition going back hundreds of years. The city was first given the "privilege" of hosting a December market in 1298 by Albert I. Each year the city takes great pride in its Christmas decorations, and its schedule of performances and live events, leading up to the city-wide celebration on New Year's Eve.
These markets are also called Christkindlmärkte or Weihnachtsmärkte. Over the years, the markets have changed a bit, with increased emphasis on sustainability. Many of the markets go through a judging process to approve vendors.
Atmosphere
Vienna's Christmas markets are full of festive holiday cheer. There are lots of holiday lights, often a large Christmas tree, sometimes an advent calendar counting down the days to Christmas, and even live performances.
When the sun goes down around 4:30, and the weather is cold, these markets are a great place to be social and festive and embrace the holiday season.

Gifts and Souvenirs
Shopping is a big part of Viennese Christkindlmärkte! You'll find everything from souvenir items to handmade gifts. Some Christmas markets have higher quality goods than others but don't worry, we've got them all listed below!

Food and Drink
The food and drink is what brings you back to Vienna's Christmas markets over and over. At the end of the day, whether it's a hot baked potato or a warm glass of Glühwein (traditional mulled wine), there's something warm and filling waiting for you. Friends and family meet up to try different dishes and enjoy a hot beverage together. There's even Kinderpunsch for the kids!
One of the ways the markets have become more sustainable is through the mugs in which they serve the wine or punch. You buy a drink and the price includes the cost of the mug. If you like it you can keep it, or return it and get a refund.
You also don't have to return the mug to the stall where you got it, so as you are walking, if you need a refill or want to return it, you can do so at any drink stall you pass. They will wash them and use them for the next customer, cutting down on the waste of disposable cups.

When Do Vienna Christmas Markets Open?
While each market has its own opening and closing dates each season, they are generally open from mid-November until December 23rd. Some markets will transform into New Year's Markets which are generally smaller than the Christmas markets, and remain open until January 1st.
If you are traveling to Vienna to spend time at the Christmas markets, assume all the markets will be open by November 20th, and plan to visit them prior to Christmas Eve.
Most markets are open from around 11 am until 9 pm. If you are looking to buy things, the afternoons are great, as there tend to be fewer crowds at this time. But it is not until it gets dark and the lights come on that things really become magical.
Keep in mind that it gets dark around 4:30 in Vienna in December, so that gives you plenty of time to enjoy the Christmas lights at the evening markets while attempting to stay warm with your hot mug of punch.

A Guide to Christmas Markets in Vienna
Vienna Christmas Markets are truly magical experiences that ring in the holiday spirit. There are delicious treats, warm drinks, and often large groups of cheerful visitors. Crowds can get shoulder-to-shoulder at some markets, so come prepared with a bit of patience. Even at markets with a more open-plan design, there can be lines for drinks and popular food vendors.
These markets are great for last-minute Christmas shopping, but most people visit to socialize and enjoy the lights, the performances, and the holiday food stalls.
These Christmas markets are spread across central Vienna- and you can walk between many of them, for others you'll need to take public transportation. Don't worry, Vienna is an incredibly safe city, even at night. It has a great, easy-to-use transit system that will have you zipping around town in no time. For details, check out our full guide on how to get around Vienna.

1. Spittelberg Christmas Market
❄️ Family Favorite: Best Shopping, Most Unique Gifts
This is one of our favorite Weihnachtsmärkte in Vienna. Set amongst the narrow streets and historic townhouses of Spittelberggasse, Gutenberggasse, Stiftgasse, and Schrankgasse, you will find popup shops, as well as year-round specialty stores filled with art, goods, crafts, chocolate, candies, clothing, and more.
We found the goods on sale here to be more artisan and unique than at many of the larger markets. There are also upscale stores along the streets in this neighborhood, so keep an eye on them as well. We popped into Schokov for gourmet chocolates that Santa may have snuck into our family's treat-filled shoes on Christmas.
This market is one of the more narrow markets, which is why people love it- the old town atmosphere, but it can also translate into tight crowds. This market is bigger than it first appears, make sure to explore the surrounding streets or you'll miss parts of it.
Grab a mug of hot mulled wine and explore the stalls and stores. Take your empty mug to the next stand for a refill, or return it and get a refund for the mug. Love the mug you got? Take it with you as a souvenir!
Spittelberggasse, Schrankgasse, Gutenberggasse, 1070 Wien, Austria
www.spittelberg.at

2. Museumsquartier Christmas Market
❄️ Less Traditional, Modern & Hip
Just around the corner from the Spittleberg Christmas Market, you'll find the MQ, or Museumsquartier which hosts its own market. This is a very different vibe- here you'll find laser light shows, and DJs spinning into the evening, ending at 11 pm.
Come back during the day to visit the fabulous museums here, and don't miss the MQ Point shop, which is the best museum shop we found in Vienna.
MuseumsQuartier Wien, Museumsplatz 1, 1070 Wien, Austria
www.mqw.at

3. Schönbrunn Palace Christmas Market
❄️ Family Favorite: Best Museum/Market Combo
Schönbrunn Palace was the summer residence of the Hapsburg family and is now a museum. This is a huge complex that includes the palace itself (make sure to take a tour), and even a zoo.
The Schönbrunn Christmas Market, or Weihnachtsmarkt Schloss Schönbrunn, is located in the entry courtyard of the Schönbrunn Palace, about 12 minutes outside of the Vienna city center by car or 25 minutes on public transportation. While this market is farther out, this is a great market to browse at the end of the day, after exploring the Schloss Schönbrunn Museum, the Imperial Carriage Museum, and our kids' favorite (we went twice!), the Children's Museum Schönbrunn Palace.
There are also holiday events here, including a kid's craft hut. When you arrive, check the activity board in front of the hut and check about reserving a spot. They often have large groups of schoolchildren coming in, so you will need to check ahead. Our kids had a fantastic time crafting marzipan snowmen. There is a small charge for each activity, generally around 5€.
With lots of stalls from arts and crafts, to jewelry and holiday gifts, to food and drink, this is one of the larger markets. They also advertise having gifts that are only available here- I assume with the palace name, though I didn't specifically note any.

There is also a robust schedule of performances and live music. The large Christmas tree, all the lights, and the Schönbrunn Palace as a backdrop make this a great place to get into the holiday mood! This market also stays open through the new year, and transitions from Christmas to New Year's Market.
Visiting Schönbrunn Palace is one of our favorite things to do in Vienna in December. This palace is just magical and has an amazing children's museum.
Schönbrunn Palace, 1130 Wien, Austria
www.weihnachtsmarkt.co.at

4. Christmas Village Altes AKH
❄️ Local Feel, Great for Families with Young Kids
This Weihnachtsdorf Altes AKH is on the campus of Universitat Wien. It's fantastic for younger kids, with a small railway, a carousel, and lots of craftspeople demonstrating their trades. This narrow market is a bit off the beaten track, and you'll find more food than other gifts here.

Alserstrasse/Spitalgasse, Hof 1, 1090 Wien, Austria
www.weihnachtsdorf.at/en_us/campus-universitaet-wien/

5. Weihnachtsmarkt Am Hof
❄️ Small, High Quality Products
The Wiehnachtsmarkt Am Hof is a small market in a ritzy part of town, which showcases high-quality gifts. There is a section of Kunsthandwerkmarkt, where everything is truly handmade. We actually spent quite a bit of time here on New Year's Eve, where they had a great live band. This square is where the wine market was held as far back as the 14th century.
Am Hof, 1010 Wien, Austria
www.weihnachtsmarkt-hof.at

6. Michaelerplatz Christmas Market
❄️ Small Market, Best for Treats
This is a small setup of a few stands on the circle just outside the Hofburg Wein. This is a very convenient location- when you are exiting the Sisi Museum or are finishing a visit to the Spanish Riding Stable, you'll find yourself here. If you've just gotten some slices of delicious cake to-go at Demel, you'll also find yourself here.
We stopped here at least twice to warm up with some delicious treats at the stands. We highly recommend the Stanglkropfn mit Apfel- warm puff pastry on a stick interspersed with slices of baked apple.
Michaelerplatz, 1010 Vienna, Austria
www.kuk-weihnachtsmarkt.at


7. Traditional Christmas Market at the Freyung
❄️ Best for Traditional Charm
This Altwiener Christkindlmarkt is one oldest and most traditional Christmas markets in Vienna. While smaller than many of the other markets, this one focuses on decorations and has wonderful craft demonstrations and live music.
This market is also a great alternative if you are looking for foodie gifts, like chutneys, sauces, mustards, and schnapps. Tucked up against an old Scottish church, the market has a great events program of live music, kids' shows, and demonstrations that run through November and December and peak with its New Year's Eve party.
Freyung, 1010 Wien, Austria
www.altwiener-markt.at


8. Rathausplatz Christmas Market
❄️ Most Popular, Most Lights, and Most Crowded (but we love the ice rink)
Called Wiener Weihnachtstraum, or Christmas World, this is one of the most popular Christmas markets. It is sometimes also called the "Viennese Dream Christmas Market". This market takes place in the park in front of the Vienna Rathaus, or City Hall. The Rathaus is a magnificent building, its tower, which can be seen from much of the city, is an icon of Vienna.
There are lots of holiday lights and installations of holiday decorations, including a large outdoor skating rink that winds around the trees. There is a small carousel for the kids, and the Rathaus is lit up at night for a great atmosphere.
This market has more of a "Christmas theme park" feel, and less "old-town village" traditional feel. This market in particular has made an effort in the last few years to showcase less souvenir kitsch and more sustainable products. You'll hear traditional Christmas tunes, and find a huge variety of food stalls.
Centrally located in front of the Rathaus, and with ice skating available for all ages, this is one of the most popular Christmas markets. As a result, it is often crowded. This is one of the larger Holiday Markets, but it only runs until Christmas. The ice rinks stay open until the larger rink is opened in mid-January.
Rathausplatz, 1010 Wien, Austria
www.wienerweihnachtstraum.at

9. Advent Genussmarkt bei der Oper
❄️ Small, Great for a Warm-up Snack
This is a small market with mostly food stalls. This is a great place to stop and grab a snack on your way into the larger pedestrian mall, as you head from the tram toward Stephansplatz.

Across from the Vienna State Opera House on the Kärntner Straße side, you will find an alley all wonderfully decorated with lights. You'll see vendors hand-frying sticks of spiral-cut potato chips, chestnuts and sausages roasting, and lots of sweets. We stopped here for a delicious Austrian take on fried dough called Langos.
Mahlerstrasse 61010 Wien, Austria
www.adventgenussmarkt.at

10. Stephansplatz Christmas Market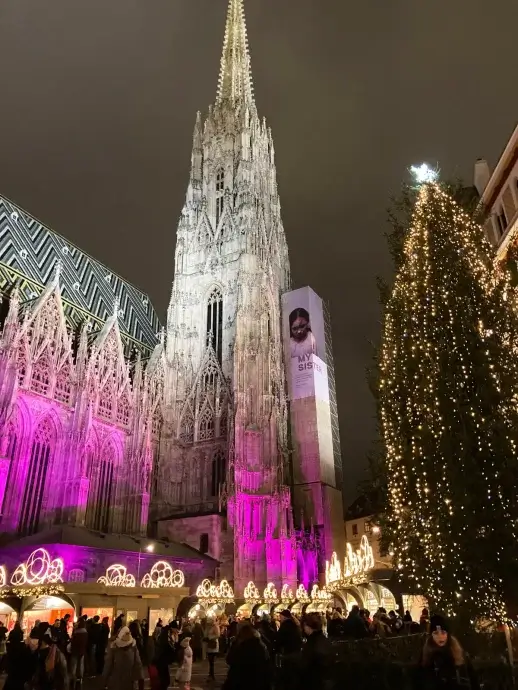 ❄️ Small but Central, Great for Socializing with Friends
Stephansplatz is the square around St. Stephans Church in the middle of the main pedestrian walkway in central Vienna. This makes it a very popular meeting point, and landmark in this shopping corridor.
The Christmas Market at Stephansplatz is one of the smaller markets on our list. However, given its central location, it is a great place to wander through at the end of your day and relax. This market is located on the south side of St. Stephen's Cathedral and wraps around the backside. Here you will find mostly artisan booths, as well as mulled wine and a few food booths.
Stephansplatz 2, 1010 Wien, Austria
www.weihnachtsdorf.at/en_us/stephansplatz/

11. Christmas Village at the Maria Theresien Platz
❄️ Large Market, Convenient to Sightseeing Locations
This is one of the larger Christmas markets and is in a very convenient location if you're making the tourist rounds. It's located in the plaza between the Museum of Natural History and the Museum of Art, both of which are worth visiting.
Maria-Theresien-Platz, 1010 Wien, Austria
www.weihnachtsdorf.at/en_us/maria-theresien-platz/


12. Art Advent Market by the Karlskirche
❄️ Handmade Goods, Organic Food
The Christkindlmarkt am Karlsplatz requires that all vendors make their own merchandise, so you'll find some of the best gifts here. As an added bonus, all the food and drinks sold here are organic.
Karlsplatz, 1040 Wien, Austria
divinaart.at

13. Belvedere Palace Christmas Market
❄️ Family Favorite: Best Palace Atmosphere, Less Crowded
The Belvedere Night Market, or Weihnachtsdorf Schloss Belvedere, set between Schloss Belvedere and the Große Bassin (the pond just to the south), is a wonderful place to meet friends, warm up after an afternoon of exploring the palace and grounds, or just get into the holiday spirit.
The Belvedere Palace Christmas Market is located in front of the Upper Belvedere Museum- famous for its collection of Gustav Klimt paintings, and its beautiful gardens. It is located south of the city center but is easy to reach by tram, train, or Uber.
We stayed in Fasanviertel, a neighborhood in Landstraße next to the Belvedere, and just walked over. You can enter where Karolinengasse ends at Prinz-Eugen-Straße, or walk from the train station at Wien Quartier Belvedere Bahnhst, across the street, and enter the Belvedere Gardens.
This market is smaller than some but has a good mix of food, drink, and crafts, and the pond is lit up at night, making for lovely strolls. It has an open plan, and is less crowded than many of the other Christmas markets in Vienna, part of the reason it is one of our favorites.
Prinz Eugen-Strasse 27, 1030 Wien, Austria
www.weihnachtsdorf.at/en_us/schloss-belvedere/

14. Prater Christmas Market
❄️ Family Fair Atmosphere
Called the Wintermarkt am Riesenradplatz this Christmas market is at the Prater, a large park famous for its giant enclosed Ferris Wheel built in 1897. Entrance to this amusement park is free, then you'll pay for each ride or attraction that you visit. This market features all the traditional foods and tons of Christmas lights.
The largest Ferris Wheel in Austria, a ride in one of the cars is a great way to get views over the city and is comfortable in all weather since the cars are closed to the elements. Ferris Wheel tickets are 13€ for adults, 5€ for kids.
This market features live music at 7 pm Wednesday through Sunday and is open until January 8th, one of very few that stay open into the New Year.
Riesenradplatz, 1020 Wien, Austria
www.wintermarkt.at


Take a Christmas Tour of Vienna
A Christmas tour of Vienna not only will take you to several Christmas markets in one evening, but you will also learn about Austrian Christmas traditions and local specialties. This is a great way to get into the Christmas spirit, especially at the beginning of your trip, when you can make note of places to return to.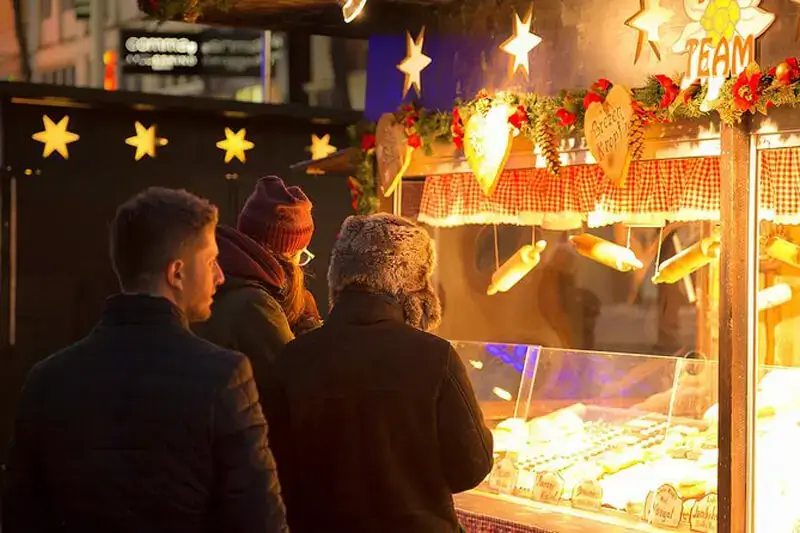 🌟 Rating: 4 1/2 Stars ⏳ 3 Hours ✅ 4 Markets, Drinks 🔎 Check Rates
This group tour of Vienna's Christmas markets includes four lovely Christmas markets which are quite different. You'll start at Mariahilfer Kirche, then visit Spittleberg market, then the MuseumQuartier market, and then end in the Christmas Village at the Maria Theresien Platz. As you move around the markets you'll hear about Austrian Christmas traditions, and how locals celebrate the season.
Drinks and snacks are included in this tour, so you'll be sure to taste some of the most traditional foods at these markets. This tour has a maximum of 20 travelers, guests must be 18 or older for alcoholic drinks (non-alcoholic are also available).
Book Now: Vienna Christmas Market Group Tour
🌟 Rating: 5 Stars ⏳ 2 1/2 Hours ✅ Private, 3+ Markets 🔎 Check Rates
On the private tour, you'll get some of the history of Vienna as you walk through the Old Town while learning about Christmas traditions and visiting Christmas markets. You'll start at the Art Mart at Karlskirche, pass along the Graben where you'll see St. Stephens, see the Hofburg, and visit the most traditional Christmas Market at Freyung.
You'll end your tour at the Rathausplatz, the largest of the Christmas markets, where you can continue to explore on your own. Because this is a private tour, it can be customized to your interests.
Book Now: Private Vienna Christmas Market Walking Tour
A walking tour is a great way to learn about Vienna and see all the amazing Hofburg sights. We rounded up all the best Vienna walking tours for any time of year.

Enjoy a Day Trip to Nearby Austrian Christmas Markets
Vienna is a central location for holiday spirit- but you may also enjoy getting out to smaller towns in Austria where you can visit their Christmas markets. Here you'll find more of a small village Christmas atmosphere which makes for a great day out, especially in these picturesque towns where you are likely to see snow!
🌟 Rating: 5 Stars ⏳ 12 Hours ✅ Three Towns, Private Tour 🔎 Check Rates
On this tour, you'll start with the 4-hour drive to the lakeside town of Hallstatt. The tower of this town is often featured as the iconic Austrian village, with mountains rising behind. Here you will have a short walking tour, visit Christmas markets, and enjoy lunch.
After lunch, you'll continue on to St. Gilgen, located on Lake Wolfgang, which is also known as Mozart Village. While Mozart never visited here, his mother was born here, and his grandfather worked here.
Your final stop on this tour is the beautiful town of Salzburg, known as the home of Mozart, and where many of the scenes from The Sound of Music were filmed. The Salzburg Christkindlmarkt is known as one of the best in Austria.
Book Now: Christmas Tour to Hallstatt and Salzburg
🌟 Unrated ⏳ 10 Hours ✅ Private, 5+ Markets 🔎 Check Rates
This Christmas tour visits Graz, Austria, an often overlooked city with a well-preserved city center that is a UNESCO World Heritage Site. Only 2 1/2 hours drive from Vienna, you'll have a walking tour of Graz.
Along with visiting 5 to 7 Christmas markets in Graz, you'll stop in a traditional Brötchenbar (sandwich shop), and then take the Schloßbergbahn, a funicular rail car, up to the famous clock at the top, with wonderful views of the city.
Book Now: Christmas Tour to Graz
There are so many easy day trips from Vienna- we highly recommend a day to visit Bratislava, and Budapest, and a day (or two) to walk around Salzburg.
Tips for Visiting a Vienna Christmas Market
Ready to start visiting Vienna's famous Christmas markets? Here are our top tips to make sure you're prepared and ready to enjoy some traditional holiday fun.

Bring Cash
Most vendors at Vienna's Christmas markets only take cash. Some stalls with more expensive gifts may take cards, but all food and drink vendors rely on cash. Try to have small bills or exact-change to keep the line moving.

Pay a Deposit For Your Mug
When you purchase a beverage- whether alcoholic or not, it will come in a souvenir mug. Some markets have mugs exclusive to them (marked with the specific market), while others share mugs across markets. These are all intended to be souvenirs and are marked with the current year. When you purchase your first drink, you will pay a deposit for the mug (4 to 6 €).
If you'd like a second drink, simply hand in your original mug and they'll fill a fresh mug for you with your new drink. If you'd like to keep the mug and take it home, go ahead! Or you can return the mug to any drink stall at that market and get your deposit back.

Learn a Few Words in German
A few words in German will go a long way toward communicating, as many vendors, while pleasant, are moving through long lines. Knowing whether you want your bratwurst "mit soße" (with sauce) for example, will make everyone's life easier. Same with knowing your basic numbers- "zwei Glühwein bitter" (two Glühwein please), though English will do in a pinch. A "danke" goes a long way!

Dress Warmly
Vienna gets cold after the sun goes down! While it can be hard to eat with thick gloves on, dress warmly to keep out the chill. We often found ourselves clutching warm mugs and stamping our feet to stay warm.

Expect Crowds
Vienna's Christmas markets are popular! Expect crowds as soon as the sun sets. Some markets are narrower (like Spittelberg), which leads to shoulder-to-shoulder bottlenecks. Other markets, like the palace markets, have stalls arranged in a larger semi-circle, so you can move around with ease, but may still find lines for popular food stands.

Stand and Eat (or Drink)
There are both tall and shorter tables distributed around the Christmas markets, but there are generally no places to sit. You are expected to stand and eat or drink, or rest your plate on the high table. Bathrooms are available at the palace markets, but harder to find at the neighborhood and street markets. Older folks may struggle with not having seating available to take a rest.

Check for Live Performances
Many of Vienna's Christmas markets have a robust schedule of live performances, from choirs to caroling. Check the website for each market to see details, or just show up an see what happens!

What to Buy at a Vienna Christmas Market
There is a variety of gifts and souvenirs available at each Vienna Christmas market. You'll find a lot of jewelry options, as well as Christmas ornaments in all sorts of materials from blown glass to laser-cut wood. Ceramics stalls tend to have everything from teacups to ceramic angels. You'll find woven headbands, scarves, and other textiles.
You will also find a lot of souvenir items marked with the Vienna name, from ornaments to snow globes. In the more traditional markets, you'll find small wooden houses and traditional nativity pieces. At the more artistic markets, you'll find more blown glass, candle holders, and knit and leather pieces. You'll also see a fair amount of edible gifts like jams or chocolates as well.
We had our eyes out for a special nutcracker to take home and were surprised to not find these among the Christmas market stalls.

Favorite Vienna Christmas Market Food and Drink
You'll find a variety of food and drink options at the Vienna Weihnachtsmärkte. These are a few of our favorites to keep an eye out for. You'll find punch-style drinks available both with and without alcohol, as well as beer and hard spirits. You'll find hearty meals ranging from noodles to potatoes, and even soup in bread bowls, often with meat or cheese included. Don't forget to bring cash to pay for your food and drink.
Glühwein
This mulled wine is the most traditional drink you'll find in a Vienna Christmas market. Sometimes it is simply called "Glühwein", other times you'll have your choice of Glühwein "Roser", "Weiss" or "Uhudler"(a wine unique to Austria), meaning red, white, or rosé! Red is more traditional, but all are delicious. A mug of Gluwein is around 5€, plus deposit.

Kinderpunsch
This is the Glühwein version for the kids! It's basically a hot fruit punch with a slice of fruit in it. It can be quite sweet, but it's hot and lets the kids get into the Christmas drink action. Mugs are usually around 3€.


Other Traditional Drinks
You'll see lots of other drinks on the menu including Sisi Punsch (cherry punch with Amaretto), Marillenpunsch (apricot punch with rum), as well as apple and chocolate versions. You'll also see Glühwein Alkoholfrei (alcohol-free), as well as "bio" versions that use organic wines.

Spaetzle or Nocken
Spaetzle is the German word for a traditional style pressed dumpling or egg noodles, made by pushing dough through a strainer to make short odd-shaped pieces. Kaese Spaetzle or Kasnocken (Austrian) is the original mac and cheese, usually served with caramelized onions on top.
You will also find it served with meat and cheese (like bacon), pulled pork, or a red sauce or pesto. However you have it, you really cannot go wrong. Hot, hearty, and cheesy, it is sure to warm you up on a cold winter's eve.

Wurst and Hot Dogs
Vienna-style sausages and hotdogs are typical Viennese market fare. Wurst is a thick sausage, and there are literally hundreds of kinds, and typically served on a sliced roll, with mustard, sauteed onions, and other toppings.
Hotdogs are thin and longer than in the United States and are either served in a link or stuffed into a hollowed-out roll with mustard, ketchup, and mayo. You may also see a hotdog listed "mit brot", or "with bread", this does not mean that it comes on a roll. You will literally get a hotdog and then be handed a separate piece of bread.

Baked Potatoes
Called an Ofenkartoffel, baked potatoes are a hearty meal- they are large potatoes that come stuffed with all sorts of ingredients including cheese, corn, and even ham.

Gross Krapfen
This translates literally to "large donut" and they are as big as your face. These are similar to a yeast donut, without the hole in the middle. You can choose the filling and often watch them fill it right in front of you. Watch your kid's face light up when you hand them this one!


Langos
These are like a large, flat fried dough, but often served covered in garlic butter. Fresh, they are delicious.
Raclette
This tangy, melty cheese is often associated with Switzerland, but you'll find it in various iterations in the Viennese Christmas Markets. You can get it with ham or bacon on top of a slice of bread, or as we prefer, drizzled over boiled potatoes.

Pretzels
Again, expect these to be as big as your head. You can choose traditional with salt, apple cinnamon, donut-style, white chocolate, poppyseed, and more. We love the traditional best, but the other flavors are always tempting.

How is Christmas Celebrated in Vienna?
There are many Christmas traditions in Vienna, including advent calendars and wreaths, Christmas trees, and nativity scenes.

Christmas Traditions at Home
Most typical Austrian families set up a nativity scene and trim the Christmas tree on December 24th. The tree lights are turned on for the first time, then the family gathers to sing Christmas carols. The Christmas tree comes down on January 6th after Epiphany, or All Kings Day.
Christmas trees are easy to buy from vendors on the street in Vienna, but because they are not usually set up until Christmas Eve, they are not held in large stands and watered like most Americans are used to. They are set up on a simple wooden cross, with the idea that the tree will last on its own from Dec 24-Dec 6, with perhaps a spritz of water.

Santa Claus, Krampus and ChristKind
In Austria, December 6th is St. Nicholas Day. On this day, both St. Nick and his scary buddy Krampus visit homes to see who has been naughty and who has been nice. In some villages, Krampuslauf is celebrated, where people dress up as Krampus in a village parade. It is on this day that children's shoes are filled with peanuts, chocolates, and other treats.
On Christmas Eve, Austrian children believe it is not St. Nick, or Santa Claus who brings the presents, but the Christkind, or Christ child, in the form of an angel.

Plan Ahead for Christmas Closings
Typically Christmas is celebrated in Vienna on Christmas Eve with family, at home. You will find most stores and restaurants are closed on Christmas Eve, Christmas Day, and also December 26th, which is St. Stephens Day.
If you want to have dinner out on Christmas Eve, plan ahead, check restaurant hours, and make a reservation. We also highly recommend doing any grocery shopping ahead of the start of the holiday. Stores will typically close early on Christmas Eve and be closed until the 27th.
We had a delicious traditional Austrian meal for our Christmas Eve dinner at Weißgerber Stube starting at 1:30 pm. There were very few other people there, and the restaurant closed at 3:30.

FAQ: Vienna Christmas Market
Should I Visit All the Vienna Christmas Markets?

There is really no reason to visit all the Vienna Christmas Markets. Choose the ones that complement your other plans around the city, and enjoy them. There is no prize for visiting them all, and you'll start to find that many have the same goods for sale, and you will have personal favorites based on either atmosphere or the food available.
What is open on Christmas Day in Vienna?

Very little is open on Christmas Day in Vienna, so plan ahead for all meals, as most of the city will be closed. Ubers, buses, and trams will still run if you need to move around the city.
Does it Snow in Vienna at Christmas?

Maybe! Snow is not guaranteed in Vienna at Christmas. When we visited, we had a few dustings of snow, but mostly it was just cold. If you take a day trip out to Salzburg, you will see the peaks of the Alps covered in snow.

There You Have It: Vienna Christmas Markets
There are so many wonderful Christmas markets in Vienna- choose a few to visit and enjoy all the delicious food and warm mugs of Glühwien, while finishing up your Christmas shopping (and perhaps picking up a gift or two for yourself). We've covered the highlights of each market so you can decide which markets are best for you, and which foods to look for when you visit.
Don't forget to take a Christmas Market Tour to learn about Austrian culture while trying a few local specialties. Visiting a Vienna Christmas market is such a fun part of the holiday- even if it's cold out, you'll be filled with Christmas spirit in no time!