Vienna in December: 35 Magical Things to Do in Winter (2023)
Vienna, Austria is a wonderful city to visit in December, with all its rich history, diverse mix of architecture, beautiful baroque palaces, gothic cathedrals, oh so many museums and art that you can take in, traditional and modern cafes, and don't forget the Viennese Christmas markets! One of the more affordable cities in Europe, Vienna in December is worth visiting, though we love this city all year round.
As the temperatures begin to drop, Vienna comes to life with holiday decorations, lights, and Christmas markets, with its wonderful traditional food and drink, that is literally designed to warm you up on a cold day.
Every year, Popp & Kretschmer, the famous department store, puts up its red holiday bow, the largest in the world and it has become a symbol of the start of the Christmas season in Vienna. Across the street from the Vienna State Opera House and the Hotel Sacher (home of the original Sacher Torte), this is the perfect place to begin your visit to Vienna in December.
We spent the month of December in Vienna celebrating Christmas with family, and taking in as much of the grand splendor of this city as we could. In this post, we'll cover all the best things to do in Vienna in December from museums to Christmas concerts, what to expect from the weather in Vienna in December, and a few travel tips to make the most of your trip to the city of Vienna in the winter, including when stores are closed and how to buy a Christmas tree in Vienna.
This article may contain affiliate links, which means we may earn a small commission if a reader clicks through and makes a purchase. As an Amazon Associate, we earn from qualifying purchases at no additional cost to you. All our recommendations are our own and are in no way influenced by any advertiser or commercial initiative.
At the bottom of this post, download free Mobile Wallpaper images to satisfy your wanderlust!

Weather in Vienna in December
The weather in Vienna in December is cold with possible rain or snow. Early December ranges on average from highs of 43°F to lows of 34°F (6°C to 1°C). Later in the month, the temperatures drop on average to highs of 35°F to lows of 28°F (2°C to -2°C). Snow flurries are not uncommon, but you won't typically see much accumulation.
We found that while we were excited to wake up to a dusting of snow on the ground a few times, but never saw much snow really stick. Most of December in Vienna was cold, sometimes gray, and even rainy. Make sure to pack layers, and be ready to mix up your indoor and outdoor activities to give yourself time to warm up.
If you're anxious to see snow while in Austria, take a day trip to Salzburg, where you'll have beautiful views of the Alps, which are sure to be snow-coated in December.

Quick Guide: The Best Tours in Vienna in December

Things to Do in Vienna in December
1. Browse the Vienna Christmas Markets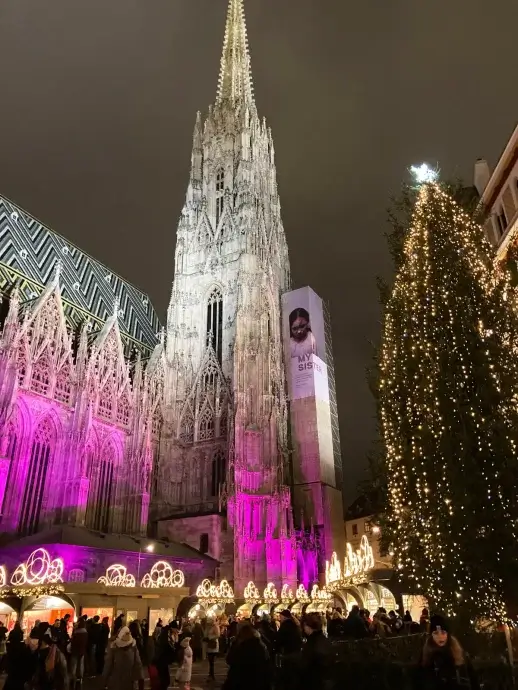 The Christmas Markets of Vienna (Weihnachtsmärkte, or Christkindlmärkte) are great places to get into the holiday spirit- you'll find local arts and crafts, can hunt for gifts and souvenirs, all while trying some traditional Austrian cuisine and drink. Grab a mug of hot mulled wine, called Glühwein, and warm up with friends after a day of sightseeing.
There are lots of markets that pop up all over the city, some are big and others just a few stalls. Some have a stronger focus, either on food or local artisans, while others are more generic souvenir souvenir-oriented. With so many, it can be hard to choose- we wrote a full list of our favorite Vienna Christmas Markets to help you prioritize your time, along with which Christmas market food to look for!
Vienna Christmas markets open around mid-November and close December 23rd. A few will convert into New Year's Markets and stay open until January 1st, but plan to explore most of these markets before Christmas Eve.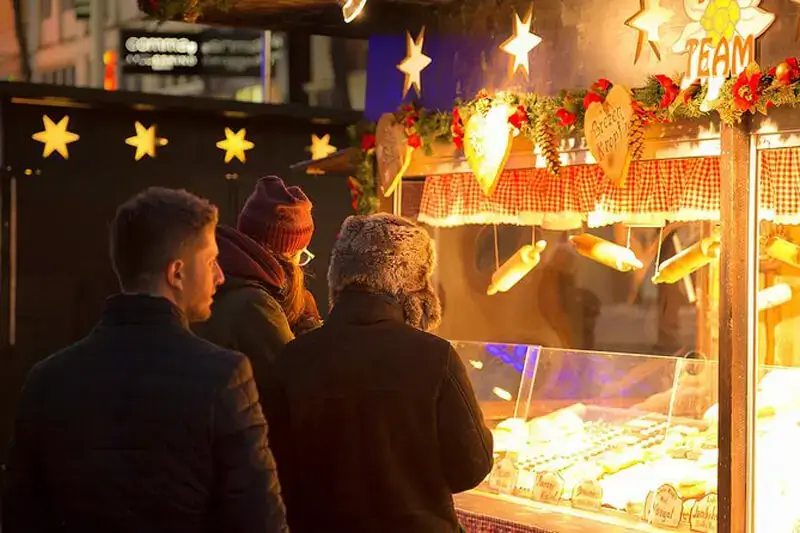 Take a Christmas market tour and learn all about Austrian Christmas traditions. On this 3-hour tour, you'll visit 4 different Viennese Christmas markets, and sample local specialties. Drinks and snacks are included in the tour, so you're sure to find a new favorite!
This is a group tour, limited to 20 or fewer people. If you prefer a private tour, this tour comes highly recommended.
Book Now: Christmas Market Walking Tour


3. Ice Skating at the Rathausplatz
There are three places to ice skate at the Rathausplatz in Vienna. The first opens around the middle of November and is about 3,000 sq meters. This is a really fun place to ice skate, as it has one-way paths that wind through the woods and then open up into larger free-skate areas.
Around the rink, you will find several food stands, places to sit, and lockers to store your things. Adult admission to this rink is around €8.50 and adult skate rentals are about 8€. Kids rentals are 5€. This rink is open from 10:00 to 22:00.
The second area is a separate kid's ice rink, where children can learn to skate and there are penguin and dolphin skating aids available to use. There is no fee to skate, and skate rentals are €5.00 for kids (which includes a helmet). This rink is open from 10:00 to 21:30.
Our kids loved this one and it helped them to gain the confidence to try the other skating area. There are signs saying not to go onto the ice while wearing shoes, but many parents (us included!) were out there in shoes to help the kids get the hang of it and no one seemed to mind.
The third ice rink is called the "Viennese Ice Dream", it's a larger ice arena that does not open until mid-January, but if you are around in the new year, this 8500 sq meter rink is worth checking out. It is set right in front of the Rathaus, with stages, food booths, and places to sit, stand, or eat around it. This is a great place to meet friends or come and enjoy the winter festivities. This rink stays open until early March.

4. Stroll Kärntner Straße and Graben for Lights
Karnter Strasse and Graben are the main pedestrian streets running through Central Vienna. Here you'll find all sorts of shops, stores, and cafes, including many name brands. This is a great place to stroll and take in the Christmas lights and the holiday window displays.
You are sure to notice the Plague Column (Pestsäule), It's super ornate, and sure to catch your eye. It was erected to celebrate the end of the Great Plague epidemic in 1679. The column is right in the center of the most famous shopping street in the city – Graben.
You'll also find a few stalls set up in the middle of these streets selling Glühwein, often to benefit a specific group or charity. If you're around for New Year's Eve, make sure to come back here to participate in Vienna's famous group Waltz!

5. Attend a Performance of The Nutcracker
We really enjoyed taking our girls to a performance of Nutcracker ballet at the Wiener Stadthalle to celebrate the holiday season. For 2024, there is a single performance as part of the International Festival Ballet in mid-January.
The Vienna State Opera House also sometimes includes this holiday classic (called Der Nussknacker in German) in their performance schedule which would be an amazing place to see it.
The Wiener Stadthalle hosts visiting companies, while the Vienna State Ballet performs at the Vienna State Opera House and Vienna Volksoper, check all three for current performance schedules.

Wiener Stadthalle, Roland-Rainer-Platz 1, 1150 Wien, Austria.
Vienna State Opera House, Opernring 2, 1010 Wien, Austria
Volksoper Wein, Währinger Strasse 78, 1090 Wien, Austria
This 3 1/2 hour tour explores Vienna's famous cafe culture- taking you to some of the best Viennese bakeries, pastry shops, and chocolatiers in the city. Your third stop will be a savory one (schnitzel or dumplings)- so you can continue on for more dessert tastings!
This is a small group tour with ten or fewer travelers. This tour gets solid 5-star reviews, it does involve a lot of walking, though you may take public transportation between areas of town.
Book Now: Vienna Pastry and Dessert Food Tour

7. Watch an Opera
We highly recommend seeing an opera in Vienna if you have the chance, and the Vienna State Opera House is not to be missed. It opened in 1869 and was inaugurated as the "Vienna Court Opera" in the presence of Emperor Franz Joseph I and Empress Elisabeth of Austria.
The 1,709-seat Renaissance Revival venue was the first major building on the Vienna Ringstrasse. Its current name was adopted after the establishment of the First Austrian Republic in 1921.
Today, enjoy the Opera under the current artistic direction of Philippe Jordan (2020–present) and check out the current calendar of events.
8. Visit St. Stephen's Church
Called the Stephansdom, this cathedral is the seat of the Holy Roman Archdiocese in Vienna and a symbol of Austria. Many famous figures from Vienna are buried here, from Hapsburg emperors to cardinals and archbishops.
St. Stephans is free to enter, but there is a fee for the catacombs, and to visit either the north or south towers. At 136 meters high, the south tower is the highest tower. You can reach the top by climbing 343 steps, for wonderful views out over the city. The north tower, by contrast, can only be reached by elevator. Called the "Eagles Tower" it was never completed. Here you will find 23 bells including the Pummerin Bell, the largest church bell in Austria.
Located in the middle of the city, St. Stephans is a central meeting point and landmark in the city center. You'll find a lovely Christmas market in front of the cathedral in November and December, and concerts held inside throughout the year. In fact, Vivaldi's "The Four Seasons" is performed in the cathedral each Saturday from the end of May to October.

9. Warm up in a Cafe
Vienna is known for its cafe culture- and winter in Vienna is the perfect time to embrace this side of the city! Try the Viennese coffee specialty called a melange- similar to a cappuccino.
Some of our favorite cafes in Vienna for coffee, pastries, and hot chocolate for the kids include:
Coffee and Friends, Landstraßer Hauptstraße 146/12
Boutique Cafe Annabelle, Herrengasse 5
Gustav Emil Paula Paula, Babenbergerstraßse 7
Also, duck into Ferstel Passage (close to Central Cafe) to get out of the weather and explore some lovely shops, including quite a few cafes.

10. Attend an Opera in the Crypt
This odd venue is the perfect place to introduce children to the Opera! Located in the crypt under St. Peters Church, along with longer pieces for adults, these operettas are short versions designed for kids from ages 3 to 10.
The intimate venue means the kids are up close to the costumed performers. A 45-minute version of The Magic Flute is a favorite that is performed quite regularly. Check the schedule for both adult and children's programming.

11. Visit the Spanish Riding School
The Spanish Riding School is a famous Austrian institution dedicated to the training and performance of Lipizzaner horses, Europe's oldest horse breed. These white horses are trained from birth for specific maneuvers including jumps and leaps, called caprioles, and levade.
The Lipizzaners perform at the "Ballet of the White Stallions" in the Winter Riding School of the Hofburg Palace. You can watch a 70-minute performance, or attend a morning training exercise in the ornate hall. It's a beautiful location that makes for a unique experience.
Please note that many of the tickets are for standing room. Make sure to book "seats" rather than "standing area" as seats are limited. Book well in advance as they sell out quickly. Make sure to arrive at least 45 minutes before the performance. Children must be at least 3 years old for both the performance and the Riding School tour.
Book Now: Lipizzaner Performance at the Spanish Riding School
You can also take a one-hour tour of the Spanish Riding School to learn more about its traditions which have endured for more than 450 years. You'll be able to see the horses up close (you cannot touch them) and learn more about the care and training of these animals.

12. Learn about Empress Elizabeth at the Sisi Museum
As you explore Vienna, you'll see lots of references to Empress Elizabeth, also called Empress Sisi. This beloved figure is everywhere in Vienna. The Sisi Museum is a joint ticket with the Kaiser Apartments and the Silver Museum. One ticket allows you to view all three, and you'll follow a single-direction path through them.
There are no photos allowed inside the Sisi Museum, but you'll learn about the famous empress, see some of her dresses, and learn about her habits and routines, including how long it took to wash her hair! You'll learn about her life and untimely death, and why this eccentric character has captured the heart of Vienna. You'll also see her room in the Kaiser apartments including her exercise equipment.
13. Take a Walking Tour of Vienna
A walking tour of Vienna is a great way to either understand the Old Town if you are a first-time visitor, or dig into the history of this complex city. For first-time visitors, we recommend a classic old-town walking tour.
For those who are already familiar with Vienna, you can choose between a World War II and Hitler-themed history walking tour, or perhaps a food, coffee, and market tour. Whatever your preference, we've narrowed down the best walking tours in Vienna.

14. Oogle at Treasures at the Imperial Treasury
The Imperial Treasury of Vienna is located in the Hofburg Palace. It has both a secular section and an ecclesiastical section. This is where you'll find Vienna's answer to the "crown jewels" including the stunning Imperial Crown of the Holy Roman Empire. This crown is made of gold, enamel, pearls, and precious stones. It was used for centuries at the coronation of kings and emperors of the Holy Roman Empire.
You'll also see a baby cradle gifted to Napoleon, and an agate bowl that was rumored to be the holy grail. Called the Kaiserliche Schatzkammer Wien, admission to the treasury is 19€ for adults, and children under 19 are free.


15. See Masterworks at the Belvedere Palace Museum
The Belvedere Museum has two main sections, connected by a garden. The Upper Belvedere houses the permanent collection of artwork, including the world-famous piece "The Kiss" by Gustav Klimt, among many of his other works. The Lower Belvedere has temporary exhibitions, the orangery, and the stables. Belvedere 21 is in another location and has modern and contemporary art, music, and film.
Completed in 1723, the Belvedere Palace was originally the summer residence of Prince Eugene of Savoy, one of Vienna's most famous generals. The Upper Belvedere was the first public museum in the world, opening to the public in 1781.
The Belvedere has a long and colorful history. The wedding of Marie Antoinette and the future King of France, Louis XVI was held here, including a ball which was thrown in their honor, and included a guestlist of 16,000 people. During a visit to the Upper Belvedere, you'll also see the historic room where the Austrian State Treaty in 1955 was signed. This treaty gave Austria its independence for the first time since Anschluss in 1928.
This 3-hour museum tour covers the fascinating history of the Belvedere Palace and gardens, as well as the highlights of the art collection including iconic works by Kilmt, Monet, Rodin, and Van Gogh. While you will spend time in the gardens, this is not exclusively a history tour, there is an emphasis on viewing the major artworks as well.
This tour is run by an art historian who will discuss history, architecture, and art. This is a very small group tour with a maximum of 6 people. Admission fees to the museum are not included in the tour price.
Book Now: Tour of the Belvedere Museum

16. Learn to Make Apple Strudel
Check out the Original Wiener Strudelshow, on the lower level of the Cafe Residenz at Schönbrunn Palace. This might sound a bit touristy and tacky, but we took the whole family (three generations), and everybody, ages 6-86, enjoyed it. The chefs here know how to entertain. They talk you through the steps of making apple strudel, from their original Viennese recipe.
Plus you get to enjoy a slice of apple strudel with a Wiener Melange (a specialty coffee drink similar to a cappuccino), tea, or hot chocolate while you watch, and take home the recipe if you want to try it on your own. This is a great activity for winter in Vienna- the warm drink and cinnamony pastry are fabulous on a cold day.
Walk through the gates of Schönbrunn and you will see the restaurant on your left in the building beyond the fountain. The restaurant is on the ground floor and the Strudelshow is downstairs in the cellar.
Tickets cost 15€. Shows run from Wednesday through Sunday and on public holidays, at 10 am, 11 am, 2 pm, and 3 pm. Make sure to reserve ahead of time as these shows sell out. Located at Kavalierstrasse 52, 1130 Vienna.
If this piques your interest, you can book a baking course, where you will learn, prepare, and bake your own apple strudel.

17. Tour the Magnificent Schönbrunn Palace
The Imperial Summer Palace for the Hapsburg Family, the Schönbrunn Palace is a UNESCO World Heritage Site and Vienna's most visited attraction. The huge grounds were originally purchased in 1569 by the Holy Roman Emperor Maximilian II who fenced it in and stocked it with game, to be used for hunting and recreation.
Just before the beginning of the 1700s, Emperor Leopold I commissioned the building of an imperial hunting lodge for his son, Crown Prince Joseph, later to become Emperor Joseph I.
Over the next hundred years, the building was expanded, growing into the Schloss Schönbrunn. Maria Theresa, Emperor Franz Joseph, and Empress Elisabeth all lived in this palace. When the Austrian monarchy ended in 1918, the palace became part of the new Austrian Republic, which made it a museum.
The Schönbrunn Palace complex includes an incredible amount to see and do- there is the palace itself, a zoo, a carriage museum, the Crown Prince Garden, the Orangery Garden, a Maze & Labyrinth, and more. Depending on what interests you, you should plan to spend the day here. It's a bit out of the center of Vienna, so best to pack as much into one visit as possible.

The Schonbrunn Kindermuseum
The Schonbrunn Children's Museum (Kindermuseum) is terrific- don't miss this if you are visiting with kids! The entrance is on the far right of the main palace when you enter the main courtyard.
Located in the wing of the palace where the royal children actually lived, you'll see gardens painted on the walls from when the royal children played there. Our kids loved this museum so much that we visited it twice! There are places to dress up and take photos, toys to play with, wigs to style, and more.

Also, in the winter, look for the Children's Workshop Hut in the courtyard. They host activities for kids such as making marzipan snowmen or decorating gingerbread men. They get a lot of large school groups, so check in when you arrive to make a reservation. Activities cost about 5€ per child.

Touring Schönbrunn Palace
Today you can tour the Schonbrunn Palace rooms on your own (make sure to reserve a timed ticket in advance), or with a tour guide. We chose the Imperial Tour which comes with an audio guide and includes 27 highly decorated rooms. We found it was perfect for the attention span of our kids, and didn't need to see more. You'll visit the private apartments of Franz Joseph and Elizabeth, as well as rooms used for entertaining the court. No photos are allowed once you are inside the palace.
However, if you want to see as much of the palace as possible, you can choose the Grand Tour, which includes an additional 13 rooms, for a total of 40!
Plan to spend time at the Christmas Market in front of the palace, they have gift items you'll only find here. There are also lots of food and drink stalls, it's the most fun after the sun sets when all the Christmas lights are lighting up the palace.

This 2-hour guided tour includes both the gardens and the main palace of Schonbrunn. If you prefer listening to a live tour guide instead of plugging numbers into an audio guide, then this is the best option for you!
The tour guide will relate the palace to stories of Franz Joeseph and Empress Sisi to help bring the history of the Hapsburgs and Schonbrunn alive for you.
Book Now: Guided Tour of the Schönbrunn Palace and Gardens


18. Enjoy Kaiserschmarrn at Demel Cafe
One of the most famous cafes in Austria, Café Demel, is known for Kaiserschmarrn, a pancake-like treat, made with lots of butter and sugar and served up hot with stewed plumbs. This is a must when visiting Vienna in December. With lines usually out the door, while you wait you can watch through the window as they make their fabulous pancake treat right before your eyes.
You can eat in one of the cafe's beautiful dining areas, or pick up a Kaiserschmarrn from a special to-go street window just for Kaiserschmarrn to eat as you walk.
We visited here twice- the first time we waited in line for an hour to get a seat inside, and have the Kaiserschmarrn hot and plated, as well as a delicious slice of truffle cake. We then returned another time to get Kaiserschmarrn to go (it's served in a paper carton), and several slices of cake as well. Even if you get the Kaiserschmarrn to go, make sure to eat it right away, as it's best when warm.
All of the cakes here are delicious- including Esterhazy (a striped Hungarian specialty). This is also one of the classic places to try the famous Viennese Sacher Torte, though we stuck with the original from the Sacher Hotel.
When you see a long line forming in front of Demel's windows, you can enter to the side (on the right there's a small sign indicating "shop"). This will take you down a hallway to the rear of the cafe where they have a shop. Here you can buy slices of cake, jam, and other goodies to go. Located at Kohlmarkt 14, 1010 Wien, Austria.

19. Tour the Vienna Opera House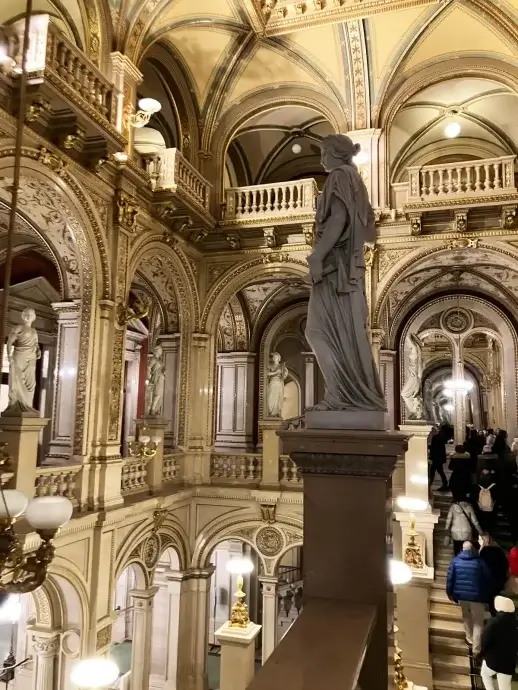 The Vienna State Opera House, located at Opernring 2, 1010 Wien, Austria, is one of the worlds leading opera houses. First opened on May 25, 1869, when they performed Mozart's Don Giovanni for Emporer Franz Joseph and Empress Elisabeth (Sisi). The Opera House's popularity grew under its original artistic directors, with performances of works by Wagner, Mozart, and Strauss.
This 40-minute tour will take you behind the scenes, where you will learn about the history, architecture, and the opera business. As this is a fully functioning opera house with almost daily performances, there is always a lot going on as they prepare for the evening's performance or change over the stage for a new opera.
You can only purchase tickets for the guided tour online, or in person half an hour before the tour begins (please note that tickets purchased onsite are only for remaining seats and may not be available if a tour is sold out).
We all loved this tour- there are parts of it to entertain both kids and adults. We got to sit in the opera seats and watch the team both rehearsing and loading in new sets. They also have a fun video where you can learn about the famous Opera Ball that happens each spring.
St. Peters's decorated for Christmas is just stunning. A concert here during the holiday season is a must-do! This is a small church, so there are only a few seats for each performance. Lasting just over an hour, the music varies by evening, but you'll listen to a selection of classical works from such greats as Mozart, Vivaldi, Schubert, and Beethoven.
This old stone church can get cold- the musicians had space heaters, but we found ourselves wearing our coats and gloves for the concert on a cold night. Come prepared for the chill!
It is an intimate space, so there are no bad seats, but the front few rows can really see the musicians. Concerts start at 8:30 each evening. Arrive when the doors open to get seats at the front of your section. Check the schedule, as there are no concerts on Thursdays, and only on some Mondays as well.


21. Eat at the Historic Central Cafe
Established in 1876, this beautiful coffee house was a favorite haunt of many famous artists and intellectuals, including Trotsky and Freud. Located on the corner of Herrengasse and Strauchgasse, 1010 Wien, Central Cafe serves breakfast, lunch, and dinner. It is best to make a reservation ahead of time as you will often find a line out the door.
We really enjoyed the Vegane Wiener Krautfleckerl, made of Viennese square noodles with white cabbage, braised bell pepper, and lettuce, as well as the Klare Rindsuppe, a Consommé of beef with sliced pancakes.
But make sure you save room for dessert! Sip Viennese coffee while you try one or more of their many famous in-house patisserie creations.
You can also take treats to go! Did you know that two of the things that France is most famous for, the croissant and the baguette – were actually created by a Viennese pastry chef named August Zang, in Paris around 1839?

22. Explore the Kunsthistorisches Museum
The Kunsthistorisches Museum Vienna is the largest fine arts museum in the city, sometimes called the Fine Arts Museum of Vienna. The museum has an Egyptian collection, Greek and Roman collections, and a Picture Gallery based around the Hapsburg Collections, with a strong emphasis on 16th and 17th-century works.
The Picture Gallery includes the world's largest collection of works by the Flemish master Pieter Bruegel, as well as works by Titian, Raphael, Caravaggio, Peter Paul Rubens, and Albrecht Dürer.
The Kunstkammer Wein, or "chamber of art" is a world-renowned collection that contains art objects from gold salt cellars to coins, to ivory carvings, to weapons. Think of it as all the royal treasures displayed in one place!
Every Sunday, a one-hour guided tour in English leaves from the entrance hall at 3 pm. The tour costs 6€ per person. A different gallery is highlighted each week, check the schedule to see each week's theme.
Admission for adults is 21€, children under 19 enter free.
During this 3-hour cooking class, you'll learn to cook a 3-course traditional lunch including schnitzel and strudel, before enjoying your creations alongside this local chef.
This is a private tour, you'll cook in the chef's private kitchen. Drinks are included, and travelers rave about this class!
Book Now: Viennese Classics Cooking Class



24. Albertina Museum
The Albertina Museum is located in a 17th-century palace and is particularly known for its collection of prints and drawings by Old Masters, with a huge number of prints from both Dürer and Klimt.
Their most famous painting is "Young Hare," a 1504 watercolor by Albrecht Dürer. Because this painting is so fragile, it is only displayed during special exhibitions every few years. In the meantime, you can see a replica on display.
You'll find 20 lavishly decorated state rooms to explore where the Hapsburgs used to live, as well as galleries filled with works from Monet and Degas, as well as Picasso and Chagall.
Ten minutes walk from the Albertina, you'll find the Albertina Modern which opened in 2020. This museum's collection includes more than 60,000 pieces of post-1945 art.

25. Mozart Haus
Located in the city center, just a few blocks from Stephansdom, you'll find the Mozart Haus Vienna. This museum is dedicated to the life of Wolfgang Amadeus Mozart while he lived in Vienna. You'll start on the third floor and work your way down, learning about the Classical music scene in Vienna during Mozart's lifetime. You'll end on the first floor, where you'll see the actual apartment that Mozart lived in from 1784-87, one of his most grand apartments, where he composed a lot of his music.
There is also a small concert venue here, check the schedule for performances. Tickets for the museum are 12€ for adults, and 4.50€ for children under 19. Closed Mondays.

26. Eat a Hearty Austrian Meal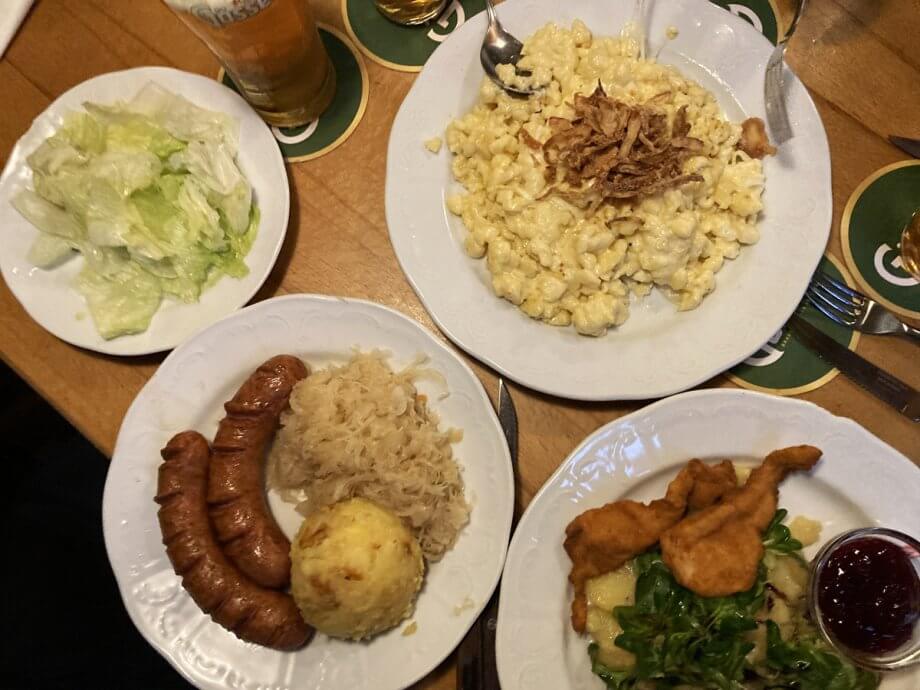 The word Beisl is Austrian for bistro or tavern but originates from a word meaning house. This is where you go with friends or family for casual, down-to-earth, traditional, home-cooked food and drink. Some of the most common things on the menu are Würst – sausages, and Schnitzel (with or without noodles, think The Sound of Music), meat that has been pounded out, breaded, and fried.
But you will also find Frittatensuppe, a Viennese "pancake soup" a beef broth with salted strips of pancake, Gulasch, made from beef or veal, is a thick stew of meat and winter vegetables, served on a plate and eaten with bread or noodles, and Nüdel, house-made dumplings in various sizes and with different ingredients from semolina to spinach. You will also find our kids' favorite dish, Käsespätzle, which is pressed dumplings or egg noodles, made by pushing dough through a strainer to make short odd-shaped pieces and usually served with caramelized onions on top. This is where mac and cheese came from.
There are many great traditional places to eat in Vienna, but here are our favorites:
Reinthaler's Beisl
Dorotheergasse 2-4, 1010
Located just off Graben, the main pedestrian shopping area of Vienna, on Dorotheergasse, Beisl is a lovely, unassuming, traditional Viennese restaurant. There are no reservations here, just first come first serve, and there can be a long line when busy. We waited maybe twenty minutes the first time we visited for an early dinner. The next time we only waited about ten minutes, but they asked if it was okay if we were seated at a communal table. This is actually quite a normal thing and we were happy to share our table with another party.
www.reinthalersbeisl.com
Weißgerber Stube
Landstraßer Hauptstraße 28, 1030

We ate here for lunch one day and enjoyed it so much that we came back for Christmas Eve Dinner. The food is excellent and the service is friendly and easygoing. But make sure you save room for dessert, their Apfelstrudel was one of our favorites. www.weissgerberstube.at
Pürstner
Riemergasse 10, 1010
We were not able to make it to Pürstner but it comes highly recommended. www.puerstner.com


27. Weltmuseum Wien
Part of one of the most impressive and highly photographed buildings in Vienna, the Weltmuseum is the "World Museum'" or Museum of Ethnology- it contains a collection of more than 400,000 ethnographical and archaeological objects from Asia, Africa, Oceania, and America.
While Austria was never a colonial power, the Hapsburgs benefited from the colonial and imperialistic behavior of other nations. This museum attempts to address some of the concerns around the collection and presents a dialogue along with many of the items displayed.
Upstairs from the permanent collection, and included in your ticket, you'll find the Imperial Armory and the collection of Historical Musical Instruments. Tickets are 16€ for adults, children enter free. https://www.weltmuseumwien.at/en

28. Ride in a Traditional Horse and Carriage
You'll see these old-fashioned horse-drawn carriages clacking around central Vienna. Called a fiaker, these vehicles are available for a short ride and guided tour. These fiakers are the original taxi, with the idea of organized transport brought over from Paris.
Leopold 1 issued the first official fiaker license in Vienna in 1693, ensuring that all carriage drivers were licensed and charged the same rates. By 1900, there were over 1,000 fiakers on the streets of Vienna.
Vienna has very strict animal welfare laws, so you can feel good about hiring a horse and carriage knowing the animals are well looked after. Each horse stable is inspected twice a year to make sure they are compliant with all regulations. Horses must be off the streets if temperatures reach 35C/95F.
These vehicles are beautiful- some are open air, while others are closed with gas lanterns lighting the way at night. It can get chilly, so dress warmly. They congregate in several places including Michaelsplatz outside the Hofburg Wein. Expect to pay around 40€ for a 15-minute carriage ride, or 120€ for an hour.

This tour starts with a visit to the stable where you'll learn about the horses used for fiaker rides, how they are cared for, and about the life of the carriage drivers as well. You'll then take a ride on the fiaker past the Belvedere Palace, and be dropped off at the Hofburg Wein.
The focus of this tour is really the stable, the ride in the carriage is not a guided tour but gives you a chance to enjoy the sites along the way.


29. Enjoy a Sacher Torte
A Sacher Torte is two spongy layers of chocolate cake with a layer of apricot jam between them which is then covered in a dark chocolate glaze. This famous cake was originally created in 1832 by the pastry chef Franz Sacher when he was asked by Prince Klemens von Metternich to prepare a special dessert for his guests when the official court pastry chef was ill.
The Sacher Torte was an instant success and its popularity spread over Austria and beyond. The original recipe is trademarked, but that has not stopped bakers all over the world from copying it. But in Vienna, you can taste the original Sacher Torte at the Café Sacher Wein where you can try a slice, or take a piece or a whole cake home to share.
If you are a large group, you can get a full cake delivered to your hotel or apartment. The cake has a long shelf life since it's covered in dark chocolate, so it makes a great Christmas dessert! Serve it with the traditional side of whipped cream.
Cafe Sacher Wein, Sacher Hotel, Philharmoniker Str. 4, 1010 Wien, Austria

30. Visit the Austrian National Library
The Grand Hall of the Austrian National Library is the largest Baroque library in Europe and houses over 200,000 books on its carved wooden shelves, newly restored as of 2023. The book themselves are treasures, as are the many large globes you'll find in the hall, but the Grand Hall itself is what most people come to see.
Considered one of the most beautiful libraries in Europe, the incredible Grand Hall is almost 80 meters in length and 30 meters high, with a beautiful dome at the center. The recently restored frescos in the dome were created by the court painter, Daniel Gran and depict Emperor Charles VI "becoming a god", who commissioned the construction of the Library in 1723.
Below the dome, you will also find a statue of the emperor standing at the center, along with 16 other statues of rulers and nobility of the Austro-Spanish Habsburg family throughout the hall.
We visited in early January 2023 just after the Grand Hall reopened while they were still finishing up some of the extensive restoration work. It was actually quite interesting to see what some of the restorers were doing, and how much work must go into cleaning each of the books!
Plan to spend up to an hour on your visit. Adults are 10€ and children under 19 are free. www.onb.ac.at


31. Eat a Mozart Chocolate (or Two)
The Mozartkugel, or Mozart Ball in English, is a round sugary treat made of pistachio, marzipan, and nougat and covered in dark chocolate. Originally known as the Mozart-Bonbon and created in 1890 by confectioner Paul Fürst in Salzburg Austria and named after Wolfgang Amadeus Mozart.
You can now find the Mozartkugel all over Austria, but if you have the time, take a day trip to Salzburg to taste the original! Hint: These chocolates make great stocking stuffers.

32. Ride the Prater Ferris Wheel
The giant Ferris Wheel at the Prater is a symbol of Vienna. It was opened in 1897 to mark the 50th year of Emperor Franz Joseph's accession to the throne. From the closed-in boxcar-style seats, you get great views over Vienna.
Moving at only 2.7 km/hr, it is the oldest Ferris wheel of its type still in operation in the world. A ride on the Wiener Riesenrad costs 13.50€ for adults, and €6.50 for kids.


33. Visit the Natural History Museum
The Museum of Natural History in Vienna is in an incredible building and has a modern and interactive first floor. Both the Museum of Natural History and the Museum of Fine Arts (Kunsthistorisches Museum Wien) were commissioned by Emperor Franz Joseph I and designed by the architects Gottfried Semper and Carl Hasenauer. The two museums are the same on the exterior and face one another.
The first floor of the museum is where you'll want to focus your time. There are dinosaur bones- including some fun interactive elements and even a roaring animatronic dino. There are more traditional geology exhibits (think rows of labeled rocks), and an exhibit on space and the universe that is quite modern.
We were quite impressed with this museum until we headed to the second floor- here you'll find only old-school taxidermied specimens filling room after room. We tried to find the silver lining here (stuffed dodo bird? shell collection?) but much preferred the first floor. Closed on Tuesdays. www.nhm-wien.ac.at/

34. Take a Day Trip Out of Town
Vienna makes a great base for taking day trips to other villages and cities nearby. The train system makes this easy and convenient. We highly recommend taking a day trip to Salzburg (though we could have stayed a few days), a day trip to the lakeside village of Hallstatt, a visit to the Slovak capital of Bratislava, and even to Budapest!


35. Celebrate New Year's Eve in Vienna
New Year's Eve is a lot of fun in Vienna. Everyone heads to the pedestrian streets of the Graben, and around the Stephansdom for live music, food, drink, and dancing! You can learn to dance the Viennese waltz on the Graben or if you're feeling fancy, join the New Year's Eve Ball at the Hofburg Vienna.
Every year, the Vienna Philharmonic performs a New Year's Eve Concert. Even if you can't get tickets, there are open-air broadcasts of the concert in front of City Hall and in front of the Vienna State Opera.
Pigs are a symbol of good luck going into the New Year. It is traditional to exchange pigs, either in the form of marzipan, or other treats. We enjoyed drinking Glühwein out of festive pig-shaped mugs and sharing a giant Sisi Krampfn while listening to all the live music.


Travel Tips for Vienna Austria in December
Here are a few tips for traveling to Vienna Austria in December, to make the most of this enchanting time of year.

Expect Crowds
December is a very popular time to visit Vienna due to its Christmas markets and festive concert schedule. Expect markets and streets to be crowded. When possible, get tickets or make reservations in advance.
Vienna is an incredibly safe city, but do watch for pickpockets when walking in large crowds. Use basic precautions, but feel free to walk through the city center both during the day and at night. We also don't hesitate to take the tram at night.

Don't Expect Snow
You may experience a "white Christmas" in Vienna, but it's unlikely. A few dustings of snow are common during December, but the snow is unlikely to amount to much. Instead, you'll have bitter cold, grey skies, and possibly rain. Bundle up and grab a mug of Glühwein to keep warm!

Getting a Christmas Tree
Vendors sell live, cut Christmas trees in most residential areas of Vienna. Trees are priced based on size. You'll pay a few extra euros for a simple wooden stand to hold the tree up.
Most families do not decorate their trees until Christmas Eve, so these trees are not expected to live inside for long. There is no way to water the tree, other than a light spritz of water from a spray bottle.
Vienna's Christmas markets are filled with vendors selling ornaments from inexpensive wooden ones, to hand-blown glass. You can also find small ornament sets in pharmacies to add to your tree- including traditional straw ornaments. Look for chocolate ornaments in the grocery stores- they come with strings to hang them on the tree. Kids love slowly eating the chocolates after Christmas, to "undecorate" the tree.
After January 6th (All Kings Day), most Christmas trees come down. You'll see disposal signs and locations listed in your neighborhood. Add your tree to the pile and it will be properly disposed of. These donation points are pretty obvious, and generally not far from the main recycling stations in each neighborhood.

Closed Days
Most businesses in Vienna close on December 24, 25th, and 26th. These are all considered holidays, and most people are home with their families. This often includes grocery stores, so plan ahead.

Grocery Stores Close Early
Across Vienna, many grocery stores close at 7:30 or earlier as their normal schedule. Don't expect to come home late and stop by the store on your way home. You may find one or two that stay open until 8 pm, but this is considered late. Many stores are closed all day Sunday and may close at 6 pm or earlier on Saturday.
Tram Tickets in Vienna
Tram tickets are available at your local Tabak (newspaper, magazine, candy, and smoke shops). You can buy individual tickets, day passes, senior tickets, or children's reduced tickets. Just tell the storekeeper what you need and they will count them out for you. You have to pay cash for all transit tickets.
We wrote a full guide to getting around Vienna, they have a very useful, effective public transport system.

Kids Ride Public Transit Free on School Holidays
Kids under 15 ride for free on all school holidays, which includes December 24th through January 6th. You can check the school calendar for other school holidays in Vienna.

FAQ: Vienna in December
Does it snow in Vienna in December?
Yes, it can and does snow in Vienna in December, though not usually very much. You are more likely to get a dusting or two, than any significant snowfall.
Is Vienna worth visiting in December?
Yes, absolutely! December is one of the best times to visit Vienna as you will find the city adorned with lots of lights, tons of colorful decorations, and festive Christmas markets to ease the chill and ring in the Holiday spirit!
Is Vienna cold in December?
Yes, Vienna is cold in December, with average temperatures ranging from a high of 40°F (5°C) to a low of 32°F (0°C).
Does it rain in Vienna in December?
Yes, it does rain in Vienna in December, though not a lot as it is one of the drier months.
There You Have It: Vienna in December
There is so much to do in Vienna Austria in December- from endless museums to unique and festive Christmas markets. Don't let the cold weather keep you away, winter is a wonderful season to visit Austria.
Don't miss a tour of the Vienna Christmas markets, enjoy a classical concert in the beautifully decorated St. Peters Church, or perhaps treat yourself to a dessert and pastry tour of Vienna!
Ready to plan your trip to Vienna? Check out our full guide to visiting the best Christmas markets in Vienna.