Where to Eat in Florence with Kids in 2023: Delicious Family-Friendly Eats
Florence Italy is where gelato was invented, and the center of Tuscany, which is known for its delicious, fresh food. Here are our best budget-friendly suggestions for where to eat in Florence with kids. These places have something for everyone, with delicious, fresh food that is family-friendly, rather than fine dining. And or course, we list our favorite places for gelato in Florence- and we tested a lot of options! We'll also cover some regional specialty foods Florence is known for so you can look for them on menus.
We spent a month in Florence as part of our Family Year Out when our kids were 5 and 7. We compiled all the best fun things to do in Florence with kids
You may also like our itinerary for 4 days in Rome with Kids. While in Rome, don't miss where to eat in Rome with kids, and don't forget to visit the Vatican. We've also got the best hotels in Trastevere and hotels in Rome with a pool.

This article may contain affiliate links, which means we may earn a small commission if a reader clicks through and makes a purchase. As an Amazon Associate, we earn from qualifying purchases at no additional cost to you. All our recommendations are our own and are in no way influenced by any advertiser or commercial initiative.
At the bottom of this post, download a free game of Would You Rather: World Edition to play on your next trip!
What Time Do They Eat Dinner in Florence, Italy?
Dinner in Florence is traditionally eaten between 8 and 10 pm. Many restaurants close after lunch and then open again for dinner at 7 or 7:30.
If you (like us), tend to eat early, check websites carefully for when each place opens for dinner. We find by arriving early we can often get a table when reservations would otherwise be required, and since many meals take at least two hours, it means we can get our kids home and in bed at a reasonable hour.

To really dig into the cuisine of Florence and Tuscany as a whole, consider starting your trip with a food tour of Florence to introduce you to some restaurants in the city center and some of the local specialties.
This food tour includes three neighborhoods and will give you a great jumping-off point for your exploration of Florence. Be prepared to taste a variety of local meats, cheese, and wines for the adults.
The 11:00 lunch tour option is great for families who don't want to be out too late at night.
Check Details: Walking Food Tour of Florence

Where to Eat in Florence with Kids
This beautiful city is known for its Renaissance art, its beautiful streets, and the large Duomo that dominates the center of town. It can be intimidating to choose between all the cafes and restaurants filling each block as you wander around town. Here are the places that we most enjoyed eating at in Florence when we visited as a family.
These restaurants serve a range of delicious food from fresh pasta, to falafel, to a good cup of espresso and a pastry. These are mid-range places where we can enjoy good food, without breaking our budget.
We often get a few dishes to share, which helps the kids expand their palettes, and lets us try more flavors.
All'antico Vinaio
You can't miss the crazy line for these sandwiches if you exit the Uffizi around lunchtime. With three storefronts, there is staff managing the lines to help them move quickly.
These giant sandwiches are made on salty, crunchy flatbread. They specialize in various types of thinly sliced meat but have several vegetarian options as well.
The sandwiches are big! Ask and they are happy to cut them in half for you. We bought two for the four of us.

Restaurante Natalino
We shared three different kinds of pasta at Restaurante Natalino and they were all delicious. We also saw several meat dishes being plated that looked excellent which we hope to try next time.
We particularly recommend the Fiocchini di Pere. This is a pouch-like pasta with a sweet bite of pear inside, finished with a light gorgonzola sauce. We haven't seen this on many other menus, and it's worth seeking out! Borgo degli Albizi 17/r.
4 Leoni
After experiencing Fiocchini di Pere at Restaurante Natalino, we had to try it at at least one other restaurant, and the version at 4 Leoni did not disappoint. They serve these little pasta pouches filled with pear, asparagus and a taleggio cream sauce. Delicious! Also, don't miss their pannacotta topped with a tart raspberry sauce. Via dei Vellutini 1r.
Pino's Sandwiches
Yes, they have delicious panini sandwiches (ask for a half, they are huge), but they also have fresh pasta which is delicious! You'll find lots of students passing through here for the high-quality food at great prices. The family that runs the place is very friendly, you may find yourself coming here more than once! Via Giuseppe Verdi 36r.

Spaccio Alimentare
This restaurant has a great outdoor patio, large pours of wine, and delicious pasta and pizza. They also have ten different varieties of focaccia- we tried the plain (olive oil, salt, and oregano) and all loved it.
This is a great place to stop when you are heading to or from the Piazza Michelangelo, it's just past the arch through the old town walls. Via dei Bastioni 9r.

SchiacciaMatta
This small shop has wonderful schiacciata (thick, salty flatbread) sandwiches at budget-friendly prices. We had the Paradiso (pork fat, pecorino, arugula, and honey) and the Beatrice (egg, zucchini, sun-dried tomato, and stracchino cheese). Borgo la Crocce 68/r

BoMo Chinese Street Food
This small restaurant has a few high tables where you can sit down, and does a brisk take-out business as well. You can often watch them hand-make dumplings and bao buns in their front window.
We tried their beef bao buns, mushroom dumplings, shrimp dumplings, and beef dumplings as well as their plum and peach smoothie (on the menu as fruit tea). All of it was delicious. The meat options are more filling, but we'll definitely stop here for lunch again. Borgo la Croce 24r.

Central Market
Also called the San Lorenzo Market, while downstairs is mostly vendors selling packaged foods, from dried pasta to wine and cheese, head upstairs for plates of food to eat there. We ate lunch here several times (S(7) discovered she loves smoked salmon with caviar). We had handmade pizza, several kinds of pasta, and a cheese and prosciutto plate, all were delicious. Piazza del Mercato Centrale, via dell'Ariento.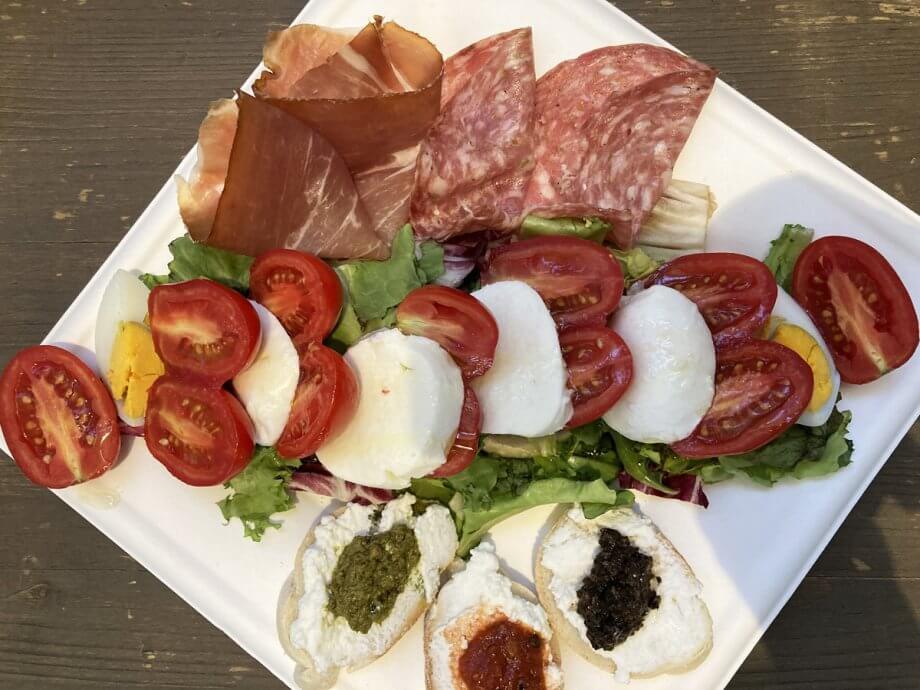 Ditta Artigianale & Hario Cafe
Stop into this cafe for a quick espresso by the window, or sit and enjoy brunch. The coffee is high quality, and consistent. The interior is more spacious than most coffee shops, and their avocado toast and smaller sandwiches are great for a light lunch.
They have a delightful back courtyard and a complete menu if you are looking to sit down to a full meal. Their brunch menu includes pancakes-not crepes, but actual fluffy pancakes with maple syrup. They also have a babaganoush toast with buffala that is worth stopping in for. Via Giosue Carducci 2/4r

Rione Brewpub Firenze
Don't be fooled by the name- this place has delicious pizza and pasta, as well as beers brewed on the premises. We had their Buffalo Pizza, as well as their Gnocchi Pomodoro, and will be heading back for seconds. It was all delicious. We also enjoyed a half-liter of Flanders-style red ale. Oltrarno, via Pisana 1r.

New Delhi Rosticceria Indiana
Delicious Indian food! Real, thick mango lassies, samosas, tikkas, and kormas. A real treat when you've been eating pizza and pasta consistently. This place gets rave reviews on google, and we could taste why! If we lived here we'd get takeout from there weekly. You can also eat in the restaurant. Oltrarno, via del Leone 53R.

Wild Buns Bakery
Oh my goodness, everything they bake here is delicious! I grew up eating Swedish Bullar on holidays (cinnamon and cardamom buns), and these are spot on! They were just reopening when we visited- with a half dozen or so different flavors at a time.
Get a wonderful espresso (also some of the best we had), and take a few buns with you to share. There are a few seats inside, but they are limited. We like the traditional cinnamon and cardamom varieties best, but they also have salted caramel, and a hefty egg and bacon as well. Wherever you are staying, make a trip over here! Oltrarno, Via di Camaldoli 1/c

Santo Falafel
This local falafel shop has many different versions of hummus from traditional to avocado or beetroot hummus. We bought a large container to bring back to our apartment and found it absolutely delicious. You can also get wraps, salads, and more. Oltrarno, Via Sant'Agostino 28r.

Pasticceria Buonamici
This coffee shop and bakery has the best pastries- after one bite we knew we would be visiting many times. Try their Tortina del Nonno (a crisp layered cookie with a thin layer of chocolate in the middle) or the Tortina della Nonna (with a creme layer in the middle and almonds on top). Absolutely heaven. Oltrarno, Via dell'Ortto 27R

Babae
We noticed this restaurant for its wine window (ring the bell for service), but really enjoyed brunch here. They have a good selection of dishes, featuring poached eggs, avocado, and beetroot hummus. Also excellent espresso. Oltrarno, via Santo Spirito 21R.

Where to Eat Gelato in Florence
Gelato was invented in Florence, and you'll find gelaterias almost everywhere. Always look for places that keep their gelato in silver bins deep within the counter, and avoid places that have the gelato heaped up in delicious-looking waves. The in-counter tubs keep the gelato at a more even temperature. This setup is the sign of a truly wonderful shop.
There are many lists that have been written about which gelato is the best, and much of it is just personal preference. Taste testing to choose for yourself is half the fun.
Here are a few places that we personally preferred after extensive taste testing.

Cantina del Gelato
Just past the Ponte Vecchio, Cantina del Gelato was one of our favorite gelaterias. We adored the creamy ricotta and fig flavor and went back for seconds. The signature flavor Gusto della Cantina (hazelnut gelato with Nutella chocolate and hazelnut crunch) was also delightful. Via de'Bardi 31.


Gelateria Della Passera
This place close to the Pitti Palace has some delightfully different flavors, quite a few including a bit of alcohol. Our favorite was the "Mona Lisa" which includes a cream base, apple sauce, orange bits, walnuts, and raisins soaked in Vin Santo (a traditional dessert wine). Via Toscanella 15.

La Strega Nocciola Gelateria Artigianale
This gelateria has solid traditional and slightly creative flavors. We liked the flavor of the house- La Strega Nocciola (hazelnut gelato with crunchies), the Mayan Chocolate (with a chili kick), and the Aztec (white chocolate and cinnamon). Via de'Bardi 51/r

Perche No
This small shop located in the city center, translates to "why not?", which we heartily agree with! This gelateria has quality flavors, though we prefer their true gelato rather than the softer mousse flavors which can only be served in a cup (not a cone). Coffee Crunch was our favorite flavor here! Via dei Tavolini 9r

Gelataria De' Medici
East of the center, this upscale gelateria has some truly delicious flavors. The Cuneese (chocolate with rum) was a favorite- it really packs a punch. Piazza Cesare Beccaria 7R.
What Food is Florence Known for?
There are several dishes that Florence, Italy is specifically known for. Some of these may or may not be to your liking, but look for them as you dine!

Bistecca alla Fiorentina
This dish tops the list of Tuscan classics- a t-bone steak grilled with a simple dash of pepper and salt. You'll often find it served along with some cannellini beans.

Pappardelle al Cinghiale
This is a dish made with wide ribbon pasta and the marinated meat of wild boar. The meat is marinated in a wine sauce before being added to the pasta.
Lampredotto
This is a sandwich made from the fourth stomach of a cow. You usually see these as street food, though you can also buy them in the Central Market.

Schiacciata
Schiacciata is a type of bread similar to focaccia, but with a less spongy texture, more salt, and more olive oil. You'll find places that use it exclusively to make delicious sandwiches. It can also be dipped, or eaten alone. Traditionally it is topped with sweet grapes after the grape harvest.

Cantucci con Vin Santo
Cantucci is a traditional cookie that is twice baked and served with vin Santo, a traditional sweet wine. You probably know these small cookies as "biscotti", but they have another name in Florence.

Gelato
Gelato was invented in Florence, so you should definitely spend some time finding your favorite gelateria! Flavors vary from complicated mixes of rum and dried fruit to simple, classic fruit flavors.


Can I Drink the Water in Florence?
Yes, you can drink tap water in Florence. You'll find a few fountains around town that allow you to fill up your water bottle, although they are not as frequent as you'll find in Rome. In Florence, fountains need to be turned on to be used, while in Rome they are constantly free-flowing.

There You Have It: Where to Eat in Florence with Kids
We hope you find this list of where to eat in Florence with kids helpful. We love pasta, pizza, and gelato, but we also love trying different cuisines, especially when staying for more than a day or two. Try these delicious places with your family, and enjoy the variety of delicious food Florence has to offer!
Don't miss our post on the best day trips from Florence for families!