Where to Eat in Rome with Kids in 2023
Our kids were so excited to visit Rome- they'd heard about all the pizza, pasta, and gelato! Food is such a big part of experiencing Rome (and all of Italy). So where should you eat in Rome with kids? We've put together our best recommendations based on eating a lot of pizza (and gelato) with our kids.
We visited Rome as part of our Family Year Out when our kids were 5 and 7. We stayed in the Trastevere neighborhood, across the river from the central tourist areas of Rome, so many of our recommendations are in this area.
Don't miss our itinerary for 4 days in Rome with kids, and our suggestions for the best hotels in Trastevere, our favorite neighborhood full of delicious restaurants. Of course, if visiting during summer, consider meals poolside at one the best hotels in Rome with a pool.
We hope these suggestions will help you enjoy all the fantastic food Rome has to offer to traveling families!

This article may contain affiliate links, which means we may earn a small commission if a reader clicks through and makes a purchase. As an Amazon Associate, we earn from qualifying purchases at no additional cost to you. All our recommendations are our own and are in no way influenced by any advertiser or commercial initiative.
At the bottom of this post, download free Mobile Wallpaper images to satisfy your wanderlust!
Ready to Book Your Trip? Use our Favorite Travel Resources!
What Time is Dinner Eaten in Rome?
Dinner, in Rome, is typically eaten anytime from 8 pm to midnight. However, in our experience, restaurants start to fill up around 7 pm and stay full through the evening and into the night. We found that by arriving at a restaurant around 6, we did not need a reservation, did not have to wait long for a table, and could still get our kids to bed at a semi-reasonable hour.
Meals often take a long time in Italy, so plan to spend 1 1/2 to 2 hours at dinner.
Heading to Florence? Don't Miss our posts on where to eat in Florence, all the best things to do in Florence, and the best day trips from Florence.

What is a Typical Breakfast in Rome?
A typical breakfast in Rome involves coffee and a pastry, eaten standing up at the bar. While this is a lovely way to experience local culture, we treat this as a "second breakfast", and generally eat a more traditional American breakfast of yogurt or cereal in our accommodation before we head out for the day.

We highly recommend taking a food tour of Rome- it's a great way to combine a bit of sightseeing with a bit of eating! On this 2 1/2-hour walking tour you'll sample everything from suppli (fried rice balls) to gelato.
Get Details: Street Food Tour of Rome
Is a walking tour a bit much for your family? If you have small kids, older parents, or anyone with mobility issues, Rome can be a challenge. Golf carts to the rescue!
Have you considered a Golf Cart Food Food Tour of Rome? None of the walking, all of the eating! We recommend Eating Europe's VIP Food Tour of Rome via Golf Cart, in fact, it's one of our 7 Best Golf Cart Tours in Rome!
Where to Eat in Rome with Kids
We never had a bad meal in Rome! Prices are lower in outlying neighborhoods, and higher around major tourist monuments. Most restaurants have a similar menu of pasta and pizza options.
You will also find a wide variety of other cuisines around Rome, from Mexican tacos to bao buns. We've only included places that we felt were strong enough that we would return for a second tasting.
These recommendations are not for fine dining– there are plenty of "best of" lists that can direct you to Michelin-starred restaurants for a fancy night out.
Instead, these recommendations are for a family meal– where each member of the family can find something they like, and the parents can feel good about sticking to a reasonable budget.
Tonnarello/Nannarella- Trastevere
We ate at both of these restaurants in Trastevere, only realizing they are exactly the same owners and menu after sitting down at the second. The pasta is amazing, as are the pizzas. We also loved the panna cotta with fresh strawberries for dessert! We tried a few other places in the neighborhood for dinner and none came close to being as good as these restaurants. Via della Paglia 1.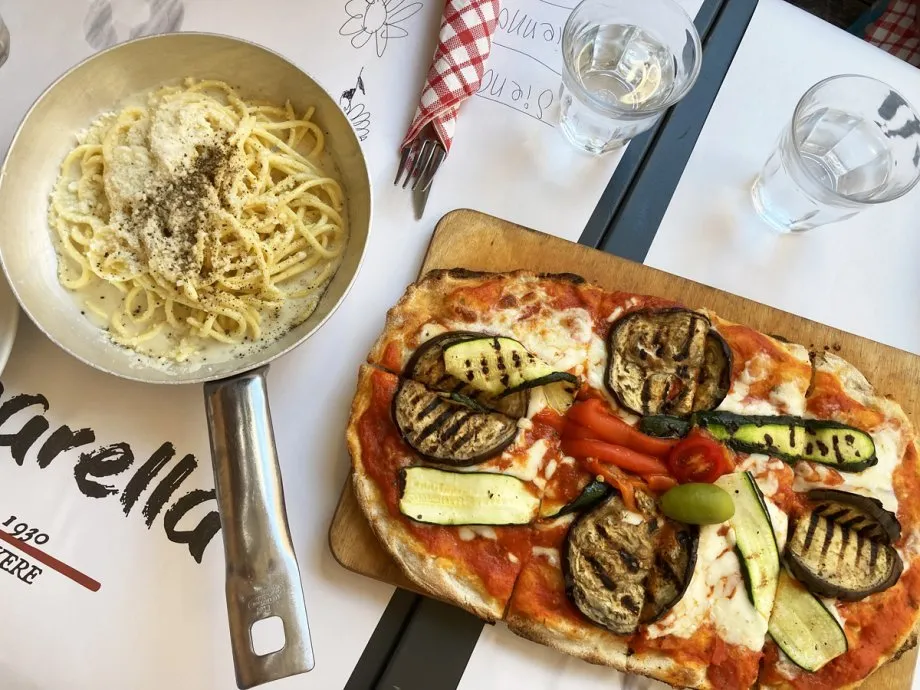 Cafe Settimianao- Trastevere
Stand at the bar and have an espresso like a true Italian, or take a table outside to enjoy a pastry or a sandwich. The retro bar and antique mirrors are unique, and the staff is very friendly. A small door right by the city gate. Via di Porta Settimiana 1.


La Renella Forno- Trastevere
This place serves pizza by weight. Tell them what you want and they'll cut you a piece of whichever flavor you prefer. They also make a great sandwich with a fried egg and purple cabbage slaw. Take away or eat at the small counter bar. We love grabbing a few slices of different flavors for an easy lunch. Via del Moro 15.
Alla Fonte D'Oro- Trastevere
Make sure to get the kids a Grattachecca at this kiosk beside the river! A fancy version of shaved ice, you choose three flavors to go over freshly shaved ice, finished with bits of lemon, fresh coconut, and Mareno cherries. The kids adored these sweet treats. Lingotevere Raffaello Sanzio.

Martinucci Laboratory- Trastevere
This is the place to get cannoli, or other cakes and pastries. Try the delicious Baba Limoncello! We like to get them boxed to take back to our apartment to share. Vicolo del Cinque 42.
Fonte della Salute- Trastevere
Don't miss this gelato! The stracciatella is the best we've had- with big chunks of chocolate. We also enjoyed the mint and lime! Via Cardinale Marmaggi 2.
Fatamorgana- Trastevere
When you're ready to try some more unique gelato flavors, this is your place! While they do have classic flavors, this gelateria is known for flavors like "Sacripante" which is coffee rum Genoise cake with amaretti biscuits. Which, by the way, was delicious.
Waker tried Pensiero, which was red grapefruit, fresh ginger, wasabi, and lemon zest, and thoroughly enjoyed it.
Their portions are quite small- so if you order one scoop, that is all that you'll get. Prices reflect the small servings but consider ordering a double. Via Roma Libera 11.
Zer0ttoNove Cafè/ Sant'Eustachio II Cafe- Piazza Navona Area
Both of these small cafes have wonderful espresso and pastries and are located in Sant Eustachio Piazza, just a few streets off Piazza Navona. We particularly liked the Ricotta Croissant at Zer0ttoNove.
Pizza Zaza- Piazza Novona Area
Also in this small square is Pizza Zaza. They sell pizza by the rectangle, and it is delightful. You'll need to take your purchase to go, but you can choose from fresh tomato and pesto to less traditional options that include shrimp or marinated artichokes. Piazza di S. Eustachio 49.
Poke House-Roma/Via del Corso Area
This funky Instagram-ready cafe with pink walls and neon quotes specializes in Hawaiian poke bowls. They also have smoothies and mochi ice cream for dessert.
If you're shopping (or window shopping) in the via del Corso area, this makes a great lunch stop. When you've eaten nothing but pizza and pasta for days, these poke bowls with a base of sticky rice or couscous are a welcome, healthy change. Via del Gambero 36.

Borghiciana Pastificio Artigianale- Vatican Area
This restaurant in between the Vatican and the Castel Sant'Angelo comes highly recommended. It is a small place and only has inside seating. The prices were very reasonable, but when we arrived there was a 25-minute wait for a table. Borgo Pio 186.
Psst: When in Rome, don't forget to visit the Vatican!
Restorante Venerina- Vatican Area
Just up the street from Borghiciana, very close to the Vatican, this restaurant has lovely outdoor tables and handmade pasta. Don't skip the house-made lasagna! The portions are large, so you can share. Borgo Pio 38.
Which Foods are Famous in Rome?
There are several local specialties you must try when in Rome, including three specific types of pasta. Most Roman specialties are simple dishes made with just a few ingredients. You'll find lots of handmade pasta and fresh ingredients.
Our kids loved peeking in a restaurant window to watch a woman make spinach ravioli by hand! Look for these typical dishes as you explore Rome, and give them a taste.

Pasta Carbonara
Pasta alla Carbonara is made with egg yolk, pecorino cheese, Parmigiano Reggiano cheese, guanciale (pork), and black pepper to make a thick creamy sauce with crunchy pork bits in it.

Pasta alla Gricia
A white sauce, Pasta all Gricia is made with pecorino cheese, guanciale (pork), a splash of white wine, and sometimes a pinch of chili.
Amatriciana is a similar base, but with the addition of slow-cooked tomatoes.

Tonnarelli Cacio e Pepe
One of the oldest dishes in the region, you'll often find Cacio e Pepe served with Tonnarelli, which is similar to thick spaghetti. The simple but delicious sauce is made from pecorino sheep's cheese and black pepper.
Pizza al Taglio
This simply means "pizza by the slice". This type of pizza is baked in large rectangular trays. You indicate which flavor you would like, and a slab is cut off for you. This is a sort of "fast food" pizza, with toppings that range from very basic, to complicated and gourmet. You are charged by the kilo, and take your pizza to go.

Suppli
A traditional Roman street food, suppli are fried rice balls with different flavors mixed in. Ragu and mozzarella are a common combination. These make a great snack or appetizer!
Fried Artichokes
Jewish-style deep-fried artichokes are crispy and salty. You may also see "Roman style" which are stuffed with mint and parsley.
Are There Kid's Menus in Rome?
No, there are generally no separate kids' menus in Rome. Instead, we order a number of entrees for the table and request small plates so that we can easily share. This allows us to portion food to the kids, and means they get to try more than one dish, increasing the chances that they will like something on the table.

Should I Tip at Restaurants in Rome?
While tipping is always welcome, it is not necessary. We almost always pay our bill (Il Conto) via credit card, and tipping is never requested or required.
Charging a "copperto" is illegal in Lazio, the region that includes Rome, so unlike the rest of Italy, you should not see this "cover charge" on your bill. In place of this, you may see a "Servizio" charge in touristy areas. You may also find that restaurants charge you a few euros for bread in place of a cover charge.

There You Have It- Where to Eat in Rome with Kids
These are our best recommendations for where to eat in Rome with kids. We hope that you enjoy trying these restaurants and discovering your own favorites! From fried artichokes to gelato, there is so much to discover in Rome, and trying new places is half the fun.
Planning a trip to Rome? Don't miss the best catacomb tour of Rome for your family! We've got the best options from exclusive to via bike or golf cart.
We've also got a list of the best night tours of Rome– if you are visiting in fall or winter, many of these are early enough for even the littlest travelers.
Be sure to check out the best hotels in Trastevere (our favorite neighborhood across the river from Central Rome), and the best hotels in Rome with a pool. This post also includes public access pools you can use regardless of where in Rome you choose to stay.