One Day in Yelapa with Kids: A Day Trip from Puerto Vallarta
Yelapa is a lovely fishing town, that feels a world away from touristy, busy Puerto Vallarta. In Yelapa you are surrounded by lush jungle and the sound of the ocean. While we could easily spend a few days relaxing here by the sea, we enjoyed one day in Yelapa with kids. Yelapa makes a great family day trip from Puerto Vallarta.
Many people who visit Yalapa for one day never make it much past the main beach. We highly recommend spending more of your time exploring the village of Yelapa before relaxing on the beach. We have a local friend in Yelapa, who gave us some recommendations and helped us get off the famous Yelapa beach, and into the local village and all its wonderful corners and cafes.
This article may contain affiliate links, which means we may earn a small commission if a reader clicks through and makes a purchase. As an Amazon Associate, we earn from qualifying purchases at no additional cost to you. All our recommendations are our own and are in no way influenced by any advertiser or commercial initiative.
At the bottom of this post, download a free game of Would You Rather: World Edition to play on your next road trip!
Ready to Book Your Trip? Use our Favorite Travel Resources!
Where is Yelapa?
Yelapa is on the southern shore of the Bahia de Banderas, about 25km southwest of Puerto Vallarta, Mexico, on the Pacific Ocean. While it feels like an island since it is isolated from other villages, it is actually on the mainland along the edge of a bay.
We visited Yelapa as part of our Family Year Out, which we started with six weeks in Mexico. At the time our girls were 4 and 7 years old. We stayed in Puerto Vallarta, don't miss our guide to getting around Puerto Vallarta, and tips on what to do (and not do) when you visit.

What is Yelapa Known For?
Yelapa was once just a little fishing village, and while it has become more well-known, it still remains a quiet beach community that is almost untouched by all the crazy tourism you find just across the bay in Puerto Vallarta.
Yelapa first got electricity in 2001, water is often brought in from rivers. They have worked hard to preserve an older way of life. All the businesses are locally owned and operated- you won't find any chain stores in Yelapa.

It has also become famous for its homemade pies. Often referred to as the Pie Lady, Agustine has made a well-deserved reputation for herself selling pies for the last 30 years. You can usually find her up near the waterfall, or down by the town beach.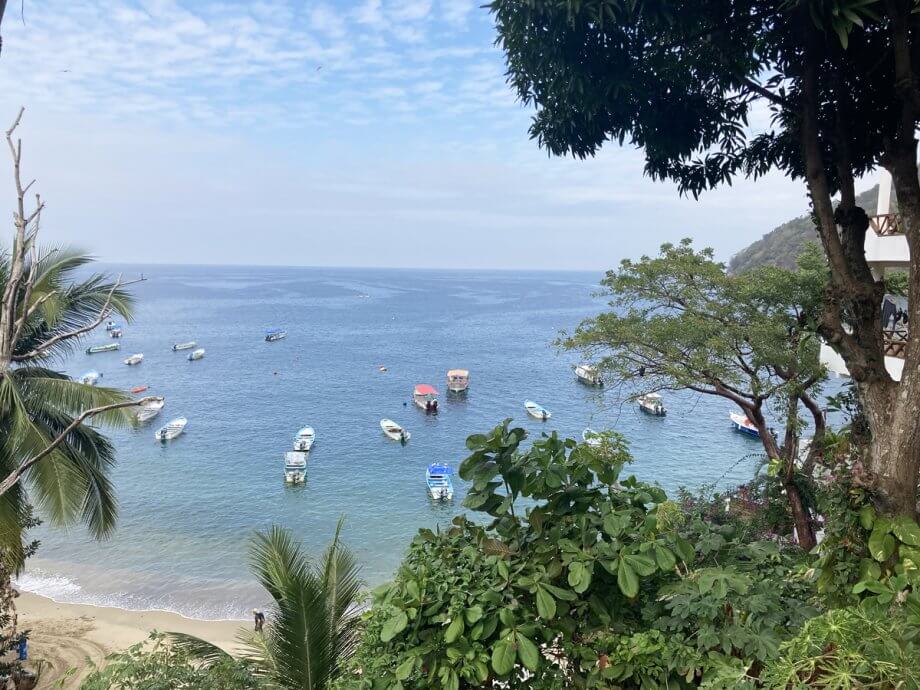 Is Yelapa Family-Friendly?
Yelapa is a great place to take kids. It is very safe and the locals are all really friendly and helpful. There are no cars in Yelapa as the streets are too narrow. But you will find ATVs, so keep an eye out and be ready to move to the side of the road when you hear an ATV approaching. These bring tourists up from the main beach (Playa Yelapa) and this is how supplies are delivered throughout the village.

Getting to Yelapa with Kids
Yelapa is not an easy village to get to: there are no roads that allow cars into the village, so you must either hike in, take an ATV, or take a water taxi. Most visitors, therefore, arrive via boat.
Water Taxis
Water Taxis leave for Yelapa from two locations- Muelle de Playa Los Muertos which is in the Zona Romantica of Playa Vallarta, and Muelle de Boca de Tomatlan which is about 30 minutes farther south along the coast.
Taxis from Playa Los Muertos, therefore, take longer- the ride each way is about 45 minutes. While this is the most convenient location for a lot of tourists, there are fewer boats leaving and returning from here, so watch the taxi schedule closely.
You can check the schedule for water taxis to plan your trip. At the time of our trip, there was only one afternoon boat scheduled to go from Yelapa to Playa Los Muertos.

Buy Round Trip Tickets
When you arrive at the Playa Los Muertos Pier, you will need to buy your tickets with cash. It's best to buy a return ticket so you have a place on the afternoon boat. Generally, boats are filled almost exclusively with day-tripping tourists, so the captain will make sure to save you a seat on the return boat.
Prices may change, but the water taxi should be around 400 pesos per person, round trip. Kids are the same price as adults.

Get in Line at the Pier
When you arrive at the pier, you will be directed to form a line at the end of the pier on the left side. Leave someone in line to keep your place and head back to town for a delicious breakfast smoothie to drink while you wait. If you're lucky, you'll see a few pelicans bobbing around watching everyone on the pier.
Vegan Smoothies
For amazing vegan smoothies, head to Elixer Spot. Walking away from the pier, you'll see an alley on your right, just after a series of colorful murals. They have a variety of vegan smoothies and bowls.
We had the "Berry Delicious" which is made with soy milk, coconut, banana, and berries. One was enough for the four of us to share. It was chewy, thick, and filling.
The Boat Ride
The water taxi is open-air, with a cloth cover, and five people seated per bench. It was a bit rocky getting in, the gap between the pier and the boat was wide, so we had to help the kids over.
The ride to Yelapa was about 50 minutes. There is Bahia de Banderas on one side, and forest-covered mountains on the other. If you are lucky you may see a whale on the way! The taxi goes quite fast and it can be a bit bumpy. There is water billowing up on both sides of the boat, you may get misted, but won't really get wet.
You may want to bring a light sweater or extra layer for the boat ride as it can get chilly, especially on the way back.
Arriving in Yelapa with Kids
When the boat arrives in Yelapa it will stop first at the Hotel Pier, you'll see the main wide beach in front of you. If you are visiting Yelapa with kids we advise not getting off here but instead asking to go to the town pier.
The tour guide on the boat gave us a hard time about this- he even told us that it would be dangerous for the kids to exit at the town pier. This was totally untrue. In fact, the hotel pier has a ladder to climb up from the boat to the pier, while the town pier was level with the boat, and only involved stepping on and off.
In reality, the tour guides have an interest in keeping tourists on the main beach, spending their money at specific restaurants, and buying tours to the waterfalls from them. The tour guide will exit the boat here as well and stay on the main beach to organize tours.
We found the main beach to be the least interesting part of Yelapa. In our one day in Yelapa with kids, we preferred exploring the other parts of the town.

The Yelapa Town Pier
Get off the boat at the Town Pier, you'll see a "Bienvenidos a Yelapa" sign in front of you, and the restaurant Cafe Bahia behind the sign. Be careful on the pier- there are vents that at high tides become blowholes as you walk on the pier!
When you exit the boat, make sure you let the boat captain (who is at the back of the boat steering), where you plan to get back on the boat in the afternoon. We told him we would be back at the town pier for the 4:00 boat to Puerto Vallarta.

The Village of Yelapa
Follow the sidewalk to the left, and then up a boat ramp and you'll head into the main part of town. You'll pass some beautiful tiled stairs leading to the Museo Yelapa.
This museum is dedicated to the history of Yelapa, and also hosts cultural and artistic events. The museum has artifacts found in the region, as well as a large photographic collection documenting the growth of Yelapa.
Continue up the hill until you see the bright green Micheladas Vicky. This is a great way-finding point. From here, head uphill to go to the Yelapa Waterfall, head left to walk towards the main Yelapa beach, and head right to Cafe Pacifica and Playa Isabel.

Coffee at Cafe Pacifica
Head to Cafe Pacifica, its bright blue walls are easy to spot. Grab a cappuccino with coconut milk and several conchas, a traditional Mexican pastry that is halfway between a roll and a pastry. Brisa makes the best conchas we've had in Mexico!
Cafe Pacifica is open most days from 7 am -1 pm, and then reopens from 4- 8 pm.
Walk to the Yelapa Waterfall
The walk up to the "in town" Yelapa Waterfall is quite easy. You'll follow the cobblestoned streets uphill, with a few vendors occasionally marking the way.
It's not a long walk- less than half a mile. You'll see banana plants and wind through parts of the village. You will probably see an older man offering rides on his donkey.
The waterfall itself is lovely, though the water was a bit chilly. Most people come for the view rather than to actually swim below the waterfall.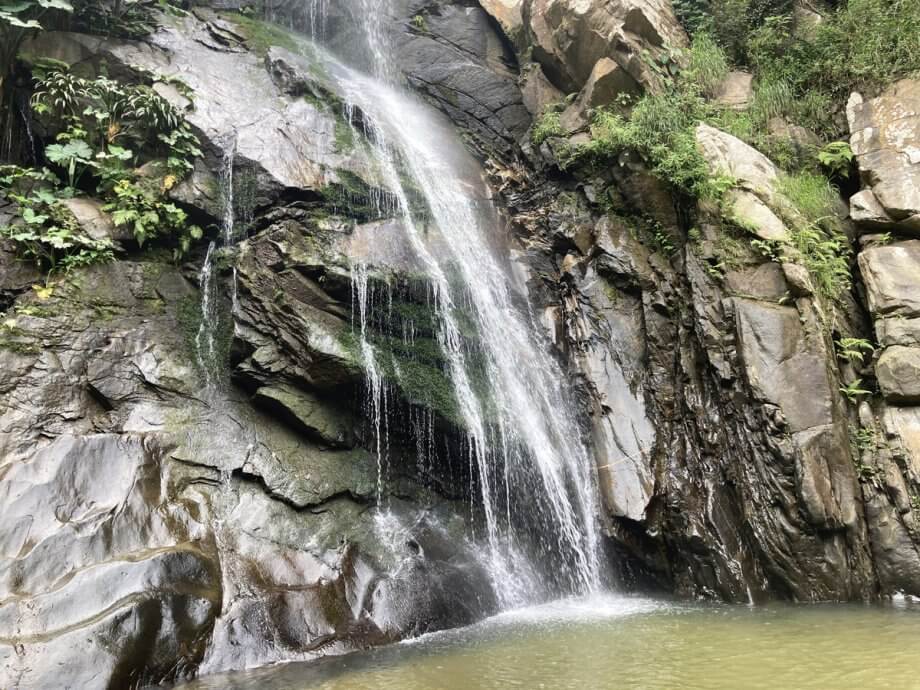 The Other Yelapa Waterfall
There is another "Yelapa Waterfall" that is a much longer hike out of town. Tour guides often offer ATV or horseback rides to this waterfall from the main beach.
To walk to this waterfall takes about an hour each way. We didn't make it out there on this trip, if we had stayed overnight we would have added this into our plan.
To reach this waterfall, keep walking east on the main road from town (instead of taking the stairs to the beach). You'll cross a pedestrian bridge, follow the street a bit farther and it will turn to dirt. There should be signs pointing the way.
After you cross the river twice the trail will wind through the jungle before the end section that involves scrambling over some rocks.
The hike is not strenuous, and you'll probably find you have the waterfall pretty much to yourself, especially if you go early in the morning.
Explore Playa Isabel
Instead, we headed to the other side of the village to explore Playa Isabel. From Micheladas Vicky or Cafe Pacifica, head right and follow the path along the edge of the shoreline. The walk to this beach is actually more interesting than the beach itself. You'll see another side of the village, and get great views looking back at the harbor and the main beach.
Playa Isabel itself is just a small area of sand, with a few kayaks stored there. It's is quiet- you probably will be the only people there.
Lunch at Cafe Eclipse
After returning to the main section of town, enjoy a delicious lunch at Cafe Eclipse. This cafe has simple outdoor tables with brightly colored traditional textile tablecloths.
We had the chilaquiles, the huevos rancheros, and the girls both had the french toast, which they were delighted to see was covered in cinnamon. Check their hours, when we were there they were closing at 2 pm.

Alternate Lunch: Cafe Bahia
Cafe Bahia was also recommended to us for lunch by the water. They are a popular spot for pastries, and folks working on their laptops. They are well known for their Sunday brunch and serve a "breakfast all day" menu.

Alternate Lunch: Del Mar
If you are looking for lunch while on the main beach, Del Mar comes recommended by a local friend. We hear they have excellent ceviche.
You Might Like: Where to Eat in Oaxaca City with Kids

Walk to the Main Beach
Heading left past the Micheladas Vicky, you'll pass over a pedestrian bridge, and up a steep road for some of the best views out over the bay. Be prepared to step to the side for ATVs.
After you pass the brightly colored sign pointing straight ahead for Playa, keep your eyes peeled for the sign indicating the stairs to the beach. Head down these stairs.
You'll see a ramp decorated with a mermaid scale pattern on the edges. Turn left for another set of stairs right before this ramp. These final stairs will take you down to the river. Now you need to cross the river to get to the beach.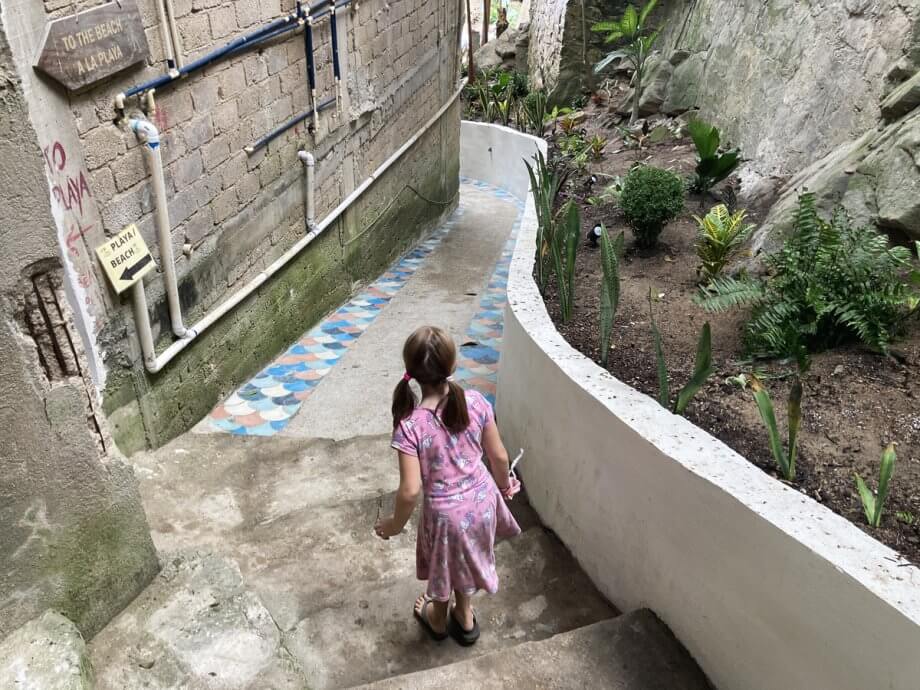 When we were there, the water was high, and you had to wade through knee-high water on steps made of sandbags to get to the beach. They were digging a ditch to drain down some of this water, so it may be easier at other times.
If you are doing this walk in reverse, starting from the main beach, look for the gold buildings across the river, you'll see a blue sign pointing to Town with an arrow, and Waterfall with an opposite arrow. Follow these signs to find the staircase up to the main road, avoiding the stairs marked private.
At Playa Yelapa you'll find a wide stretch of clean sand, and whatever watersport you'll like. There are restaurants, palapas, and umbrellas. The main difference between Yelapa and many of the other beaches in the Puerto Vallarta area is the lack of vendors. While you may be offered a trinket or two here, you won't be constantly interrupted by people trying to sell you something.
Return Water Taxi
We choose to take the return taxi to Puerto Vallarta from the town pier. The locals who were waiting for boats were very helpful in making sure we got on the right boat.
The crew of our water taxi recognized us from the morning and made sure to get us on board before heading back to the Hotel Pier to pick up the rest of the tourists we'd boated over with.
Note: Other tourists report paying over $200 USD for a private boat trip back to Puerto Vallarta after missing the last water taxi of the day. Plan accordingly, and don't miss your boat!

Finish with Tacos
Once you are back at the Puerto Vallarta Pier, finish your day with an early dinner at Panchos Takos. This taco place is well known, always busy, and easy to get to from the pier.
From the Puerto Vallarta pier, head up one block, take a left, and walk two blocks to Basilio Badillo. Turn right onto this street, and you'll see the line that has formed for Panchos Takos.
Do not despair, the line moves quite quickly. When you are at the front of the line, the staff will hand you a menu to mark with your order and a pencil to mark it with. They have several tables with outdoor seating, and with this ordering system, tables turn over quickly.
Panchos Takos is known to have some of the best al pastor tacos around. And we promise they are delicious! You can watch the el pastor meat being cooked shawarma style on a big rotating spit.
You may also want to try a Pancho's Margherita- a large margarita that comes with a small bottle of Corona beer upside down in the glass.

What Does Yelapa Mean?
Yelapa is supposed to mean "Where Two Rivers Meet the Sea" in an indigenous language. It currently has around 1,500 inhabitants.

When is the Best Time to Visit Yelapa with Kids?
The best time to visit Yelapa is October through February. The temperatures are warm, and the humidity is lower than the rest of the year. We visited in January, and the weather was warm and pleasant.
The summer months bring heat and rain, so you'll want to avoid those.

Is Yelapa Expensive?
We did not find Yelapa to be expensive compared to Puerto Vallarta. Our lunch was less expensive than many others we've had in the region. Prices for overnight accommodations vary widely.
Can You Drive to Yelapa?
No, you cannot drive into Yelapa, you'll need to take a water taxi unless you plan to go overland via ATV or mule. There is a road that is used primarily for bringing construction materials into town, but it's rough, and not intended for individual travel. If you are planning to drivce in Mexico, make sure to read up on safety tips and the specific rules of the road in Mexico.
Is There WiFi in Yelapa?
Yes, there is wifi in Yelapa! The village has attracted a lot of writers and artists who need to connect with the outside world. The wifi is due to the hard work of one man. You can read his story at Yelapa Wifi.

Getting Around Yelapa with Kids
The easiest way to get around Yelapa is to walk. There are a few steep hills, but nothing that you cannot easily traverse. The alternatives are to go by ATV, donkey, or horse.
Is One Day in Yelapa with Kids Enough?
Probably not! If you'd like to explore the village, relax on the beach, and see both waterfalls, you'll need more time. We did feel that in one day we got a good sense of the town, though we only saw the closer waterfall.

Things to Do in Yelapa with Kids
There are many ways to entertain yourself in Yelapa other than wandering the streets of the village. You can hike, take a ride on an ATV, ride a horse, ride a donkey, go paragliding, do all sorts of water sports, and even go fishing.
If you'd like to go snorkeling or diving, you are best off booking a tour to visit Yelapa along with some neighboring beaches, as the best spots are a bit offshore.
This tour includes equipment to snorkel, paddleboard, or kayak. It visits Yelapa as well as Majahuitas.
Check Details: Yelapa & Majahuitas Snorkeling Tour
Where to Stay in Yelapa with Kids
There are a limited number of places to stay in Yelapa, so prices tend to be high, and accommodations book up quickly.
Check out Casa Berita– a 2-bedroom apartment with a terrace and wonderful views.
What to Bring to Yelapa
Here are a few items to make sure to bring on your trip to Yelapa:
Cash (there are no ATMs on Yelapa)
Water Bottle
Swimsuit
Sunscreen
Beach Towel (we love this Turkish beach towel)
Water Shoes
Lightweight Layer (you may need it on the return boat ride which can be windy)
There You Have It: One Day in Yelapa, Mexico
One day in Yelapa with kids was a lot of fun, we look forward to coming back to spend more time exploring this interesting village and its surrounding countryside. Yelapa makes both an intriguing day trip from Puerto Vallarta, as well as a relaxing escape for a few days if you choose to stay longer.
Exploring more of Mexico? We've got where to eat in Oaxaca, a guide to San Miguel de Allende, an itinerary for Ensenada, and a road trip through Baja.