Hiking Yosemite with Kids: A 3-Day Itinerary
This 3-day itinerary for Yosemite with kids covers the best of the park that little legs can handle.
Yosemite National Park is a land of stone- towering granite mountains, and huge boulders are strewn throughout the park. The park covers about 1200 square miles and is most famous for its waterfalls.
We visited Yosemite with our 4 and 6-year-old kids on our Epic Cross-Country Road Trip in August of 2021.
This article may contain affiliate links, which means we may earn a small commission if a reader clicks through and makes a purchase. As an Amazon Associate, we earn from qualifying purchases. All our recommendations are independent and are in no way influenced by any advertiser or commercial initiative.
At the bottom of the post, Download our Top Ten Tricks for Exploring National Parks with Kids.

What is Yosemite Famous For?
Yosemite National Park includes towering granite formations around a 7-mile long flat valley carved by glaciers. These rock formations include El Capitan, the world's tallest granite monolith, and are a mecca for rock climbers.
The park is also famous for Half Dome, a distinctive rock formation, and Yosemite Falls, which is the tallest waterfall in North America. Yosemite is also known for its groves of Sequoia trees, many of which are over 3,000 years old.
Yosemite was designated a National Park in 1890, and UNESCO World Heritage Site in 1984. The park is roughly the size of Rhode Island, with 95% of the land considered to be wilderness.
President Theodore Roosevelt camped here in 1903, where he was inspired to increase the protection of the park, and create additional National Parks. Ansel Adams helped popularize the park with his famous photos of Yosemite.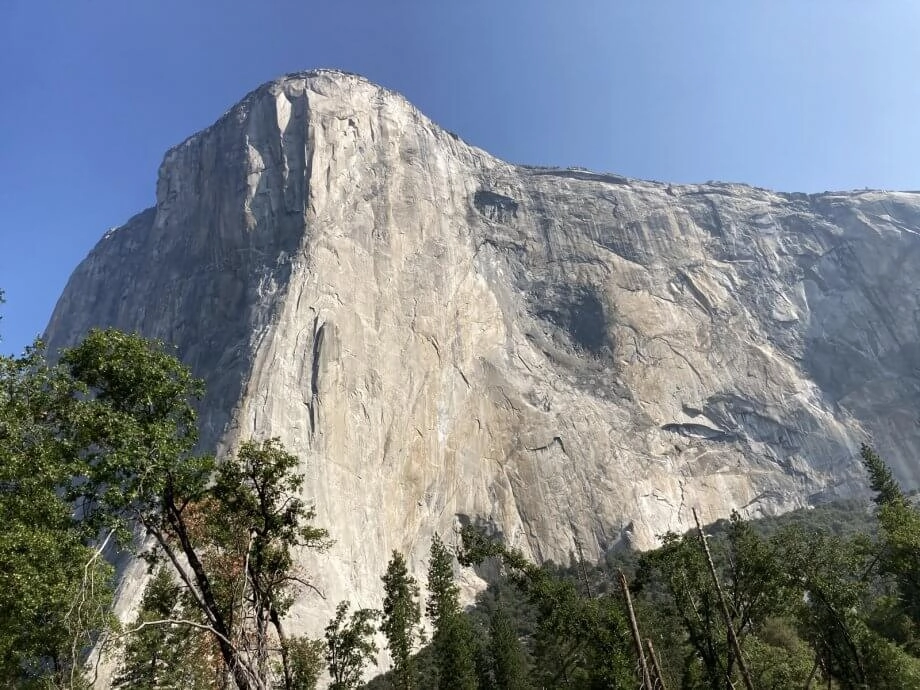 How Much Does it Cost to Visit Yosemite?
The fee to enter Yosemite National Park is $35 per vehicle- regardless of how many occupants and lasts for seven days (as of 2021). For the busy season of 2021, the pass is only good for three days, or the duration of your reservation within the park, whichever is longer.
If you plan to visit Yosemite and other National Parks as well, be sure to get an America the Beautiful Pass– this annual park pass costs $80 and gets you unlimited access to National Parks for one year. This pass covers entrance fees, it does not cover tour fees or lodging fees.
Buy Now: American the Beautiful National Parks Pass
4th graders (and 5th Graders in 2021) also get a free annual park pass for their families.
Look for Junior Ranger packets in the visitor centers at National Parks. The kids complete the packets, and return them to be sworn in as Junior Rangers, complete with a wooden badge, and sometimes a patch! You may also want to get a family National Park Passport Book to stamp at each park you visit.

Yosemite with Kids: 3 Day Itinerary
You could spend a week exploring this park. Here are our suggestions for a kid-friendly itinerary when you have 3 days. This itinerary assumes that you will be staying for three nights, on the fourth day you will have breakfast, check out, and start your drive out of the park.
The park does allow you to leave your car parked for the full 4th day if you wish to keep exploring after you check out of your lodging. We found that after 2 1/2 full days of hiking and getting dirty, we were happy to clean up and head out.
In general we self-catered breakfast and lunch, sometimes supplementing with chips or ice cream from the general store, then had dinner out in the park.

Day 1: Check in and Yosemite Falls
Depending on where you are coming from, it can be a bit of a drive to get to Yosemite National Park. We started the morning in San Francisco, so had about a four-hour drive.

Driving In
Depending on your route, you may choose to visit some of the more remote parts of the park on your way in or out of the park. For example, you may want to enter by the southern route and start your visit with a short hike through Mariposa Grove to see the giant Sequoia trees. The most famous tree- Grizzly Giant, is thought to be around 2,700 years old. You may see black charring on some trees from surviving past forest fires. These ancient trees actually thrive on the natural cycle of forest fires (we learned) that help their seed germinate and keeps smaller trees from crowding in.

Glacier Point
You may also opt to drive to Glacier Point upon entering the park. This overlook gives you a commanding view of Half Dome and is a great way to get a sense of the top rim of the canyon, and the U-shaped valley below. We were able to look down and see the tents of Curry Village, giving us a new perspective on the park. Glacier Point is best known for both sunrise and sunset viewing but is an hour's drive from the lodging on the valley floor. For families with young kids, that makes the timing for sunrise or sunset a bit challenging. If you go for sunset, remember you want to be up there at least forty-five minutes before sunset, as it is the light on the valley before the sun sets that is really worth seeing.

Check In to Lodging
Once you reach the Valley Floor, check into your lodging. If you are in Curry Village you'll check-in at Registration (You'll see parking for registration and a big lit-up Welcome sign) to get your tent or room number. It's best to unload your car and get the lay of the land before it's dark. We did this a bit too briefly, and I managed to get myself and our two girls lost on the way back from the bathroom the first night. When you check in they will also give you the latest update on which restaurants and facilities are open.


Visitors Center and Info
Drive to the Visitors Center in Yosemite Village to purchase Junior Ranger packets ($3.50 each), and get any questions answered. The Rangers posted there were great about clarifying how to get to certain trails without the use of the shuttle, and can tell you the roundtrip mileage including walking from your lodging so you have a better idea of which trails are right for your family. Look for designated Vistors Center parking just past the Village Store, then plan to walk from there. You can also park in the Village Store lot (30 min max), then walk behind the store to the village.

Hike Yosemite Falls
Yosemite Falls is the most famous waterfall in Yosemite National Park. The Lower Falls Trail is mostly flat, handicap accessible, and an easy hike for all ages. This is a great way to start to see the park. You can park on the side of the road very close to the trailhead, just look for the row of cars or the shuttle stop waiting area as you drive around the loop. If there are no spaces on the road near the trailhead, there is a day-use lot that is not far away.
Lower Yosemite Falls is an easy loop trail, with a roundtrip of just one mile. You can get a feel for the terrain of the park, and see the iconic waterfall. When we visited in late August the waterfall was a barely visible trickle. It is much more impressive in the spring.
To hike to the top of Upper Yosemite Falls is a 7.2-mile roundtrip hike, with 1,000 feet of elevation gain.

Alternate or Additional Hike: Bridalveil Falls
Bridalveil Falls is an easy one-mile loop to a lovely waterfall. It is currently closed as the trail and access platforms are being upgraded. There is no clear reopening date.

Day 2: Mirror Lake and Glacier Point
For your second day, start with a hike to Mirror Lake (elevation 4094 feet), and finish with a sunset view of Half Dome and Yosemite Valley from the top of Glacier Point(elevation 7214 feet).

Hike to Mirror Lake
After breakfast, start the hike to Mirror Lake. From the trailhead, this is a 2-mile roundtrip. From the parking lot of Curry Village, it becomes a 4-mile hike. This is relatively flat terrain, nothing too strenuous. The path winds through the forest in between giant granite boulders that we thought looked like they might have been tossed by the stone giants in Frozen II.
Mirror Lake when we arrived was a large sandpit, with some large rocks in the middle of it that the kids enjoyed climbing. In wetter seasons, it should provide smooth reflections of the peaks above. If you wish to hike farther, there is a five-mile loop around the lake.
There are signs warning of Mountain Lions, so don't let kids get too far ahead or behind. We found that the trail was well populated, there always seemed to be people ahead of us and behind us, so we were not particularly concerned.
The trailhead can be a bit tricky to find from Curry Village. The trail is to the northeast of Curry Village. Head to the back of the parking lot, past the hut marked "Camping Reservations". Head straight in-between the two campsites on the paved road (if you head right you'll head to the Muir Trail). You should see signs, then cross a stone bridge to find the trailhead.
Be sure to bring bug spray, the bugs were quite abundant along the mostly shaded trail.

Relax at Sentinel Beach
Celebrate your five-mile hike with an after-lunch dip at Sentinel Beach. The Merced River flows through here, making a cool place to take a swim and relax on the beach away from the traffic of the park loop. In late August the water was very slow-moving, and about a foot deep in most places, so it was a great place for the kids to splash, sit, and make sandcastles on rocks in the river. Several people we chatted with there were floating in tubes and reported that earlier in the season the flow of the river can be much stronger. Unlike Swinging Bridge just up the road, we never experience crowds at this beach. We enjoyed it so much we came back the next day!

Sunset at Glacier Point
After having dinner in the park close to your lodging, hop back in the car for the drive to Glacier Point for sunset. There are not many pull-offs along the way, but there is a magnificent, super-long tunnel that the kids (and ok, maybe the parents also) loved. You'll pass the parking area for Sentinal Dome, which has a great view of El Capitan but requires hiking out to the rim.
Proceed all the way to the end of the road to park at Glacier Point. You'll enter at the lower end of the parking lot, if it is full, you can circle around checking spots at the upper level as well. If neither level of the parking lot has spots available, you can just wait, cars often move in and out. We didn't have a problem finding a spot in the lower lot.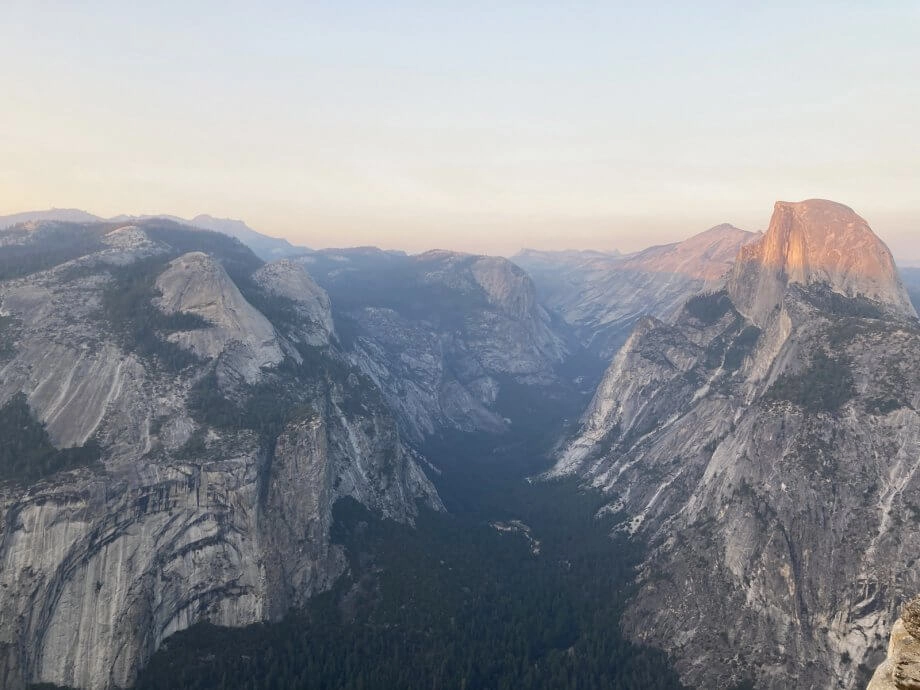 The area here is quite large- there are several viewpoints, an amphitheater, and then a path out to Glacier Point. If you are planning to be at Glacier Point for sunset, leave time to walk to the end for the best viewpoints.
Keep in mind that the sun dips behind the hills about 15 minutes before the official sunset time, so don't cut it too close. The best shifting light on Half Dome is about 30 minutes before sunset.
We left right after the sun dipped below the hills, and had gorgeous views during our drive down as the sky lit up with brilliant colors about 15 minutes after sunset. We also saw a small black bear beside the road, so drive carefully!

Day 3: Vernal Falls and the Mist Trail
For your final day, Vernal Falls is a difficult but worthwhile hike. Even in August, the waterfall was flowing, Emerald Pool was full of clear green water, and you can see a rainbow in the mist at the base of the falls if the sun is on it. Vernal Falls is on the Mist Trail, the trip to Vernal Falls is 3 miles round trip, plus 1 mile each way to get to the trailhead.
You'll pass the Happy Isles Nature Center as you head southeast from Curry Village. If 5 miles is not enough, you can continue upwards to Nevada Falls, adding 2 miles roundtrip.
The first waypoint along this hike is the Vernal Fall footbridge, located 0.8 miles from the trailhead. This footbridge gives you a peek at the falls above. There is also a restroom and water bottle filling station here. From here you will continue another 0.6 miles and up 650 steep steps to the top of Vernal Falls. These steps are narrow, and when the waterfall is heavy, can be slick from the mist.
From Vernal Falls, rather than go back down the steep steps we had just climbed, we chose to follow the loop back through Clark Point. We didn't realize that we were adding another 600 feet of elevation. The trail goes straight up for almost a mile until you are looking back down over Vernal Falls.
The trail is lovely- with a great view of Nevada Falls, but not in the greatest shape. There were crews working on parts of it, and there were many steep areas with loose gravel on the downhills that were easy to slip on. Our kids were total troopers, logging a total of five miles, and over 1500 feet of elevation gain!
We were all achy and exhausted, and ready to relax in the cool waters of Sentinal Beach. We had some dinner at the Yosemite Valley Lodge and had an early night!

Can I Swim in Yosemite Park?
Absolutely! There are several areas for swimming in the valley, including Sentinal Beach, Swinging Bridge, and Cathedral Beach. Curry Village and several of the Lodges have outdoor pools, but they are closed for the 2021 season.
You can go in the water at Mirror Lake (when it is full). At the top of Vernal Falls, you'll find Emerald Lake, but swimming is not allowed there, although we saw several people taking the plunge.

What Can We Do at Yosemite National Park Other than Hike?
If you are tired of hiking, there are other things to do at Yosemite National Park!
Ride Bikes
Bikes are a great way to get around the valley floor, especially when the shuttles are not running. There are several bike rental stations, though, for a family, the prices add up quickly. In 2021, a half-day bike rental was $30, or $40 for a full day. If you can bring your own bikes, you'll make moving around the park much easier.
Ride Horses
There are several groups that lead horseback riding trips around Yosemite. Some of these are based in the Wawona area of the park that focuses on teaching and recreating the pioneer experience.
Go Swimming
The beaches along the valley loop are a great place to cool off and relax after a long hike. We personally loved Sentinal Beach!
Attend a Ranger Talk
When entering the park, you'll receive a newspaper-printed Yosemite guide that outlines the current conditions, including what Ranger talks are being offered. There are 3-5 programs currently offered per day, many lasting two hours. There are also 15-minute programs targeted specifically to Junior Rangers in the 4-12 age range.

What Animals Will We See in Yosemite National Park?
Mule deer, black bears (which are sometimes colored brown), coyotes, and mountain lions all live in Yosemite National Park, even Sierra Nevada bighorn sheep! Most of what we saw were squirrels, pretty bright blue Steller's Jays, and mule deer. We did see one black bear when driving to Glacier Point.
What About the Bears?
Several bears are killed each year because they become aggressive around humans. The bears at Yosemite are American Black Bears, which are smaller and less dangerous than Brown Bears. The bears at Yosemite may have either black or brown fun. To help keep the bears wild, you need to follow several guidelines when visiting Yosemite:
Keep all food in a bear locker. Do not bring food into your tent, or leave it in your car. Bears have broken into cars to get to food.

If you see a bear, keep your distance. Stay at least 50 yards away. Do not get close to try to get a photo.

If you see a bear in an area frequented by humans, call the Bear hotline to alert Rangers to the bears presence.

Where to Eat in Yosemite with Kids
When we visited in August of 2021 we found the options for eating within the park quite limited. You'll want to plan to bring a lot of your own food with you or risk eating similar meals each day from the few open options.
Because options are limited, plan to eat early, as lines can get quite long.
The eating options are divided between Curry Village, Yosemite Village, Yosemite Valley Lodge, and the Ahwahnee Hotel.

Eating in Curry Village
In Curry Village, there are two options for breakfast- the Meadow Grill, and Coffee Corner. Both offer coffee and a limited menu of breakfast sandwiches. Coffee Corner also has pastries and a few refrigerated items like yogurt parfaits. There is a microwave across from the station where you add milk to your coffee if you wish to warm up your pastries or egg sandwiches.
For lunch, there are pre-made sandwiches available from Gift & Grocery. The Pizza deck opens at 12 if you'd like pizza for lunch. Coffee Corner is open until 2 pm if you'd like to grab a light bite from there.
The only dinner option in Curry Village is The Pizza Deck. The pizza menu is extensive, including interesting toppings from arugula to BBQ sauce. We arrived just after 5 pm and only had to wait about 10 minutes to order, the line quickly grew, and we've heard that it can be hours long. You are given a buzzer take to a picnic table on the deck.
Bar 1899 is also open, but without separate outdoor seating. They offer a few "bar bites" such as deviled eggs or wings, but not a full menu.

Eating in Yosemite Village
Degnan's Kitchen offers breakfast sandwiches, coffee, and pastries. For lunch they have offers pizza, salads, and made-to-order sandwiches.
There are also pre-made sandwiches available from the General Store in Yosemite Village.
The Village Grill was closed when we were there, and Degnan's Kitchen is only open until 6 pm. Their menu is the same for lunch and dinner, there are picnic tables outside the deli if you wish to eat outside.

Dining at the Yosemite Valley Lodge
The Base Camp Eatery is the only available food option at the Yosemite Valley Lodge. It offers a cafeteria-style experience including omelets for breakfast, pizza and sandwiches for lunch, and a grill and hot bar for dinner.
When we visited the grill and pizza section were closed, but we opted for an entree + two sides from the hot food section. We had tofu curry, vegan bean chili, mashed potatoes, and mac and cheese. I can't say the food was amazing, but it did the trick, and the price was reasonable.
We ate our food outside the lodge, where there are a few metal tables and chairs. The bees were active and drove away a few of the families attempting to eat there.

Dining at the Ahwahnee Hotel
The dining room at the Ahwahnee hotel is open for breakfast, lunch, and dinner. The is the opulent, grand lodge dining room with large windows and 30-foot ceilings.
Lunch and breakfast are casual attire and takeaway only. This means that while you are welcome to eat in the dining room, there is no tableside service.
Dinner requires a dress code including collared shirts for men. No t-shirts or shorts are allowed. Guests of the lodge are encouraged to make reservations.

Lodging Options in Yosemite National Park
The lodging options in Yosemite National Park range from campsites to simple rooms or canvas tents in Curry Village, to luxurious rooms in traditional park lodges.
Camping
There are many camping options in Yosemite National Park, including four campgrounds in Yosemite Valley. All of these include restrooms with regular toilets, but no showers.

Curry Village
Curry Village includes Stoneman Cottage, wooden cabins, and over four hundred canvas tents. We stayed in a canvas tent with two twin beds and one double bed. When staying in the tents, there are shared bathrooms and showers.
These canvas tents include wooden floors, wooden doors with a padlock, and metal frame beds, with linens included. There is one lightbulb, and some tents have one available outlet. Heated tents are available in the colder months. Each tent has a bear locker outside of the tent for storing food and any scented lotions, toiletries, etc.

Yosemite Valley Lodge
The Yosemite Valley Lodge was redone in 1998. It is the closest lodging to Yosemite Falls, with most rooms in two-story buildings with patios or balconies. There is an outdoor swimming pool, though it is closed for 2021.

Ahwahnee Hotel
The Ahwahnee Hotel is the most upscale lodging at Yosemite. With its formal dining room, the hotel is a National Historic Landmark. Guests can combine parlors with hotel rooms to create suites.

For more options including where to stay outside the park, check out this terrific list of places to stay in Yosemite.

When is the Best Time to Visit Yosemite National Park with Kids?
Yosemite is best visited in the springtime when its famous waterfalls are at full capacity. Starting in May temperatures are warming up and snowmelt should have filled the park.
We visited in August and while the temperatures were pleasant, Yosemite Falls was barely a dribble, and the famous Mirror Lake was a huge bed of dry sand. While we still enjoyed many aspects of the park, we'd love to return earlier in the season to see it in its full glory.

Getting to Yosemite
Yosemite is located in the Sierra Nevada Mountains of eastern central California. It is 140 miles east of San Francisco and 100 miles southeast of Sacramento. It is just north of Kings Canyon National Park.

Flying to Yosemite
There are several ways to fly to Yosemite. The closest airport is the Fresno-Yosemite International Airport (FAT), which is about a 1 1/2 hour drive from the park. You can also fly into Oakland (OAK), San Francisco (SFO), or San Jose (SJC) which are all about a 4-hour drive from the park.

Driving into Yosemite
When driving into the park there are several entrances to choose from on the west side of the park. The only entrance on the east side is Tioga Pass, which is closed in winter.
The south entrance is along route 41. This brings you in close to Mariposa Grove, the park's grove of giant Sequoia trees. Many families like to enter here and start their visit with Mariposa Grove. Without the shuttle running, you will have an additional two miles to get to the trails, adding a four-mile round trip to your hike.
The middle entrance is via route 140 called the Arch Rock entrance. We exited along this route, it is not particularly difficult or windy.
The northern entrance is along route 120, called the Big Oak Flat Entrance. We entered here and found the views incredible as you ascend the mountains north of the valley, but the drive was slow and very windy. This is the not entrance to use if your kids are prone to car sickness. We enjoyed experiencing this drive but deliberately chose a different path for our exit.
Don't miss our post on Road Trip Essentials: What to Pack for the Ultimate Road Trip, we cover everything from car sickness bands, to backseat organizers.

How Much Do I Need to Plan Ahead to Visit Yosemite with Kids?
Planning ahead is one of our top family travel tips- you can check out the other tips at 22 Family Travel Tips: Best Tips for Travel with Kids.
We advise booking lodging well in advance. Some popular lodging options in Yosemite book up a year or more in advance, so the sooner you can reserve rooms in this park, the better. If you would like to have dinner at one of the nicer lodges in the park, you should make reservations as soon as possible as well. When we made our plans several months in advance, we only had the option of camping in Curry Village.
Download the National Park Service App for maps, info, road closures, and more. The National Parks App is designed to be downloaded so that you can use it without cell service. Be sure to download maps of the area to your phone before entering the park, do not expect wifi or cell service to be consistent in the park.

Do I Need a Reservation to Enter the Park?
In 2021, you will need a reservation to enter the park up until September 30th. If you have a reservation to stay inside the park at Curry Village or any of the park lodges, that counts as your entry reservation as well. If you are driving into the park for the day, you will need a day-use reservation that you can book on the National Park Service website.

What Should I Bring to Yosemite Park?
Plan for changeable weather. We visited in August and the nights were quite cool. We needed sweaters and long pants for evenings and early mornings, and then shorts and t-shirts for the hotter parts of the day.
The temperature dropped into the 40s on our final night. We used the extra wool blankets provided in our canvas tent, but the kids were chilly eating breakfast in the morning.
Other items depend on where you are staying- for the tents in Curry Village, you will enjoy having camp chairs and possibly a small camp table. We had our cooler and food in the bear locker outside our tent, so it was easiest to make breakfast and lunch right outside the tent, rather than haul food elsewhere when we were self-catering.
You will need a padlock for your bear locker. Bring a cooler to keep perishables cold, you can buy bags of ice at the general stores in the park. We love our 48-quart cooler- it's small enough to lug around but holds our milk, yogurt, jam, hummus, cans of seltzer, and more. It fit easily into the provided bear lockers.
If your kids like to play in the dirt as much as ours do, plan to bring some camping wipes so you can wipe them down before meals and snacks. These are biodegradable wipes that come in a resealable pack. They are the perfect size to wipe down little hands, arms, and legs.

What is Different in Yosemite for 2021?
There are several changes to Yosemite for the 2021 season, stay tuned to see how these play out in 2022. Most importantly, in order to limit capacity, reservations are required, as mentioned above.
Shuttle Buses
There are no shuttle buses running in Yosemite for 2021. The park is designed in a loop format to encourage the use of shuttles and bikes and to discourage the use of personal cars.
This is problematic as, without shuttles, it can be difficult to get to trailheads. Each trailhead does not have its own parking lot. This added two miles to several of our hikes, as we had to hike to the trailhead before beginning the hike.
The back of the Yosemite Guide (newspaper) that you get when entering has the most useful map for navigating the one-way streets that loop around Yosemite Valley.
You will find that you have to drive the loop a lot since there are limited places to turn around and head in the other direction. We passed the parking lot for the visitors center when we entered the park, it's a long way back around! You cannot get very close to the visitors center- plan to park in the designated lot and walk about ten minutes into Yosemite Village.
Limited Services
Some other services are limited or closed. The Curry Village and lodge pools are closed for the year, and many of the places to eat are also closed. Dinner, in particular, is very limited, especially if you are trying to only eat outdoors, as we were.
The visitor's center is largely closed- you can order items like t-shirts or Junior Ranger packets through a window, but you can't enter the building. For souvenirs, you'll need to visit the General Stores in either Yosemite Valley or Curry Village. There are rangers posted in tents outside the Visitors Center to answer questions or swear in new Junior Rangers.

There You Have It!
We loved our time at Yosemite with kids! Both girls are becoming stronger hikers with each park we visit. We all enjoyed the balance of time hiking and relaxing in the cool waters of the Merced River. We can't wait to go back to see the park when there is more water flowing, and hopefully, the shuttles are running!
Read Next: The Best of Bryce Canyon with Kids: 2 Days of Hiking and Hoodoos
Read Next: Trees of Mystery: Exploring the California Redwoods